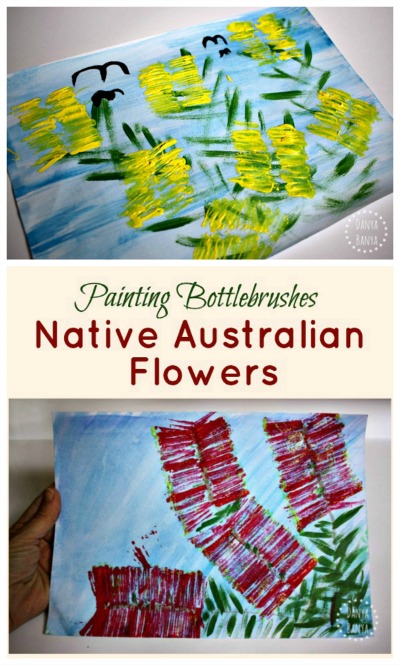 Australia Day is coming up on 26th January. If you've been reading our blog for a while, you might have caught on that we're Aussies – even if just because of the funny way that we write colour, favourite and mum. We've done a few Australian arts, crafts and activities as well. (Do you remember the time we made a Sydney Harbour Bridge and Sydney Opera House out of paper plates? Or JJ's glittery Australian flag craft? Just to name a few…)
On our blogging journey, we've made some really lovely Aussie blogger friends, and I'm so pleased to be joining them again for our annual Australia Day for Kids 'blog hop', where we each post a fun Aussie-centric activity in the lead up to Australia Day, to help kids learn about and love this wonderful country that we call home. (You can find everyone's fun ideas at the bottom of this post.)
But first, our activity!
The original inspiration for our artwork were some kids' bottlebrush paintings that were on display in JJ's school. I was intrigued by the apparent stamping technique for the bottlebrush flowers, and I thought it might be fun to try out a new art technique.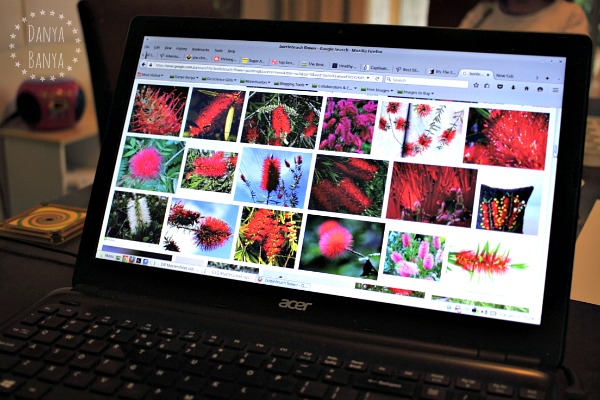 We started out by looking up bottlebrush flowers on the Internet. Their botanical name is callistemon, but more commonly known as bottlebrushes because their cylindrical, brush like flowers resemble a bottle brush shape. The bristles, or flower spikes of the bottlebrush are actually individual flowers. Pollen forms on the end of each flower spike, adding a tinge of bright yellow to the tips. Whilst my kids are familiar with several hardy varieties of bottlebrush that grow in our neighbourhood, they found it interesting to find out that there are actually many more varieties that grow around Australia.
We ended up doing two bottlebrush paintings – one that I painted, demonstrating a new technique (and also as an attempt to be a creative role model), with no pressure on the kids to necessarily replicate.
The second was a collaborative effort, initiated by my 5.5 year old daughter JJ, and slightly different to the first. (This is typical of JJ's learning style. She likes to try out new techniques, but on her own terms.)
I should also mention that JJ had her right (dominant) hand in a full cast at the time, so I helped out a little more on her painting than I may normally.
Painting Red Bottlebrush Flowers
I used:
For this first painting, I painted the background blue using our Micador watercolour discs (similar to these
), and waited a few minutes for it to dry. I then added some pale brown watercolour stems.
I cut thick sturdy cardboard into a rectangular shape, dipped the end into red acrylic paint, and stamped in two rows to make the flowers. When the red paint had mostly dried, I added in some green leaves. Lastly, everything had dried completely, I added some yellow glitter glue along the edges of the bottlebrush, replicating the yellow pollen fuzz that appears on the tips of the flowers.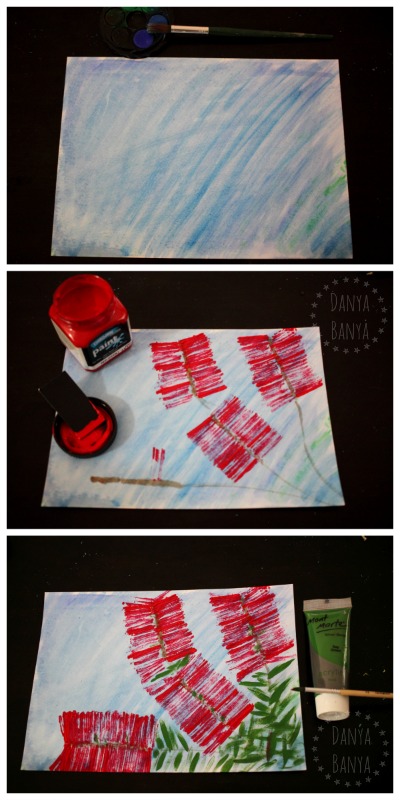 There were a few new techniques (for us) in this artwork. The first was that you can paint in layers progressively, using different types of paints, letting each layer (mostly) dry before adding the next. I'm not an art teacher, so please forgive me if I haven't used the right terminology – but this was pretty ground-breaking stuff for my 5.5 year old. Previously she'd always tried to paint the entire painting in the same type of paint and at the same sitting – and was getting frustrated when accidental colour mixing and smudging occurred.
The second new technique in this artwork  was using cut cardboard as a stamp. We've done loads of process-oriented painting with "non-brushes" over the past few years… but it probably was the first time we've intentionally used a non-brush tool, where were were trying to paint 'something', rather than just painting for the fun of observing the pattern or texture.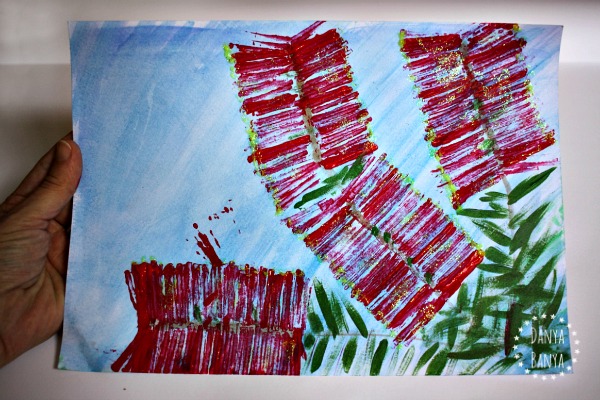 Painting Yellow Bottlebrush flowers
JJ and I used:
blue watercolour paint
green and yellow acrylic paint
sturdy cardboard
general art supplies (thick paper, brushes, scissors or knife to cut the cardboard, etc)
black acrylic paint (optional)
This yellow bottlebrush artwork was JJ's idea – because not all bottlebrushes are red! She did elicit my help for much of this project though, because she struggled without the use of her right hand.
First we painted the background with blue watercolours and let dry. Then we painted some alternating green leaves along invisible stems, using green acrylic paint, and let dry. (Luckily, both watercolour and acrylic paints dry quickly, so there wasn't much waiting time for my impatient lass.) Next we painted the yellow bottlebrush flowers using another piece of cut cardboard (cut slightly smaller this time), dipping and stamping with the end. I was able to stamp quite rapidly, but JJ found this movement very tricky (especially with her left hand), so it acted as a fine motor exercise as well. Lastly she added some black acrylic birds in the background. (She loves painting birds in the sky at the moment. They are becoming a bit of a signature.)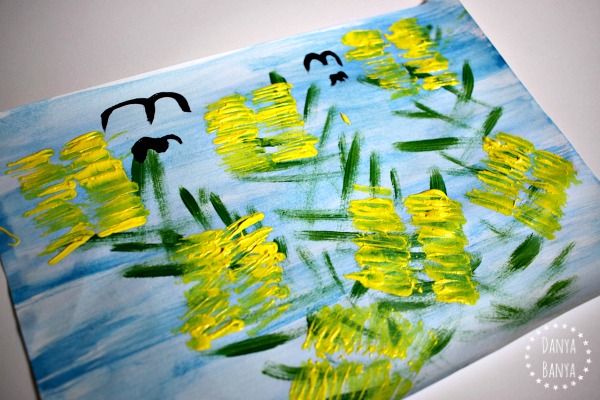 I love the way that the two paintings have quite a different composition, yet use a similar technique. They look quite different, and yet both are true to what bottlebrush flowers look like. JJ and I talked about this a lot, about how our different versions are both 'correct', about how art doesn't have to be about rights and wrongs.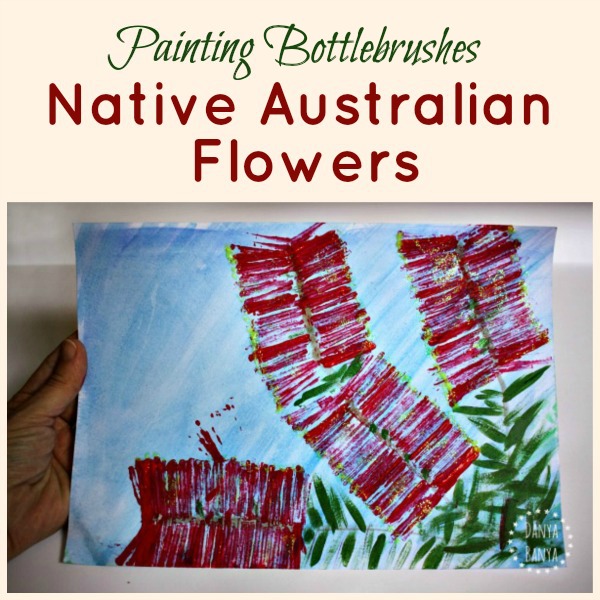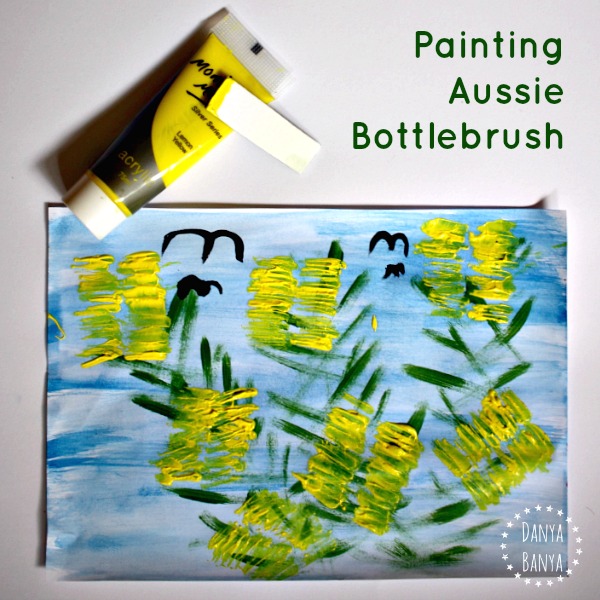 For more creative Australia Day ideas, here are some other Aussie activities we've done previously on Danya Banya. (Click on one of the images below to go through to that post).
And check out all these fun Aussie projects from other Australian bloggers, some just published, and some coming your way shortly!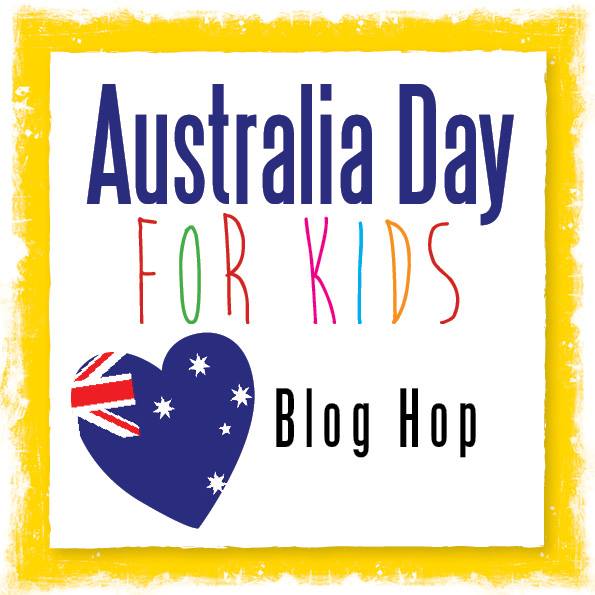 The Australia Day Blog Hop 2016
Week 1
Monday January 4th
Printable koala mask at The Craft Train
Tuesday January 5th
Koala in a Creek at Laughing Kids Learn
Wednesday January 6th
Australia themed printable at Montessori Nature
Thursday January 7th
Boab Tree Mosaic Art at A Moment In Our World
Friday January 8th
Homemade Violet Crumble recipe at Go Science Kids (our sister site)
Week 2
Monday January 11th
Aussie Book List at Honey Bee Books
Tuesday January 12th
Mini kids pavlovas at Kidgredients
Wednesday January 13th
Bottlebrush (flower) art at Danya Banya (that's us!)
Thursday January 14th
Quick Aussie cookies kids can make at Coloured Buttons
Friday January 15th
Cooking with Kids at Learn with Play at Home
Week 3
Monday January 18th
Aussie recipe at Sweet Little Pretties
You might also like to visit the Australia Day Blog Hop from 2014 for lots more fun Aussie ideas!
xx Danya
* Some of the products we have in Australia are not available or not common internationally, so I've added in (cheeky affiliate) Amazon link(s) to help clarify. An affiliate link means I may earn advertising / referral fees if you make a purchase through my link, without any extra cost to you. It helps to keep this little blog afloat. Thanks for your support.