Spring Nature Art for preschoolers: Learning about and painting with the flora of our neighbourhood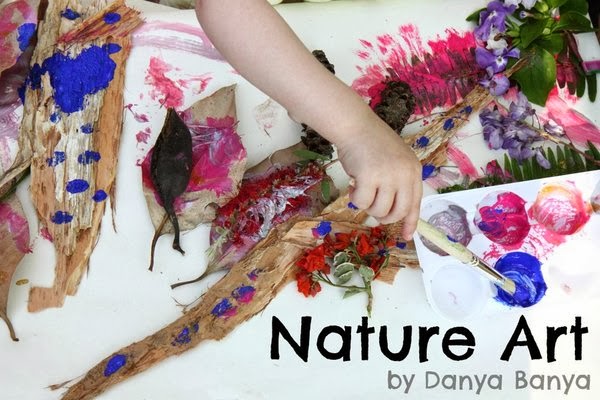 As the weather becomes cooler in the Northern Hemisphere, Pinterest and Facebook feeds become flooded with 'Fall' activities. But for us folks that live downunder, the weather is becoming warmer, the flowers are blooming, and the promise of an endless Summer is in the air…
So to celebrate all things Spring, a group of incredible Australian bloggers are coming together in a Spring Blog Hop, with each blog featuring a different Spring-inspired kids activity every day.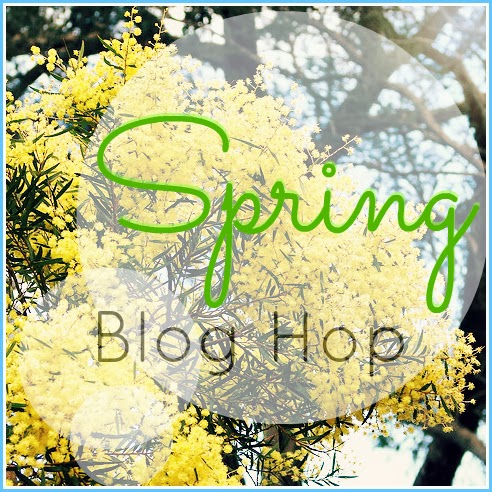 In the Banya household we've been taking advantage of the fantastic Spring weather by going on long neighbourhood nature walks every day, singing as we go…
Walking along, looking around.
Looking up, and looking down.
You never know what you'll see.
Look over here, what can it be?
What's that lying next to the footpath?
As we walk we search for treasure. Sometimes it's an unusual looking flower, sometimes it's a smooth stone, sometimes it's a bumpy seed pod.
Here's what we found one morning.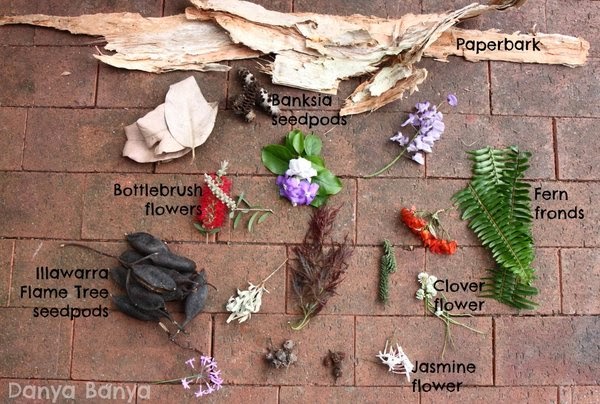 JJ and I are still learning the names of our local flora – I've labelled the ones that I know (so far).
Our house rule is that JJ is allowed to pick flowers, leaves, seed pods etc from plants and trees along the nature strips, as long as there are plenty of other flowers left on the tree or bush for other people to enjoy. She's also free to collect anything that has fallen to the ground.
When we get home, we look up the names of what we have collected. We have a large botanical book on our coffee table that we like to leaf though (hehe).
Here's a close up of some of our Australian natives. Gorgeous aren't they!!

Granny and Pop were visiting on this particular day. After lunch Granny and JJ began an unstructured art and craft session using some paint and most of our nature finds. There was no particular outcome in mind, just the pleasure of spending time creating with loved ones on a glorious Spring afternoon. It's lovely watching Granny and JJ chatting away as they 'work'.

JJ started off by painting on the big beige leaves. Granny suggested using the peg to hold it down – much easier! They used the same trick to paint the fern fronds.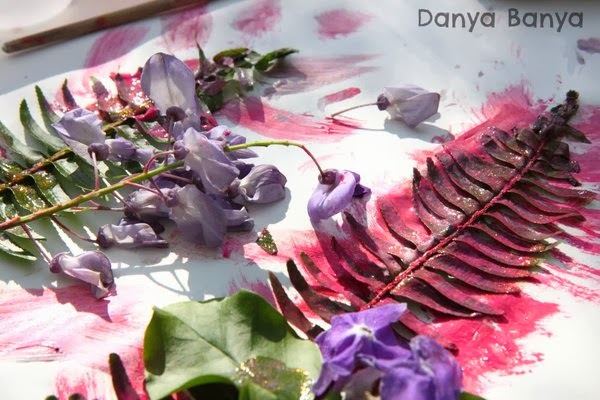 And by gradually added a splash of paint here and a sprinkle of flowers there, they built up a beautiful work of art, layer upon layer.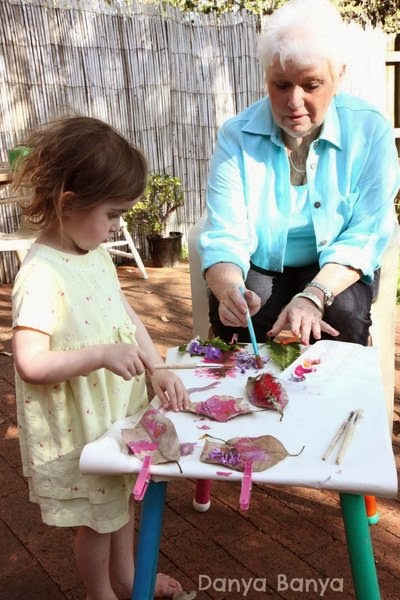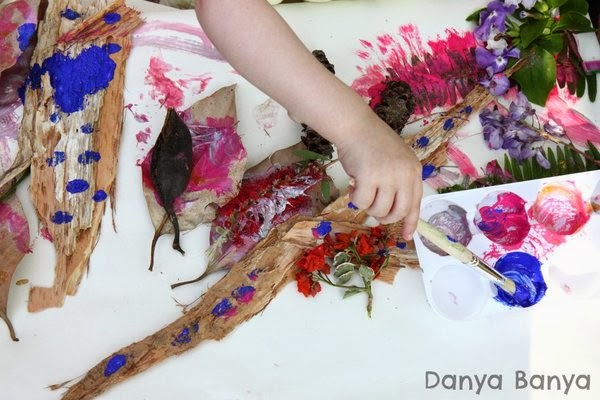 And here it is! Their finished masterpiece…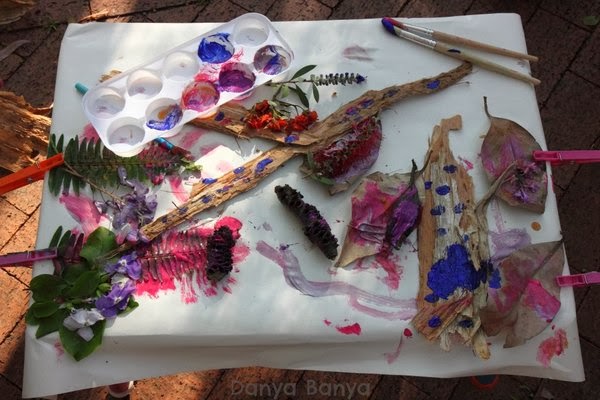 There was painting, colour mixing and learning new art techniques. There were nature discoveries – new flora, shapes and textures. There was bonding, developing intergenerational relationships that last a lifetime.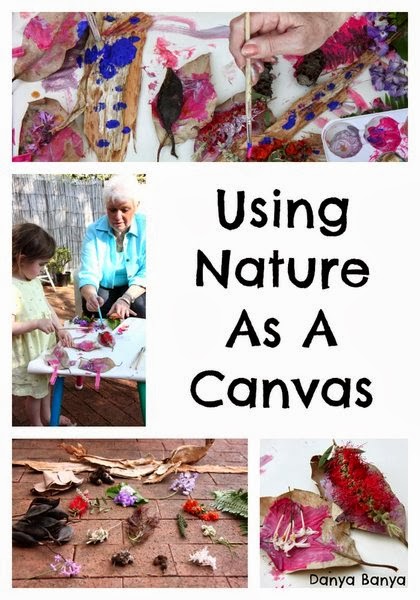 And you might be wondering what Bee and Pop were doing while Granny and JJ's crafting fiesta was going on? Oh they were just lounging around…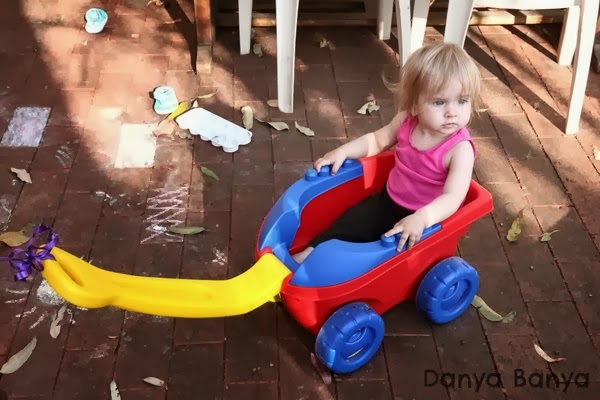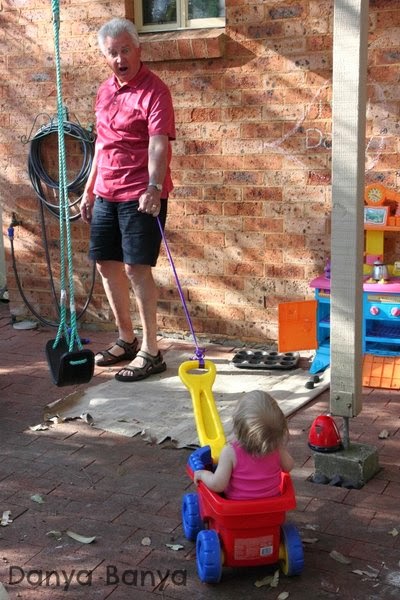 Would you like to see some more Aussie Spring ideas? "Hop" over to some of these fun Aussie kid blogs to see what they've been up to. I promise you'll like what you find. 🙂
Racheous, Wildlife Fun 4 Kids, Danya Banya, Triple T Mum, Childhood 101, An Everyday Story, One Perfect Day, Just For Daisy, My Little Bookcase, Picklebums, Happy Whimsical Hearts
And I hope you all have a lovely Spring day! 🙂
xx Danya