DIY reindeer decorated beers – great Christmas gift idea for beer lovers!
There are some things that you should do, just because you can. Reinbeers are one of those things!
My daughter JJ (who was about 4.5 years old at the time) and I made these last year as a little 'homemade' Christmas gifts for her daddy and grandfather.
I'm pleased to say that Mr Banya and Pop loved them! (Plus, later on it was hilarious watching them drink beer from a bottle that had a googly-eyed face on it.)
I should mention that I am not the first person to come up with this idea. I have seen dozens of Reinbeer versions floating around the webs. Whoever did come up with this idea first, is genius. (If you happen to know, please tell me, as I would love to be able to give credit!)
Anyway, here's how we made ours.
How to make a 6-Pack of Reinbeers in about 10 minutes
You need:
Cut each pipe cleaner into one large section and two small sections. Wind the middle of the large section around the beer bottle neck, just under the cap and twist a few times to secure. Point the two ends up.
Twist the two smaller pipe cleaner sections onto the two ends about mid-way, so that they looks like reindeer antlers.
Use the glue gun to attach the googly eyes and black and red noses.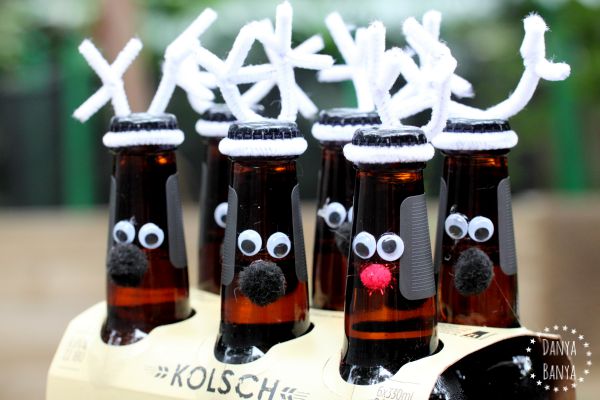 If you don't have pompoms, I think black and red buttons would look cute as well. I've also seen versions where people have glued on twigs instead of pipe cleaners (like we did with our Rudolph watercress).
It doesn't really matter too much about the details – it's more about the overall effect. You can see that our gluing skills here aren't perfect. (That might be something to do with the fact that we rushed to make these in about 10 minutes on Christmas eve. Ahem, nothing like a last minute DIY Christmas gift!)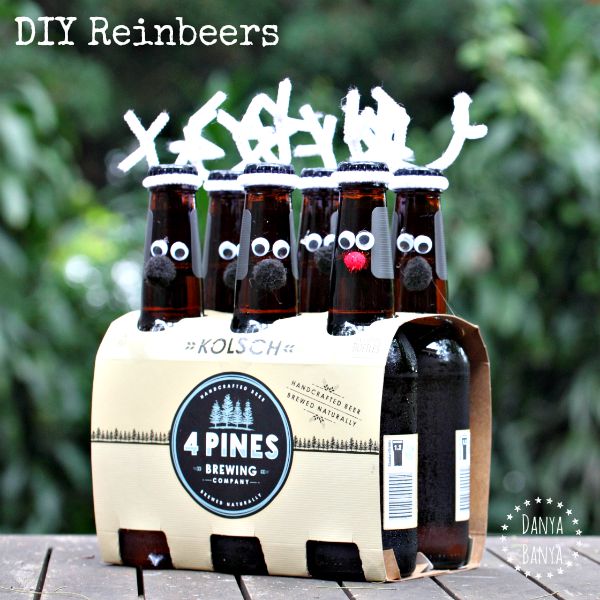 To go with the beer-giving theme, you might like to check out this beer holder that JJ painted for Mr Banya's birthday a few years back. He still has it (although the beers inside keep changing…)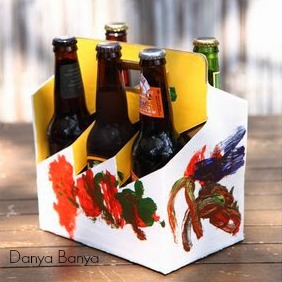 Or for more fun DIY Christmas ideas, check out our Christmas Activities for Kids page.
What are your kids giving their Dad or Granddad for Christmas this year?
xx Danya
* This post contains affiliate link(s). An affiliate link means I may earn advertising / referral fees if you make a purchase through my link, without any extra cost to you. It helps to keep this little blog afloat. Thanks for your support.