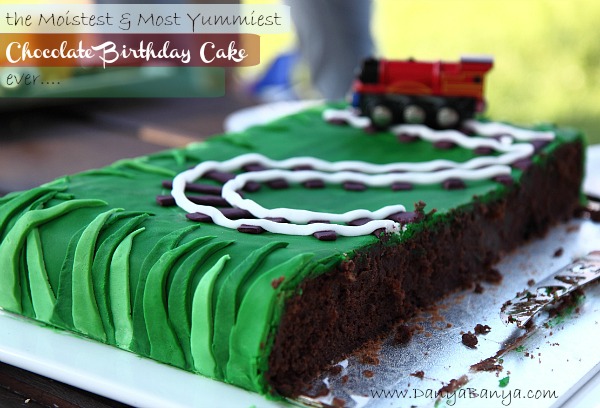 Ok, maybe I'm over-selling it a bit in the title, but I have made this dark chocolate mud cake (with dark chocolate ganache and fondant icing) four times in a row now. It's my new go-to birthday cake recipe, because it holds up really well to decorating, and mud cake is always a party pleaser. Each time I've made it, people have begged me for the recipe. So here it is folks!
But before we get to the technicalities, let me show off some of my designs. 🙂
Here's my most recent, a number 2 train track cake for my vehicle-obsessed lass who turned two a few weeks ago.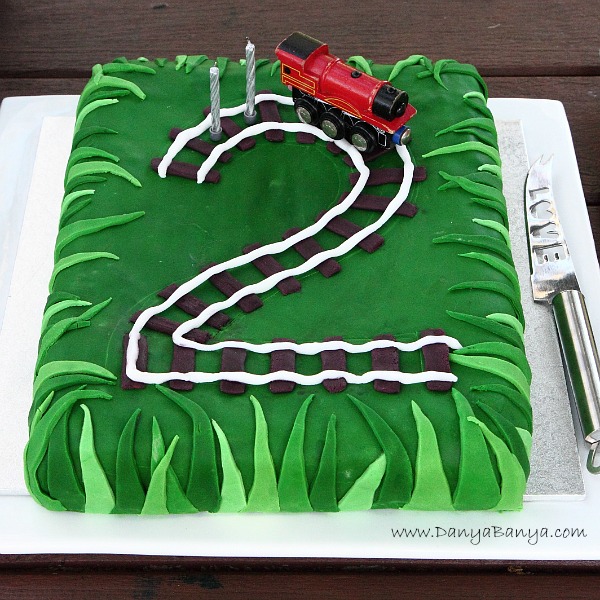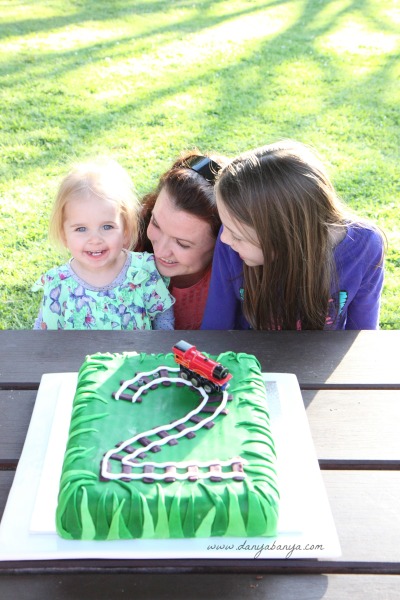 The train is from her  massive train set that we bought second hand for her birthday present. (Are we the only ones that give pre-loved birthday gifts?) For this cake, I bought pre-coloured dark green icing from a speciality cake supplier, then I mixed it with white and yellow to achieve the various shades of the 'grass'.
I used the same green icing for Bee's Dorothy the Dinosaur cake, for her other, Wiggles themed, second birthday party. (Two parties for a second birthday? Apparently I'm a sucker for punishment…).
I used a Wiggles mask colouring in page for the design, copying it by hand onto baking paper to enlarge it to the size of the cake.

The red, yellow and black icing is store-bought pre-coloured fondant that actually uses all natural colours. Awesome! Alas, the green is not so additive friendly, and it (ahem) kind of covers the whole darn thing…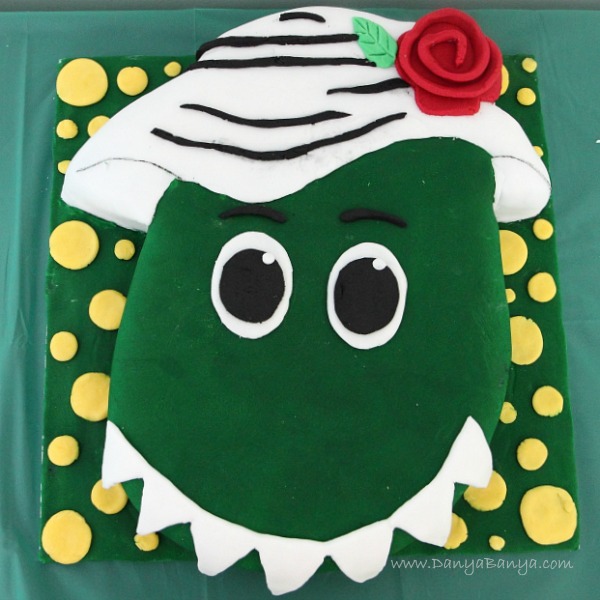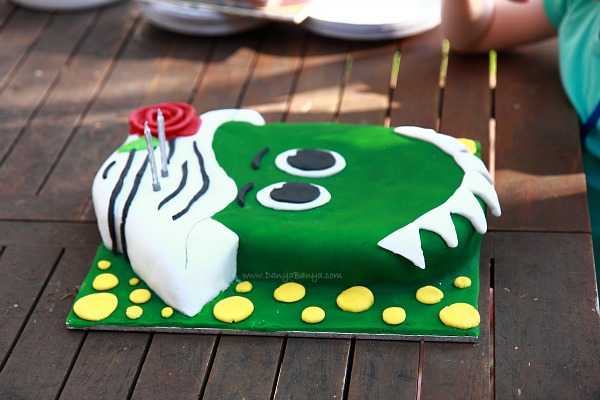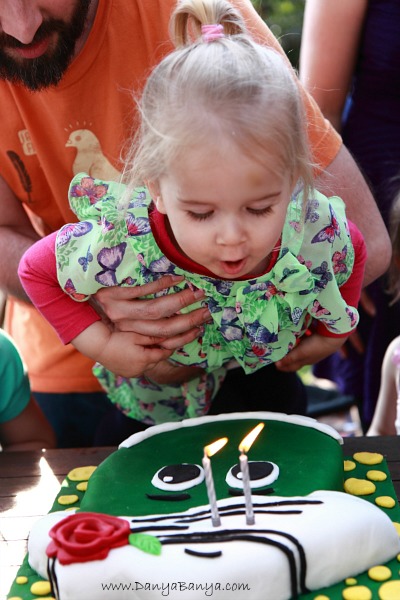 I made this Dashi cake for my daughter JJ's Octonauts 4th birthday party earlier this year. The most difficult bit was cutting and positioning the face and hair, so that it neither overlapped, nor left any gaps. I really like how this one turned out. I think the key to getting cartoon character cakes right is all in the shape and position of the eyes…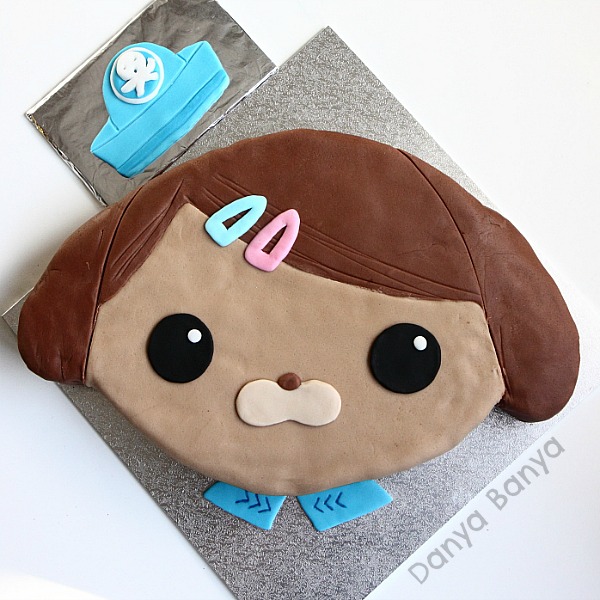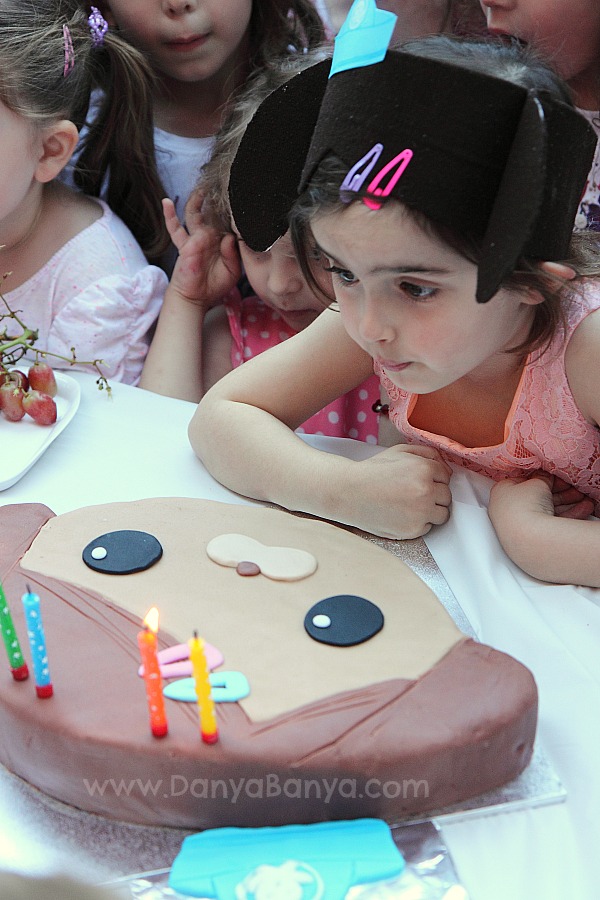 I've also used this same recipe to make smaller cakes, just by cutting the large cake into several smaller ones before ganaching.
Last month I made four smaller cakes, intending to donate three for the preschool Father's Day cake stall, and keep the fourth one for our own Father's Day celebrations. Bee cemented this decision when she decided to be the official taste tester a couple of days in advance. Bah! She doesn't even look remorseful!
So anyway, enough fluff, would you like the recipe? (Modified from Kidspot's large chocolate mud cake recipe, including a few tweaks and shortcuts that I've found handy along the way).
The Moistest, Most Yummiest Chocolate Birthday Cake, ever
Serves: 40
Ingredients:
Mud Cake
500g butter
400g dark cooking chocolate
4 cups caster sugar
2 tsp instant coffee (optional)
3 cups of water
1 1/2 cups plain flour
1 1/2 cups self-raising flour
1/2 cup cocoa
6 eggs
Ganache
250g dark chocolate buttons
1/3 cup cream
Fondant Icing (optional)
Pre-made fondant icing
Food Colouring (preferably without artificial colours)
Instructions
Mud Cake
Heat the butter and dark cooking chocolate in an extra large saucepan over low heat until melted. Add the sugar, instant coffee (if using) and water, and stir until dissolved. Set aside to cool.
Preheat the oven to 150℃. Line a large roasting pan with baking paper.
In a separate bowl, beat the eggs until light and fluffy.
Add the (unsifted) flours and cocoa to the cooled chocolate mixture. Mix until all ingredients are roughly combined. Add the eggs, and mix well.
Pour into the lined roasting pan. Bake for 1 1/2 hours.
Set aside to cool in the pan (for several hours, or possibly overnight).
Ganache
Combine the dark chocolate buttons and cream in a microwave-safe bowl, and microwave on medium heat for 20 seconds at a time until melted. Add cream and mix well. Set aside to cool at room temperature for roughly 1 hour until the ganache is thick and spreadable.
Carefully remove the mud cake from the roasting pan and place cake <i>upside down</i> on your cake board / serving platter. Cut cake to your desired shape.
Spread ganache over the entire top and sides of the cake, making sure to leave no areas 'unsealed'. Smooth the ganache using the flat edge of a spatula (or other utensil). Any major imperfections will show through the fondant icing.
Fold paper towel over the edge of a blunt butter knife, and use to wipe clean the edges of the cake board.
Set ganached cake aside overnight at room temperature.
Icing
For 2D cartoon character designs, google for a colouring-in page of your preferred character.
Mix food colours in a ceramic bowl until correct hue is achieved before adding to white fondant. Wear disposable gloves when adding food colouring. Natural food colouring is fantastic for pastel coloured fondant. For more vibrant colours, artificial colouring (or pre-coloured fondant) does look better.
To cover a large cake, use a rolling pin (or glass bottle or vase) to roll fondant out onto a large silicon baking mat (or I use a large BBQ hot plate liner). Turn upside down and carefully place onto the cake. Peel back the silicon mat or liner, and gently ease the fondant into the nooks and crannies of your design. Cut away any excess.
Add the details to your design. Use a small dab of water between any layers of fondant to act as glue. Minimise the number of thick fondant layers, to prevent the fondant overwhelming the flavour of the cake.
Set aside overnight at room temperature to set.

For the sake of your sanity, I recommend to start baking at least 3 days before the party, so that you can ganache the next day, ice the day after and be able to go to bed on the eve of the party knowing that the cake is done. If you feel like being super organised, or if party prep leaves you feeling overwhelmed, then you might even want to bake the mud cake up to a month in advance and freeze it. Just make sure it is fully defrosted before ganaching.
And for some reason I feel the need to explain something. I find myself in an ethical dilemma when it comes to party food.  I'm quite strict with my kids diet most of the time. Part of our strategy is to generally eat a balanced diet that is high in fibre, low in sugar and to ensure that healthy food is cooked in a way that makes it as yummy as possible, so they grow up learning to love good food! But rather than totally ban high sugar junky foods, we instead label them as 'party foods'. My kids happily accept (most of the time) that we don't eat these foods unless we are at a party. We do make (and love) lots of healthier party food options (like this, this, this or possibly this) but lately I've been making an exception for the cake.
It is the party centrepiece after all….
xx Danya