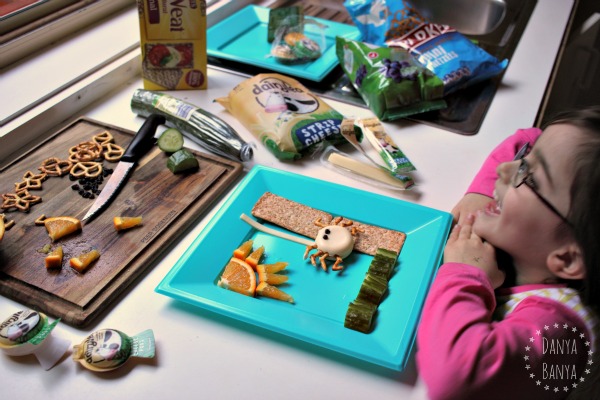 We're going through a little creative snack phase at our place. It all started when we made a healthy platter of fruit, veg & cheese 'flowers' a few weeks back. Ever since then, the kids have been begging for 'picture snacks', and we've had lots of fun coming up with different ideas.
Here's one that we made for Incy Wincy Spider. Or is it Itsy Bitsy spider? To be honest, I'm not even sure what we sing at our place – we seem to alternate between the two! Either way, I'm sure you know how this popular nursery rhyme goes…
Incy Wincy Spider climbed up the waterspout
Down came the rain, and washed poor Incy out
Out came the sunshine and dried up all the rain
So Incy Wincy Spider climbed up the spout again.
To make an Incy Wincy spider snack like this, you will need:
mini cheese wheel
cheese strip
pretzels
dried currants
cucumber
orange
rectangular crackers
knife
chopping board
serving plate
What to do
Cut or break the pretzels until you have eight that are roughly spider leg shaped. I found the star shaped pretzels worked better, but there were still quite a few casualties. (Luckily we had hungry mouths that were keen to help 'clear away' any mistakes.)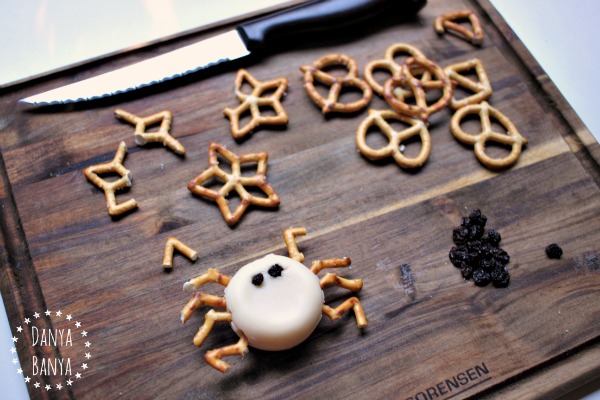 Use your knife to make tiny incisions in the cheese wheel for the legs and eyes, and then push in eight pretzel legs and the two smallest currants for eyes.
Cut a thick slice of orange into quarters, using one quarter for the sun. Cut a second quarter into tiny segments and add as sun rays.
Two rectangular crackers stacked vertically can act as a spout, and a cheese strip can act as a long spider web.
Then just add some thinly sliced cucumber grass, and you have a cute (and healthy) little Incy Wincy / Itsy Bitsy Spider snack! Yum!
This post is a part of a little series called Rhyme Time, where some of my blogging buddies and I are bringing you fun ideas for various popular nursery rhymes. Pop over and check out these fun Incy Wincy Spider ideas from my blogging friends: