Low mess, low fuss art idea for kids: 'magic' crayon resist watercolour paintings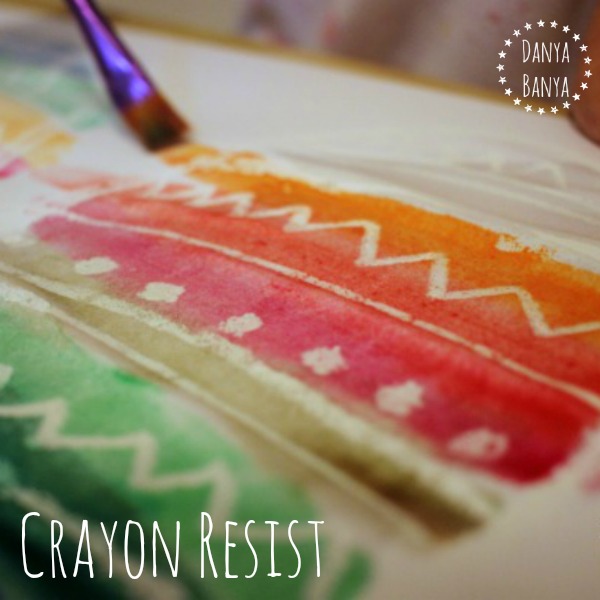 My 4.5 year old daughter JJ has been asking to paint in that quiet time between dinner and bed lately. It's that time of day when I'm looking for a low mess, low fuss activity, and I've found that crayon resist water colour paintings fit the bill.
Have you heard of crayon resist painting before? Essentially you draw patterns with crayon first (which is great pre-writing practise). When you then add paint, the crayon markings repel the paint and let the pattern show through. You can do it with any colour crayon, but white crayon adds an element of 'magic'.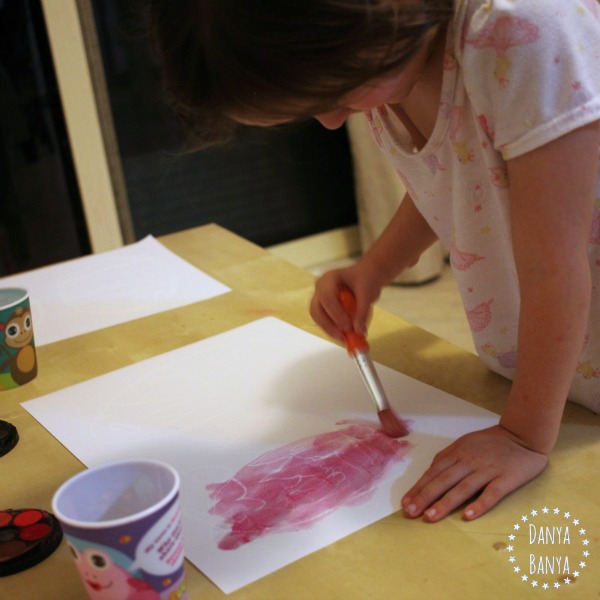 JJ and I like to paint collaboratively – she finds this more fun and less pressure than if I insist that she do it all on her own. We did these paintings over several evenings.
Sometimes it feels like cheating when I put a kid activity up on the blog that I actually helped do, but it's what works best for our family.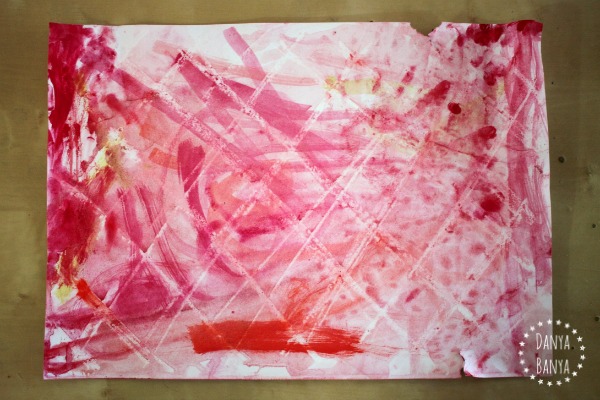 For our first painting, I drew a criss-cross / check pattern in white crayon, and JJ painted over the top to 'reveal' the secret pattern. I love the effect of the various shades of pink and orange.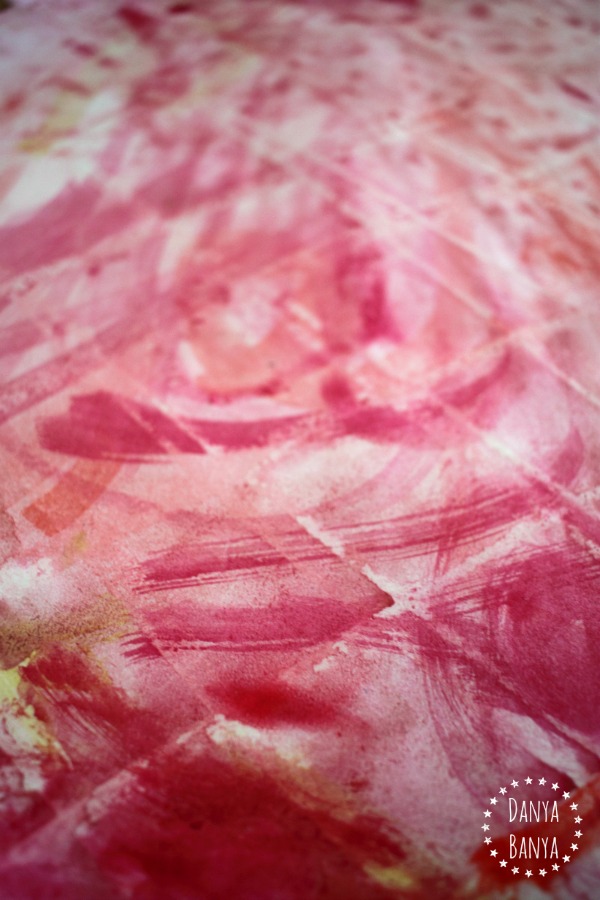 JJ then had a turn drawing with the white crayon. She had me cover my eyes so the pattern would be a surprise. I decided to vary things up a little by painting rainbow swirls. JJ watched, helping here and there, excited to see her pattern slowly revealed. She thinks I'm some sort of amazing artist to be able to paint swirls like this. I wonder for how long. 🙂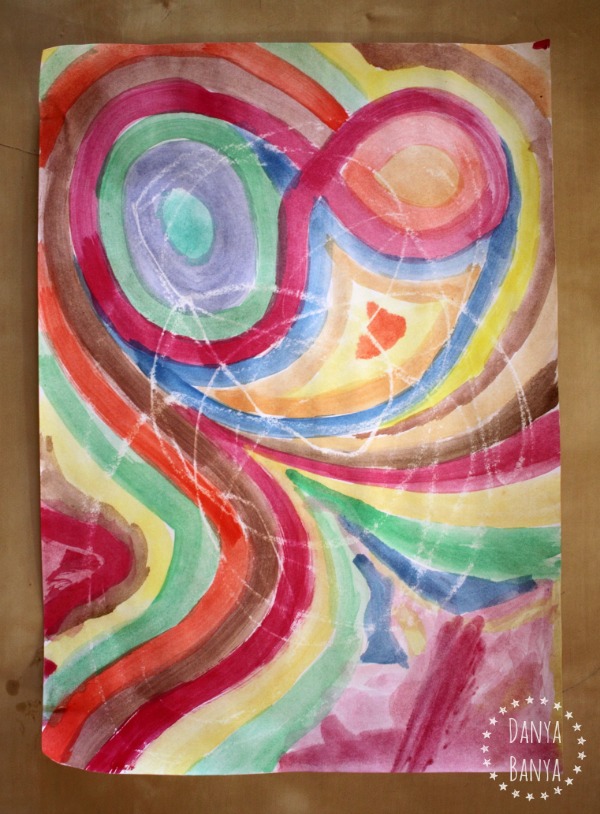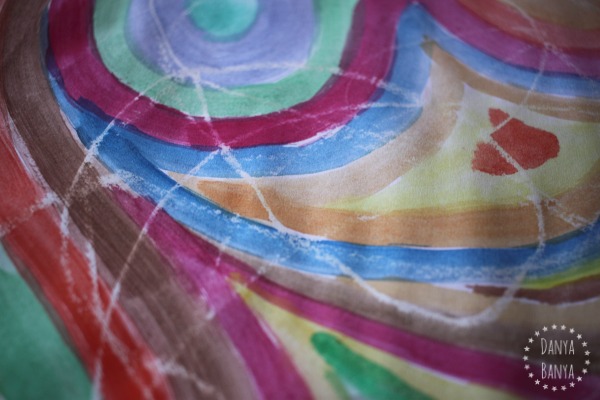 On another night, because Easter is approaching, we thought we might do some Easter egg ones. JJ drew the Easter egg patterns below. She doesn't quite have the strength to make definite crayon markings, but can you see the oval shape, and horizontal lines, zigzags and squiggles? I painted the rainbow circle egg on the left, and JJ painted the pink and yellow one on the right.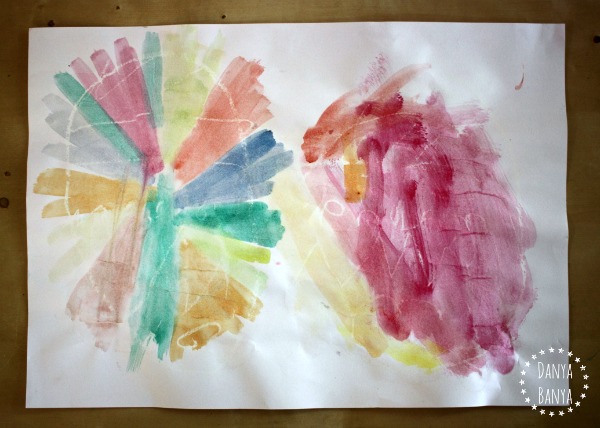 Then it was my turn to drawing Easter eggs with crayon, which I was able to do with much stronger, thicker lines. JJ painted the one on the left, and I painted the one on the right.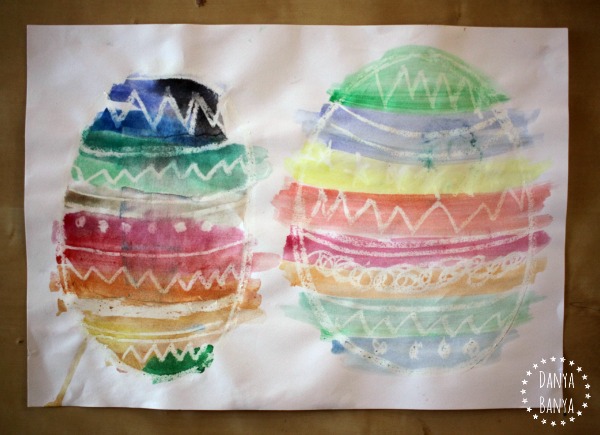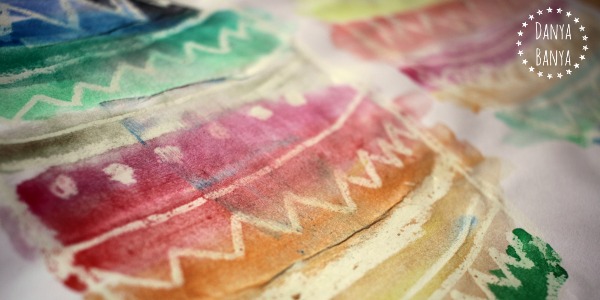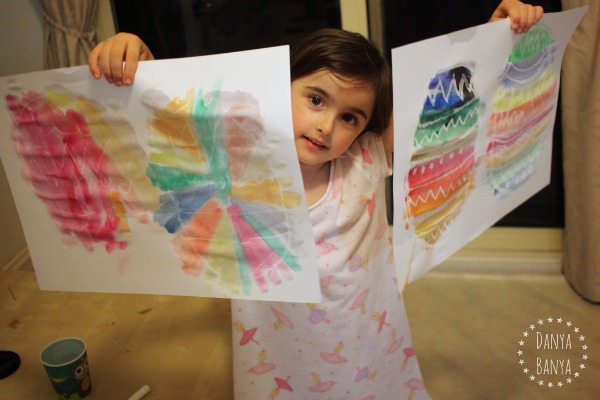 A nice quiet activity to wind down before bed, with very little prep or clean up required.
For more process-oriented art ideas, you might also like:
And I'm pinning ideas I love here:
Follow Danya Banya's board Process Art for Kids on Pinterest.
What do you do to wind down before bedtime? Do you paint?
xx Danya