Fun Easter sensory bin for kids.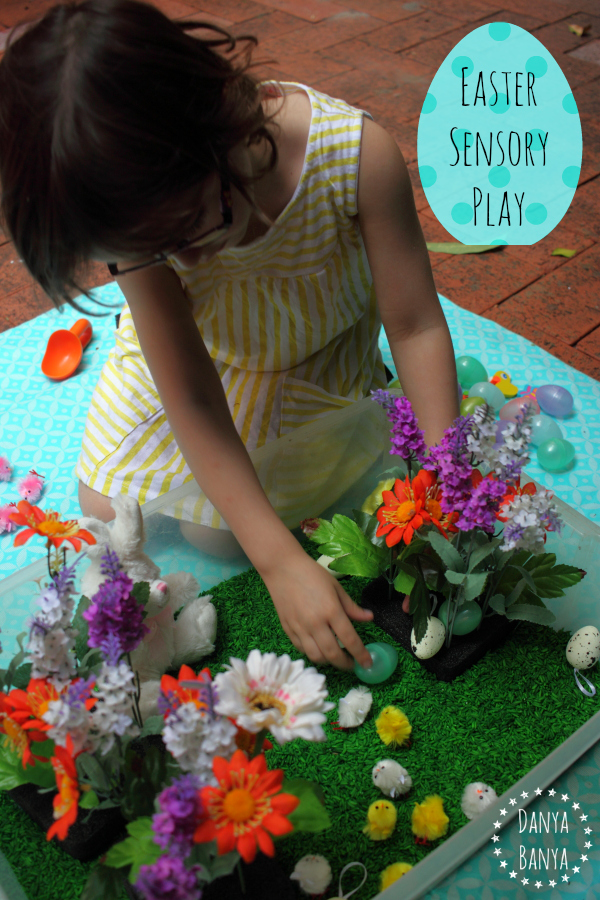 The kids had (and are still having) loads of fun with this Easter-themed sensory bin that I put together almost entirely with items you can find at The Reject Shop, who is the sponsor of this post today.
Have you been into The Reject Shop lately? They have all sorts of crafty knickknacks at great prices – just perfect for putting together an Easter sensory tub for kids (or a sensory tub to go with any theme really).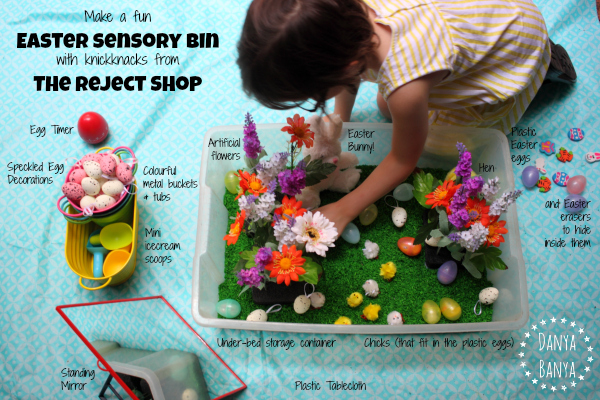 Almost all the items we used in our Easter sensory bin were bought from The Reject Shop, including:
plastic Easter eggs
small Easter-themed erasers (that handily fit inside the plastic Easter eggs)
mini fluffy chicks (that also fit inside the plastic eggs – my kids loved it when they 'hatched')
a fluffy 'mummy' hen who clucks
a plastic hen who clucks and lays eggs! The kids think it is hilarious! (Technically it comes with jellybean eggs, which I may have accidentally eaten, but FYI small gumnuts work just as well.)
a plush Easter Bunny, who is so soft and cuddly
bunches of artificial flowers (which I turned into individual stems by cutting the bottom of the bunches off with secateurs)
speckled egg decorations (that come with handy ties to hang the eggs up on the flowers)
adorable metal buckets in pink, blue and green and a yellow metal tub (from the gardening section)
even more adorable colourful mini ice cream scoops with handles that are small enough for little hands
an egg timer to add a playful maths element to their play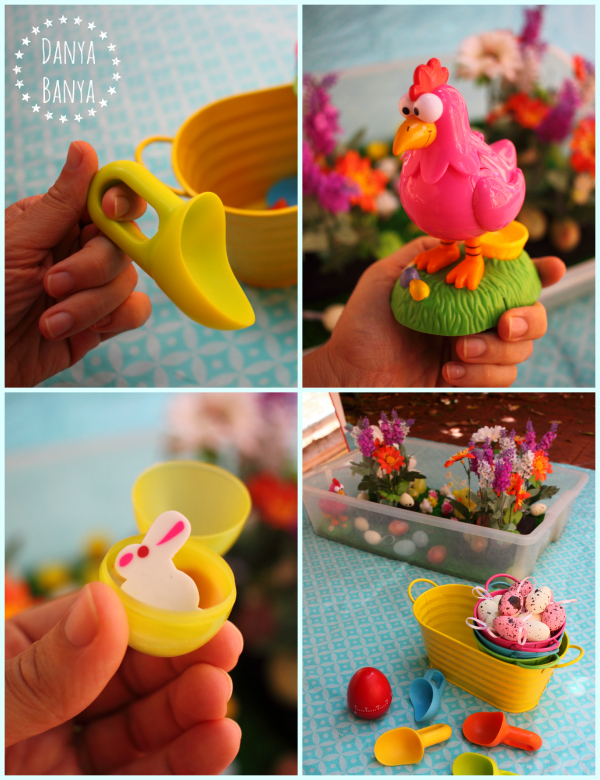 We also used a couple of our own items, just because we had them at home already.  You can buy the same (or very similar) at The Reject Shop if you don't already have these:
a standing mirror (because I've found mirrors are great for these sorts of activities)
an under-bed storage tub with nice low sides so the kids can reach in easily.
a plastic tablecloth to act as a spill mat – it makes it easier to sweep up any loose rice and pop back in
a little dustpan and broom, for said sweeping
And lastly we also used some old foam packaging (that I'd saved from the rubbish bin) to poke the flower stems into, and of course, the green rice that we made earlier in the week. (Doesn't it look like grass!)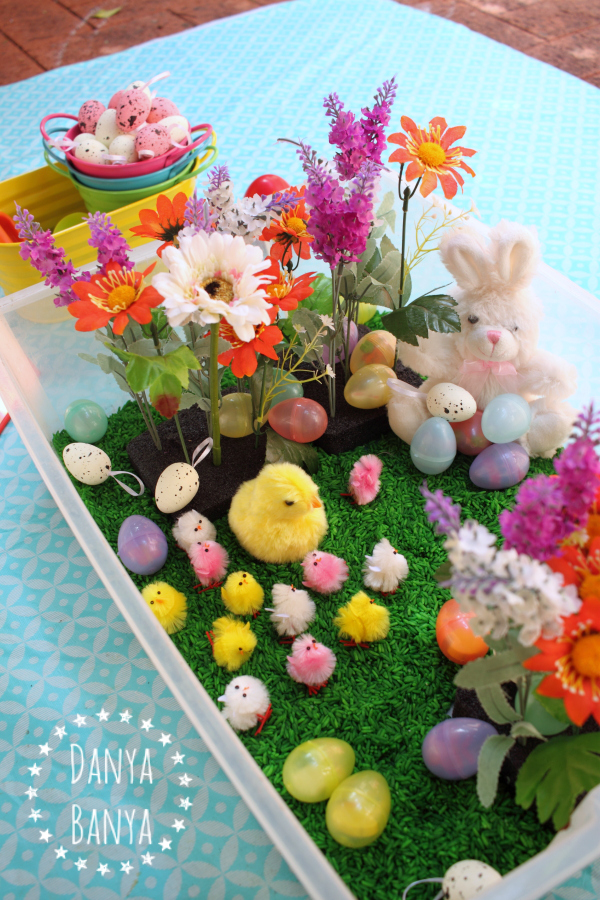 I set up our Easter Sensory Bin while JJ (4.5 years old) was at school and Bee (2.5 years old) was having a nap, so it was one of those rare moments where I was able to have everything just so.
The flowers added height and colour, and I (ahem, I mean the Easter Bunny) hid eggs underneath. Some of the eggs had Easter-themed erasers hiding inside, which added an element of surprise.
The kids soon discovered that you can use the plastic eggs in all sorts of ways. The little chicks can hide inside, and then hatch to join the rest of their family. You can scoop rice inside the plastic eggs, and turn them into little egg shakers. The little speckled eggs even fit inside them!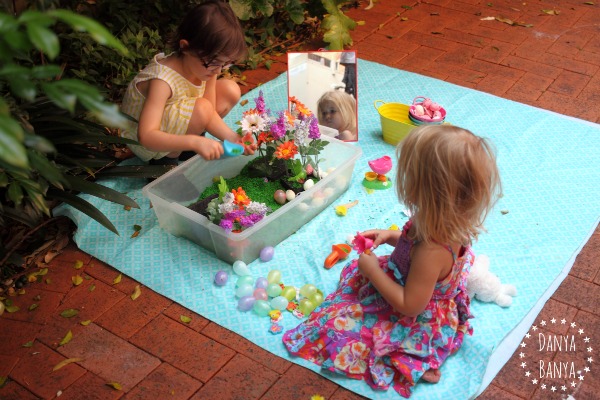 The kids scooped, poured and role-played for the rest of the afternoon, and then begged to play again the next day. Everything fits back into the plastic tub, so it's easy to pack up and bring back out again.
I love that sensory play, like this Easter sensory bin (and our earlier ocean-themed sensory tub), encourages the kids to play calmly and collaboratively outdoors, in an area of our backyard that often misses out on the action. It even gave me a chance to hang the clothes on the line. 🙂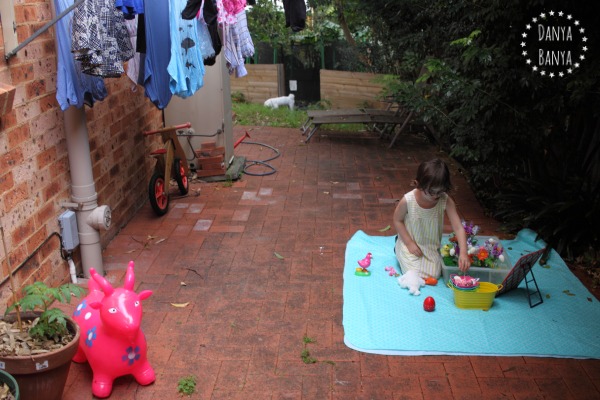 The Reject Shop has everything you need for Easter (have I even mentioned the aisles of chocolate??), and a huge range of crafty products at savvy prices. You don't have to stick to the craft sections either – there's lots of 'real life toys' that your kids will love to play with. (And if they are playing, they are learning – it's just hidden under squeals of laughter.)
****The below giveaway has now ended. Congratulations to Cass who was the lucky winner (as announced here).***
I have a $100 Reject Shop gift card to giveaway to one of my readers. To enter, please answer the following question in the comments below:
What Easter presents would you purchase for your friends and family with a $100 Reject Shop voucher?
(This giveaway is open to Australian residents only, from Tuesday 24th March 2015 until 5:00pm AEDT Wednesday 1st April 2015. Please click here for full terms & conditions.)
Good luck, and #getsavvy!
xx Danya