Recipe for frozen strawberry-scented playdough – perfect for ice cream parlour pretend play.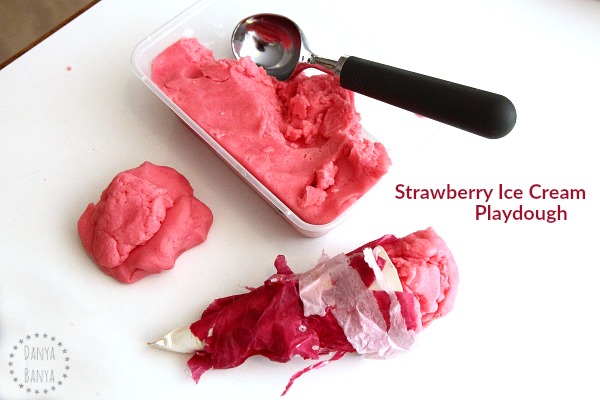 If you've been reading our blog for a while, you might have caught on that we have a thing for DIY play dough. It's inexpensive, and takes only 10 minutes to whip up a fresh batch. The kids often help make it, which is all part of the sensory experience. And because it's homemade, we can change the recipe to suit a particular theme. On this particular occasion, we decided to make frozen strawberry ice cream dough!
This is a fun activity for preschoolers. JJ was almost 4 years old back when we did this, and she completely loved this activity. (Bee was a 1.5 year old toddler, and whilst she enjoyed helping to mix up the dough, she didn't really get lost in the ice cream parlour imaginative play like JJ did.)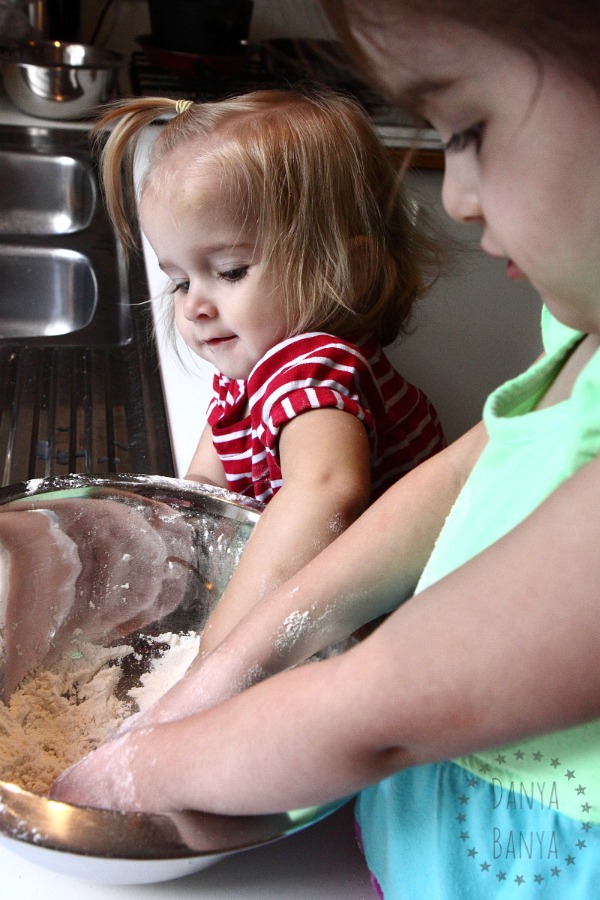 Strawberry Ice cream Play Dough Recipe
2 cups of plain (all purpose) flour
1/2 cup fine (table) salt
2 tablespoons cream of tartar
2 tablespoons oil
2 teaspoons strawberry essence
Red or pink food colouring
1 cup boiling water
Combine the flour, salt, cream of tartar, oil and strawberry essence in a large bowl. Combine food colouring and boiling water in a little jug. Add about half of the coloured water to the other ingredients and stir. It should start to clump together. Keep adding coloured water in small increments, until you've reached a dough-like consistency. Knead the dough, whilst it is still warm, for several minutes. If it's too dry, add a touch more water. If it's too sticky, add a touch more flour. Keep kneading until you see a change in texture and it becomes smooth and pliable.
Put the dough in a plastic container, and freeze.
Meanwhile, gather up a few props for ice cream play, such as an icecream scoop, and ice cream cones. We actually made a paper mache ice cream cone, using a triangular piece of cardboard that I staped into a cone shape. JJ then glued on strips of pink tissue paper. (This is the same tissue paper that we used to make our paper mache princess castle earlier).
When your ice cream dough is frozen (or you can wait no longer to play with it, whichever comes first), bring it out of the freezer, scoop up a ball of ice cream and serve!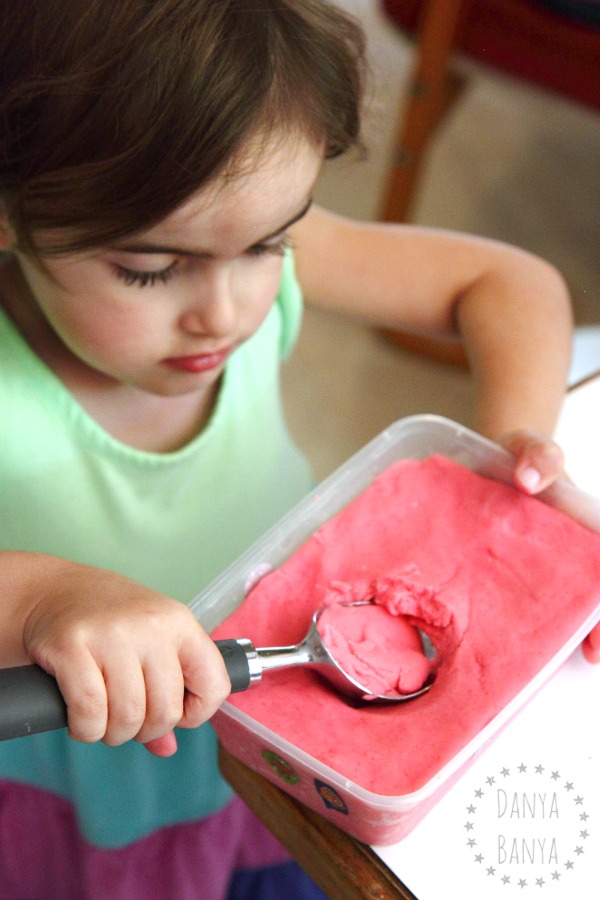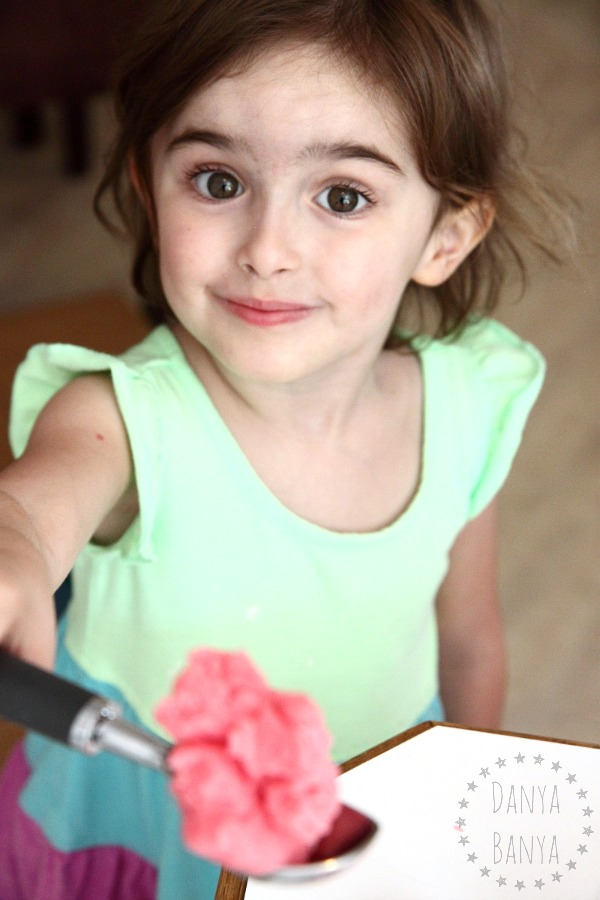 JJ raided our music box, and found two shakers, which she covered in dough so that the sticks stuck out the bottom, to make a couple of strawberry ice blocks too. (The name of these varies from country to country – I think my UK friends call them ice lollies? And I'm not even sure what my US friends would call them?)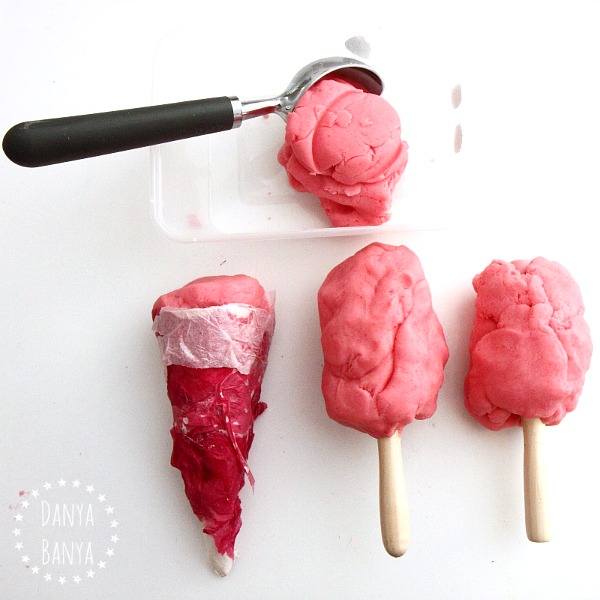 Play dough is a sensory material just by itself – all that squishing, squeezing and molding! But adding strawberry scent and frozen temperature sensation, makes this an extra sensory way to play. Scooping the frozen ice cream with an ice cream scoop is muscle building hard work too. And then there's all the fun imagining yourself as an ice cream store attendant, charging a dollar for each icecream, pretending to take money, and give back change. What took just a few minutes to make, creates some really cool play scenarios.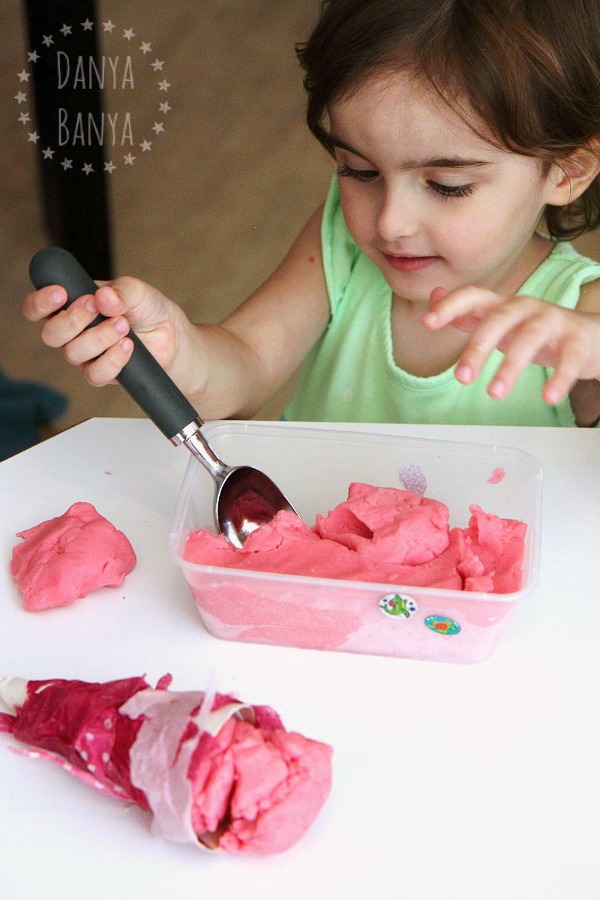 Here's a few more themed sensory play ideas that you might like:
We also have a Messy & Sensory Play Pinterest board you can check out. Follow our Danya Banya one too while you're there!

xx Danya