How to make cute reindeer lollipop class gifts for Christmas.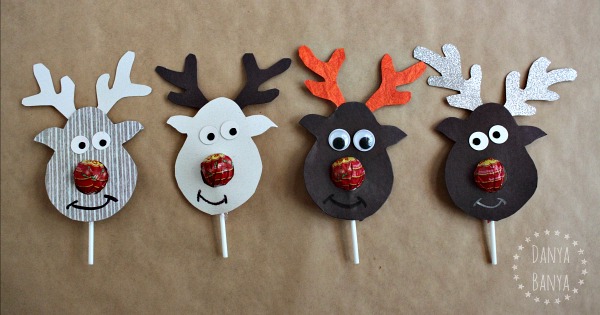 I have to admit I am slightly in love with how these Rudolph reindeer lollipop gifts turned out.  (Thanks The Centsible Life for the inspiration.)
They actually weren't that hard to make – it's one of those projects where you can set up a bit of a production line. JJ's last day of school isn't until this Wednesday, but we gave these reindeer lollipops out to JJ's kindergarten classmates a week early, much to all the kids' delight!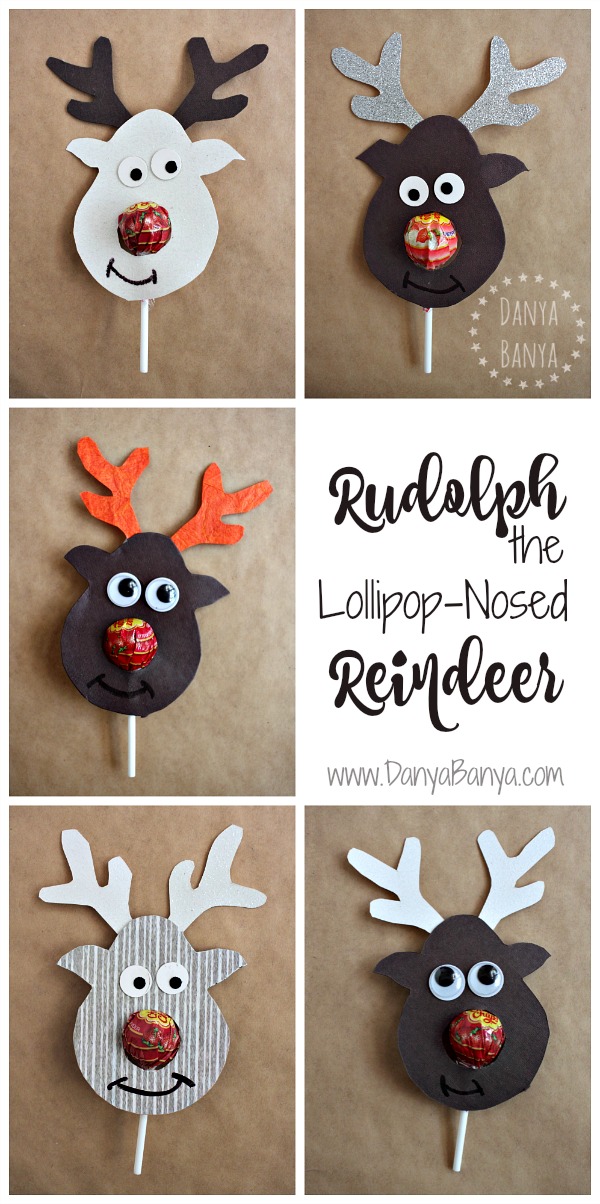 How to make Rudolph Lollipop Gifts:
cardboard / cardstock, in contrasting colours
pen
scissors
googly eyes
permanent marker
sticky tape
Chupa Chup lollipops (or other round lollipop)
1.6cm (5/8 inch) circle punch & regular sized hole punch (both optional)
white self-adhesive labels (optional)
1. Draw and cut out a template of the reindeer face and one antler.
I drew my templates by hand on thick cardboard (recycled from the cardboard back of an art pad).
Originally I made the antler template with five points, but I soon realised that a three pointed antler is MUCH easier and quicker to cut out, whilst still looking very effective. Also just FYI that you only need one antler template, because you can flip it over to double as the mirrored template for the other side. I made the reindeer face slightly pear shaped, with two little ears and a hole for the nose.
2. Trace and cut out reindeer face and antlers in cardboard of contrasting colours, patterns or textures.
Cutting everything out is the most time consuming step in the whole process – so you might want to spread it out over a few sittings. Older kids could probably help too.
You need cardboard that is thick enough to be self supporting, yet thin enough to easily cut through. I had some old soft, brown, craft cardboard that acted as a 'base' colour, and I contrasted this with silver glitter cardboard, white glitter cardboard, or orange textured cardboard, all of which made the reindeer look fancy without extra effort. I did also tried gluing striped brown wrapping paper on to recycled cereal packet cardboard as a fourth style – which looked striking, but was an extra step…
3. Attach the antlers to the back of the head with sticky tape.
4. Glue on eyes.
I added large googly eyes until, alas, my stash was all used up! I didn't have time to duck to the store, so I came up with another plan… I remembered that I did have a 1.6cm (5/8 inch) circular hole punch in my craft cupboard that could work, so Bee and I punched out some white circles and glued these on. Then I used a regular-sized hole punch to cut out small black circles, and glued these on as well. Some of Bee's eyes are glued on a little wonky, which I love! I think it makes the reindeer look quirky!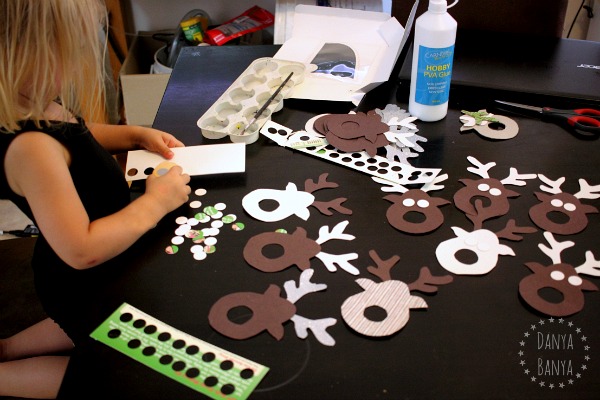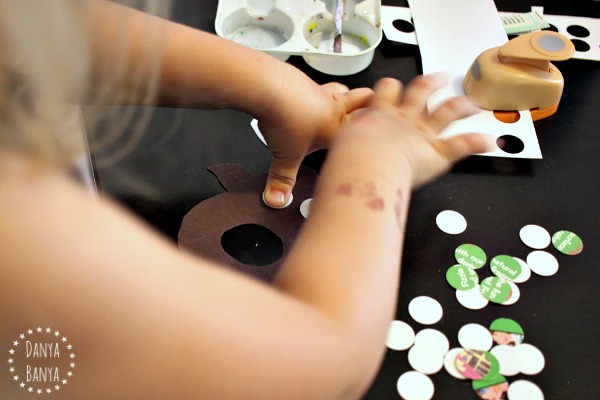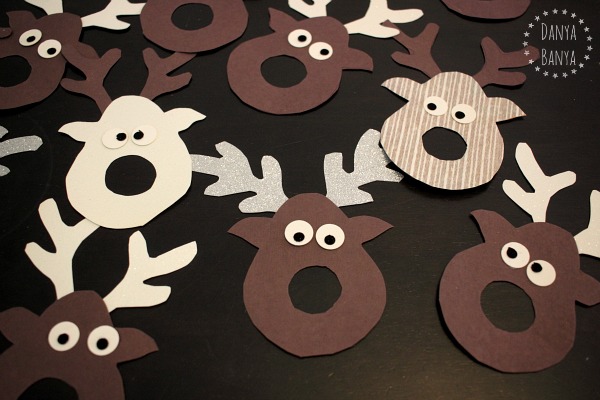 5. Draw on a smile.
6. Stick a (preferably red) lollipop to the back of the reindeer face with sticky tape.

JJ explained that the lollipops don't technically have to be red, because some of the reindeer might be Rudolph's friends – but I think that distinction might be lost on some people. 🙂
You could use any red lollipop on a stick, but I really like how the spherical shape of a Chupa Chup gives the reindeer a 3D nose. Plus JJ and her friends all love Chupa Chups (although JJ prefers the non-red flavours – hence why she didn't want only Rudolphs!)
7. (Optional) Add a Merry Christmas message on the back using a white self-adhesive label.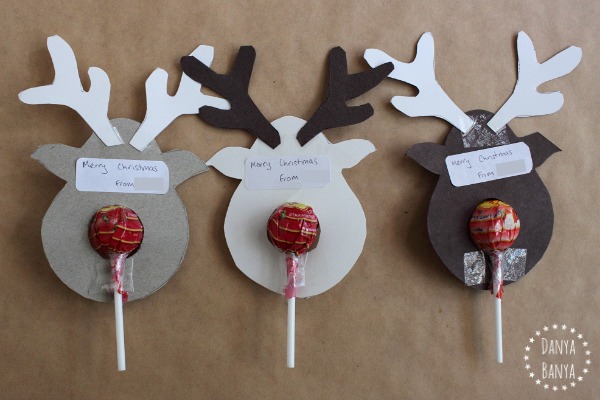 And then repeat x 30.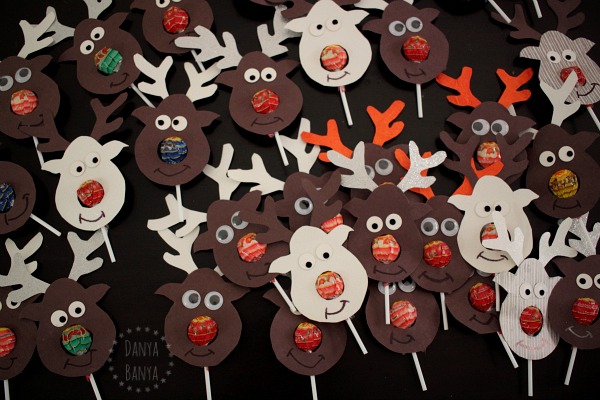 Bee thought they could make a good Rudolph the red-nosed reindeer mask too.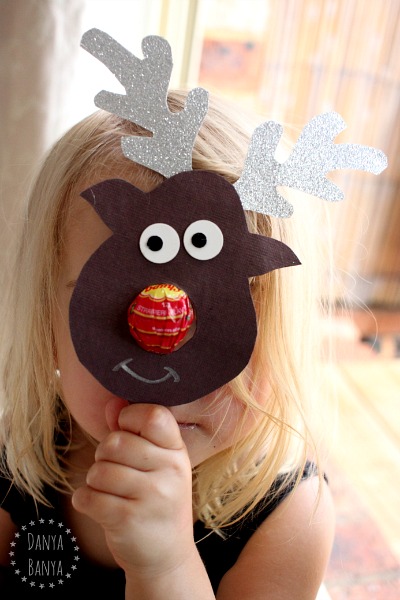 Whadiya think? Pretty cute, huh!
Oh, and I took a bunch of photos – cause, that's what I do. #sorrynotsorry 🙂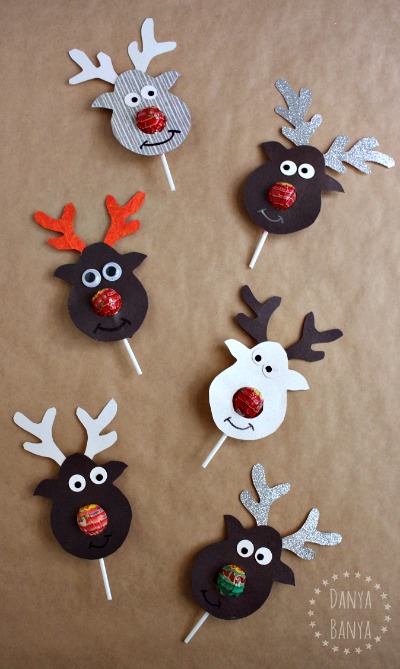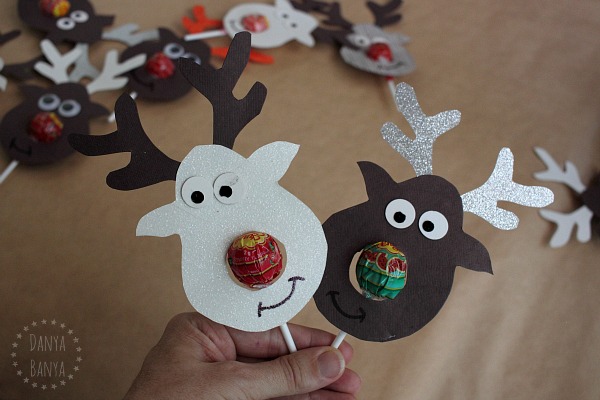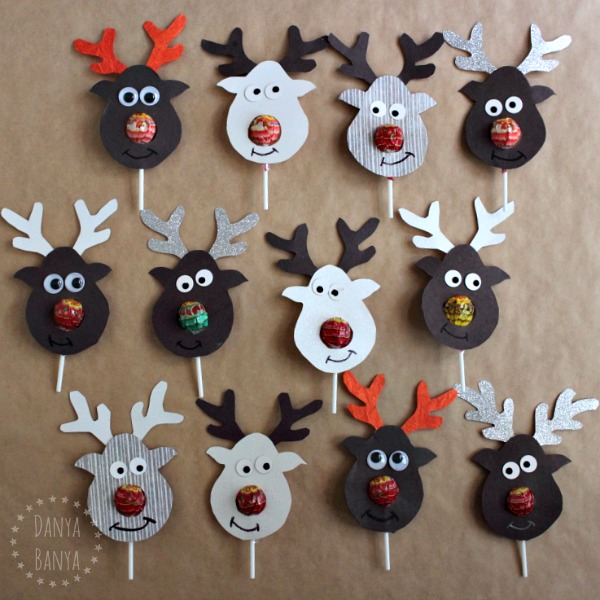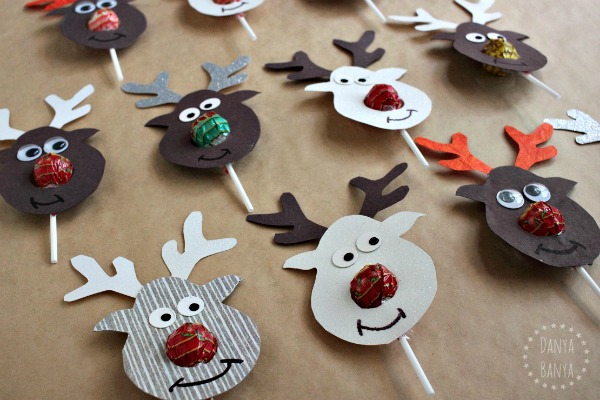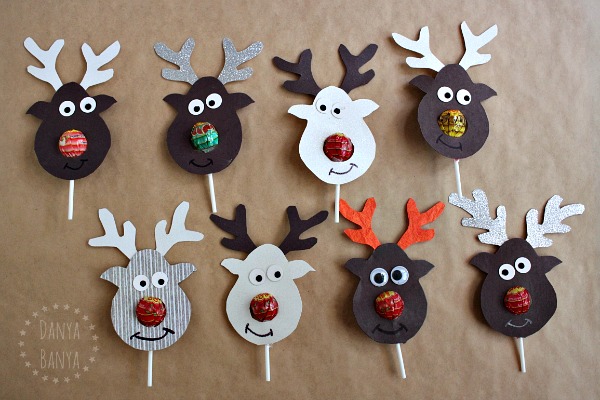 Also the hypocritical part of my brain wants to justify the refined sugar by pointing out that at least these lollipops have no artificial colours. And given that they are only 12 grams each, they can be considered a 'special occasion' treat, can't they?
Speaking of which, here's a few other (non-sugar) Christmas gift ideas that we've also made:
We gave these melted pony bead ornaments to close friends and family last year, and I've spotted some on their Christmas trees this year already!
We made these pine cone trees only a few weeks ago. We've given a couple of way, but there's a few that we're saving for some of our friendly neighbours.
I love these playdough Christmas tree gifts that my friend Debs from Learn with Play at Home made for her daughter's friends. (We just need a new printer, and then I'm totally making these next year.)
You can find all our Christmas ideas for kids here. You might also like to check out our Merry Christmas or Danya Banya boards on Pinterest.
Or, of course, you can always subscribe to our newsletter, and receive all our latest ideas straight in your Inbox. We'd love to have you join us!
Are you doing class gifts this year? Too much? Or a kind gesture? I'd love to hear what you think! And wishing a very Merry Christmas to all of JJ's class – hope you all have a fantastic break. See you in 2016!
xx Danya
* This post contains affiliate link(s) to similar products used. An affiliate link means I may earn advertising fees if you make a purchase through my link, without any extra cost to you. Thanks for your support.