Spooky marshmallow treats on a stick! Fun (and easy) Halloween themed party food for kids.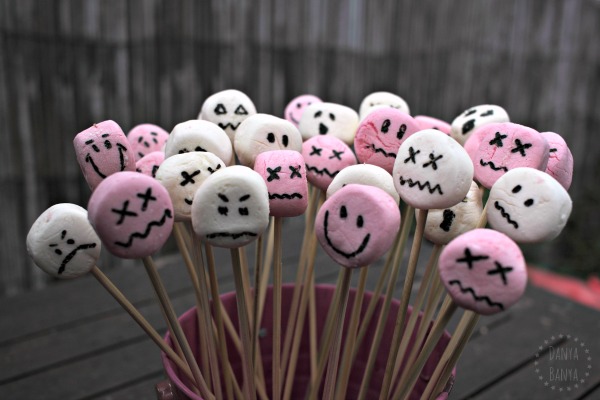 My daughter JJ loves Halloween so much that she decided to have a Halloween-themed birthday party – back in May! I'm just getting a chance to share this fun (and spooky) marshmallow treat that we made for the party with you now… (And many thanks to The Decorated Cookie for the inspiration!)
In case you've missed them, I've shared a few ideas already from JJ's "Spooky Sixth birthday party" – our DIY ghost and skull bean bag toss game, the bloodshot eyeballs we made for the eyeball and spoon races, and the fruit mummies we served as a healthy snack option. I've got a few more spooky ideas still to share too!)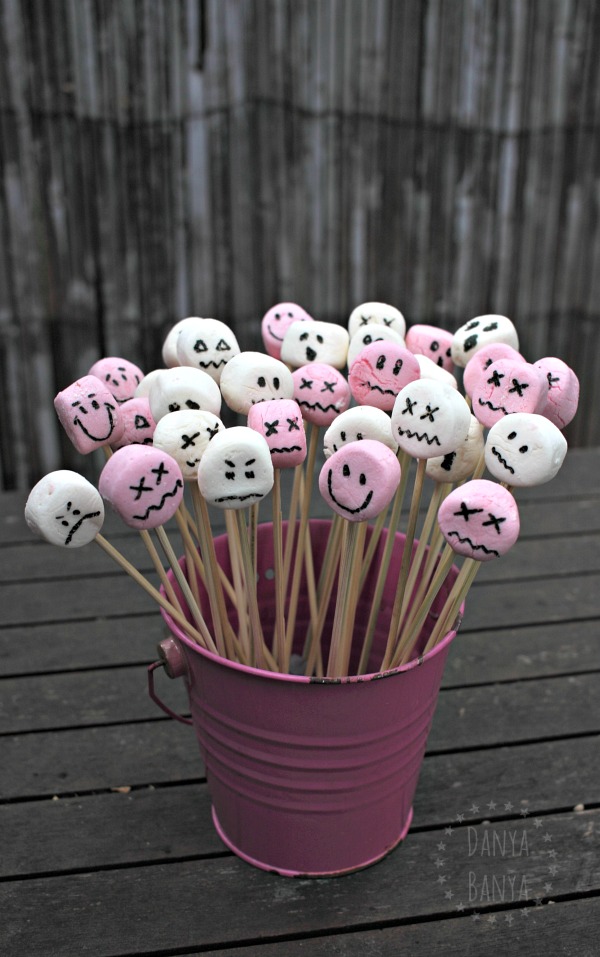 Easy Spooky Marshmallow Treats for a Halloween-Themed Party
We used:
pink and white marshmallows
wooden skewers
bucket with a ball of play dough inside, for presentation
These couldn't be easier to make. Simply draw faces on the marshmallows, and add a skewer! We mixed our faces up, so there's a few happy ones, a few cranky ones, and a few dead zombie ones. The zombie ones were JJ's favourite!
There's only one trick – if you let the marshmallows sit outside the packet for a while to dry out slightly, this will make it easier to draw the faces on later.
I took these photos at our place before we headed off to the party venue. Alas, I didn't get a chance to take photos of them on the party table, as I was too busy being a party host to all of JJ's little witch, zombie and ghoul friends! And let me tell you, they didn't last long – they were gobbled up lightning fast!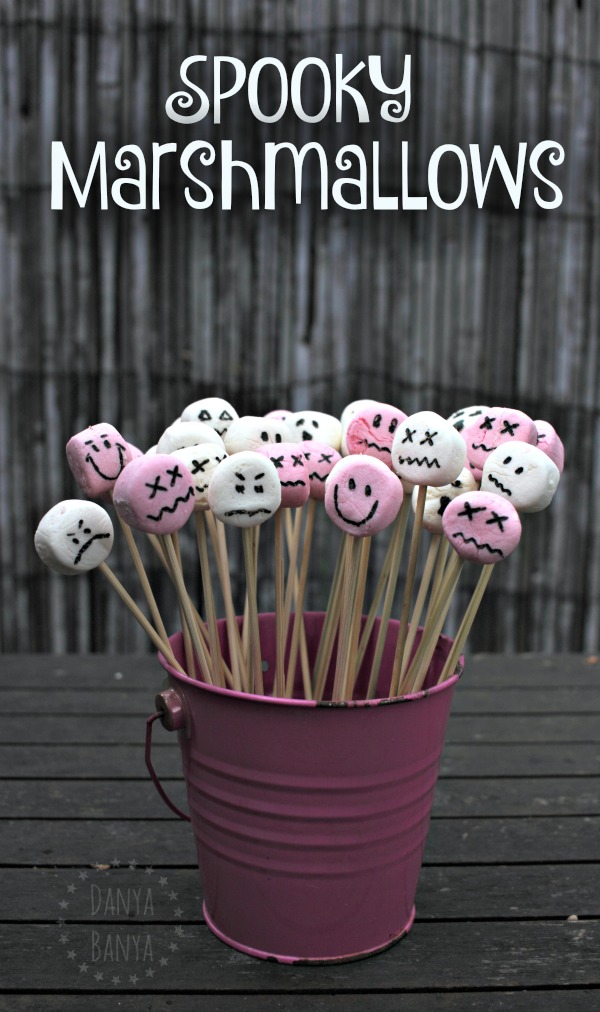 Regular readers might notice that this is a little bit different from the healthy-ish recipes I usually share on Danya Banya. But, you see, I'm in a bit of a conundrum when it comes to party food. We don't eat foods like this on an everyday basis (or even an every-week basis), but I don't want to put a blatant ban on anything. Instead, we try to eat generally healthy food, and reserve certain "less-healthy" foods for just parties and big celebrations. And so, our spooky marshmallows fall completely under the "party food" banner in our household. There's sugar. There's artificial colours. There's preservatives. Argh! But hey, if it's only once in a while….
(Ironically we bought no-artificial-colour marshmallows, but then I went and drew on them with a marker that, of course, is full of the stuff! Incidentally, if anyone knows of any edible markers that use natural colours, please do let me know!!)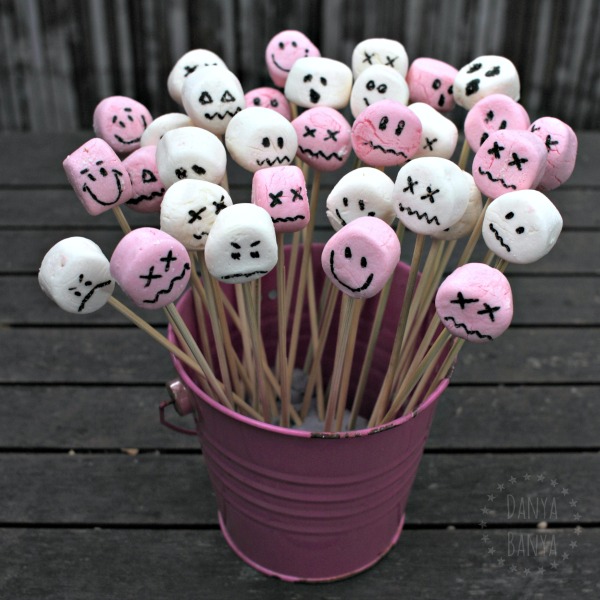 We have lots of more spooky-ish ideas on our Halloween page, including:
I also pin loads of ideas on our Spooky Halloween for Kids pinterest board:
And, of course, you can always
subscribe to our newsletter
to receive all our latest ideas and activities via email.
xx Danya
* This post contains affiliate link(s). An affiliate link means I may earn advertising / referral fees if you make a purchase through my link, without any extra cost to you. It helps to keep this little blog afloat. Thanks for your support.