These Christmas tree and Santa hat pencil toppers make really cute little class gifts for kids to give out at Christmas.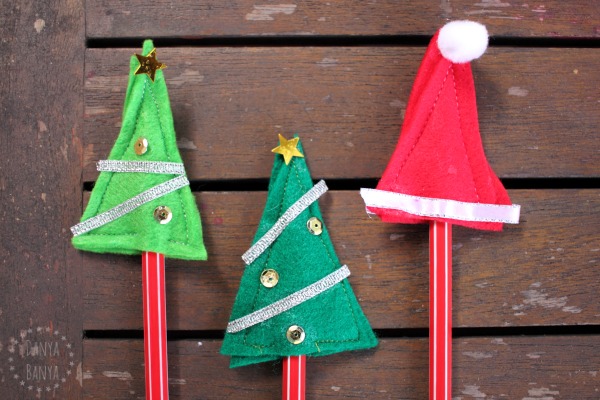 Eek, I've been knee deep in the pre-Christmas rush these past few weeks. There's been so many end-of-year Christmas parties for this, that, and everything else.  It's been so fun! (And also so hectic, but I'm focusing on the fun part!)
Every Christmas, the girls and I like to make little hand-made gifts to give out to family, friends, classmates, teachers and special members of the community. In previous years we've made melted pony bead ornaments, mini pine cone Christmas trees, reindeer lollipops.
This year JJ's school specifically asked for non-lolly gifts, as I guess the sugar-load gets a bit crazy if every child gives out candy canes! So I thought these Christmas pencil toppers would fit the bill – not only are they sugar-free, but they also encourage kids to write over their Christmas break! (Maybe that's wishful thinking, but I can try!)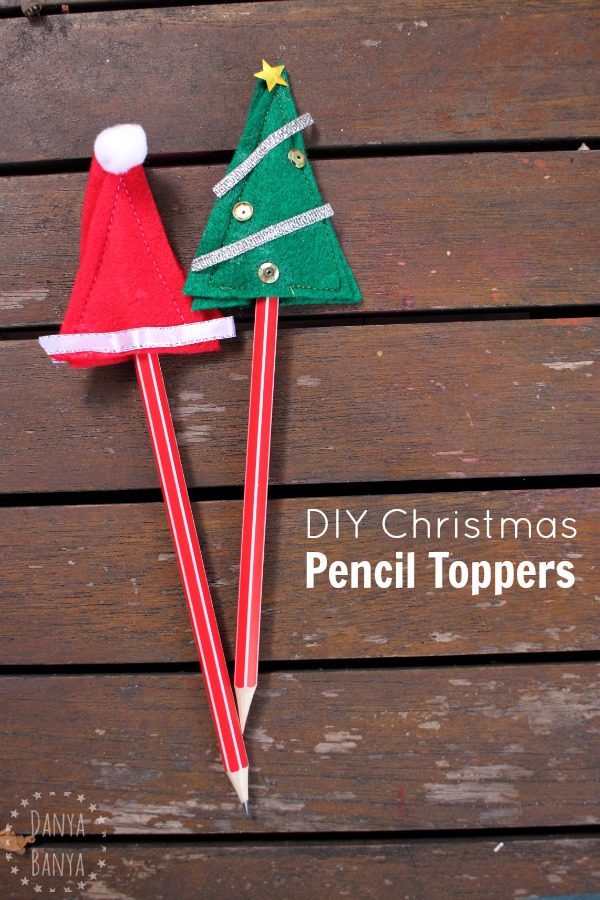 We made about 50 of these pencil toppers! I wanted JJ to have enough to give to all her Year 1 classmates, plus her friends in other classes, without anyone needing to feel awkward about missing out. (I was always that kid who missed out when I was little, so I have a thing about encouraging inclusivity).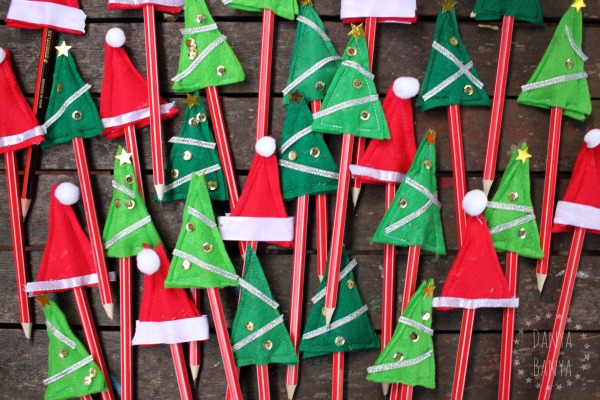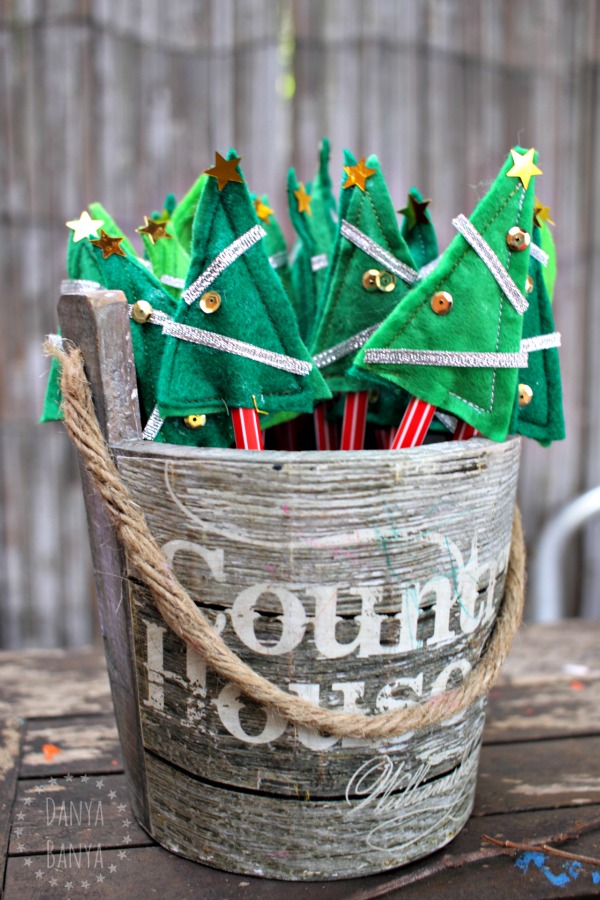 JJ loved walking around with them all in a bucket, handing them out to her friends. At the end of the day there were still a few left over, so the girls were able to bring them along to some of their after-school activities too.
How to make Christmas pencil toppers
I used:
green or red felt
sewing machine
silver or white ribbon
sequins & stars or pom poms
craft glue
To make the Christmas tree pencil toppers:
Cut a paper triangle and use this as a template to cut dozens more out of green felt.
Using a simple straight stitch, sew two of the felt triangles together from one corner of the base, up around the tip of the tree, and back down to the other corner of the base. This should leave a gap in the middle of the base (which is where the pencil will eventually go).
Cut small pieces of thin ribbon, and glue on to look like tinsel.
Glue on sequins to look like baubles and a star on the top.
Once dry, add a pencil!
To make the Santa hat pencil toppers
Follow steps 1& 2 above.
Glue white ribbon around the base of the hat, and glue a pom pom on the top.
Once dry, add a pencil!
If you're proficient with a sewing machine, and not too worried about things being precise, then this is actually not a difficult project. I timed it (using the 1 Mississippi, 2 Mississippi method) and it took me about 20 seconds to sew each set of triangles together (and I did most with my kids sitting on my lap 'helping'.)
There is no need for the two triangles to line up perfectly – in fact, it looks kinda cute if you can see the corners of the one underneath poking out.
The two important things to check are that you've left a big enough gap at the base for a pencil, and that you've actually sewn the two triangles together at the top (otherwise the pencil will poke straight through).
I used a few different types of felt – all worked, but the thinner, stiffer felt was easier to handle.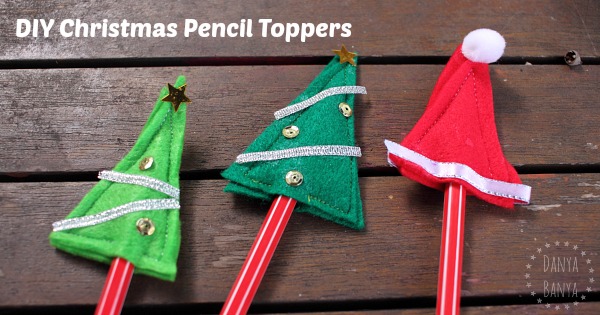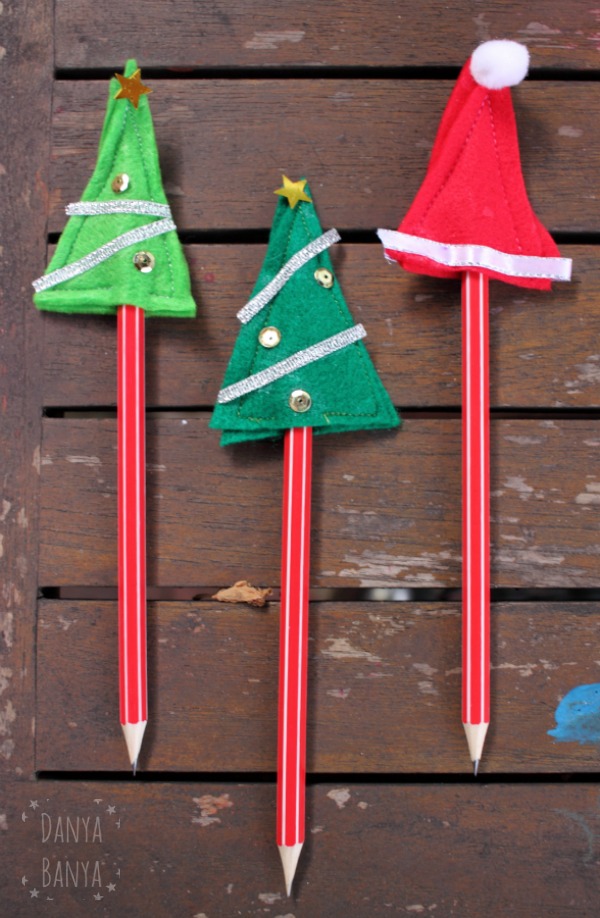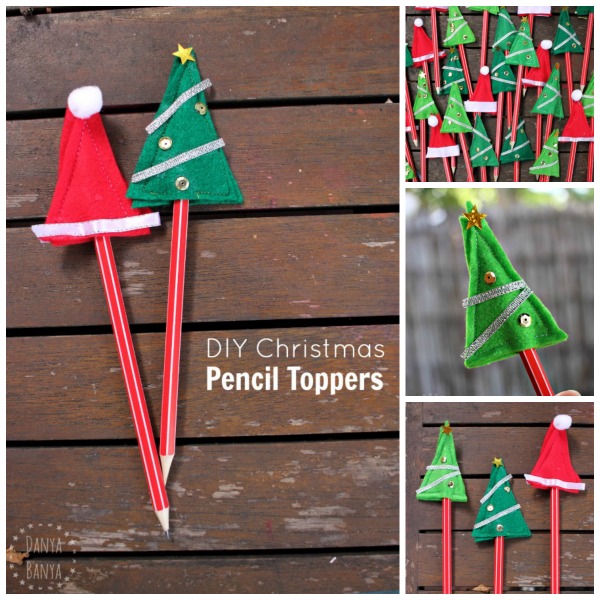 While we're on the subject of homemade non-candy Christmas gifts, I also made 30 x cute little Christmas tree play dough sets (inspired by these ones) for Bee to give out at her preschool – but I was so rushed I didn't have time to take photos! Did I mention it's been fun, but cray cray with pre-Christmas madness here?
We've still got a few things on our Christmas to-make list (umm, did someone say Christmas cards??), which we'll hopefully get started on tomorrow. But if it doesn't happen, we can always save those idea for next year. After all, Christmas is about making fun memories, not stressful ones. Right? 🙂
xx Danya