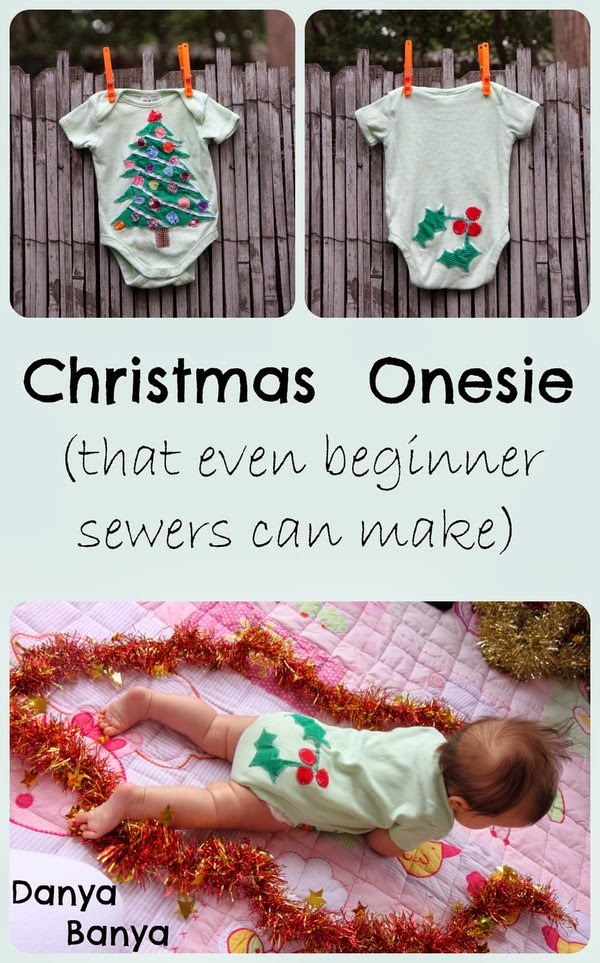 I was unpacking my Christmas box this week, and I pulled it this cute little Christmas onesie that I made for Bee when she was a baby, and fell in love with it all over again.
This onesie was one of my first (successful) attempts at appliqueing. It is made from scrap corduroy, various other scrap fabrics, some ribbon and a store-bought plain onesie, in size 000.
Using my very basic sewing machine, I just zigzaged all the pieces onto the onesie, starting with the tree, then adding the ribbon 'tinsel', and finally adding the scrap fabric circle 'baubles' and 'star'.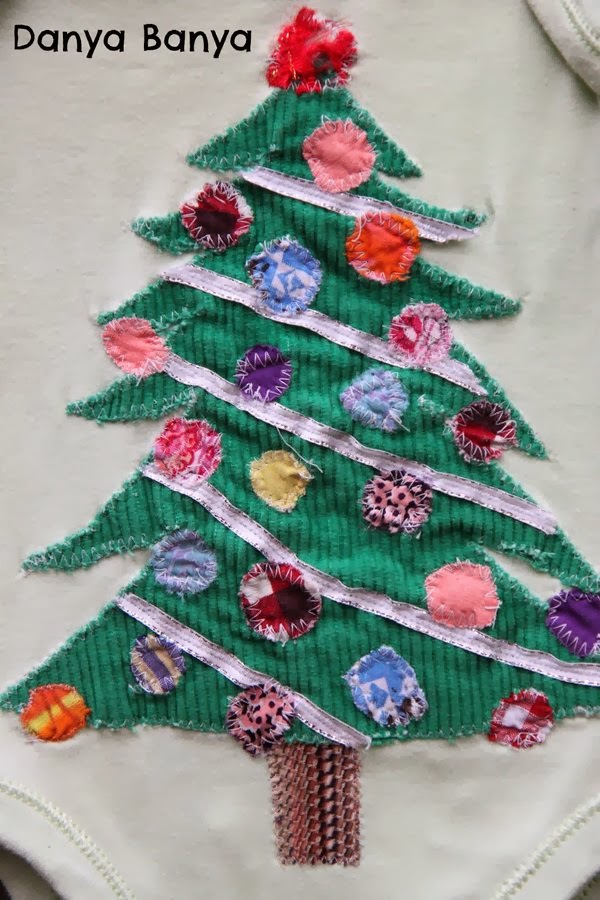 And then, as an after thought, I flipped it over and zigzagged some holly onto the onesie's bottom area. I'm so glad I did, because I think it turned out really cute!
I've since discovered that you see more of a newborn baby's bottom than their front, especially when they are still a bit young and squidgy.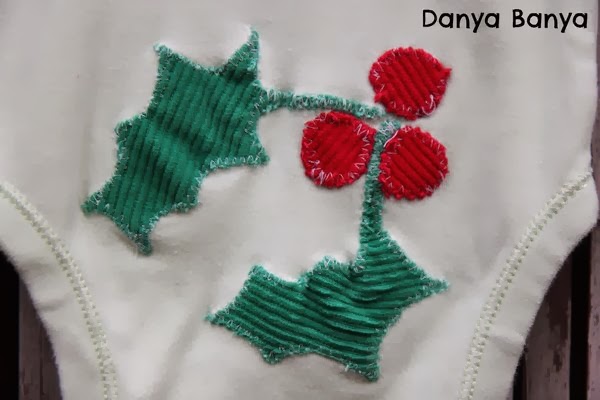 The only tricky bits are making sure that you don't accidentally sew the two sides of the onesie together (you can unpick as long as you catch it quickly) and learning how to sew in tight circles (by lifting the foot quite a bit).
The beauty of this style of onesie is that it's not supposed to be perfect, or neat, or anything like that. So you can oversew a few stitches here, cut a corner short there, and it will just add to the charm of the finished product. (And I'll admit to sewing the two sides of the onesie together by a few stitches at one point, and you can't tell at all.)
Here's Bee modelling her onesie last Christmas, when she was almost 3 months old. Here's the front…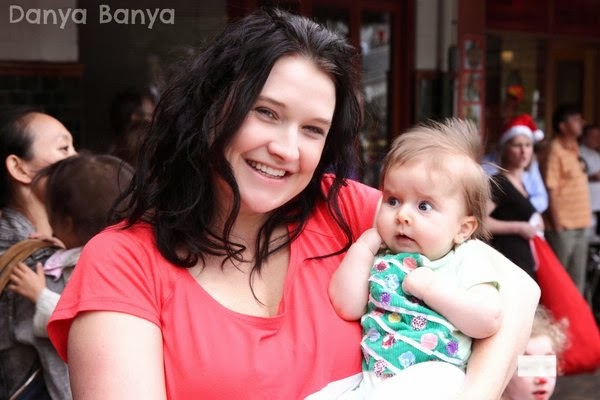 And the back…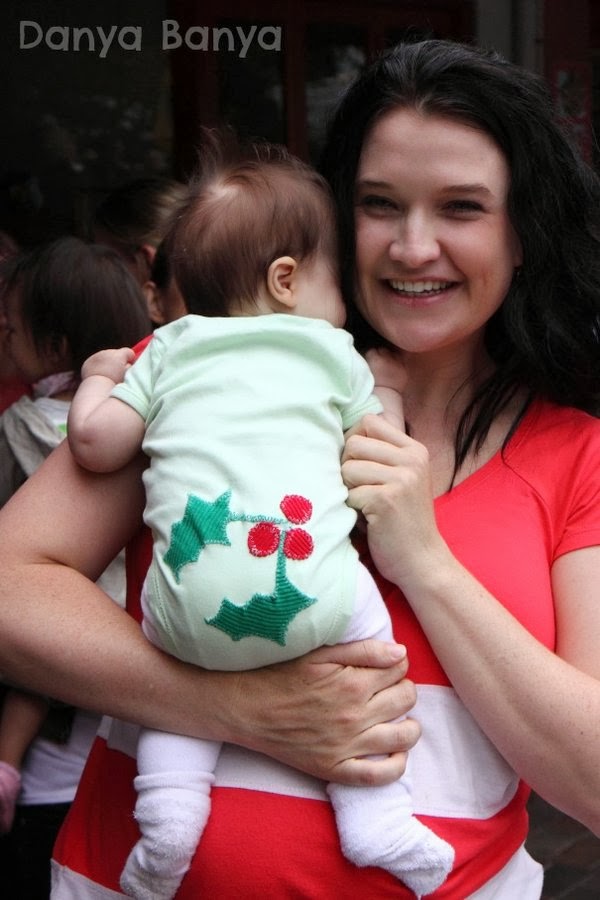 Oh how I miss those newborn snuggles!
Here's a few more shots where Bee is showing off how much she liked tummy time. (She was such a pro, whereas poor JJ couldn't keep her head up at all…)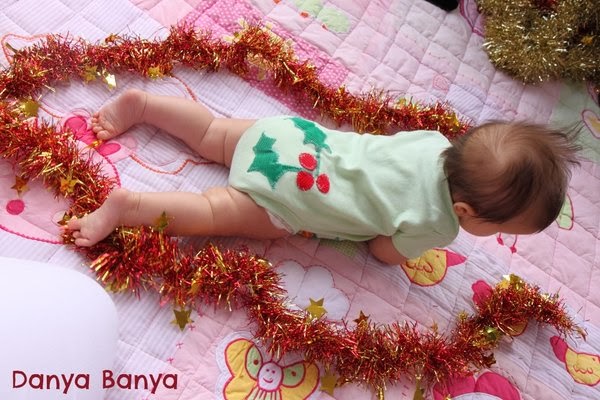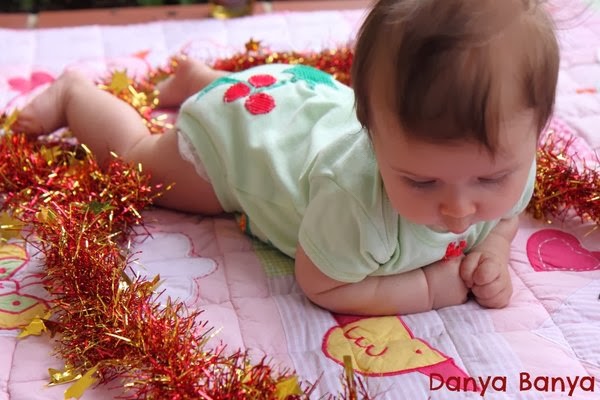 Alas, it doesn't fit her any more. But I found someone who can wear it for the next month or so – meet our 'Little Ted'…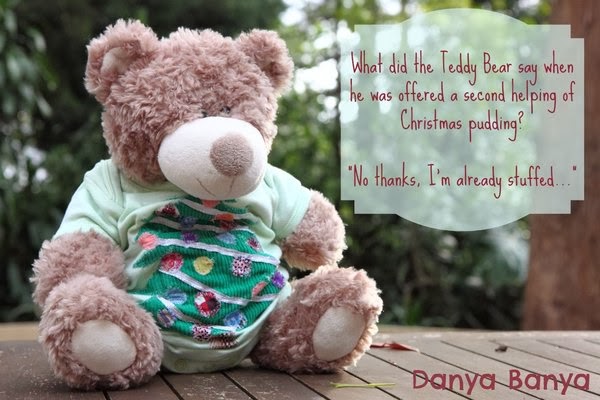 I'm pleased as punch that this onesie came out of the Christmas box in one piece. It's been worn, vomited on and washed at least half a dozen times, yet has remained relatively stain-free and the stitching has held. It's now become one of our personalised Christmas decorations to enjoy for years to come.
You can find more sewing and appliqueing ideas here.
And you can can find all our Christmas activities here, including:
xx Danya