Are you looking for a quick and easy activity that will entertain your toddler?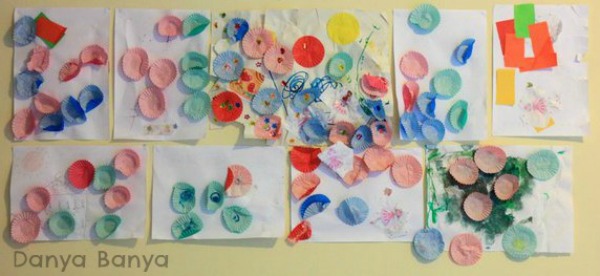 Pasting may just be your answer. This keeps JJ (our 2 year 2 month old) entertained for about half an hour each night, several times a week. It still requires some supervision, but it's the kind of hands-off passive supervision that is lovely at the end of the day. When Mr Banya has had a busy day at work, he's quite happy to sit down with a cup of tea and watch over JJ while she pastes. And then I can grab half an hour to myself!
The key is to spend 5 minutes in advance gathering supplies, and then have these supplies always readily on hand. Even better if your toddler can access them themselves.
A small toddler craft table (with optional plastic

 sheet / table cloth under the table)

Toddler chair (optional – my daughter tends to stand)

Stack of old recycling paper

Container of about 15 or so small cupcake patty pans, pre-separated

Container of cut up bits of colourful paper (I like to upcycle old wrapping paper)

Glue stick or p

ot of clag glue (or both)

A couple of books of little stickers from the $2 discount shop.
Then all you need to do is ask if she wants to do some pasting and help take the lid off the glue stick / pot of paste. She can get the rest of the supplies out herself and start gluing away!
That's a Muesli Bar Cake in her bowl. Oh and yes, she is sporting a tie "tail". 🙂
Of course, do watch out that your toddler isn't eating the glue / paste. Even though it may be non-toxic, you still don't want it consumed in large amounts! But don't worry if she gets some glue / paste on the table, on her clothes, on her hands, etc – it is easy to wash off. It's better to let her make a bit of a mess, than to be hovering over her with a wet wipe and stifle her.
And you know what the best bit is? She gets to play independently, explore her creativity, exercise her fine motor skills, and feel proud of the "art" that she's produced all by herself.
(This stash intentionally doesn't include things like textas, markers, crayons, paints etc, because I like JJ to have to ask for these.  She requires more attentive supervision when using these things at the moment, lest she starts to draw on the walls…)
xx Danya
PS: Fun fact: Those with keen eyes might notice that this art is the faded image behind the words Danya Banya in my blog header.