Healthy food that kids love to eat – it's true!!!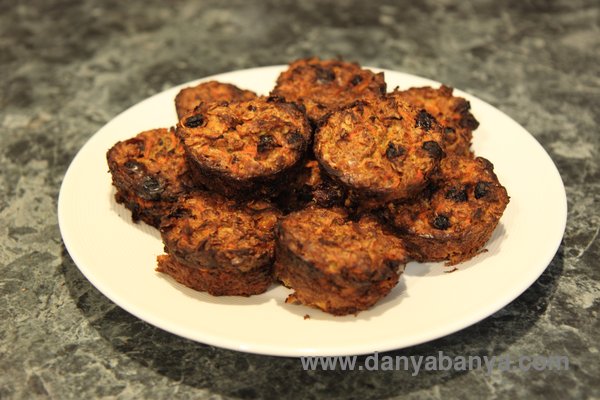 We've made these "Carrot, Sultana and Oat Muffins" dozens of times. But somehow the name was changed to "Muesli Bar Cakes" one day, and this new name has stuck.  They have no added sugar (yay!), use lots of wholegrains (yay!), include vegetables (yay!), freeze well (yay!), taste great (yay!) and are easy to make (yay!).
We make these about once a fortnight, freeze them and then reheat one each morning to pop into JJ's lunchbox or serve up as morning tea. It's lovely to know that she's had a bit of vegetable, wholegrains and general goodness before 10.30am!
If you are afraid of baking – don't worry, these are seriously easy.  So easy, that your toddler can make them with you!
The original inspiration came from here, but of course, I tweaked the recipe and instructions a bit to suit our tastes, dodgy oven and toddler-who-must-help-with-the-cooking.
Ingredients / Equipment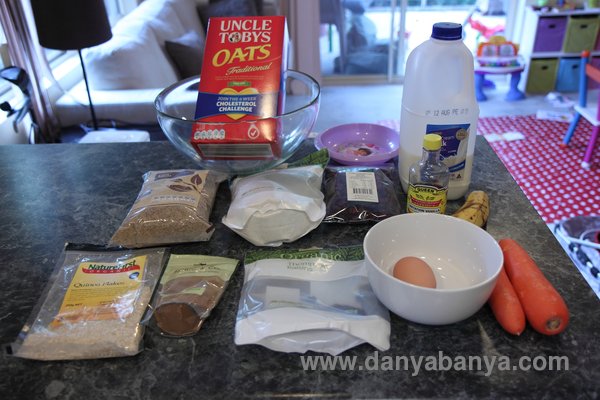 1 1/4 cup of sultanas (or other dried fruit – dried raisins and cranberries also work well)
1 banana
1 Tbsp quinua flakes
1 Tbsp LSA (mix of ground linseed/flax*, sunflower and almond)
1 Tbsp oatbran
A sprinkle of chia seeds
1 tsp cinnamon
1 1/2 cups traditional oats (using good quality oats will make a big difference)
1 tsp vanilla extract
1 1/4 cup milk
1 egg
Spray oil or butter for greasing
1 big mixing bowl
1 smaller bowl
1 toddler friendly bowl
2 wooden spoons
1 grater
1 fork
muffin tray
1 cup measure
Tbsp and tsp measuring spoons
sturdy chair that your toddler can stand on safely
(*Note: Linseed is called Flax in USA – they are the same thing).
Preparation Method
Step 1: Preheat the oven to 200 degrees C / 390 degrees F. (My oven is not fan-forced, so you might want to reduce slightly for a fan-forced oven.)

Step 2: Get all your ingredients & equipment out. You don't necessarily need to measure out everything yet, but you do want to have everything, including this recipe,  within easy arms reach (but out of reach of your toddler for now). Pre-grease the muffin tray.
Step 3: Call forth the toddler! Have her stand on the chair so she can see and participate. The area immediately in front of her should be clean and clear. If your toddler is too young to be trusted up on a chair, then perhaps set everything up on a low table or floor so she can still participate safely. Of course, well away from the oven though!

Step 4: Grate the carrot into the big mixing bowl.  Your toddler can help, by holding on to the other end of the carrot while you grate.  Put some grated carrot in her toddler friendly bowl, and let her eat some as you go.  Talk about the colour, texture, taste.  (If she looks like she'll eat the whole thing, then grate the second carrot so you'll have some for the recipe.  I have used two whole carrots grated from time to time, but you might want to start with one and work up to this amount…)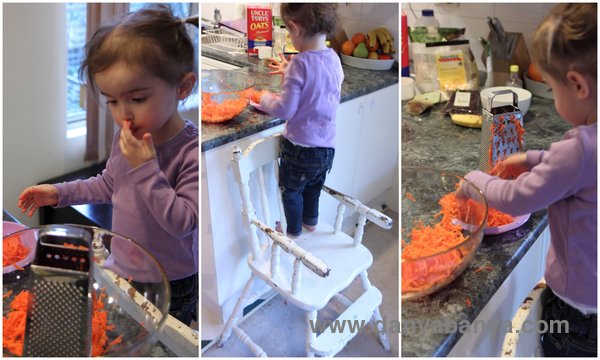 Step 5: Put 1 cup of sultanas into the big mixing bowl and the other 1/4 cup into her toddler friendly bowl. Grab the wooden spoons, give one to your toddler and together mix the carrot and sultanas. She'll probably be eating half out of her bowl, and half out of the big mixing bowl – that's OK.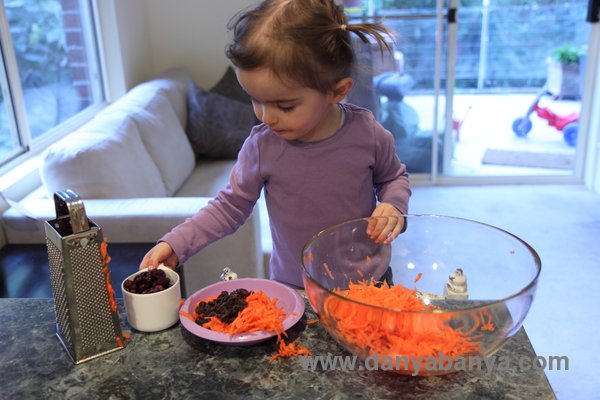 Step 6: Mash the banana in the small bowl with the fork.  Add to the big mixing bowl, and do some more mixing.

Step 7: Measure out 1 Tbsp of quinua flakes, and have your toddler help you to pour it into the big mixing bowl. Mix. Repeat for the 1 Tbsp oatbran, and again for the 1 Tbsp LSA. Sprinkle in some chia seeds. Measure out 1 tsp ground cinnamon. Have your toddler smell it. (I find saying "smell with your nose" helps her to understand what smell means). Have her help you add it to the big mixing bowl and mix. If she's been picking bits out of the big mixing bowl to eat up until now, that's OK. But now is the time to try to get her interested in eating what's in her toddler friendly bowl instead.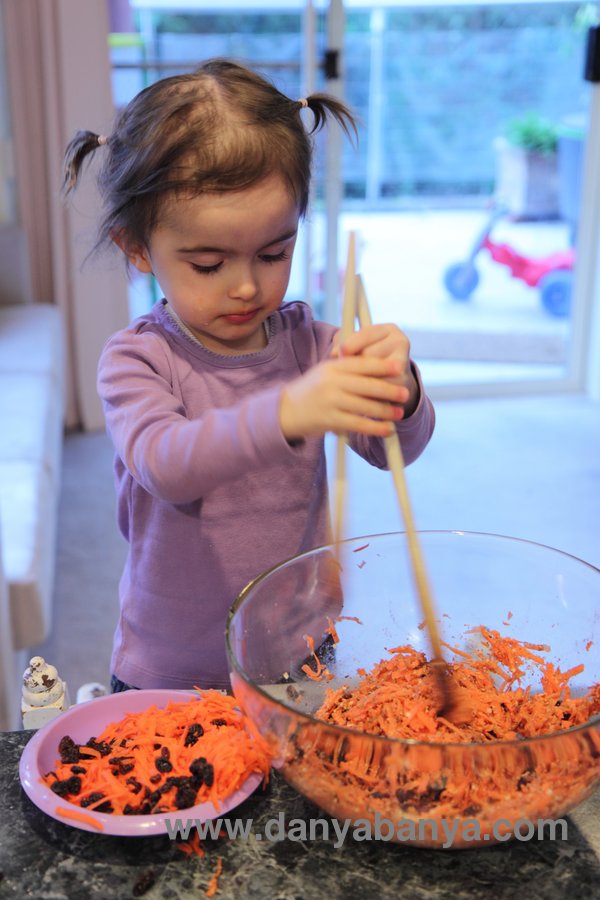 Step 8: Add approx 1 1/2 cups of oats.  You can just use the 1 cup measure and wing it – there's no need to be exact.  Your older toddler can help you to pour this into the big mixing bowl and mix. For younger toddlers, see if you can distract them and finish off the rest of the recipe yourself. (Actually by now younger toddlers have usually lost interest anyway).
Step 9: Explain to your toddler that this next step you need to do yourself. She can "watch with her eyes, but not touch with her hands". Crack the egg into the same small bowl that you used to mash the banana and use the fork to lightly whisk. (No need to add to the washing up!). Talk about where eggs come from.  Add the 1 tsp vanilla essence. Add the 1 1/4 cup of milk (roughly measured is fine).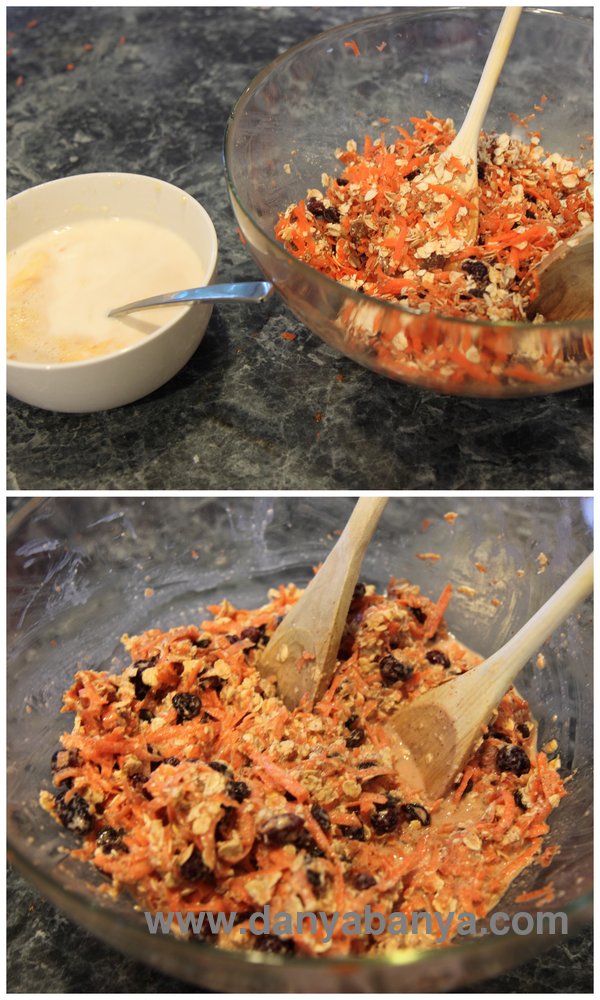 Step 10: Pour the liquids into the big mixing bowl and get your older toddler to help mix. The mixture will look quite dense and wet. (They shouldn't really be eating out of the big mixing bowl at this point due to the raw egg…)
Step 11: Spoon the mixture into the already greased muffin tray. Your older toddler can help with this. These muffins won't rise at all, so you can fill all the way up to the top. Once all the mixture is spooned in, you'll likely have some liquid left. Find the ones that look the driest and pour the mixture in – can't waste all that goodness! Flatten down the tops of the muffins so that any dried fruit showing are mostly inside the mixture rather than sitting on top, to avoid them burning.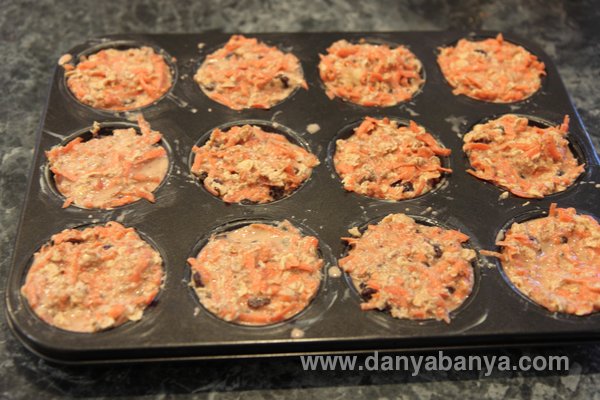 Step 12: Bake for about 50 minutes.  They should still be a little bit moist in the inside, but not "wet".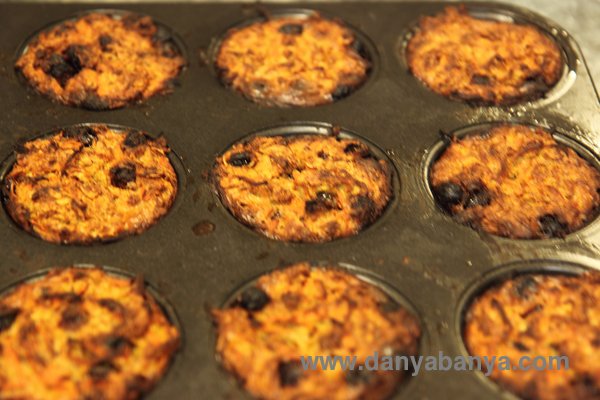 I know, they look terrible, but looks can be deceiving – these are seriously dense, moist and yum! Oh and healthy too 🙂 Take the time to notice how proud your toddler is that she made these Muesli Bar Cakes "all by herself"!
Best eaten still slightly warm from the oven. But they can totally be frozen and defrosted again in the microwave, ready to pop in their lunchbox.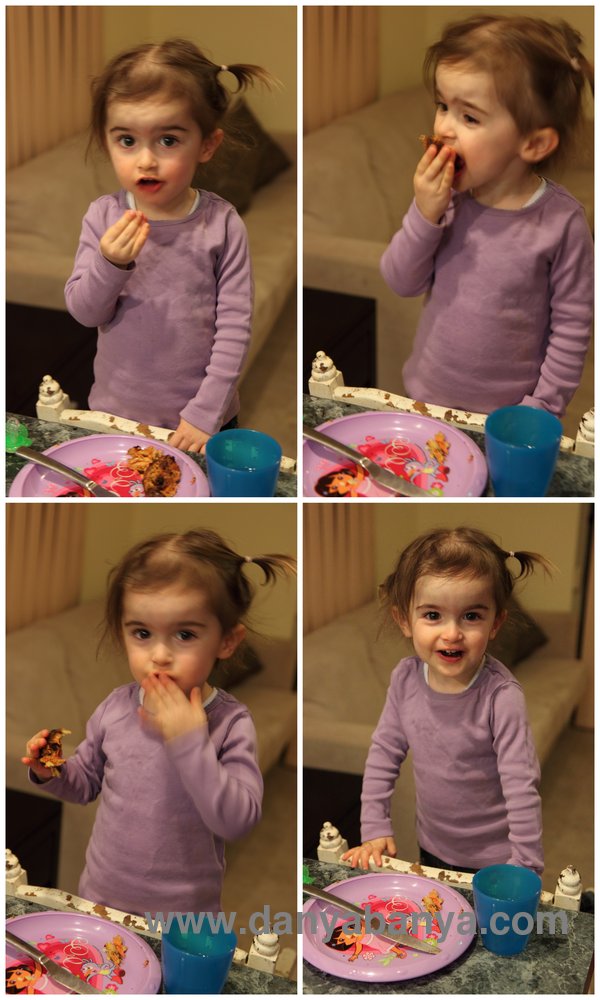 Yum!  So yum that she wouldn't stay still so I could take a non-blurry photo 🙂
Notes: 
I've also tried this recipe with grated zucchini instead of grated carrot.  (See photo below). These still got eaten, but not as vigorously… I've also tried this recipe as flat bars instead of muffins, and again, didn't go down as well. But, you could try these variations and see which your toddler prefers…

The oatbran, LSA, quinua and chia seeds are non-essential. They are added to make the muffins healthier, rather than tastier, so you could leave them out if you want to.

Quick oats are probably not a good substitute for traditional oats in this recipe. Quick oats are less healthy than traditional oats. If you did want to use quick oats, then you would need to reduce the amount of liquid and the cooking time. I've never tried this recipe with quick oats, so you would need to wing it and see how you go.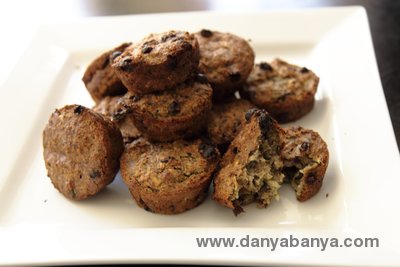 Variation using zucchini instead of carrot
If you make a batch, let me know what you think!
xx Danya