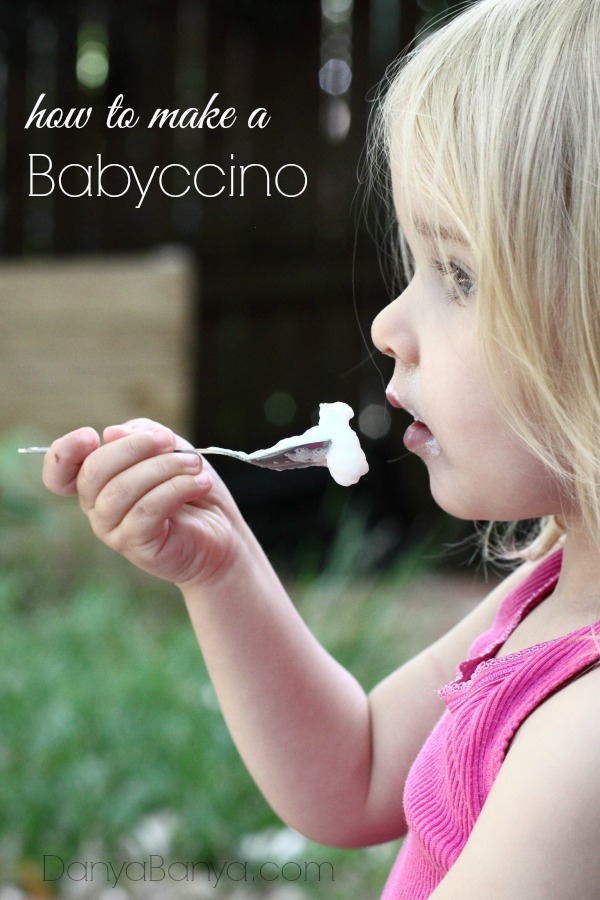 I've worked out how to make DIY frothy babyccinos at home, without using an espresso machine!
(For my American friends who might be scratching their heads, apparently babyccinos / babycinos aren't really a thing in the States. Your kids are totally missing out!!! If you are curious, apparently the closest equivalent would be called a 'steamer' or 'steamed milk'….)
Both my kids LOVE babyccinos.  Or, as they sometimes call them, 'big girl ccinos'. Or as Bee's been calling them this week 'cappuccinos' (but obviously without the coffee!).
But our habit was becoming expensive. Most cafes near us charge $1.50, $2.00, even $2.50 per babyccino! At that rate, a 'ccino' for both of them, every other day could add up to almost $1000 a year. Ouch!
Plus I don't like that some cafes place more emphasis on the sugary extras than the babyccino itself. Chocolate dusting, plus chocolate syrup, plus extra sprinkles on top, plus two marshmellows on the side, and perhaps a biscuit… Maybe they are trying to justify the $2.50 price tag? I've even seen a few cafes serve frothy hot chocolate instead of frothy milk. These things might be fine for occasional treats, but I didn't like how they sneaking into our 'every other day' diet.
And so I was delighted when I discovered how to make our own 'ccinos' at home with one simple trick. Maybe many of you already know this, but it was revolutionary to us. The secret ingredient is….
…the humble coffee plunger!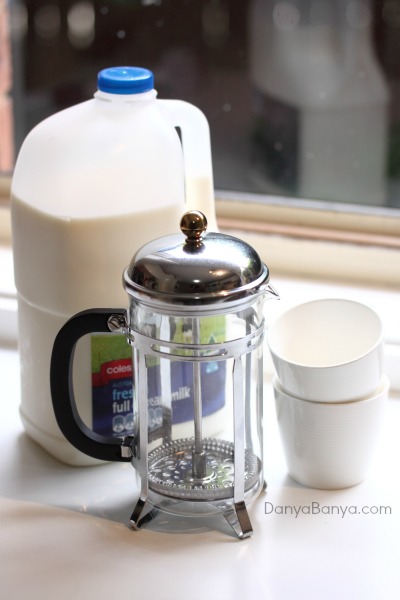 Everyone has one of these stashed away right? We've never actually made plunger coffee at our place, but we somehow have two coffee plungers gathering dust on the shelves. Now we have a use for them!
The larger ones are best as they give you a bit of frothing room. First you need to take the glass jar out, and pour in a little bit of milk. (About this much…)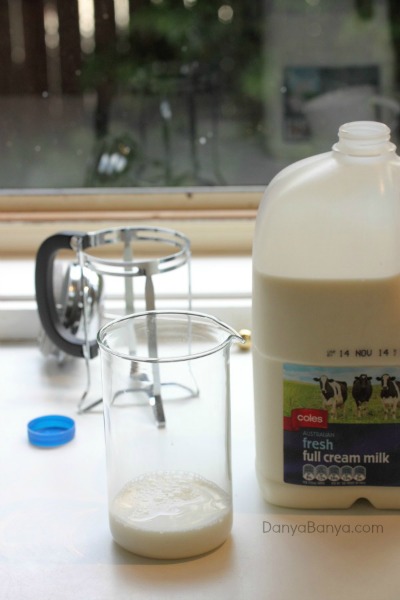 Then pop it in the microwave for about a minute, until steam rises from the top. (It's OK if the milk starts to rise upwards in the glass slightly, but stop the microwave when you see this start). Take it out of the microwave (carefully, as the glass will be very hot), and put it back into the stand.
And then pump that plunger until you feel your triceps burn! The milk will froth up and fill almost the whole glass jar. (Tip: Put your thumb over the spout thingie to prevent spillage.)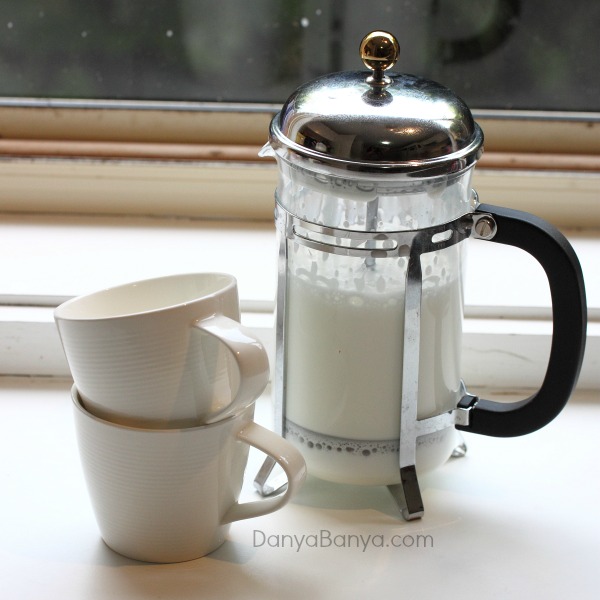 You should end up with frothy milk that looks something like this.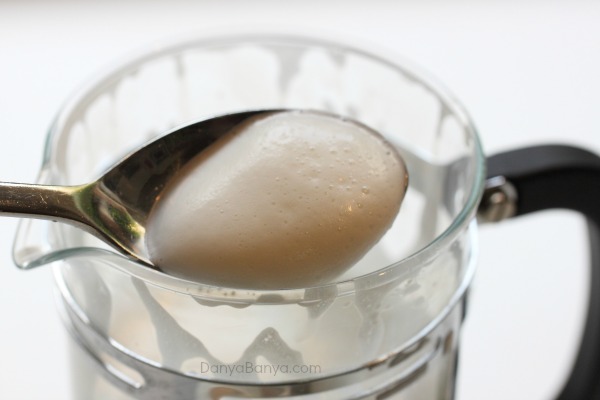 If you let it sit for a minute or two, the froth with firm up even more.
Spoon it into a small coffee cup, and add any extras (optional). I alternate between no artificial colour or flavour mini marshmellows (which are about a quarter of the size of the usual cafe ones), sugar free chocolate drink mix, sugar free strawberry drink mix, and a tiny amount of no added colour sprinkles. Whilst some of these have added sugar, there are no nasty additives and I can manage the quantity / frequency. I've put some of my sugar free chocolate drink mix into a tiny shaker for ease of sprinkling, as this is the one we use most. You could also use cocoa or raw cacao powder, but we haven't tried this ourselves.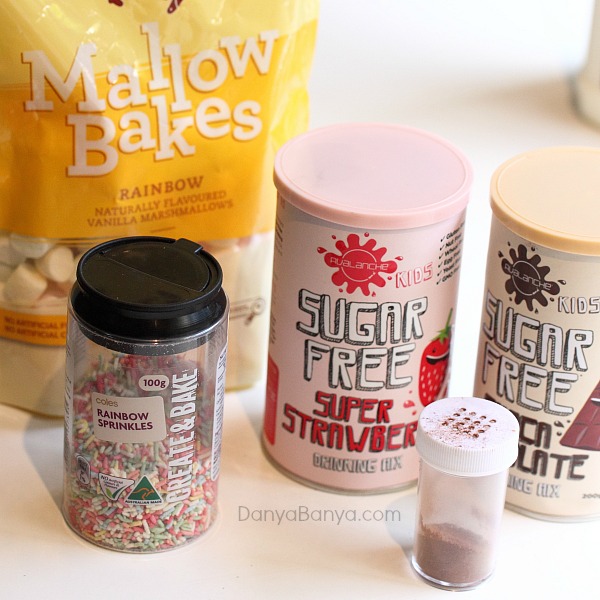 And this is how they turn out! Just like Mummy's cappuccino.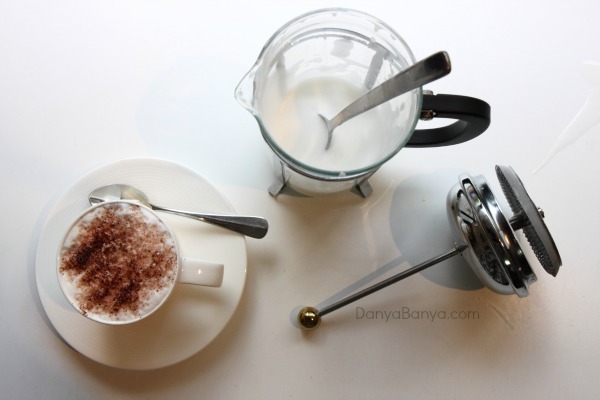 I usually serve Bee's in the same coffee cups, as she's quite good with ceramic tableware. But for younger toddlers, you can also serve them in paper coffee cups, or indeed even in these red polka dot cupcake baking cups that I found in the discount store. Look how excited she was to get her own special red spotty cup!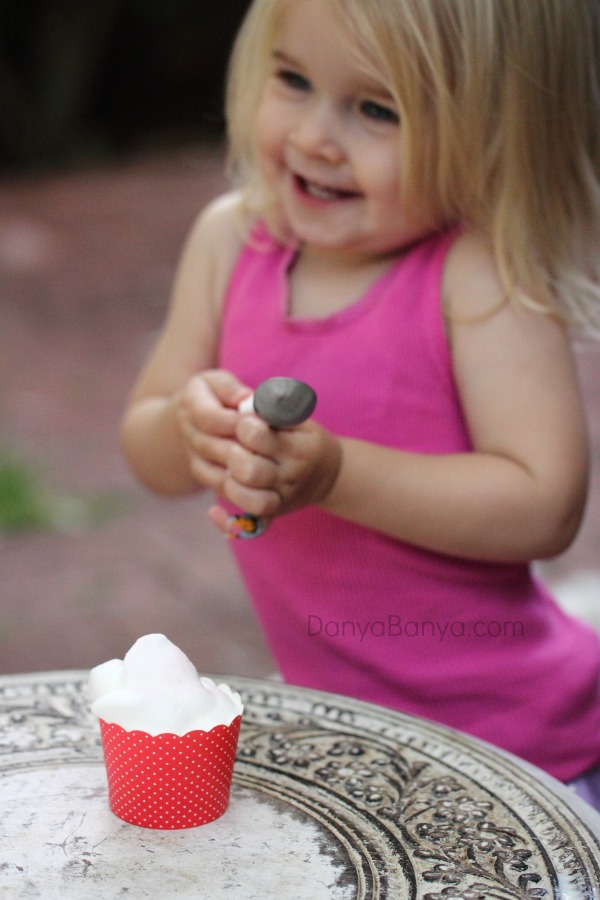 And how good is this fluffy froth!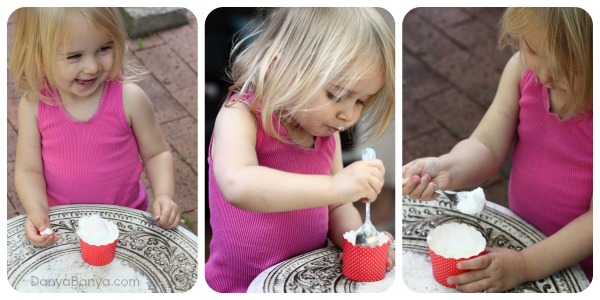 xx Danya
This post is part of a Nuffnang native advertising series.