When JJ was starting solids, I did a lot of research on various food additives to avoid. I compiled my own "Do Not Eat" list of unhealthy additives and preservatives, which I still have jotted down on a post-it note in my wallet. I thought it might be helpful for others to share here.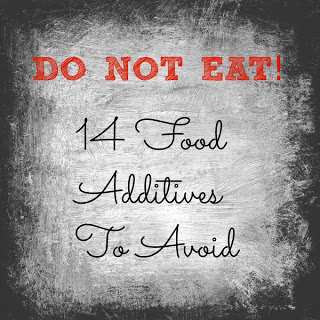 14 Food Additives (and #numbers) to Avoid
1-6. Food Colours – in particular Tartrazine (102), Quinoline Yellow (104), Sunset Yellow FCF (110), Carmoisine (122), Ponceau 4R (124) & Allura Red AC (129)
A mixture of these colourings and the preservative sodium benzoate (211) affects children's behaviour: the classic red cordial syndrome.
7. Erythrosine (127)
Increased chance of thyroid tumours.
8-9. Sodium Benzoate & Potassium Bezoate (212)
When combined with ascorbic acid (Vitamin C), both of these turn into benzene, a known carcinogen. Often found in soft drinks, flavoured mineral waters, cordial, fruit juice etc, many of which boast being good sources of Vitamin C!
10-11. Sodium Nitrite (250) & Sodium Nitrate (251)
Both listed as "probably carcinogenic to humans" by the WHO because they can be converted to cancer-causing nitrosamines in the stomach, which increase the risk of gastric cancer. Found in processed and preserved meats, including frankfurts, salami, bacon and ham. Nitrates and nitrites prevent the potentially deadly botulism poisoning, so processed meats that are labelled nitrate and nitrite free are risky as well. The WHO advises "moderate consumption" of preserved and processed meats.
12. Calcium Propionate (282)
Has been linked to migranes and behavioural and learning problems. Used in some breads to prevent mould.
13. BHA – butylated hydroxyanisole (320)
Listed as "possibly carcinogenic to humans" because it causes cancer in the forestomach of rats (an organ that humans don't have). Found in margarine, spreads, salad dressings, it is an unnecessary additive used by lazy manufacturers. It can easily be replaced by safer chemicals or just left out altogether.
14. Palm Oil
Not a health issue per say, but more of an environmental one. Palm oil is used in an alarming number of food products (one in four!), as well as soaps and cosmetics, but is often listed under the generic "vegetable oil". Increased acreages of oil-palm plantations have dramatically reduced the wild habitat of the Sumatran orangutans and Sumatran tigers (both endangered species). Please sign this petition encouraging the Australian government to change labelling laws so consumers can make informed buying decisions.
A Further 4 Food Additives (and #Numbers) I'm Keeping an Eye On
There are mixed reports for these additives, but they are still worth watching to see how members of your family react:
15. Annato (160b)
Natural colouring that is allergenic (although no one in my own family has shown an allergy as yet). Found in margarine, smoked fish and cakes.
16-17. Sulphur dioxide (220) & other sulphur preservatives (220-228)
Can trigger asthma attacks. Used as a preservative in wine and dried fruit. We don't eat a lot of dried fruit, so I haven't noticed a difference in my children, but Mr Banya appears to be intolerant. He's recently switched to preservative-free wine (and is enjoying an improvement in how he feels the next morning!)
18. MSG – monosodium glutamate
Asthmatics and other people sensitive to MSG may suffer short-term headaches, flushing and numbness (although no one in my family is asthmatic or sensitive to MSG as yet). Used in many foods including packet soups, flavoured noodles, sauces and savoury snacks.
You might as why companies put this junk into their products?
Well, many additives are used to enhance appearance or to prolong shelf life. Sugar and salt are the two most common preservatives, but unfortunately they set off a chain-reaction. Sugar and salt both change flavour, so flavour enhancers are needed to bring the flavour back to "normal". These flavour enhancers usually change the acidity, which means acidity regulators need to be added as well, and so on… This chain reaction of additives and preservatives as an unfortunate side-effect of getting packaged foods to market – which is great for manufacturers, but not so great for consumers…
What should you eat instead?
I've written about our approach to food, and our healthy food habits here. As a general rule, I try to eat fresh foods (with no 'barcode') that are high in fibre and low in sugar. If I'm buying packet food, then I check the labels. We're not fanatical about it – exceptions are made – but where possible I try to make healthy choices, and keep party food for parties…
You can also find some of our recipe ideas on our Food for Kids page, most of which are additive-free.
What do you, or don't you eat, in your house?
xx Danya