Brought to you by LEGO and Nuffnang.
I have fond memories of playing with LEGO when I was a kid. My brother and I used to build lots of houses, most probably because we had some awesome roof tile pieces. (Mental note: must check my folks' place to see if these are stashed somewhere…)
When I was a teenager, one of my first weekend jobs was as a LEGO lady at a local toy store in the lead up to Christmas. I had a small table set up with an opened LEGO DUPLO kit on it. I played all day with the kids (while their parents ducked off to find presents from Santa). Dream job!
Now that I have little kids of my own, I have the joy of watching them discover LEGO for themselves. That's one of the coolest things about being a parent – witnessing your child discover something for the very first time. It's like having a mirror held up where you get to see the emotions that you remember feeling yourself when you were a child.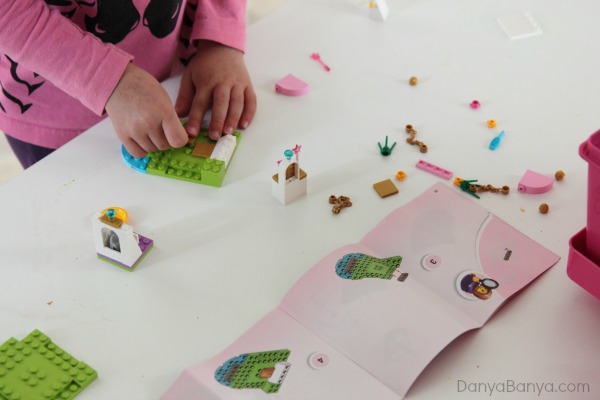 Everyone bangs on about first smiles, first steps, first words – sure these are all awesome, but what about the other ones? The sparkle in her eye when your child first learns to skip. The laugh after sitting on her first whoopie cushion (or as JJ calls it, the "fart machine"). The first time she completes a jigsaw puzzle all on her own.
Or indeed the sense of accomplishment when she makes her first LEGO creation.
My kids have been playing with LEGO DUPLO (and loving it) for a few years now. They build rocket ships, practice counting and create patterns. They use the bricks to make imprints in playdough, as paint stampers and play with them in the bath.
But JJ's now ready for her first go at the smaller sized LEGO bricks. She's got fine motor skills to be able to put these little pieces together. She has the concentration span to be able to work on a project for a significant amount of time. And she has logic and comprehension skills to be able to follow a set of sequential visual instructions.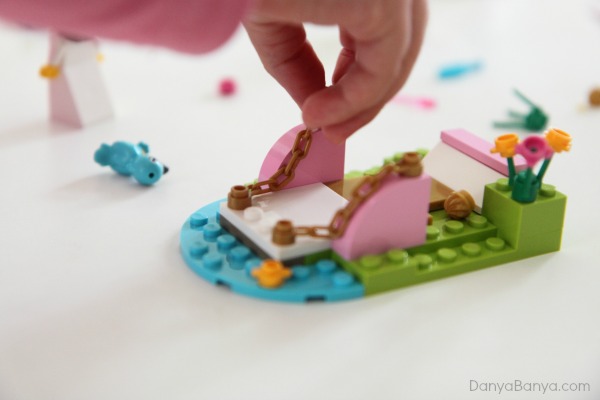 LEGO Juniors is a new range that is especially designed for kids making the transition from LEGO DUPLO. Each set has several small, fun and age-appropriate building tasks that kids should be able to do (perhaps with some guidance) all by themselves. Then by combining a few of these constructions together, they are able to create a little 'scene' – that they can then use for roleplaying.
It helps if kids can 'read' numbers 1-4. It also helps if they understand that 2x refers to quantity. But other than that, no actual reading skills are required. The instruction manual visually shows kids, step by step, what and how to build.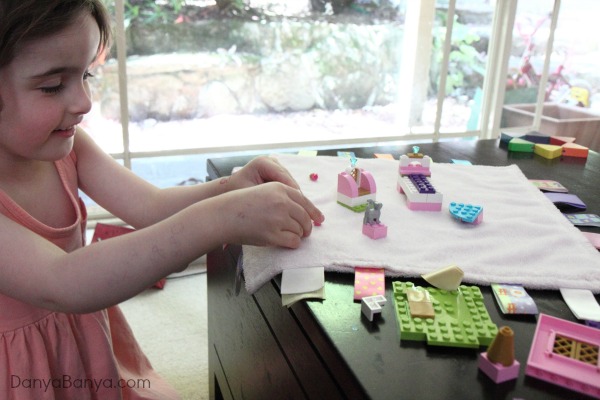 The bricks look the same as those in the more advanced sets, except that they've simplified some of the more complex pieces, so that young kids can enjoy building with a sense of confidence and accomplishment, without too much frustration.
I especially like how each LEGO Juniors set includes an additional instruction manual with another set of building tasks – that require kids to pull apart their original constructions in order to rebuild a new scene. It encourages kids to see building and rebuilding as part of the play, instead of as a one-off event.
I warn you though – if you give a LEGO Juniors set to your child, be prepared for them to play with nothing else for a few days afterwards.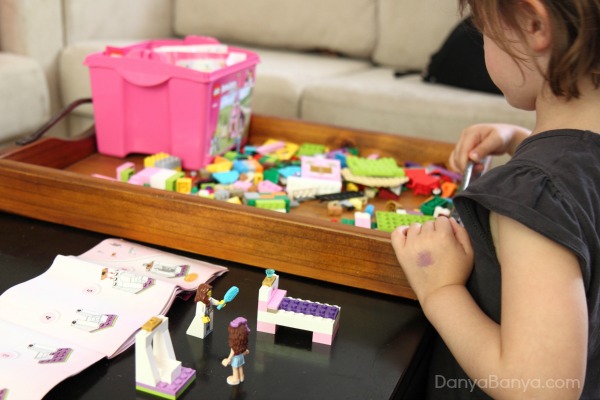 We were gifted a LEGO Juniors The Princess Play Castle set, and we also have the LEGO Juniors Construction set. JJ loves them! She can put together all the building tasks by herself. My role as a parent is more of an encourager "What piece do you think we need next?" or "Where do you think that piece goes?", and occasionally as a troubleshooter, "Let's have a look at the instructions again" or "Maybe see if the piece you are looking for has fallen onto the floor".
And of course, as with all LEGO sets, you don't have to follow the set instructions. Kids can come up with their own creations, combine different sets, and roleplay their own scenarios.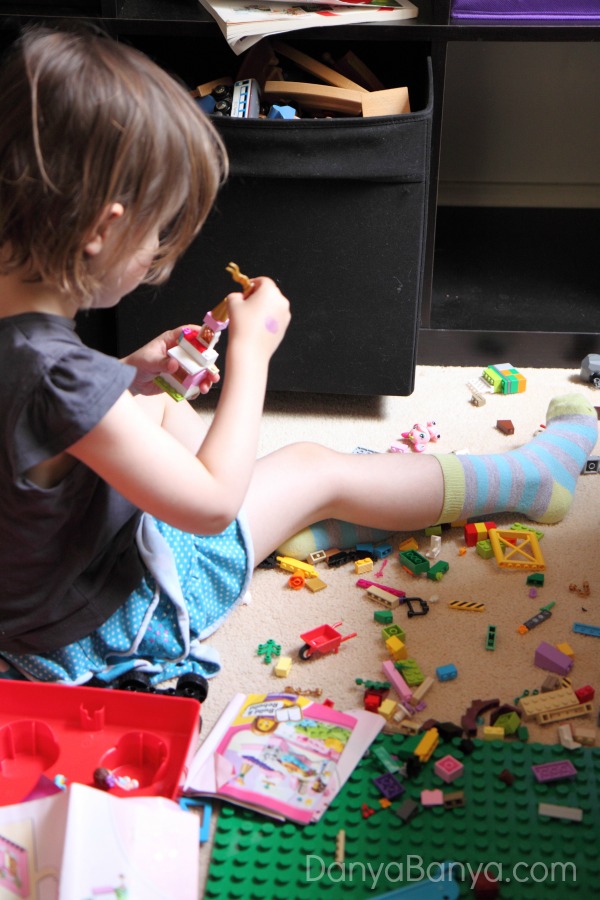 When JJ finishes one of her creations, she proudly proclaims, "Look what I builded!" (LOL.)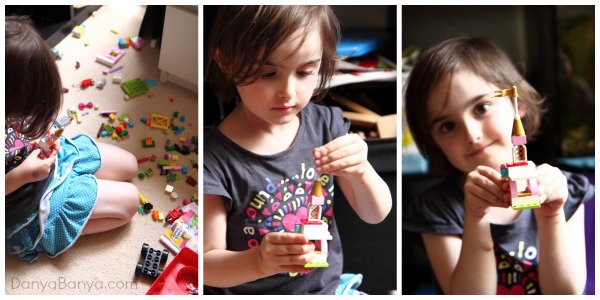 Would you like to win a LEGO Juniors set? Well, good news! I have a LEGO Juniors The Princess Play Castle set to give away!!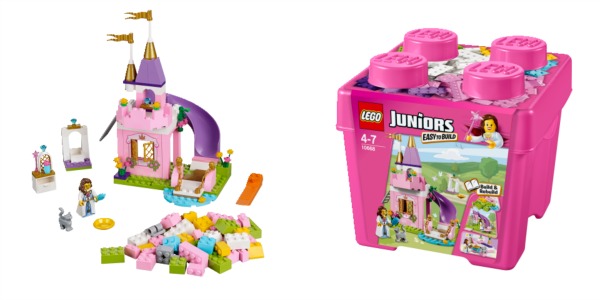 To enter, all you need to do is tell me in the comments below:
"What 'first' are you witnessing in your child right now?"
And, good luck!!
xx Danya
(Sorry international readers, this competition is open to Australian residents only. One entry per person. Please include a valid email address. Ends Tuesday 18th November 2014 at 5pm (AEDST). The winner will be chosen based on the creativity of their answer. For full terms and conditions, please click here.)
*** Congratulations to AustMummyLisa, who was the lucky winner of this competition.  This giveaway is now closed. ***
This is a sponsored post for Lego via Nuffnang. All opinions presented are my (or my kids') own.