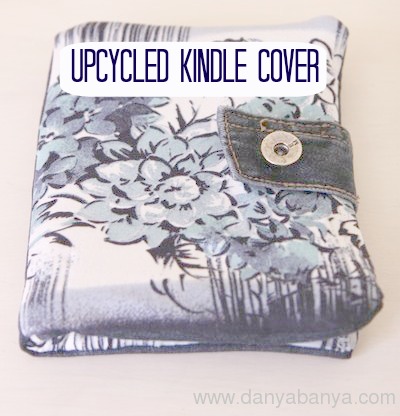 Well, when I mentioned that I'd made them to a friend of mine, (whom I've blognamed Miss Tequila-Makes-Me-Easy – a story for another time…), and she put in an order for one of her own, pretty please.
So I guess you could consider this part three in the Danya Makes An Electronic Cover series….
Now I know that Miss TMME likes blues, greens, skulls and butterflies. But since I was intending to upcycle from my scraps and worn out clothes stash, my options were limited. I found a few likely contenders though. Some old holey jeans. Three different pretty blue scraps, some coordinating ribbons…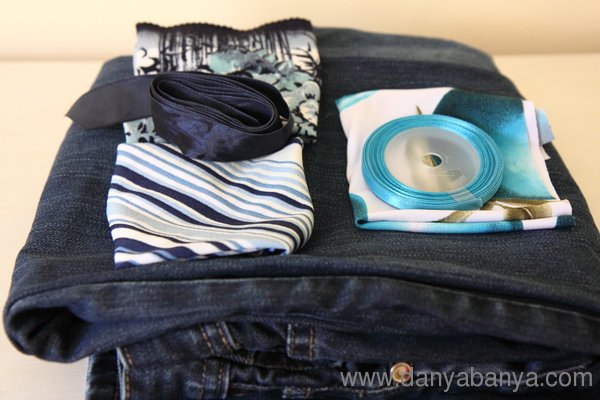 After too-ing and fro-ing about the different fabric combos, I decided to go with the jeans + blue floral fabric. I used the money pocket and the button as embellishments. Here's how she turned out…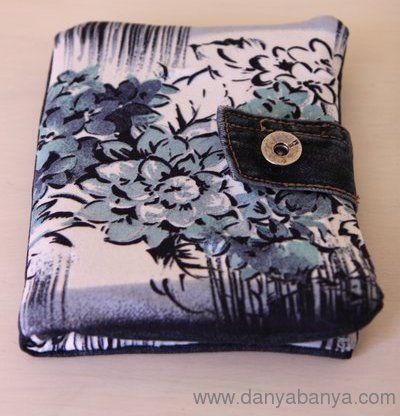 Front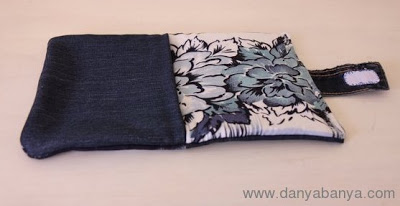 Inside with velcro on the strap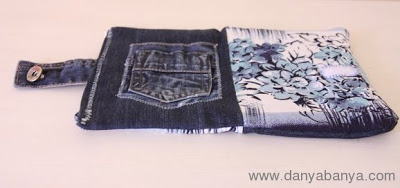 Other side (you can see the other part of the velcro on the right)
Here's a close up of the back, with the jeans money pocket zigzagged on, to make a pocket within a pocket.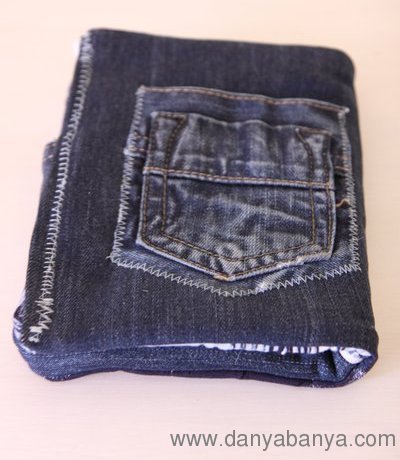 Miss TMME loves it! Well, I think she does. I hope she does. She certainly looks chuffed.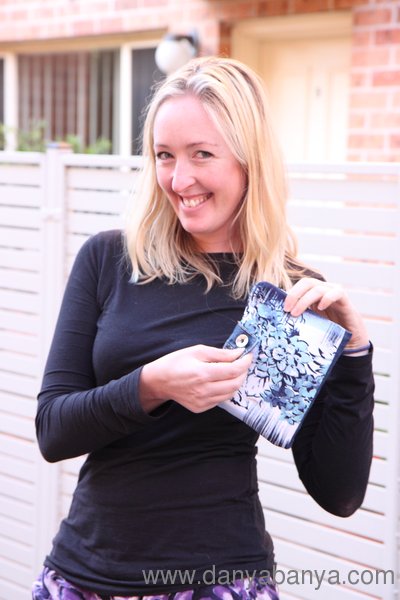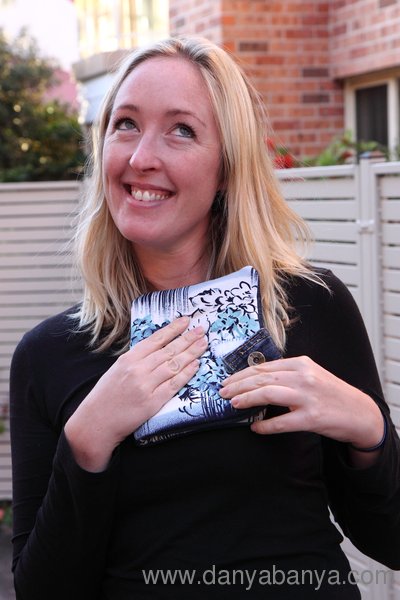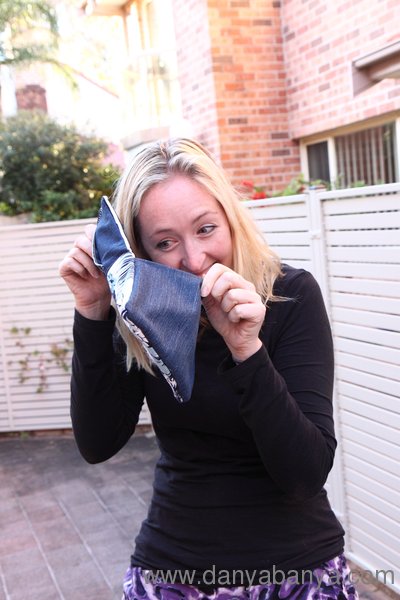 That's where the kindle goes, lovey!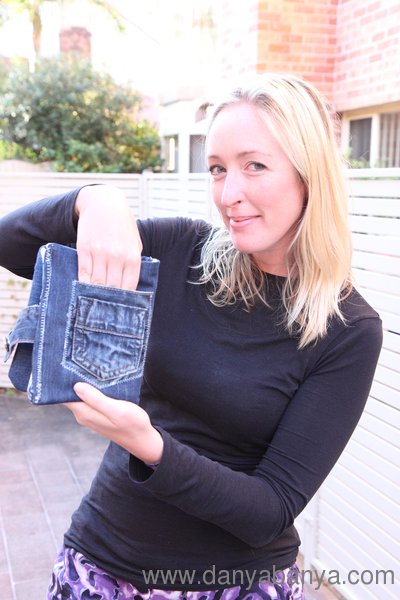 And that's for a little something something on the side.
Want to make one for yourself? Here's how.
First up, grab some fabric. I used these jeans that Mr Banya was no longer wearing due to an unfortunate hole…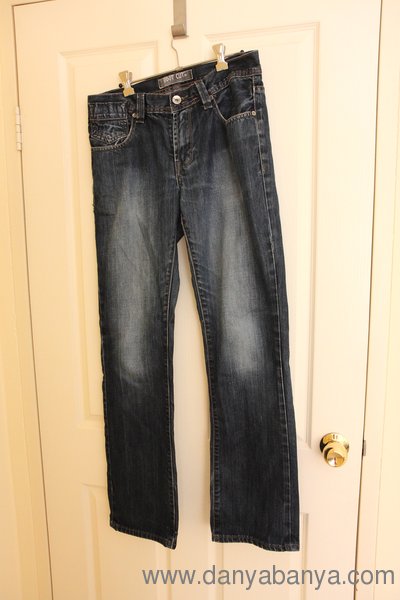 And this blue floral fabric which bought as part of my $5-green-bag-full fabric haul from 
Reverse Garbage
.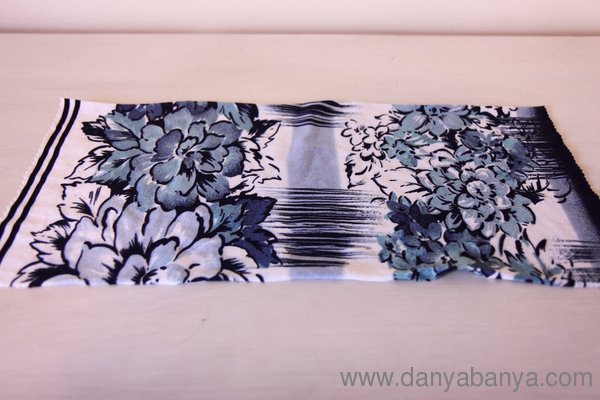 Now, because the fabric is thin and stretchy, I actually sewed this to some of the denim first. That way, it was a lot easier to deal with.
Next, I used the same basic pattern from my first Kindle cover, except I removed the extra two pockets and the elastic tabs from the inside, which I found tricky to sew and superfluous.
And instead I zigzagged on a totally superfluous mini pocket to the back side, effectively creating two pockets. But I love this little detail, it looks super cute!
I also cut the waist strap (including the button) to use as the strap. I glued on some magnets to both the inside of the strap and corresponding part of the cover, but alas they didn't work. I guess there was too much fabric between them? So I fixed this by handsewing on some dodgy velcro over the same spots. It isn't the prettiest, but it serves the purpose, and is hidden from view most of the time.
A bit of dodgy zigzagging here and there to add a bit of "flavour", and there you have it, a one-of-a-kind Kindle cover for a one-of-a-kind friend!
Hope you like it Miss TMME!
xx
Danya