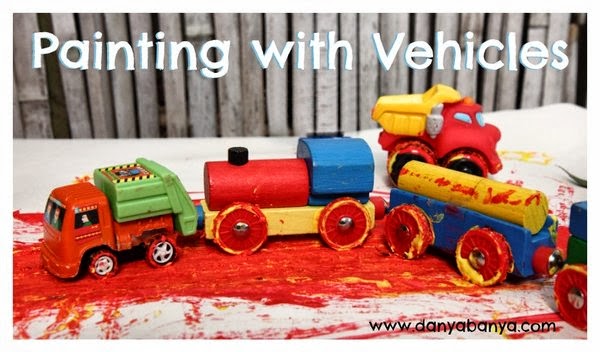 Painting with vehicles provides children with a new way to play and create using old toys.
As a mother of girls, I'm conscious of providing opportunities to play with a wide range of toys, including those that might be considered 'boy' toys.
A while ago, I bought a bunch of second-hand vehicles from eBay for the princely sum of $1.15. They were mismatched, but everything still worked. They just needed new children to play with.
Both girls play with them quite regularly. Bee (my thirteen month old) is starting to say "CAH!" (car) and loves to make a 'vroom vroom' sound as she drives toy cars and trucks across the floor. We've also played with cars and ramps, watching them roll away and crawling after them.
JJ (my three year, four month old) loves to play with vehicles too. She likes diggers, cement trucks, cranes, trains – you name it! She's just adopted a green racing car as a particular favourite toy, whom we've named "Ben 10", as she's picked up on a love of Ben 10 and green cars from the boys at her new preschool (even though she's never seen the TV show).
But on this particular day, I decided to introduce vehicle play in a different way, using vehicles as a painting tool.
I set up an invitation to play, using red finger paint (for the extra viscosity) and a random assortment of vehicles, and waited to see her reaction.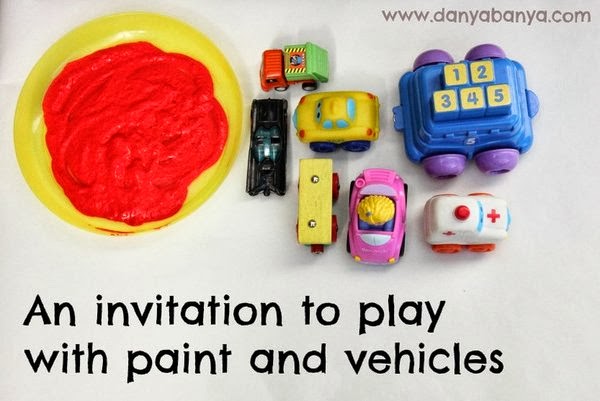 When JJ ran outside a little later on, and practically skidded to a halt, as she paused to take in the set up in front of her. She picked up the train carriage, hovered it over the paint and then looked at me cheekily for reassurance.
Grinning, she said "We're not opposed (supposed) to put it in paint Mummy."
I replied "Today I thought we could have some fun using the paint and the vehicles together. We could make a painting."
And she let out a tiny squeal and made her first track marks…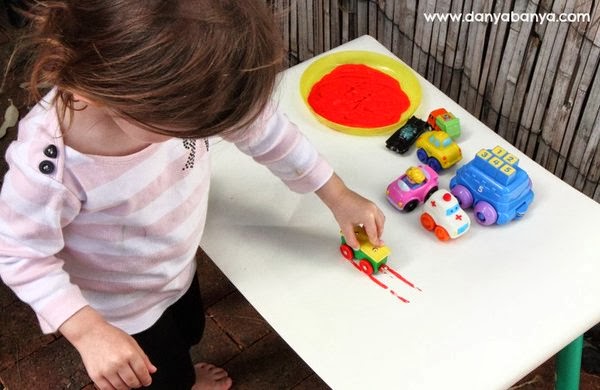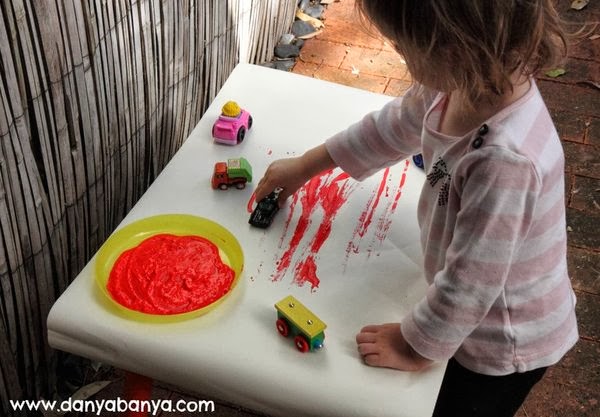 She tentatively tried out each of the vehicles one by one, dipping them in the paint first and then rolling them on the paper. She rolled each one over the same spot, creating tracks, on tracks, on tracks.
After a while she asked for more vehicles, a great sign that she was enjoying herself. Yay!
And not long afterwards she asked for some paint in a different colour. She chose yellow (which I mixed up from tempura powder this time). The resulting play made for some great colour mixing conversations. "I wonder what will happen when you mix the red and the yellow together. Oh look, it's gone a bit orangey. You've made orange!"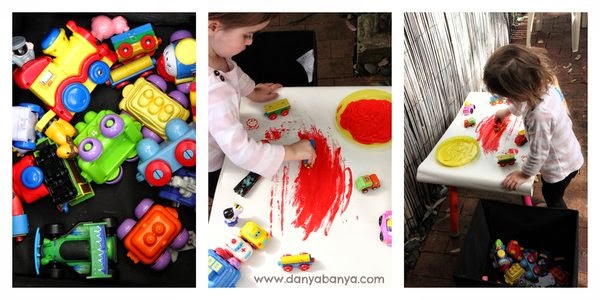 (Notice the green racing car at the bottom of the first pic? That's her Ben 10. Anyone know what his real name is?)
Until now, she'd been happy to keep rolling the vehicles from side to side over mostly the same spot. But once she'd connected a few of the train carriages together, she started to explore making curves.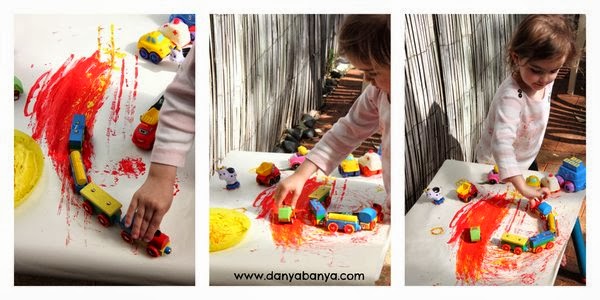 At this point, she stopped paying too much attention to the paint and the patterns, and instead started to imaginary play. She assigned characters and voices to the different vehicles and played happily by herself for about half an hour. I love hearing the conversations she has with her toys during this sort of play, it is a real insight into how she perceives the world at large.
At the end of the play session, we had some really beautiful art. Lots of swirly patterns where she'd driven the trains round in circles, and lots of really awesome textures at the spot where she'd rolled the various vehicles over and over again.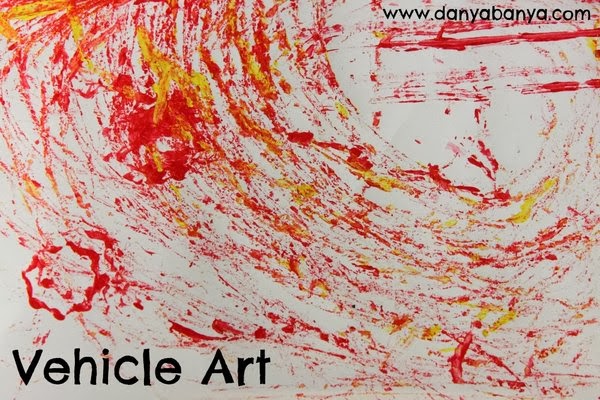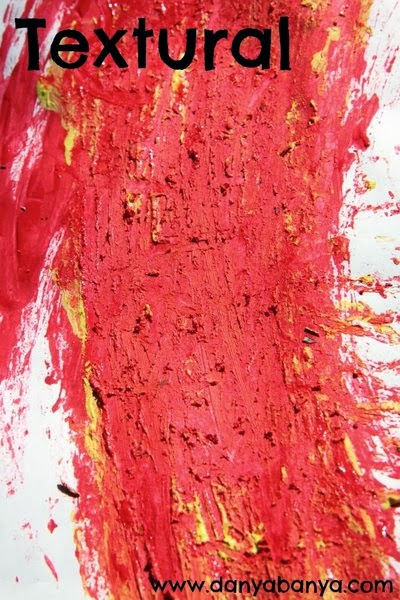 JJ volunteered (!) to help with the clean up afterwards, which actually was lots of fun and an extension of the play. A simple bucket of water and a tea towel did most of the job, and I found a fine paint brush was handy to clean out the tiny axles.
What different materials have you been painting with lately?
xx
Danya