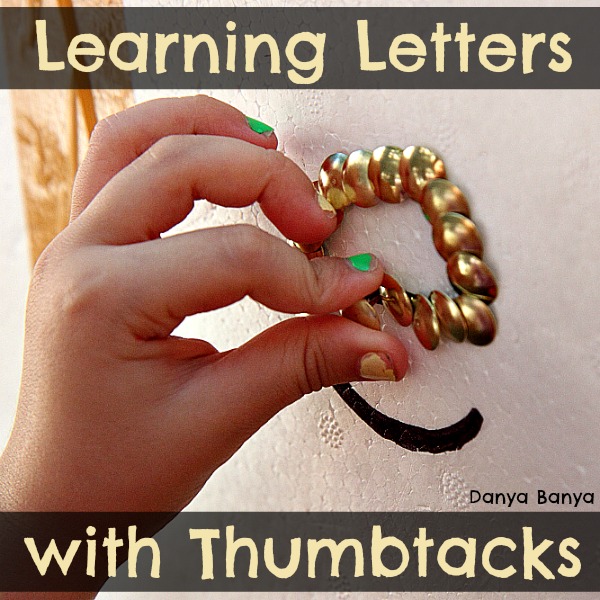 JJ's showing a big interest in learning to read letters and numbers at the moment, so we're incorporating letter and number recognition into our play. Here's a little activity with polystyrene and thumbtacks that we did a few weeks ago. (You can tell it must have been just after Australia Day, because JJ's fingernails are still painted green and gold!).
All you need is an old polystyrene box, some letters written on in permanent marker, and a box of thumbtacks. Easy peasy!
I wrote the letters a, b, c, e, i, j, o, p, r and s on various sides, as these are the letters we are working on at the moment. JJ then pressed the thumbtacks into the polystyrene to trace over the shape of the letter.
As JJ 'worked', we chatted about each letter's name, the sound the letter makes, the shape of the letter and words that start with the letter.
Besides learning letters, this play also works on her concentration and fine motor skills. Those little thumbtacks are tricky to pick up, rotate in your fingers, and press in exactly the right spot.
I was surprised at how enthusiastically JJ took to this 'work'. She hungered for it. She brought her polystyrene box to the dinner table just so it could be close, even though she knew we wouldn't allow her continue through dinner time. She started up again after dinner and would have continued all night if she could.
The next day she started back up again, but not before hiding inside. My children are quite possibly reincarnated cats – they love to hide in boxes of all shapes, sizes and materials.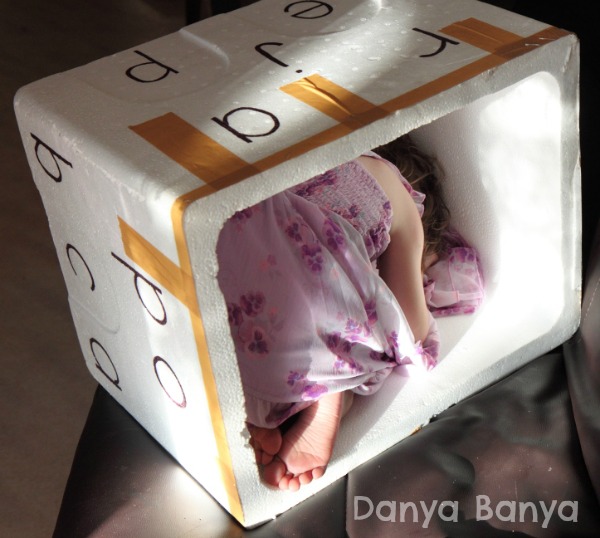 We still have the box a month later, and JJ has played with it several times since. We're only letting her play with it when Bee is sleeping (as thumbtacks and toddlers is not a great mix), so it is a special 'treat' for JJ when we get it down.
Would you like to give this a go? If you don't have thumbtacks handy, pushpins would work equally well. You could do this activity with numbers or sight words instead of letters.
You might also like to check out these Colour & Shape Boats that we made last month, and there are loads of other polystyrene (styrofoam) crafts and activities listed at the bottom of that post as well.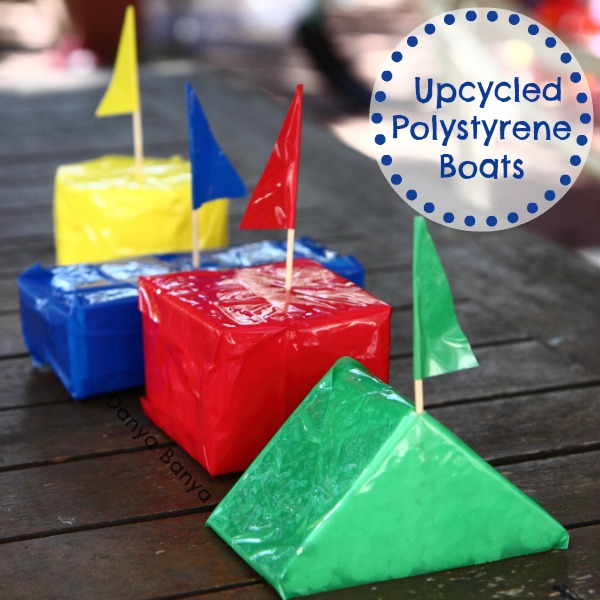 xx Danya