(This is a partnered post with Quicksales.)
I've had a few people ask where to buy affordable art, craft (and play) supplies. So I thought I would share a few of my budget-friendly trade secrets….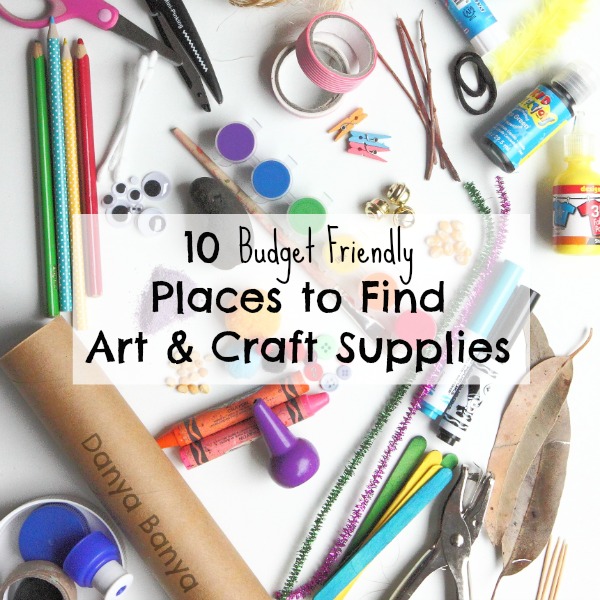 1. Nature
You know I love using natural materials! We use flowers, leaves, sticks, bark, seedpods and stones that we find in our backyard or our local neighbourhood. You could also gather dirt, sand, shells, pine cones and feathers all of which are fantastic for playing and creating with. (Please note: be respectful, and if you are in a national park or other protected area, remember to take nothing but pictures, leave nothing but footprints…)
2. Rubbish & Recycling
We also love to raid the rubbish and recycling bin for items that can be upcycled. Free art & craft supplies galore! Cardboard boxes, plastic bottles, bottle-tops, polystyrene, plastic bottles, bubble-wrap, egg cartons, paper rolls, scrap paper, glass jars and old clothes are all hoarded away at our place for future use. Our lovely friends and family often turn up with (precious) rubbish to donate to our cause.
3. Around the house
There are so many things around the house that can double as art, craft and play materials. Is there a hole-punch in your stationery drawer? Get the kids to make their own confetti, and then use it to make a collage. What about a potato masher? They would be great for preschoolers to stamp with paint. Combine a colander with pipecleaners and you have a fun toddler toy.
4. Council Clean Up
Some of our best toys (and furniture) have been scored from the side of the road! When it is council clean up time, it's a great excuse to go on a few extra neighbourhood strolls…. You don't really find many small odds and ends, but you might find buckets, craft tables, easels etc, that only need a bit of spit and polish. (Please do sense-check before you collect, especially if it's outside the usual council clean up time. There may have been a special kerbside cleanup service already booked. If in doubt, knock and ask.)
5. Freecycle
This is an awesome international website where people can list things they are willing to give away for free. It's a first email, first serve basis so you have to get in quick. A lot of the items I've seen listed are things that have no commercial value, but might come in handy for someone handy with tools or the creativity to make something from nothing. Want to start a retro herb garden? Then those 11 x teapots with chipped spouts might be just what you are looking for! It's really, really, really tempting to pick up all sorts of awesome odds and ends – so much so that I've been banned by Mr Banya until we empty out all the 'treasures' that is starting to accumulate in our garage. #cough #hoarder
Another place I've been banned from. Reverse Garbage is an environmental cooperative in Marrickville, Sydney* that diverts industrial discards from landfill and sells it for next to nothing to creative types. It's like Freecycle – but on an industrial scale. Rumour has it that many Sydney Mardi Gras floats are made from Reverse Garbage materials, and when you visit you can see why. They have everything and anything. I love the place.
7. Garage Sales & Charity Shops
I love garage sales. Mr Banya hates them. Some weekends I win, most weekends he does…. Either way, both garage sales and charity shops can yield some amazing treasures at budget prices, especially if you are prepared to roll your sleeves up and have a good sort through.
8. Online Auction and Classifieds Sites
I buy lots of stuff secondhand on sites like eBay or Quicksales (for Australians). I figure, why buy something new, when there are perfectly good secondhand options available. It's better for the environment, better for the hip pocket, you can set up searches to make browsing easier, you can shop in the middle of the night while up feeding the baby, and they deliver to your door! I bought loads of JJ's toddler toys and clothes (which are now Bee's) as secondhand bulk lots, from families who had kids just that little bit older than ours. Most of the clothes had only been worn once or twice! I've also bought lots of new craft and sewing supplies from these sites as I love that I can access brands that are not readily available in Australia. Often the US brands end up cheaper (even with postage).
9. Discount Shops
This is another addiction of mine. $2 shops (or whatever denomination they come in nowadays) are awesome for picking up the type of useless junk that is so much fun to play and create with. They are particularly good for stocking up for upcoming holidays. (The discount shops are floor to ceiling green at the moment for St. Patrick's Day for example).
10. Grocery Stores
Stock up on cheap salt, flour, corn flour, pasta, lentils, food colouring, paper plates, cooking twine, shaving cream, baby oil, hair gel, cotton tips, cotton wool… Or even better, just raid your cupboard at home for whatever you have that you are not using, or is already out of date…  I find that I'm crafting with these items more and more lately.
11. Art & Craft Suppliers
OK this one might not be budget friendly, but there are some things that are worthwhile paying the extra to get from a specialty art & craft shop. Good quality paint and paint brushes will last many craft sessions. Great pencils encourage pencil grip and pre-writing skills. Hot glue guns are amazeballs for impatient crafters like myself. Craft shops will stock that particular shade of green glitter that you need to finish off a project. And whilst we don't do a lot of 'kit' art and craft at our place, there are some occasions when being able to pull out a pre-made kit with instructions is a lifesaver. But these shops aren't cheap, so anything you can do to reduce the cost is a bonus. Join their loyalty program. See if you can find out in advance when they are having sales. And remember that you can generally order online from individual suppliers too. I bought a big box of paints and other supplies from Micador for Great Grandma to give to the girls for their Christmas present, and it's the gift they play with the most. (Thanks GG!)
So, now it's your turn. Where do you score your bargain art & craft supplies? Got any secrets to share?
xx Danya
* I have heard of similar organisations in Melbourne (Reverse Art Truck) and Brisbane (Reverse Garbage Brisbane – note this is a separate company to the Marrickville one).
This is a partnered post with Quicksales. All opinions are (and always will be) my own.