Today I'm 37 weeks and 1 day pregnant, and anything from 37 weeks onwards is considered "full term". A little over 2 years ago, when I was 37 weeks pregnant with JJ, I gleefully announced on Facebook that I had reached full term, and then my waters rudely broke half an hour later. So I decided not to announce anything yesterday lest I jinx myself! So at 37 weeks + 1 day, this little bub has already surpassed JJ's "time on the inside".
We've been a bit busy lately getting ready for this little bub. We bought a car, a double pram and I've made a baby mobile to hang above the change table – I'll fill you in on the details for each of these shortly. We also bought a chest of drawers, for which I made some fabric liners, and this is the topic for today's post.
About a month ago, I bought this second-hand chest of drawers off Gumtree for $35. Bargain! It was relatively clean, but had the slightest musty smell. Nathan couldn't smell it, but my nose is really sensitive to dust and mustiness etc, so the first step was to give it a good clean out. I started by throwing away the existing paper liners and getting rid of any remaining bits of sticky tape. Then I washed every surface with boiling water mixed with eucalyptus oil. Once it was dry, I sprinkled each drawer with some bicarbonate of soda (baking soda), which is excellent at absorbing musty odours, and left it for a few days.
Then I filled a spray gun with 1 cup of water and 1 cup of white vinegar, and liberally sprayed every surface, paying particular attention to the inside of each drawer and the inside of the whole chest. I kept spraying until I'd used up the whole amount. Then I stacked the drawers on top so they could air out, and left them for another couple of days.
In the meantime, I got to work on making some fabric liners for the inside of each drawer. I grabbed some cardboard from our recycling pile, and cut it to measure one of the drawers, and tested it in the other drawers to see if any adjustments needed to be made. In this chest of drawers, the left hand side drawers are slightly different to the right hand side drawers. Luckily for me, the cardboard fit each drawer on the left side perfectly, and then if I flipped it over, it fit each drawer on the right side perfectly as well. Too easy!
Then I searched through my fabric stash for some fabrics of sufficient size. As these were "only" drawer liners and not going to be seen that often, I didn't want to use up any of my favourite fabrics. So I selected fabrics that were nice enough, but not too nice – ones that I wasn't overly fussed on either the colour, pattern or the feel of the fabric…  I ended up selecting 8 different fabrics, doubling up on 4 of them, to make up the 12 drawers.
I cut a piece of fabric to size using pinking shears (zigzag scissors) and also sewed a zigzag stitch inside each edge to prevent fraying, and then pinned in the edges around the cardboard. I found this was the easiest way to get the correct sizing.
Then I removed the cardboard, flipped over the material and sewed a straight seam along the right side. You could probably sew either side up, but I like to sew on the right side as I find that my machine makes neater stitches on this side than it does on the underside…
And then I did the same thing again, just this time with the cardboard flipped over, to make a liner for the drawer on the other side.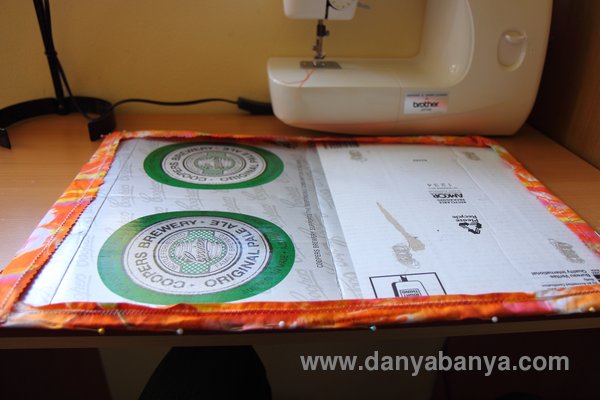 Yes, that is a Coopers beer carton. What else would we have in our recycling?
(For non-Australians, Coopers make very good beer, much better than Fosters.)
And here are they are, all "linered up".  R D RR 🙂
I used some double sided sticky tape to secure them inside each drawer. Now to wash some itty-bitty baby clothes to put inside! (Well, actually, JJ's clothes will be going in here, and the new bub's clothes will go in the "old" chest of drawers. But that didn't sound as good….)
Oh, and I should also mention that all of the fabric is recycled. I have a "thing" about trying to use recycled materials wherever possible. I find that it a) helps the environment, b) helps my wallet, and c) challenges my creativity. It's easy to go out and buy coordinating pieces of fabric to make up a masterpiece and spend a bomb while you are at it, but it's much more creative to be forced to look at what you have (or can source) and come up with something that still works.
Where did I get the fabrics from?  Three of the blue fabrics were old work shirts that a friend had donated as they had seen better decades, and the rest I picked up from Reverse Garbage. If you haven't checked out Reverse Garbage yet, I highly recommend a visit. Amongst the masses of recycled / reclaimed things that they sell for bargain prices is a large pile of various fabric offcuts. You can fill a green bag (Coles or Woolies style) for only $5. Save yourself a bundle and save the planet at the same time… I must confess that the cotton thread was store-bought though. If you know of a good source of recycled / reclaimed / unwanted thread, please let me know.
So what do you think of the results? I reckon much better than lining with plain brown paper as the previous owners had done….
xx Danya