And to conclude the "Introducing" series (for now at least), let me introduce our pets.
Charli
Charli is our cat. Apparently she's a Domestic Short-Hair (yes that's a breed), but as she is a pound cat, I'm sure there's a some bitzer in her somewhere. We adopted her mid 2009 from
Save-A-Dog Scheme Inc
, which is a community-based not-for-profit animal welfare organisation that saves hundreds of dogs and cats from being killed every year. Charli was 2 years old when we adopted her, and she had spent her entire life at the centre, as her mother had been brought there whilst pregnant.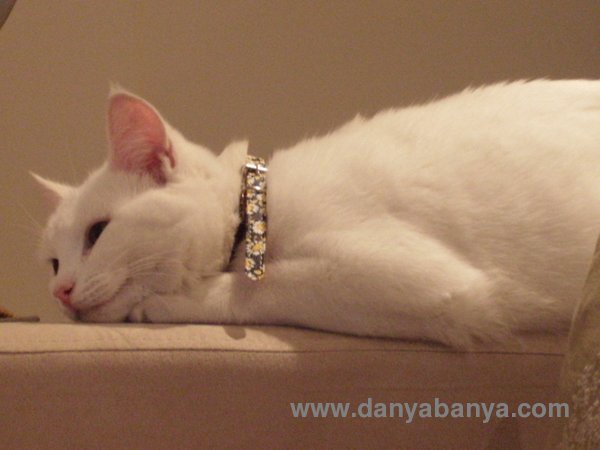 Charli, starting to relax, just a couple of days after we brought her home.
When we brought Charli home, we first introduced her to the bathroom where her kitty litter would be kept. She was very affectionate and happy. But when we opened the bathroom door to the broader house area, it was obvious she wasn't used to being in such large spaces. She spent the first night sitting inside the bathtub – being an approximate size to the cage she was used to, purring and content. She was happy for us to pat her, but she wanted to stay there. After a day or two, she settled down a bit, but it was probably 3 months or so before you could say that she was really used to being in a house environment.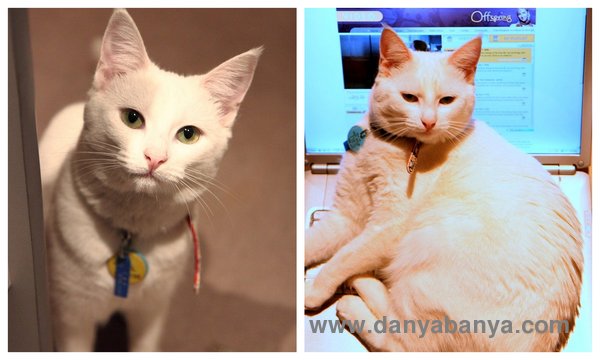 Being a white cat, skin cancer is a big risk, particularly with our harsh Australian sun and the hole in the ozone layer above us. She is not allowed outside for the 3 months of Summer, and in Spring & Autumn (Fall) we put sunscreen on her ears before she goes outside, and try to restrict the times to early morning and late afternoon. It is only in Winter that we let her have free roam during the daylight hours. All year round she is kept inside at night, as in Australia, cats don't mix well with our native nocturnal fauna, such as our possums, sugar-gliders, etc.
A year after we adopted Charli, we brought a little screaming JJ home from the hospital. Charli popped up on her hind legs like a meerkat, so she could see the baby from the other side of the room, with the most concerned look on her face. From day dot Charli was very maternal towards the baby. She learnt early on that she got lots of pats if she sat next to me on the couch whilst I was breastfeeding, and so in the early days, I had company, no matter what time of night JJ fed. Now that JJ is a jumping shouting toddler, the relationship is different, yet no less affectionate. Charli will passively let JJ poke and prod her, and puts up with toddler squeezes and kisses. It will be interesting to see how Charli reacts when we bring a second baby home – she is so used to kids now, I wonder if she'll even notice!
Vomit, Gromit & Mike
Vomit & Gromit are our two Comet goldfish, and Mike is our Black Moor fish. They too were "saved". Two of our friends had a wonderful harbour cruise wedding several months ago, with Comet & Black Moor fish as the table centre-pieces. After the wedding, the fish needed a new home, and so we adopted six. They live in a 26 litre (roughly 6.5 gallon) fish tank, about a foot cubed, with lots of fresh plants for them to hide behind & nibble on. Alas, three of them didn't last the month, but Vomit, Gromit & Mike have stuck around, and seem to like their new home!
Olga
Olga is our pet garden snail. JJ named her – I have no idea where she got the name Olga from, but she must have heard it somewhere… We found Olga on the path outside our front door. She had a big hole in her shell, about a centimetre squared. We took her in, and housed her in a big plastic tub and fed her on left over veges and water for about a fortnight until she had had a chance to regrow the broken part of her shell. Once she was deemed strong enough, we let her go back into "the wild" of our backyard. Every now and again, particularly when it is raining, we see her back on the path. (We can tell it's Olga, because the regrown part of her shell is a different colour to the rest.)
The Possum
Ringtail possums are one of Australia's native nocturnal marsupials. They are very cute, being only about 30cm (a foot) long, excluding their long tail. With encroaching urbanisation swallowing up their native environment, they have learnt to share our suburbs by making nests in roofspaces, as the possum that lives at our place has done. I'm tempted to rehouse it using these humane 
recommendations
, but JJ is so fond of having a possum in the roof that we've decided to leave it there for now. We hear it scratching around in the roofspace each dawn and dusk, and often see it sitting on the fence or in the trees if we're outside when it is dark.
Here are some other posts in the "Introducing" series:
Introducing – Me!
Introducing – Mr Banya
Introducing – JJ
Introducing – the bub on the way