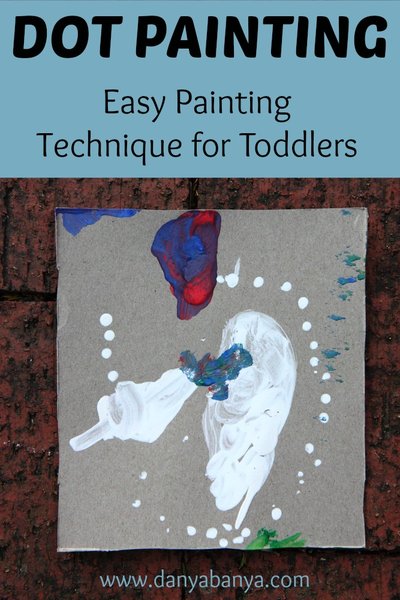 Introducing dot painting as a new (and easy) painting technique for toddlers or preschoolers.
We paint a lot at our place.
Often it's as traditional as painting with a paintbrush on paper. Sometimes it's finger-painting (or whole-hand painting). We've also painted with our feet, with cotton tips or with things we've found in the backyard.
But JJ's at an age (3 years and 3 months) where she is at the end of toddlerhood, and verging on preschooler-dom. She's at a point where I want to introduce new artistic techniques and mediums.
Originally I had a grand idea in mind: JJ would make aboriginal-inspired art using sticks from our backyard to create a traditional dot painting. And it would be awesome.
You see, this is where I went wrong – I had too much of a plan. 
When JJ saw me get out the paints, she started to gather the paint brushes. "No JJ, we're not going to use paint brushes today. We're going to paint with sticks, like this. Can you make dots like I am?"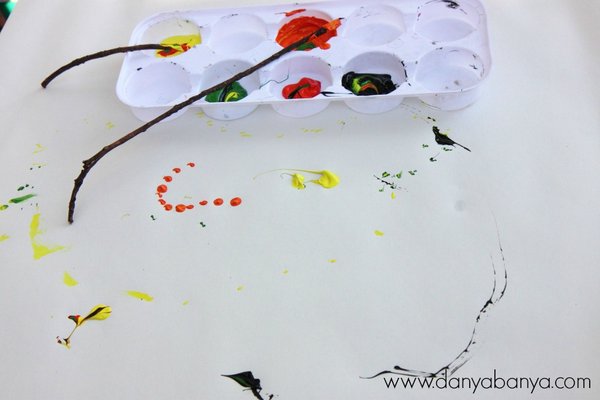 But she wasn't interested. She wanted to paint with paint brushes. She wanted to paint lines and blobs. She didn't care that Mummy has this brilliant blog post idea.
So we put the sticks away and painted an ordinary painting with paint brushes as we usually do.
I left it a few days, and then gave it another shot. This time I didn't instruct. I didn't even ask JJ if she wanted to paint. I just sat down and started to paint myself. And instead of introducing sticks as a new medium, I just turned the brush over and used the other end to make dots and fine lines.
Before long JJ came over to see what I was doing. She said "You're not allowed to paint with that end of the brush Mummy". I explained it's OK to paint with all sorts of things. Look, I can make little lines and dots!
Then she asked if she could paint too. And she started to paint using the bristle end of the brush. And then she flipped the brush over, and started to dot…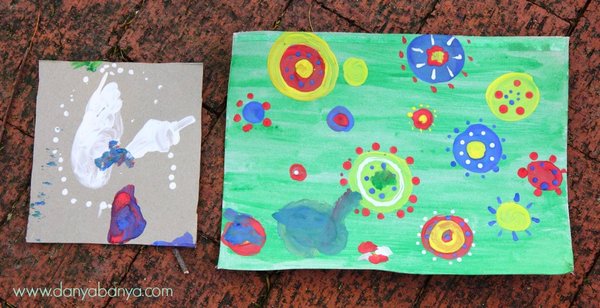 JJ and my dot paintings on recycled cardboard
Yay, a new technique introduced!
I think we'll try the sticks again next time.
xx
Danya