Dear JJ,
Happy Birthday!
You're now three years old. My big little girl.
Cliché dictates that your birth should feel like yesterday. That time should have flown. But actually, it feels like the full three years. It feels like you've come so far, grown so much. It feels like I've changed. Pre-child life feels like an eternity ago.
You've matured so much over these last couple of months. Except for the time when you tried to get yourself killed, your behaviour has improved. You still get up to mischief, but you'll listen to reason and have tempered your toddler tantrums. The naughty corner has been feeling lonely.
You chat non-stop, about anything and everything. There are still a few sounds that you haven't figured out how to make. The sounds f, sp, sm, v, and th often come out sounding like a p. You say pish, parkle, eppalent instead of elephant, and "eww, that part is pelly!"
You are making up your own grammar. You say things like "I putted it over there". And you often get her / she and they / their mixed up, such as "That is she's book" or "That is they's house".
Cognitively, you've entered a questioning phase. It started with 'What?' questions, such as "What's a chair?" or "What's a drink?" – things which you obviously already knew the answer. Sometimes we'd give you a silly answer, and you'd laugh and correct us.
Before long your questions progressed to 'How?' and 'Why?' style questions, such as "Why do we do drinking?" or "Why is it raining?"
Lately you've been asking lots of 'Where does it come from?' questions. Every night at dinner, you ask about what's on your plate. "Where do we get noodles?" or "Where do we get chicken?" We answer you honestly, whilst trying to keep our language gentle and non-confrontational.
But your favourite question is 'Can you make up a story?'. Sometimes you request a nonsense story such as 'Can you make up a story about Mike the Knight and a purple hat?'. But more often you ask about an event that has recently happened, or is about to happen. "Can you make up a story about a Mummy and a Daddy and a girl called JJ and a baby sister called Bee who move to a new house and there is a trampoline and they go jumping and then they have cake? Can you make up that story?"
You get upset when stories end. "No! It's not pinished! Can you tell me a story that never ends? Can you make up it?"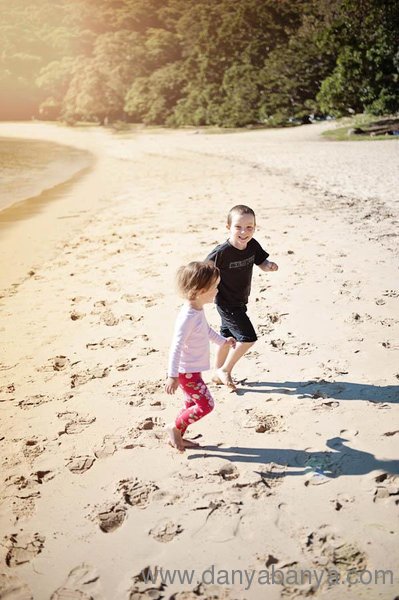 You ask for stories from the moment you wake up, until you go to sleep at night. You don't mind if we make them up, if we read them to you from a book, or if you listen to them on an audio CD. You've gone past picture books. Your favourite books at the moment are ones that I borrow from the junior racks at the library. Darcey Bussell's Magic Ballerina series, and Daisy Meadow's Rainbow Magic series are great – the storylines are easy to follow, and there's a great mix of fairies, magical animals and relatively non-threatening villains.
Sometimes you wake in the middle of the night, and wander blurry-eyed into our bed with a book tucked under your arm, because you like to sleep with it under the pillow.
Speaking of sleeping arrangements, did I mention that you now have your own room? When we moved into our new house, we were intending for you to share a room with your sister. But the removalists accidentally put your bed in the wrong room by mistake, and you claimed that room for your own. You were so proud of your new bedroom, that we decided to run with the idea. You've gone to sleep in your own bed, in your own room almost every night since! Considering your sleep history, this is worthy of celebrating. You still need me to put you to sleep, and you still come into our bed in the wee hours of the morning, but I'm considering this a big step in the right direction.
And another big leap for you – you're now attending an Early Learning preschool one day a week. You started four weeks ago. No tears! I'm so glad that we waited until you were this age before starting childcare. It's different for each child and each family, but I really think that we found the right place and got the timing just right for you.
You used to have formal swimming lessons and ballet lessons, but we've stopped these this term. Instead Mr Banya has been taking you on lots of trips to the park, museum, pool and zoo.
I took you to see Swing by Baby Prom at the Opera House with your granny last month, and met some of the musicians afterwards. You want to learn the trombone now. I was thinking something smaller and lighter…
Besides a trombone player, you also want to be a drummer, a zoo keeper, an artist and a mummy fairy. You look up at the first star of the evening, and fervently wish for a beautiful gown, glass slippers and wings. You also wish that you could fly.
The other day I told you that I love you as much as the trees have leaves, and you asked if I'll still love you in Winter when all the leaves have gone. So I told you that I love you as many as all the stars, and you asked if I'll still love you on a dark night when there is no moon.
JJ – I'll still love you. I promise. Always.
xxx
Mummy