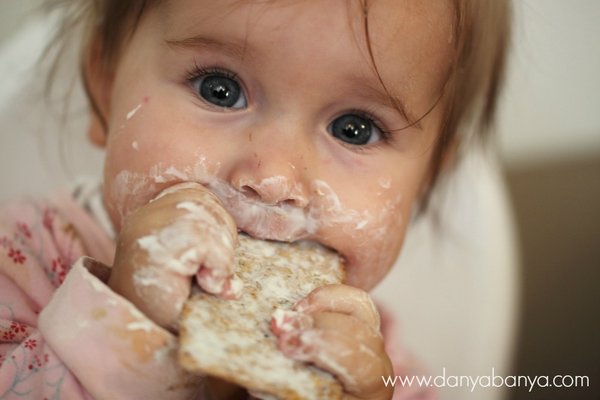 Dear Bee,
I can hardly call you Baby Bee anymore, because you are getting so big! You are now into Size 0, and are wearing things that JJ used to wear when she was turning 2 years old. Actually, some of the things you are now wearing were packed into newborn nappy boxes, your newborn nappy boxes.
And I can't call you an infant anymore either – you are definitely in the crawler category now. You can cross a room, commando-crawling style, in seconds. One moment you are in the loungeroom happily playing with your toys, and the next moment you've crawled through the dining room into the laundry, where you may, or may not, be eating a few pellets of cat food. Oops. At least the stuff we get is nutritional. Well, for cats anyway….
Mr Banya and I have just finished reading "French Kids Eat Everything" by Karen Le Billon, and we're keener then ever to help you to enjoy a variety of foods, besides cat food. Mr Banya served up an anti-pasto platter a few nights ago, and you happily munched along on prosciutto, black olives, pickled artichoke hearts and caperberries, while Mr Banya finished off the flat, left-over-from-Mother's-Day champagne. A lovely family meal.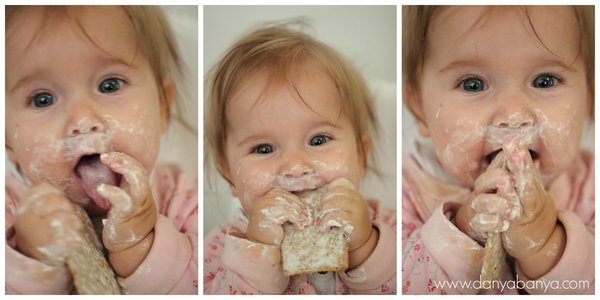 Vita-Weets and cream cheese may not be all that French, but they do make for cute photos!
There have been a couple of things that you've tried and not liked. But you don't seem to be aware that you have the option of not eating. For instance, you tried cucumber with salad dressing the other day. You've eaten cucumber by itself before, but strong flavour of the salad dressing made you scrunch up your face. But you put it back in your mouth to taste it again, then scrunched up your face again, then tasted it again, then scrunched up your face again, repeat x10.
You're also starting to talk. Not a lot mind you. But a couple of words. You've been crawling around chasing after our cat Charli saying "Ga" (cat), but your favourite word is "Daddy". You've also started to say JJ's name. And you've said "Mum" a few times when you've been really upset – but I'm not entirely convinced this last one is intentional yet. You also have particular sounds for when you're tired or hungry, and you're also babbling a lot, using a much broader range of consonants than before.
Moving house has been a bit unsettling for you. The first week you were waking about 7-8 times a night. Now I can cope with a few night wakings, and getting you to "sleep through" is quite low on my priority list, but 7-8 times per night (plus possibly once or twice for your sister) is turning me into a zombie.
Your father very gently suggested that my new Mirena (an IUD contraceptive) may be affecting my mood, because I'd been snapping at him and the kids a bit more than usual. So, I replied (not so gently) that "MAYBE BEFORE WE BLAME THE MIRENA WE CONSIDER THAT I AM GETTING NO SLEEP". Which I think partially proves both our points really…
I imagine that you were sleeping poorly partly because you were missing the familiar decorations on your walls and the comforting tick tick of your clock, partly because your room is colder than your old room, partly because you seem to be teething (poor thing), and partly because of caffeine in my breastmilk. So I've eliminated my only joy caffeine, bought you a column heater for your room, and  started giving you Bonjela, and the results are starting to show. Your night wakings are now a much more manageable 3-4 times. We've still got your clock and decorations packed away somewhere – we're slowly getting through all the unpacking…
I should probably also mention that this month your sister caused you to lose your fingernail and gave me a mini heart attack. Thankfully your finger is recovering well, and my heart fluttering has started to subside.
Bee, we love you so so much.
Love,
Mummy, Daddy and JJ.
Previous letters to Bee:
A letter to Bee (7 months)
A letter to Bee (6 months)
A letter to Bee (5 months)
A letter to Bee (4 months)
A letter to Bee (3 months)
A letter to Bee (2 months)
A letter to Bee (1 months)
Bee's Birth Story