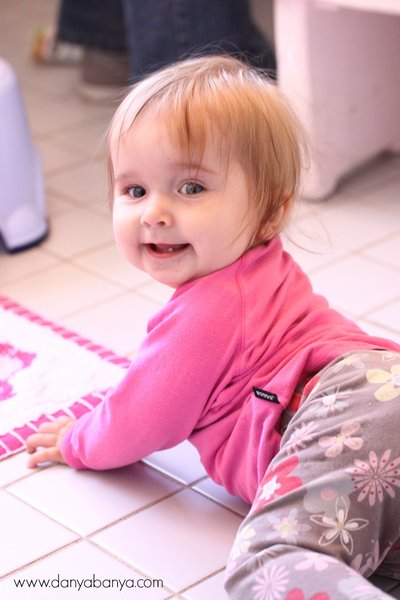 Dear Bee,
Perhaps it is a bit of attachment. Perhaps it is because we've all been a bit sick this month. Perhaps it is because one of your front teeth is sitting just below the gum, causing you lots of pain. But whatever the reason, you just love to be held, all the bloody time. And not by just the one person. You hold your hands out asking to be passed to whoever isn't holding you. Sometimes feels like we are playing pass the parcel.
You've also started to clap. It's adorable. But even more adorable is watching how easily you can get random strangers to clap along with you. I guess mimicking a baby delightfully clapping is hard to resist.
You are pulling yourself up, and cruising around the furniture with such confidence. The speed that you can cross a room, part crawling and part cruising, is astounding. Especially when there is an unguarded bowl of cat food or an open dish washer as an incentive.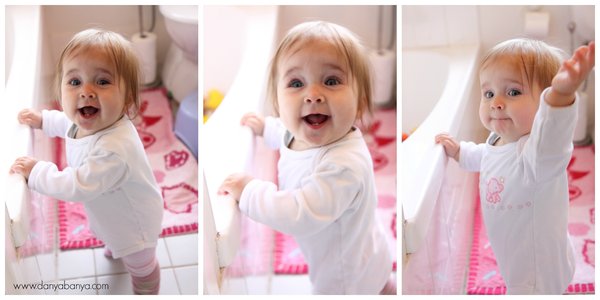 Look Mum, I can pull myself up (in two seconds flat)!
You're also waving goodbye and saying BAH (bye) – but only afterwards, so that you are more waving to the void than to the actual person leaving.
You are such a part of our family now. You play with your sister. And she delights in entertaining you. I don't think JJ really remembers what her life was like before you came along.

Being an audience for one of JJ's many performances.
Another adorable addition this month is your love of jumping. But your feet don't leave the ground, so perhaps it's more like an enthusiastic series of squats. It makes you laugh and laugh and laugh. You've also become very ticklish.
On the rare occasions when you do fall, you fall harmlessly onto your bum. (This is something that I'm so grateful for, as opposed to your sister who used to hit her head every time she fell).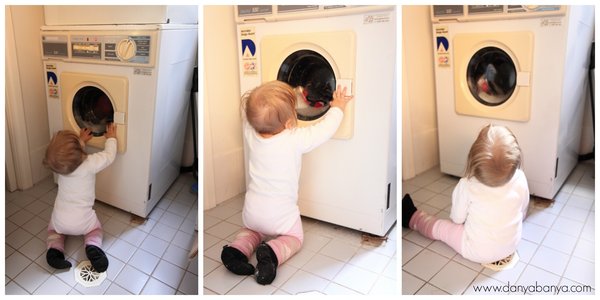 Watching the front loader is another of your favourite activities.
Lots of new words this month – BAH (balloon), BOH (ball), CH (cheese), CHGH (chicken), POOH DAH (pussy cat) – and you are starting to initiate speaking rather than simply repeating after us. Mr Banya is trying to teach you to say "I love you", and you think it is such a fun game. You watch his mouth really closely, reaching out to try to grab his tongue, and then you say AH LAH  . . . OO, with your tongue flapping about. Not quite right, but very very cute!

Trampoline static
You've started to reject breast milk, which is a bit of a shock to us as we'd like for you to continue breastfeeding for at least another year. Don't get me wrong, you're still drinking lots of it, but more often in the wee hours of the morning, rather than in the daylight hours. It seems that during the day you prefer food, or water, or cows milk from a bottle. (Your sister drinks bottles of milk at night and you are obsessed with trying to get your little mitts on them). So when it's milk time, we've been giving you a small taste of food – just enough to tempt your taste buds and convince your tummy that you are hungry – and then taking it away and offering you milk.  It feels a bit mean, but I know that it is best for you in the long run.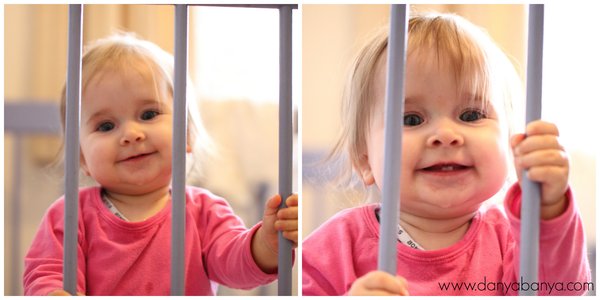 All smiles during the day…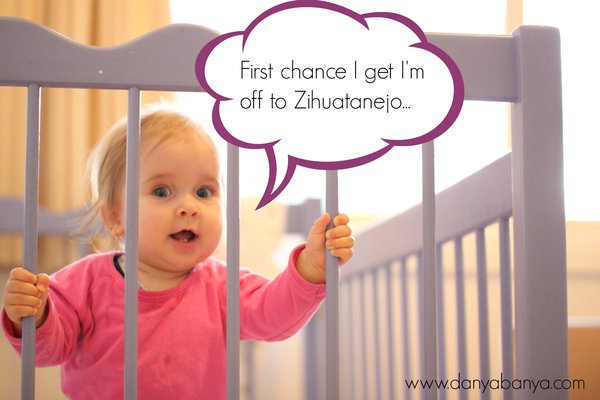 Speaking of wee hours of the morning, we've had a few shockers this month. One night I was up 13 times before I got fed up and stopped counting. It's hard to be upset with you though – you were all snotty and coughy, poor little thing. It's especially hard to be upset when, while half sleeping on us and half cuddling us, you'd gaze into our eyes and say AH LAH . . . OO.
Luckily you are better now and back to your usual 3-4 wakes per night otherwise I might have murdered someone by now.
xxx
Danya
Previous letters to Bee:
A letter to Bee (9 months)
A letter to Bee (8 months)
A letter to Bee (7 months)
A letter to Bee (6 months)
A letter to Bee (5 months)
A letter to Bee (4 months)
A letter to Bee (3 months)
A letter to Bee (2 months)
A letter to Bee (1 months)
Bee's Birth Story