Make your own 'Five Little Ducks' puppets as a cute prop to go along with the nursery rhyme, that will delight babies, toddlers and preschoolers alike.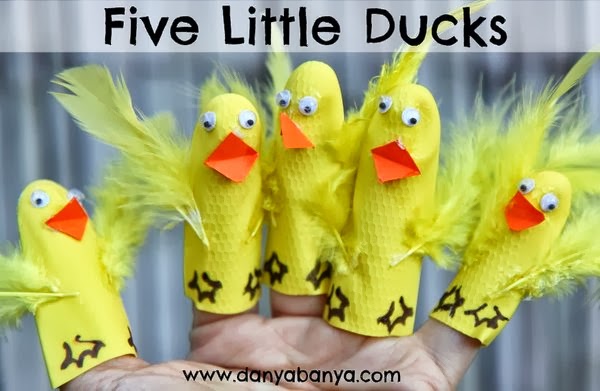 (This post was originally published 20th October 2013, and has been updated.)
DIY Five Little Duck Puppets for Kids
Five Little Ducks is one of our favourite nursery rhymes. It's such a great song for babies. It has that winning combination of rhyme, repetition and simple actions that babies seem to love. My youngest daughter Bee (10 months) just lights up when we sing it. She's started saying "DUH!" (duck), and she can (almost) make a quacking gesture with her hands at the right times. So cute!
This song also a fantastic way to introduce music and early math concepts for toddlers and preschoolers. It works on counting, one-to-one correspondence, and counting backwards by ones, all through song.
You do know the song, right?
Five Little Ducks
Five little ducks went out one day
Over the hill and far away
Mother Duck said 'Quack, Quack, Quack, Quack'
And only four little ducks came back."
Four little ducks went out one day…..
(and so on until)
…And none of the five little ducks came back.
So sad Mother Duck went out one day
Over the hill and far away
Mother Duck said 'QUACK, QUACK, QUACK, QUACK, QUACK, QUACK, QUACK'
And all of her five little ducks came back.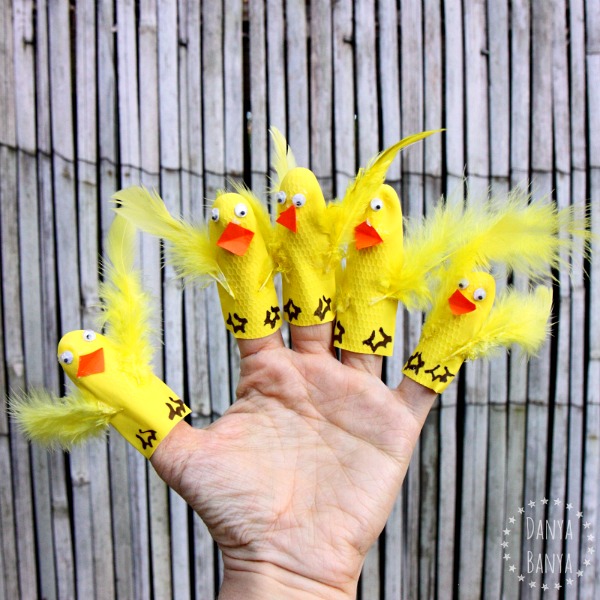 Whilst they weren't complicated, I actually made the ducklings myself, during a few rare moments of child-free time. (See below for instructions). My eldest daughter JJ (3 years and 2 months) joined me to help make the Mother Duck (also below), which is perhaps why she looks slightly disheveled so wonderfully unique.
When they were all finished, JJ couldn't wait to try the puppets on, so some of these photos were taken when the Mother Duck's glue was only half dry. 🙂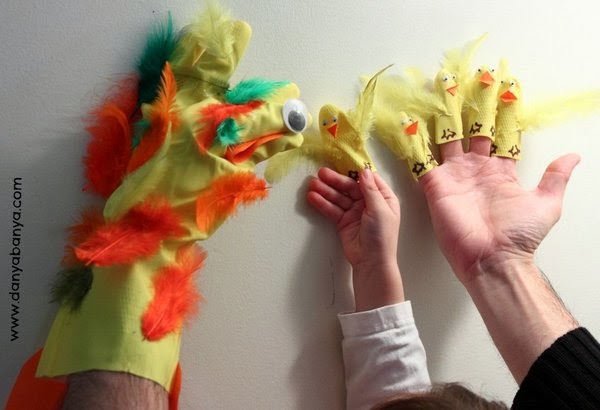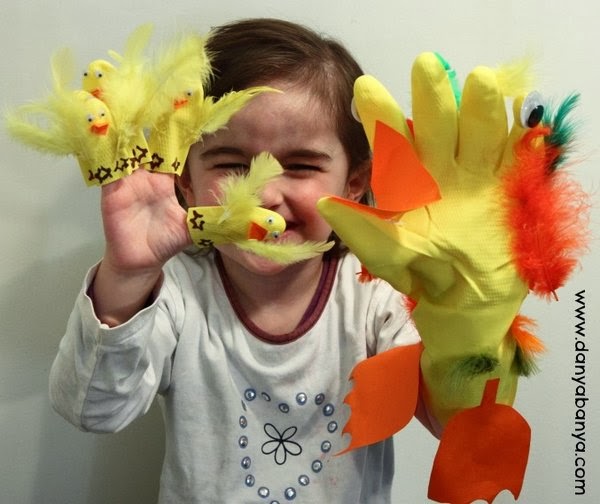 Bee was napping during our crafting frenzy, but we introduced her to our new little family of ducklings the next day.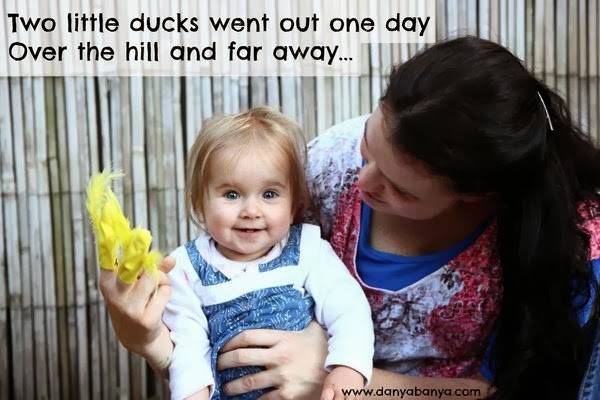 The feathers are also great for tickling tiny little toes. 🙂
But as it turned out, it was JJ who was busting to play with them. She sang and sang and sang some more.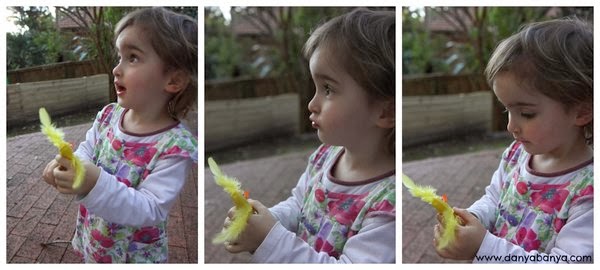 And before long JJ started to broaden her play beyond the 'Five Little Ducks'. We also sang the Two Little Dicky Birds nursery rhyme.
Two Little Dicky Birds
Two little dicky birds sitting on a wall
One named Peter, one named Paul
Fly away Peter, fly away Paul
Come back Peter, come back Paul

Of course a Mother Duck with her five ducklings leads itself to all sorts of role-playing. The ducklings chatted to each other, fought and made up, played lots of games together, ate lunch, and then needed a little day nap.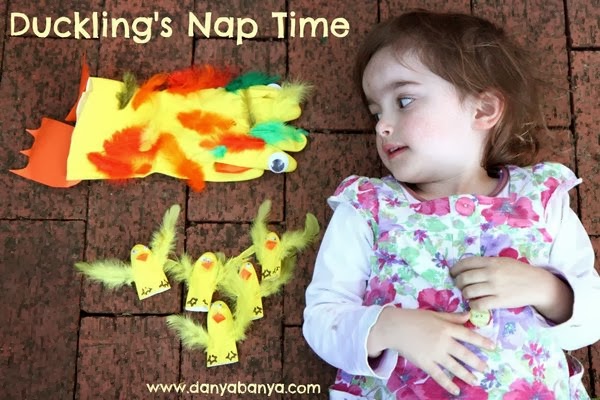 At the end of a long day, Mother Ducks need a nest for their brood. We made one using twigs and bark from the backyard.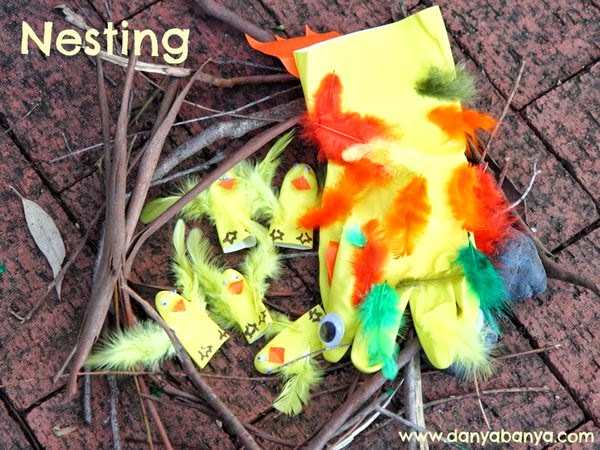 How to make "Five Little Ducks" finger puppets from a rubber glove
Here's how I made our five duckling finger puppets. (We bought our supplies locally. Affiliate links to similar products below, FYI and for your convenience. Thanks for your support.)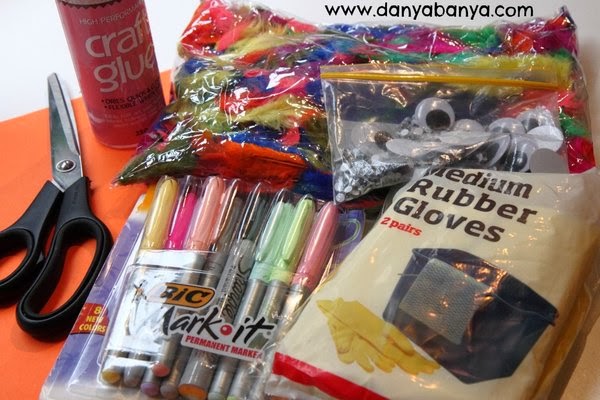 I used:
I cut the fingers off one of the rubber gloves and glued sets of googly eyes. I made little paper beaks by folding small orange squares in half diagonally, and glued these on as well.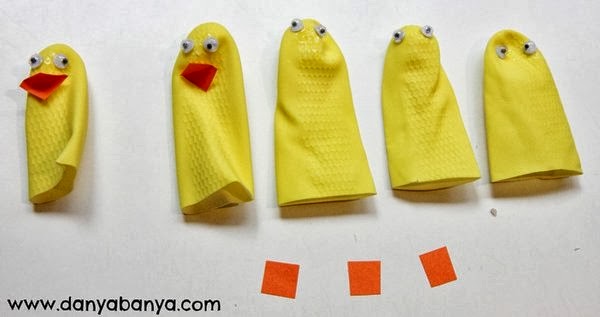 And then I drew on little webbed feet using permanent marker.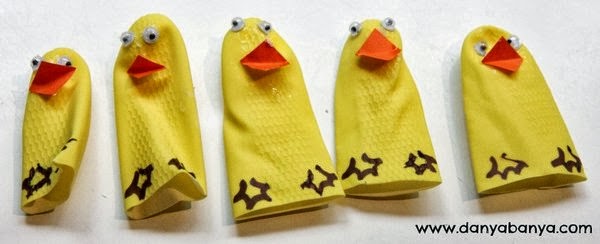 And lastly, I glued on feather wings, propping the puppets up on pencils in paint pots to let them dry.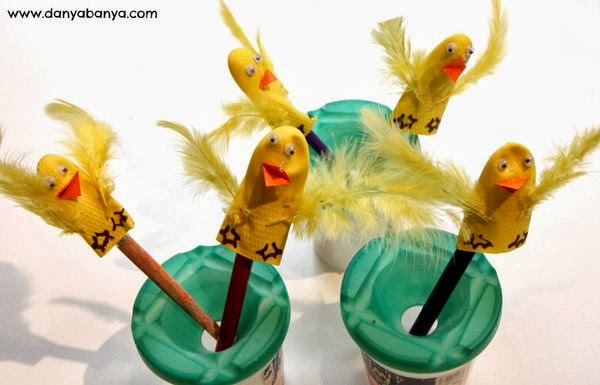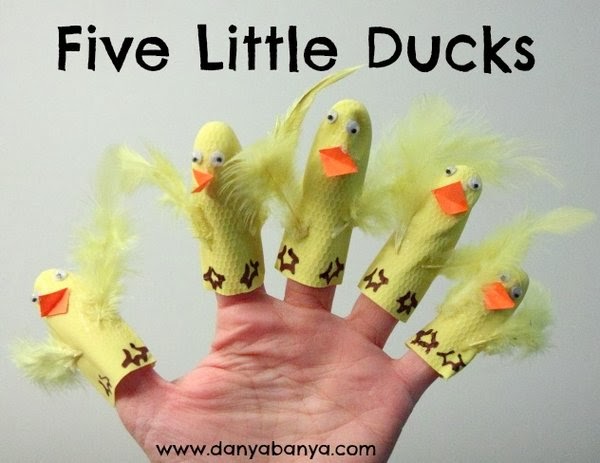 How to make the "Mother Duck" hand puppet
For the Mother Duck, I cut out a larger beak (in more of a folded diamond shape than a square) and a pair of webbed feet from the orange paper.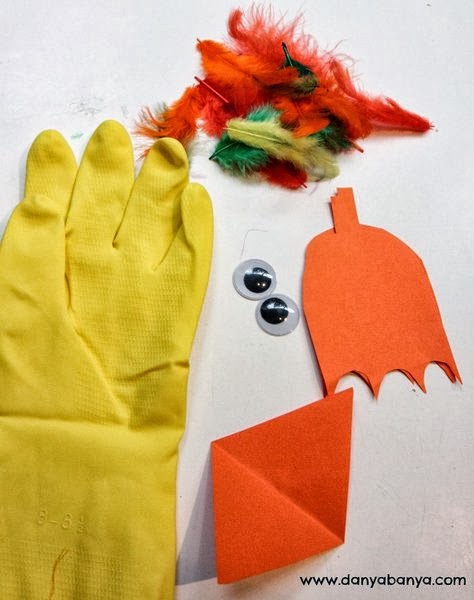 And, with a bit of assistance from JJ, we glued everything together.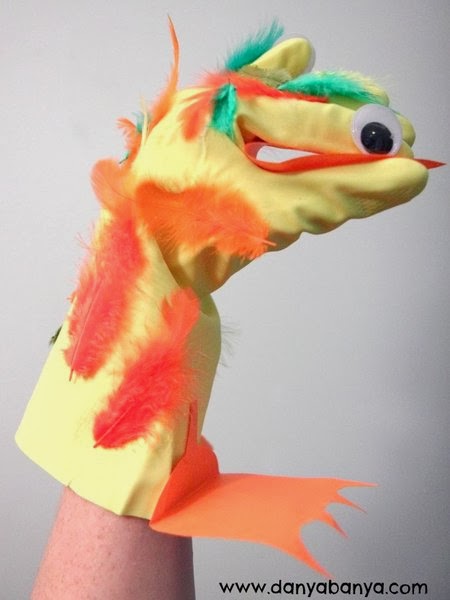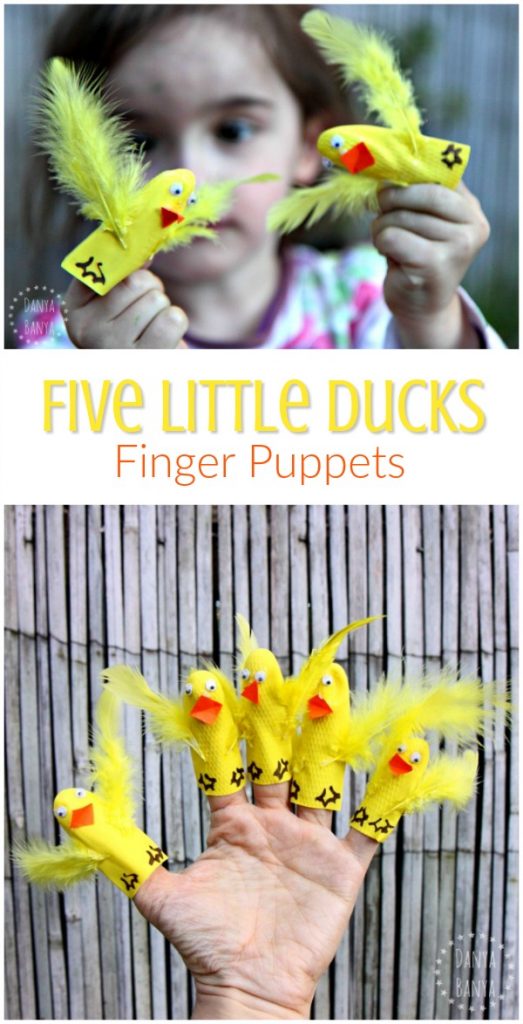 I've been wanting to do this Five Little Ducks craft, since I first saw these cute rubber glove ducklings on Pinterest at least a year ago. Alas, the pin now goes to a dead link, so I don't know to whom to attribute the idea. Please tell me if you know so I can credit the inspiration back. 🙂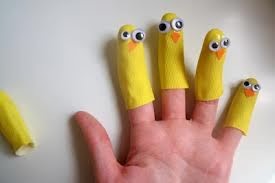 For more rubber glove puppet ideas
If you would like some more rubber glove puppet inspiration, check out our Peppa Pig finger puppets & Five Little Speckled Frog finger puppets.
More Five Little Duck ideas
Or if you're not really into the whole rubber glove thing, then check out these other Five Little Ducks ideas from my blogging friends and I:
You can find all our nursery rhyme activities here. You might also like to follow our Nursery Rhyme Time pinterest board, as I'm always pinning ideas that I love from around the web.
Follow Danya Banya | Go Science Girls's board Nursery Rhyme Time!! on Pinterest.
More fun ways to introduce early math concepts through play
Or, if you are interested in more ways to introduce maths through play, you might like our new ebook called ABCs and 123s. It's a collaborative ebook with literacy, numeracy and geometry activities from over 40 like-minded kid bloggers, who all believe that kids learn best through play. It's a great resource for parents (grandparents, carers or teachers) who want to introduce letters, numbers and shapes to their kids in a fun, hands-on and playful way. There's over 40 tried and tested ideas, with materials lists, step-by-step instructions, and full colour photographs. You can read more about it, and see page examples here. And you can buy a copy online here: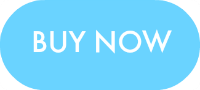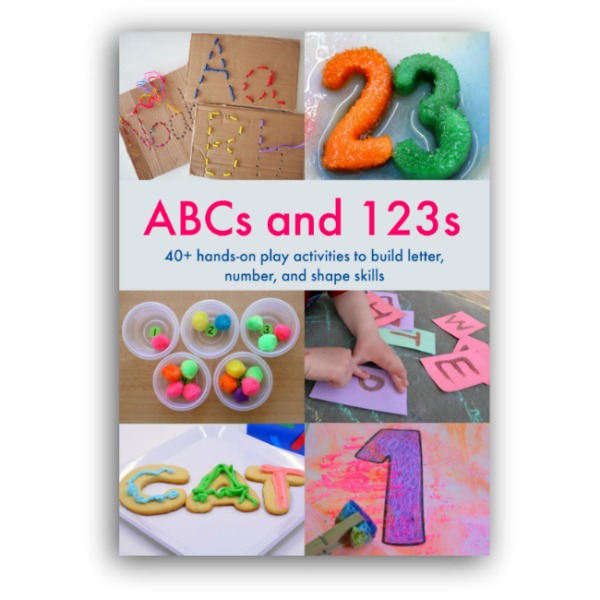 Happy crafting, playing, singing and learning!
xx
Danya
* This post contains affiliate link(s). An affiliate link means I may earn advertising / referral fees if you make a purchase through my link, without any extra cost to you. It helps to keep this little blog afloat. Thanks for your support.