I've been playing around with appliqués lately, trying out a few different styles. This one didn't really work out all that well, but I'll share with you anyway and hopefully we can learn from my mistakes together. 🙂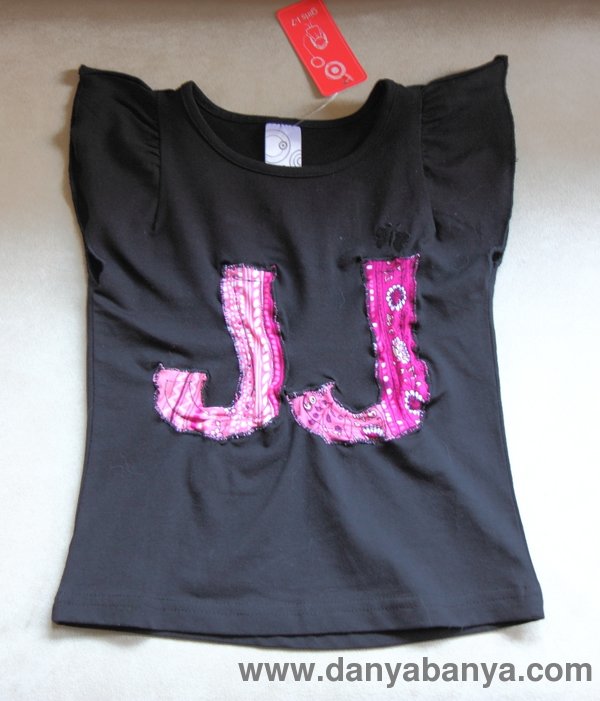 The base is same black T-shirt that I used for The Big Sister Top. (It looks dark grey in the above photo, only because I've lightened the photo so you can see the details.)
I used the "J" template from my fabric letters, to trace and cut out two Js from some pretty pink patterned fabric from my upcycle stash.
Then I pinned them on and sewed around the edges using a short wide zigzag stitch in black cotton. I thought that this stitch type would give the professional appliqué edge that you see on store bought clothes that have appliqué embellishments.
Here's where I went wrong. Both the base T-shirt fabric and the pink fabric are very stretchy. I was worried that the top fabric would stretch more than the bottom whilst sewing, meaning that I would need to lift the presser foot to let it spring back into place, causing me to sew little pleats or gathers to correct. This doesn't look very good or professional, so I thought that if I stretched the two fabrics together, they would then sew at the same rate. But as you can see, it's caused a ripple around the edge of the letters which makes it look quite amateurish indeed.
I think this ripple effect is because when I let go of the stretch, it effectively shortened the stitch length on an already short stitch, so there was just too much cotton per cm. So this technique may work with a long wide zigzag stitch? I'll try that another time and see how it looks.
I'm also thinking that I could use this ripple effect in situations where I want a ripple. Like if I was finishing off the bottom of a skirt or sleeves. Hmm, will have to give this a go another time too…
Meanwhile, JJ still loves her top, and as I'm about process over product, I still like it too. Black is perfect to wear to Playsession as they often use paints that are staining, so it makes my laundry happy as well. So from a little fail, I'm taking a little win win win. 🙂
xx Danya