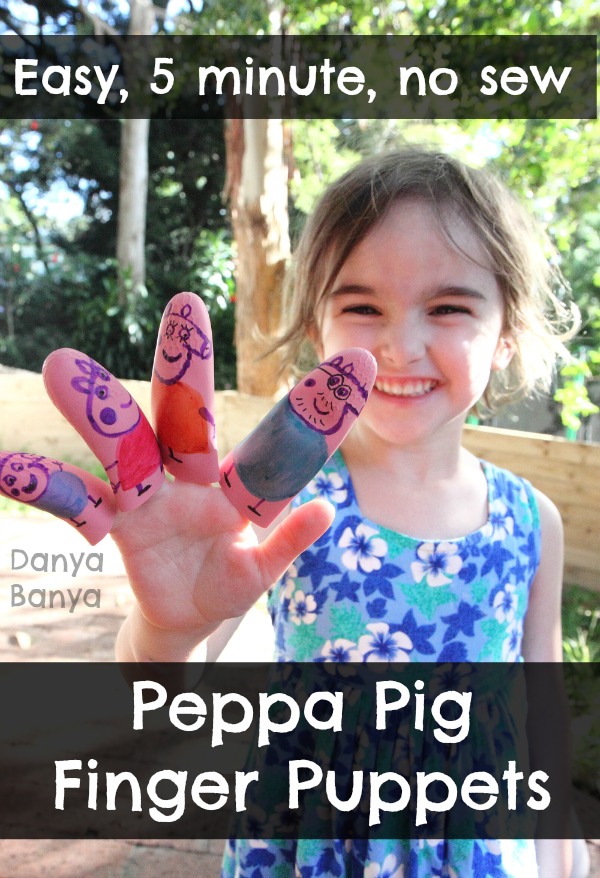 Check out our new Peppa Pig finger puppets! They took about 5 minutes and were so easy to make. Perfect for little Peppa Pig fans.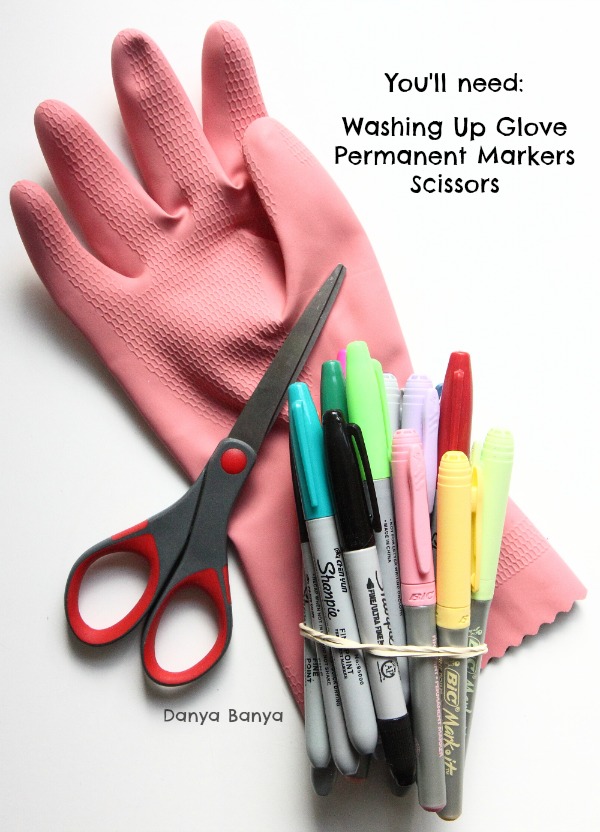 All you need is a pink washing up glove, permanent markers in various colours (which you can find fairly cheaply in most stationery / craft / discount shops) and a pair of scissors. I just googled Peppa's family so I didn't forget any crucial details, and drew them on! Easiest no sew finger puppets ever. I used the pointer finger for Daddy Pig, the middle finger for Mummy Pig, the ring finger for Peppa and the little finger for George. We have the thumb left still, I'm contemplating whether that will become Grandpa Pig at some stage…
Because JJ's drawing skills are still at preschooler level, I drew on the characters for her. But older kids might be able to draw the characters themselves.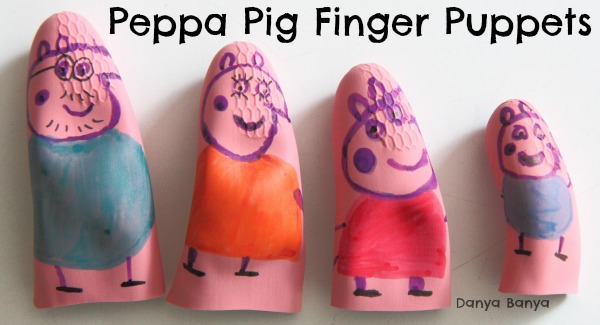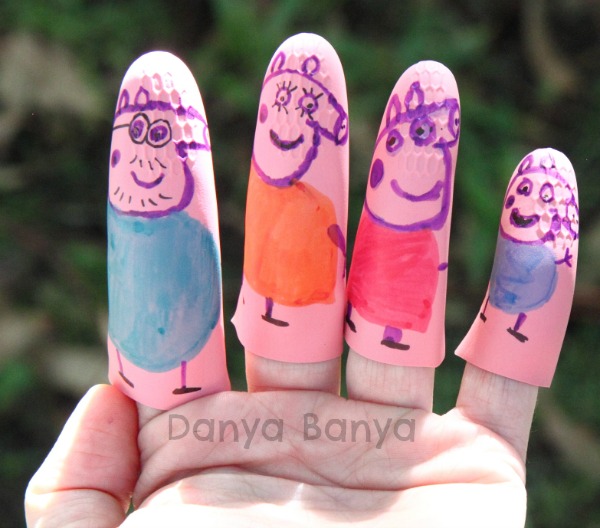 Speaking of Peppa Pig, did you know that she is collaborating with Life's Little Treasures Foundation for their new campaign The Big Splash? The Big Splash is a charity campaign to raise money for premature and sick babies. For the next two months (from 1st March to 30th April) Australian families are encouraged to sponsor children to 'Splash like Peppa' and fundraise by holding splash parties at the beach, their homes or by attending a Big Splash event held by their local pool. The idea is for the kids to create as much splash as possible in five minutes! Parents can register their children at thebigsplash.org.au and get splashing just like Peppa any time in March and April.
JJ, Bee and I were lucky enough to go to a special launch event for The Big Splash at one of our local pools last week. JJ was just beside herself to meet Peppa 'in person'!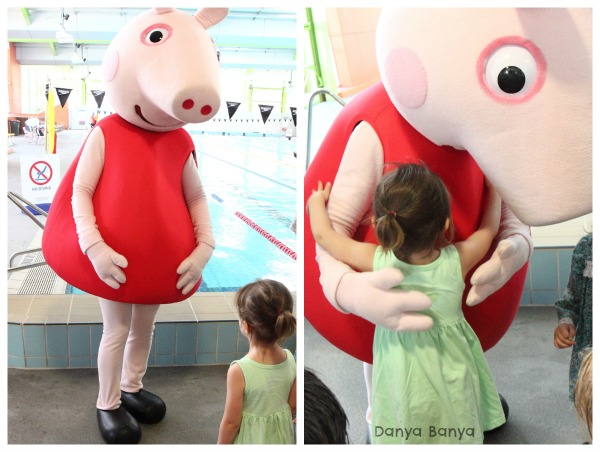 Bee on the other hand, was a bit starstruck around the gigantic Peppa, preferring to say hello to this version…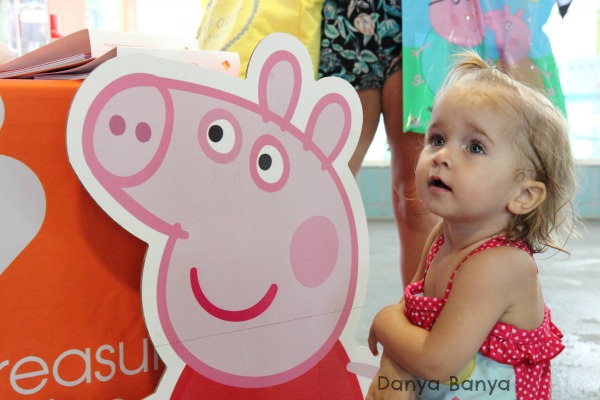 Both girls had a ball, splashing about to raise awareness for this new charity event…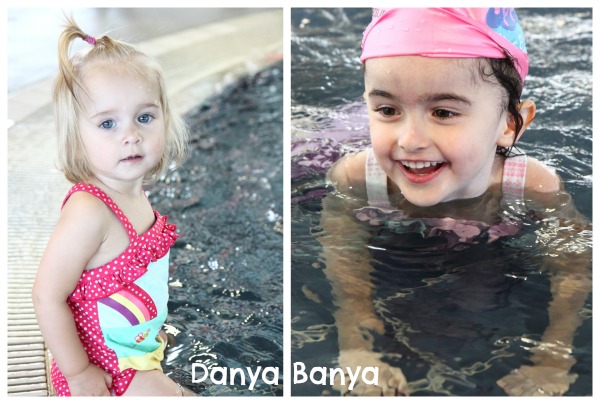 After our Big Splash, JJ got the chance to show Peppa her finger puppet replicas. Doesn't Peppa look delighted to meet our mini version of her family?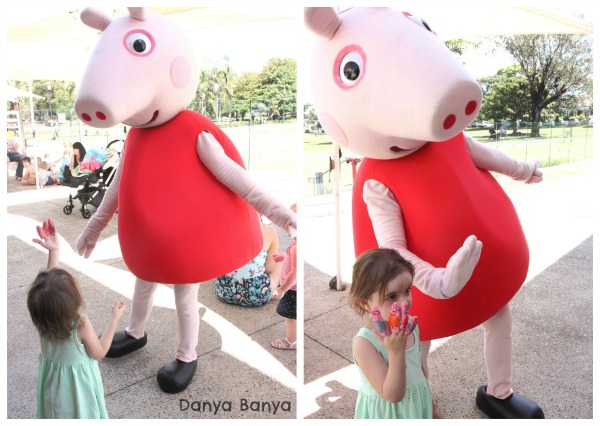 Would you like support Life's Little Treasures Foundation and get involved? Pop over to thebigsplash.org.au to register your kids and get splashing!
And for one lucky little Peppa Pig fan, I have a Peppa Pig clothing pack to giveaway, including:
1 x Peppa Pig Knit Dress (size 5)
1 x Peppa Pig Tee (size 5)
1 x Peppa Pig Top (size 5)
1 x Peppa Pig 4 pack girls brief (size 4-6)
BONUS Peppa Pig "The Big Splash" Silicone Swimming Cap by Zoggs (pink)
To enter, simply tell me in the comments below – What gigantic cartoon person would you (or your kids) most like to meet and why?
xx Danya
(PS: This is not a sponsored post. But it IS a totally worthwhile cause.)
Competition Terms & Conditions
1. One entry per person.
2. Giveaway open to Australian residents only.
3. Please include a link to your profile or supply a valid email address. Entries can also be emailed to danyabanya@gmail.com. No valid email = no entry. I need to have a way of contacting you to tell you if you've won! Don't worry, I won't spam you. 


4. Closing date for entries is Tuesday 4th March 2014.
5. The prize is a Peppa Pig Clothing Pack containing 1 x Peppa Pig Knit Dress (size 5) RRP $20.00, 1 x Peppa Pig Tee (size 5) RRP $10, 1 x Peppa Pig Top (size 5) RRP $15, 1 x Peppa Pig 4 pack girls brief (size 4-6) RRP $10, BONUS Peppa Pig "The Big Splash" Silicone Swimming Cap by Zoggs (pink). Total prize valued at AU$55.00.
6. The competition is a game of skill and the response Mr Banya deems most interesting or unusual wins. His decision is final.
7. The winners will be published on www.danyabanya.com and notified by email and will have one week to reply. If no response is received, the prize will automatically be forfeited and a new winner chosen.
8. Prizes will be distributed by Kids Business. Danya Banya takes no responsibility for loss or damage of the items.
9. Good luck!