This is what is making me happy at the moment.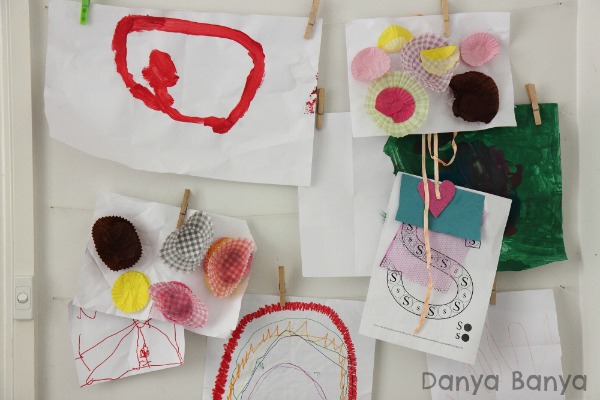 It's just a bunch of paintings up on our art wall. It's the same spot with nails and twine that I used to hang the cards for our Advent Calender. The art displayed changes all the time, and it's often artwork that the kids have done themselves – art that doesn't usually make it onto a blog post.
Notice the two patty pan collages? (Or you might call them cupcake liners…)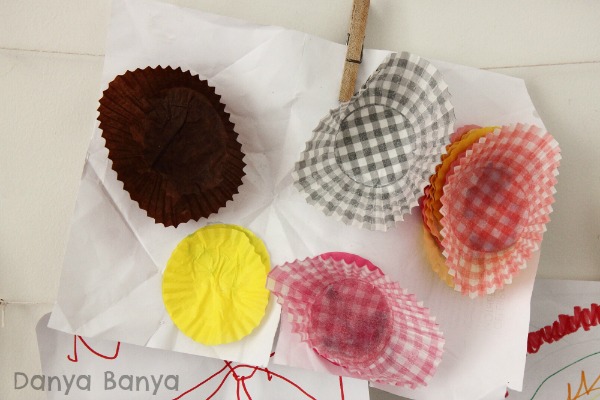 This one was made by JJ (who is 3 years, 8 months old). She purposely layered various colours on top of one another too make a flower. While she pasted, we chatted about how if she glues the patty pan the other way around the colours are brighter, and she modified her technique part way through accordingly.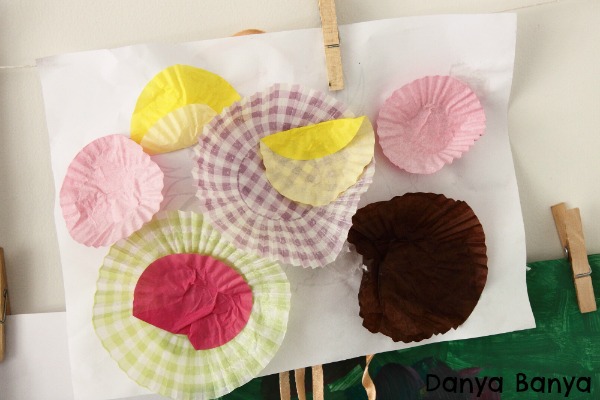 This one was made by Bee (who is 17 months old). She's still getting the hang of pasting, and often forgets to add the glue, trying to press the patty pan onto the picture and wondering why it won't stick. We worked together on this piece of art – I would add the glue and Bee would stick it on. I was only a support person – she was very much in charge of all the design aspects.
This activity brought me back to when JJ was 2 years old, and she used to make patty pan collages every other night. She enjoyed it so much that we made the materials readily available so she could paste whenever she wanted to. And paste she did! Here are just of her creations that we had up on our wall at the time.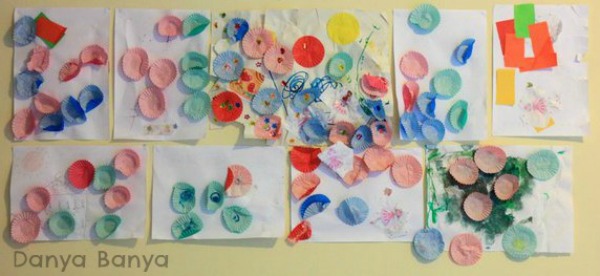 And iff you look closely enough, you'll see that this photo is the faded out background for my blog header. (Readers viewing this in a reader or an email might need to click over to the site to be able to see).
It sums up what this blog is about – kids having fun, creating and learning in a child-led way.
xx Danya