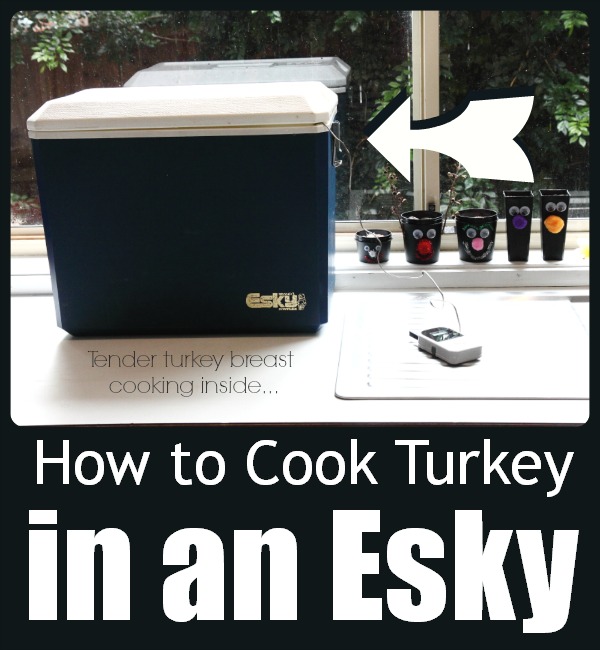 Yup, you heard me. I'm going to show you how to cook the most tender, succulent turkey with your Esky.
I love cooking with turkey because:
It's healthy. (Turkey is a rich source of protein, is low in fat (excluding the skin) and is low GI. It is also a source of iron, zinc, potassium, phosphorous, B6, niacin, selenium).
It makes you  happy and sleepy. (It contains trytophan amino acid which makes you drowsy and produces serotonin).
This recipe is easy enough that even the non-cook of the house can make it, (which in our case is me). It will also earn said non-cook "MythBuster Chef" status with all your friends
This recipe frees up your oven for whatever else you might be serving.  Or alternatively you can cook it where no oven is available.
And it's delicious!
But before we get onto the nuts and bolts of how to cook this dish, I wanted to introduce a term that you may or may not be familiar with: Sous-vide. Sous-vide literally means "under vacuum", and is a style of cooking that has come into vogue in professional kitchens recently, but hasn't yet taken off in most Australian households, partly because no one knows about it, and partly because it usually involves purchasing expensive cooking equipment.
Sous-vide cooks food (usually some form of meat) in an airtight bag which is submersed in temperature-controlled water for long periods. The benefits are:
you can cook the food evenly all the way through.
the food retains all the original moisture, so the results are more tender.
because the maximum temperature is set, there is no risk of overcooking the outside.
I've eaten salmon fillet (in a fancy schmancy restaurant) that was cooked sous-vide style at 40 degrees for 24 hours. It was cooked through, but still retained the texture and moisture of sashimi. Absolutely heavenly. The sous-vide equipment that the restaurant used was AU$20,000 each. A bit too expensive for my home kitchen…
Household sous vide machines are gradually becoming more economical. Mr Banya has been lusting over various models for ages. Unfortunately the one he wants isn't available for 240 volts yet. So instead he went all MacGyver and came up with a DIY solution.
Enter the humble Esky (aka portable cooler, beer cooler, ice cooler, chilly bin…) Every honest Australian has one (or several). Add some ice and they are fantastic at keeping things cold. Turns out if you add hot water, they are also fantastic at keeping things hot for long periods.
OK, enough of the background. Let's get on to this turkey recipe, shall we?
Mr Banya first cooked this for 18 people for Christmas dinner a couple of months ago. We picked up a 5kg free-range turkey on Christmas Eve, which Mr Banya butchered himself and cooked the breast sous-vide style (as below), with confit turkey drumsticks and roast turkey wings, served with homemade apple and cranberry sauce. Nom nom nom!
But when I cooked turkey breast again a few days ago, I skipped the whole butchering-it-yourself step…

Either way, put the turkey fillets inside a large zip lock bag, along with some butter and a few sprigs of thyme like the middle photo above. Then release all of the air and seal the bag. Hint: if you partially submerse the bag in some water, the water pressure helps push any little airporckets out resulting in an almost-vacuum-sealed effect without fancy equipment. The photo above on the right shows what it looks like once it has been sealed and is airtight.
The next step is to fill the Esky (or half fill, depending on how large it is) with hot water from the tap. Check the temperature. (We use a meat thermometer that can be partially submersed in the water to give an accurate reading). Top up the water with boiling water from the kettle until you reach 60 degrees celcius (or 140 degrees fahrenheit). Don't let it go above this temperature. (If it goes above, add cold water until you reach 60 degrees again.)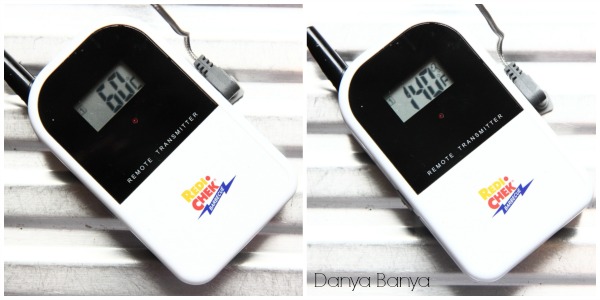 Submerge the bag with the turkey inside into the hot water. If it floats, then there are air pockets – take it out and reseal it (using the cold water submersion method above). If it continues to float, then put something on top to weigh it down so it is fully submerged.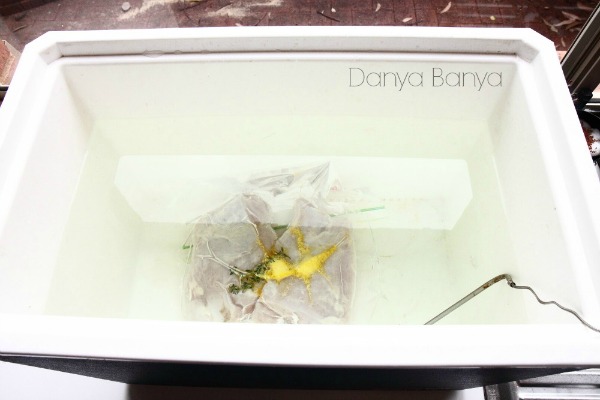 Then put the lid of the Esky back on, and keep an eye on the temperature to make sure it doesn't drop below 56 degrees Celsius (133 Fahrenheit). If it gets down to 56 degrees, add some additional boiling water to bring the temperature back up again, taking care that it doesn't go above 60 degrees.
With our Esky size, in the middle of an Australian summer, I found that the water temperature dropped about two degrees an hour. So I only needed to top it up once.
Cook it like this for a minimum of two hours, preferably three.
This is what it looks like when it comes out.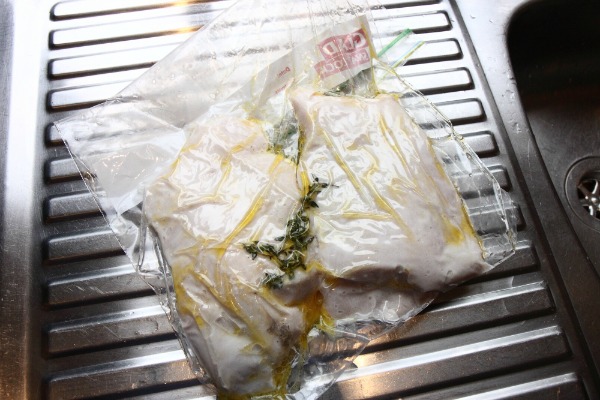 Don't be put off by the white colour. That's because the outside is cooked to exactly the same degree as the inside.
The next step is to flash pan-fry (on medium to high heat) all sides until golden.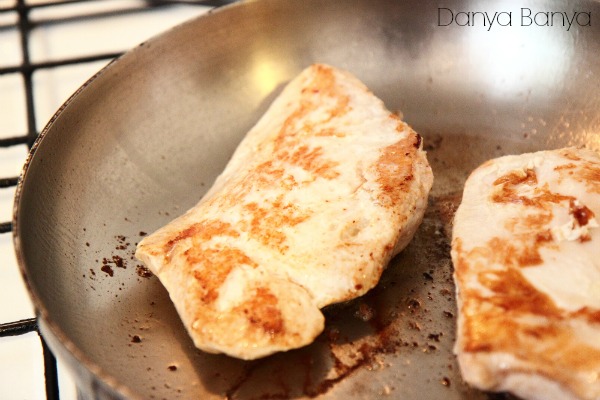 And that's it.
Beautifully cooked, succulent tender turkey with minimal effort.
Great for a dinner party, because most of the time it cooks itself, with you only needing to keep an eye that the temperature doesn't fall too low. The results are so moist, that it's almost a crime. And you get to strut around telling everyone how you are cooking dinner in an Esky…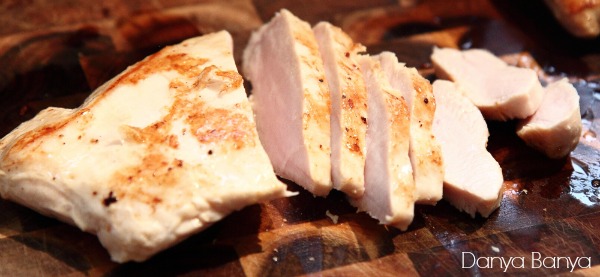 We served it with wholemeal Israeli pearl cous cous, lightly steamed beans and carrots, and some left over homemade cranberry and apple sauce from Christmas.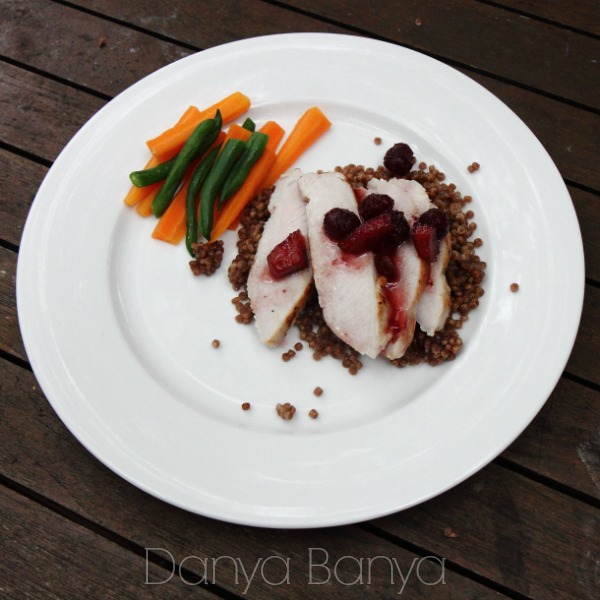 And it's not just a dish for adults. Both my girls (JJ who is 3.5 years and Bee who is 17 months) gobbled it up.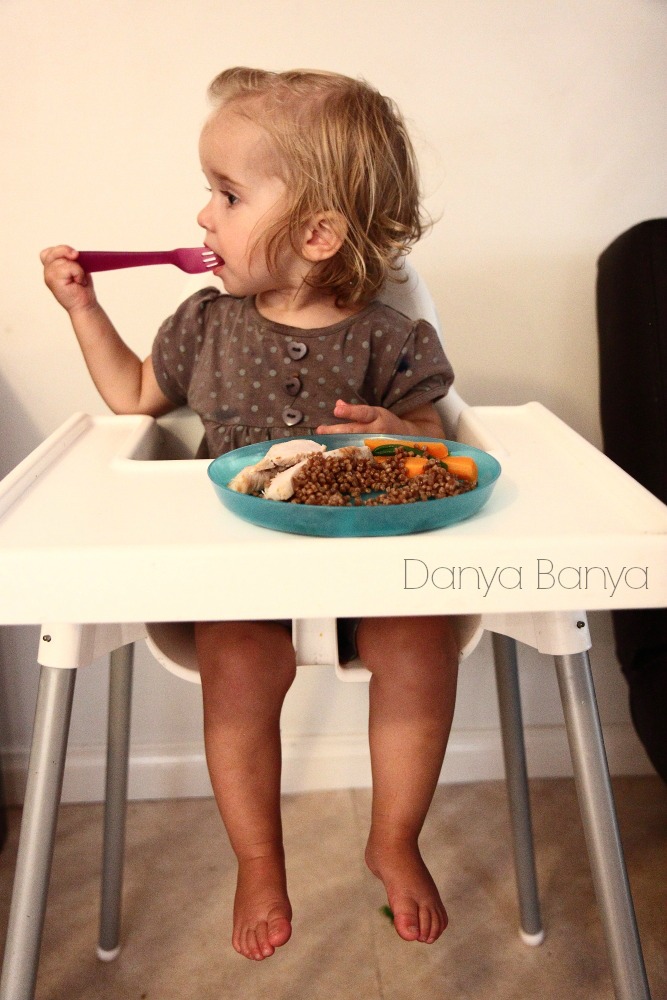 Recipe
Prep Time: 5 minutes. Cooking Time: 2 hours, 15 minutes – 3 hours, 15 minutes.
Ingredients
750g Turkey breast
Knob of butter
A few sprigs of thyme
Large zip lock bag
Oil for pan-frying
Meat thermometer (or other accurate thermometer to check water temperature)
Esky
Method
Put the turkey breast into a zip lock bag with a knob (or two) of butter, and a few sprigs of thyme. Remove all the air from the ziplock bag and seal. (Tip: if you partially submerge the bottom of the bag in water, it is easier to remove all the airpockets).
Fill an Esky with hot water. Check the water temperature and top up with boiling water until it reaches 60 degrees Celsius (140 Fahrenheit).
Submerge the turkey in the airtight bag, making sure that it doesn't float.
Check back on the water temperature periiodically to make sure that it doesn't fall below 56 degrees Celsius (133 Fahrenheit). Top up with boiling water where necessary, making sure that the water temperature never exceeds 60 degrees.
After 2-3 hours, remove the turkey and pan fry until lightly golden brown.
Serve, and enjoy!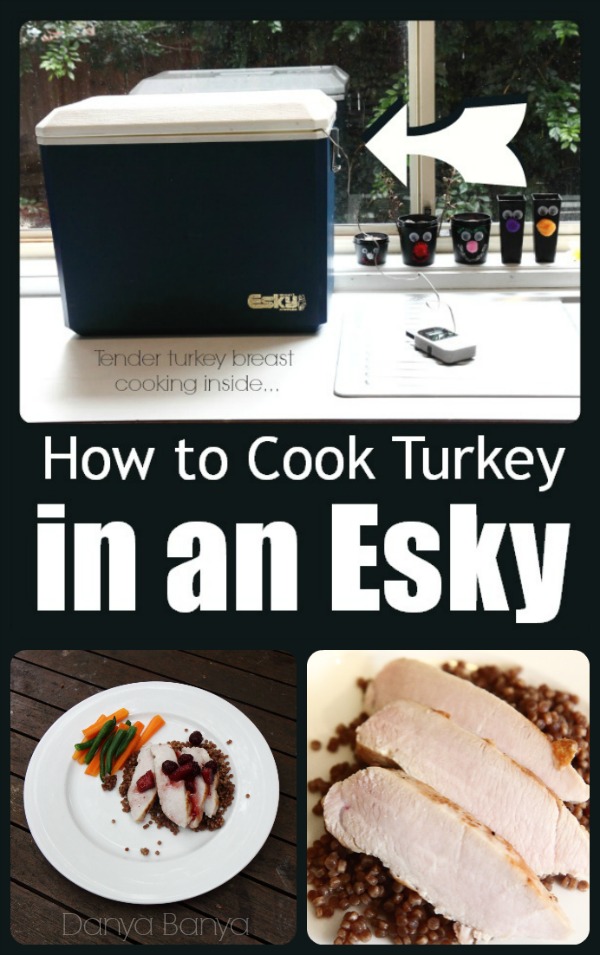 Australian readers also have the chance of winning a couple of Steggles sample bags which include a cooler bag, apron, sweat bands, recipe cards and discount coupon offer for your next purchase.
To enter, simply tell me a funny turkey joke, story or poem in the comments below.
Q: What would you get if you crossed a turkey with an evil spirit? A: A poultrygeist!

Q: Why did the turkey cross the road twice? A: To prove he wasn't chicken!
xx Danya
This is a sponsored post for Steggles. The above opinions and recipe are all my (or my family's) own.

Steggles Turkey Shortcuts are a fresh, exciting range of turkey cuts from Steggles delivering simple, tasty and healthier meals. The products are high in protein and low in fat, with mince and breast fillets awarded the Heart Foundation Tick. Visit www.steggles.com.au for recipe ideas and inspiration. Steggles Turkey is available in Coles (excl. WA) and selected IGA's.

Competition Terms & Conditions
1. One entry per person.
2. Giveaway open to Australian residents only.
3. Please include a link to your profile or supply a valid email address. Entries can also be emailed to danyabanya@gmail.com. No valid email = no entry. I need to have a way of contacting you to tell you if you've won! Don't worry, I won't spam you. 


4. Closing date for entries is Monday 24th February 2014.
5. The prize is one of two Steggles Showbags, each valued at AU$50.00, containing an apron, sweat band, recipe cards and a discount coupon offer.
6. The competition is a game of skill and the response Mr Banya deems most interesting or unusual wins. His decision is final.
7. The winners will be published on www.danyabanya.com and notified by email and will have one week to reply. If no response is received, the prize will automatically be forfeited and a new winner chosen.
8. Prizes will be distributed by Steggles. Danya Banya takes no responsibility for loss or damage of the items.
9. Good luck!