And the last, in my S is for Space fancy dress outfit series is…

Yes, I'm talking about that splash of stars floating somewhat precariously over my head. Now to be fair, I had to come up with a costume that I could wear whilst nursing and baby wearing. And this outfit ticked those boxes. It was super easy for me to stick to theme and care for my newborn at the same time.
(And a quick recap for those who are wondering what on earth (lol) I'm talking about – we went to an "S" fancy dress party dressed up as Space – my husband and eldest daughter wearing Sun and Saturn masks, my baby girl wearing a Satellite T-Shirt, and I wore this absolutely spectacular Star headband 🙂
My inspiration came from this Star Headband, but unfortunately there isn't a tutorial. So I had to wing it a bit and make it up as I went along.
Here's how I made it.
I traced a star shaped cookie cutter onto some sturdy corrugated cardboard and then used a box cutter to cut out these star shapes. About a dozen or so all up.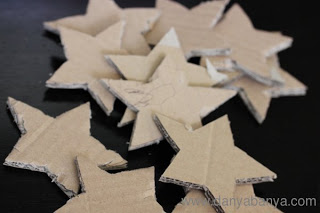 Then I painted and lightly glittered one side, left to dry, then turned over and painted and lightly glittered the other side.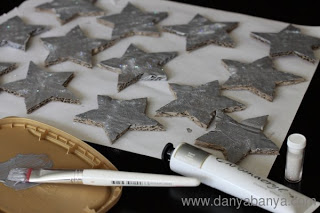 While I was waiting for the stars to dry, I grabbed a half dozen silver pipecleaners and a plain black headband. (You could also use a silver headband, but plain black was what I had on hand.)
Unfortunately I don't have a photo of this part so you'll have to use your imagination a little bit. With each pipecleaner, I twisted the middle around a section of the headband a few times so that the two ends were sturdily sticking up. Then I threaded the pipecleaner ends through the corrugations in the cardboard stars as far as I could without the end actually sticking out the top. I kept doing this until the headband was full of stars.
Then with the few stars that were left over, I made a star necklace by threading an old silver necklace through the cardboard corrugations in the same way.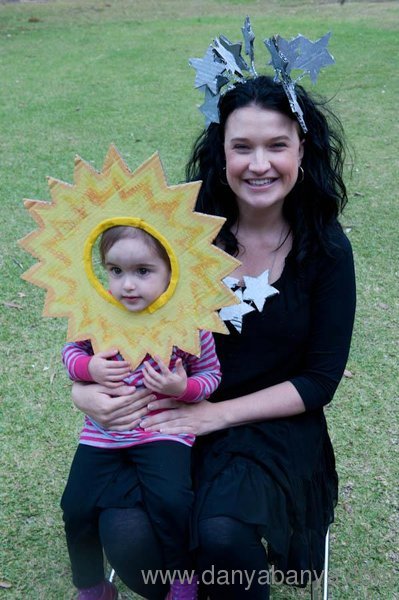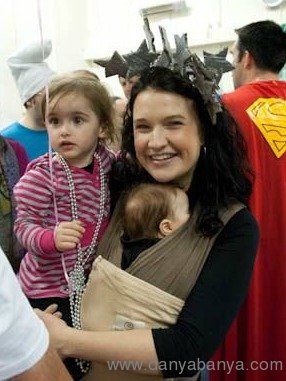 Looking back on these photos I remember how self-conscious I was as I was still carrying 15kg of baby weight. Hence why there aren't very many photos of me and my (lovely) headband. 🙂  I've lost 4kg since then, so on track to hopefully lose most of it by the end of the year. Well, that's the goal anyway…
On the way home, JJ had a lot of fun pulling the stars off this headband. She was overstimulated as kids usually are after parties, so it was a lovely quiet activity for her to focus on in the car. I didn't bother to put it back together again when we got home, but I did keep the stars themselves for her to play with. I also have the Sun and Saturn masks hoarded away somewhere. I'm thinking of hanging them on her toy room wall for a little while.
Actually, these Space theme party outfits sparked her interest in all things space for several weeks afterwards. Here are some photos of us playing with chalk outside our place one afternoon – does the satellite look familiar?
Anyway that's enough space talk for this little blog for now.
Hope you have a lovely weekend. Chat soon.
xx
Danya