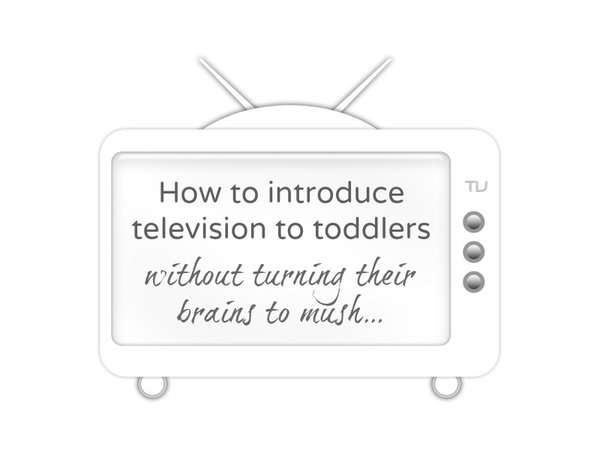 (Image Source)
It didn't take long for JJ to be interested in the allure of television.
At around 3 months old, she would turn her head towards a TV whenever it was on. Of course at that age the attraction relates more to the flashing lights, than the stellar Grey's Anatomy plot, but still…
We decided to turn off the TV for a few years.
And that includes all TV – kids TV, adults TV, movies – everything.
We did this because:
1) Studies show a link between  early TV watching and attention disorders1. Whilst this link hasn't necessarily been proven to be causal, it is still worrying enough. The theory is that TV, with its flashing lights, rapid scene changes and sped up story lines, is overstimulating for babies and young toddlers. Fast paced, overstimulating TV effectively rewires their brains to expect real life to be 'faster and flashier' as well.
2) The first three years are a vital period for the development of children's brains. It is during this time that the brain kicks off myelin production, forming connections between the different parts of the brain. In layman's terms – more myelin and more connections = smarter child. And the best way to encourage this brain development is to actively play with your child. Sing to them, bounce them, help them play with toys – interact with them. TV on the other hand, is very uninteractive. Kids, even babies, get mesmerised by TV. And very little neural activity happens in this mesmerised state. Aside from potential damage (see point 1), there is also the opportunity cost to consider. Time spent watching TV is time that is not spent in healthy interactive play.
3) There is a temptation to put on adult shows when babies are 'too young to know what's going on anyway'. Swearing, violence, adult themes – these shows are just not appropriate IMHO. And when adults are watching TV, they are distracted from interacting with their child. Less interaction = less brain development (see point 2).
4) Even TV shows designed for young kids sometimes still have negative messages. There are shows with scary bad guys that can bring on nightmares. There are shows, usually with some sort of moral at the end, that show kids behaving poorly – and younger kids often emulate the bad behaviour without understanding the moral behind it.
5) From a parent-sanity point of view, delaying TV introduction means that your kids don't yet know about the latest fads. My daughter wasn't begging me for the latest Wiggles gizmo or thingamebob, (although she knew about Dora and Disney's princesses seemingly by osmosis, so this theory isn't totally fail-proof).
This might not be groundbreaking stuff, but from my sporadic anecdotal 'research', most Australian kids watch a lot of TV from a very young age. I often hear parents saying that the television is on in the background and their kids don't even really watch it. This dumbfounds me – if they are not even watching it, why have it on? If you want background noise, then put on some music instead! It doesn't have to be children's music – maybe you and your baby can have a little lounge room dance party. 🙂
If you really need a break, and we all do from time to time, then there are plenty of non-TV options. They just might need a bit more planning. Google is your friend. My favourite easy 'down time' activity is to fill a baby-safe room with toys, safe kitchen utensils, kids books etc and let her crawl around. She picks something up, sucks on them, bangs them together, and then rolls or crawls off to play with something else. Meanwhile I can sit on the floor nearby, read my Kindle and have a mental break from parenting for a while. We're both happy.
There will come a time when your baby is a baby no longer. You'll (probably) want to introduce TV – I chat more about how and when to do that here. But for now, enjoy your baby and have her enjoy you – while she's still at her most impressionable.
xx
Danya
1 A few interesting articles:
http://www.sciencedaily.com/releases/2004/04/040406090140.htm
http://www.additudemag.com/adhd/article/826.html
http://www.whitedot.org/issue/iss_story.asp?slug=ADHD%20Toddlers