In our house, "popcorn" can mean one of three things:
1) Natures Earth butter popcorn (less salty than other brands I've tried)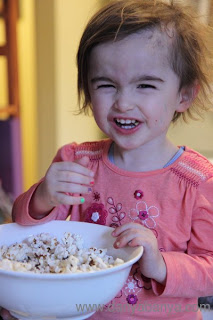 2) homemade popcorn with garlic butter (made in the microwave using a brown paper bag)
3) a combination of Abundant Earth wholegrain cereals – puffed corn, puffed brown rice, puffed millet & puffed kamut – that I've mixed together in a cereal storage container.
All of these three versions of 'popcorn' are common snacks around our place. But it's the third type that I've used in this recipe.
A few days ago when JJ was getting up to mischief, I decided a spot of toddler cooking would be a helpful distraction. I remembered eating chocolate crackles as a child (many moons ago), and figured I could come up with an easy and healthier version.
Ingredients
80g milk chocolate
50g butter
2 Tbsp golden syrup
60g of dry 'popcorn' (mixed puffed corn, puffed brown rice, puffed kamut & puffed millet)
10g of Kellogg's All-Bran
Method
Melt chocolate, butter and golden syrup together in the microwave. Pour over all the cereals. Mix. Spoon into mini cupcake patty pans. Refrigerate until set.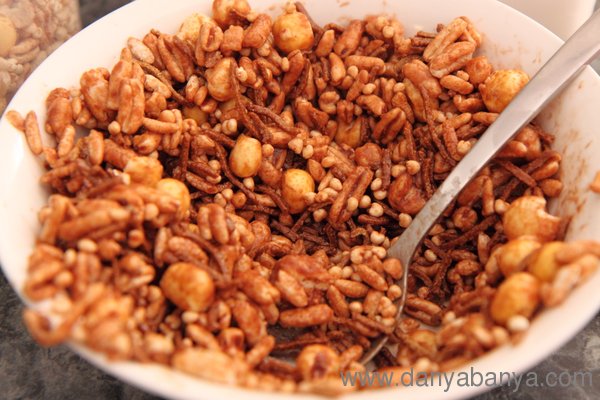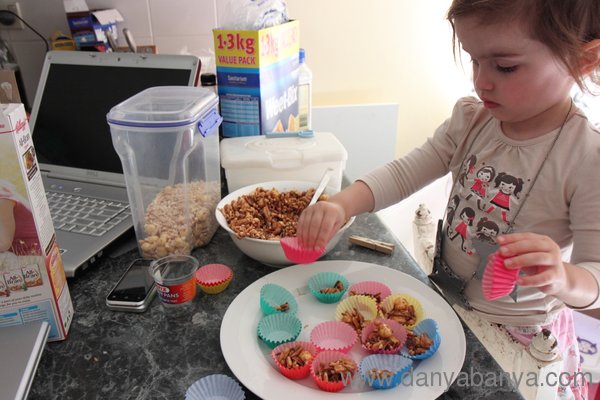 Easy! So easy you can do it with your toddler on the spur of the moment. But please overlook the state of my kitchen, I didn't have a chance to pretty things up before I happy snapped.
Verdict: These were so quick and fun to make, and sweet enough without being overly sugary. I love that they include a wider range of wholegrains in JJ's diet than just wheat. And bonus that they are egg-free, so would be a good party option for our friend with egg allergies. This is a make-again recipe for sure.
xxx
Danya