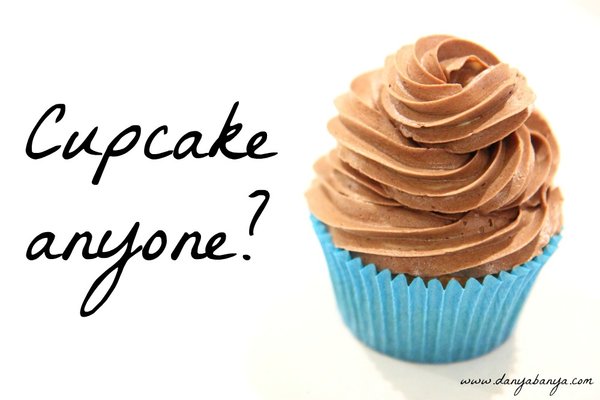 Everyone loves a party, and parties need party food. And nothing says party food like cupcakes. Well, at least according to my 3 year old daughter JJ. But, here's the thing, my cupcake decorating skills are very very rusty. Or at least, they were rusty, until I tried my hand at a cupcake decorating class at Sydney Cooking School.
(Now, the regular Danya Banya readers out there may be thinking "Umm, cupcakes? Don't you promote healthy(ish) foods?" And the answer is yes, I do, most of the time. But there are occasions when it's important to splurge. And at least if I am making them at home then I can control when, how much, and if artificial colours or other additives are included.)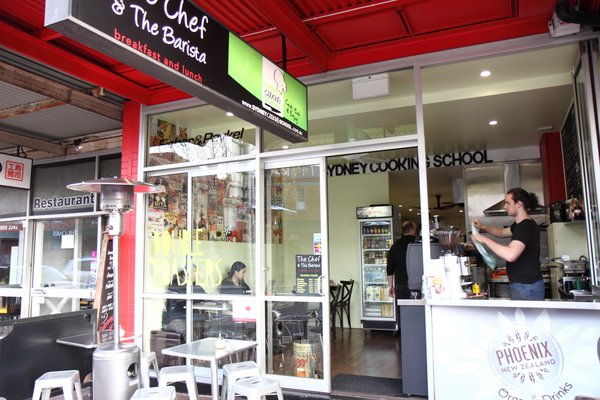 I walked in to a spotless white kitchen, got my name ticked off and chose a seat. In front of me were six blank cupcake canvases, a delightfully unassuming pastry chef called Brad, and a recipe sheet that promised all sorts of yumminess to follow.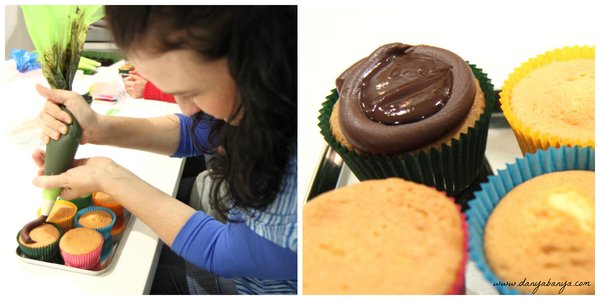 After a few helpful tips, it was time for my first attempt. This is piped one-day-old ganache, with fresh ganache filling.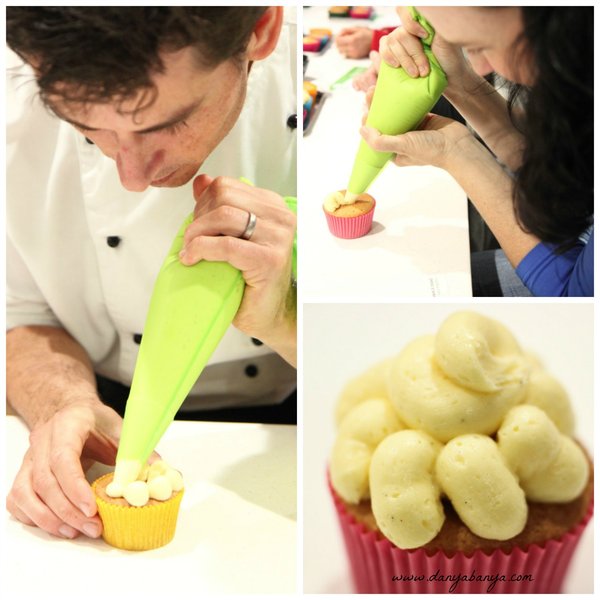 And this one uses a different piping technique, with vanilla butter icing.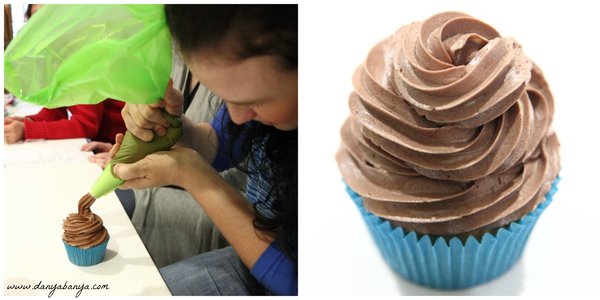 And this time using  a star tip with chocolate butter cream. (Doesn't it look awesome! Aww, shucks thanks…)
We also learnt how to make frangipani and rose flowers – so cool!! Here are my finished cupcakes…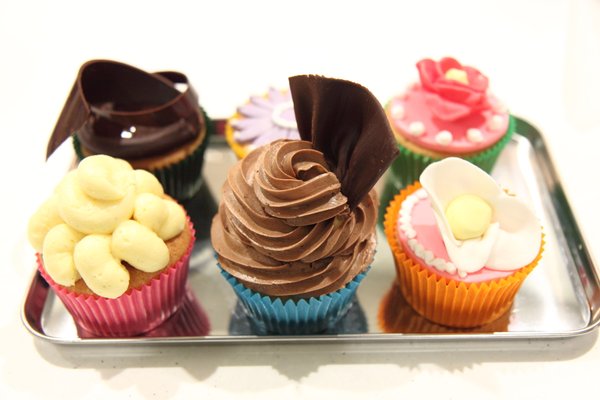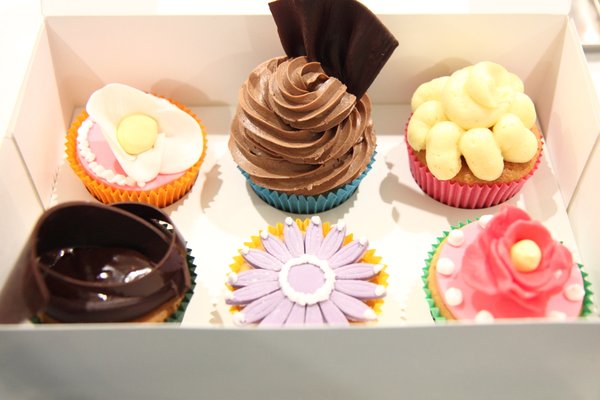 For those eager to replicate at home, we have:
top left: ready-to-roll icing pink circle with frangipani flower, using royal icing as glue and piped decorations.
top middle: chocolate butter cream piped using a star tip, with tempered chocolate wafer.
top right: vanilla butter cream icing piped using a circular tip.
bottom left: fresh chocolate ganache inside piped day-old chocolate ganache, with tempered chocolate curls.
bottom middle: purple ready-to-roll icing flower cut using a stamp style cookie cutter with piped royal icing glue and decorations.
bottom right: ready-to-roll icing pink circle with yellow and red rose, using royal icing as glue and piped decorations.
Now, I know you are all curious as to how my cupcakes compared to Brad's and my other classmates. Well, take a look for yourself…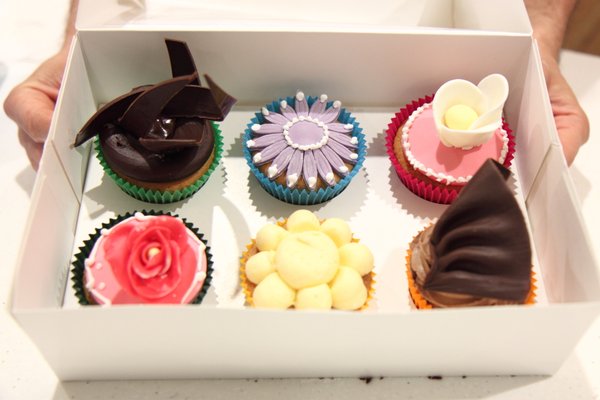 OK, I'll admit it, Brad's rose is far superior.
Did you notice that the ganache and chocolate butter cream cupcakes now all have fancy chocolate pieces on them? Apparently these had been made earlier by the Chocolate Making Cooking Class. Don't they look pretty? Not Quite Nigella has put up her review of the chocolate class here. Makes me want to do that class next…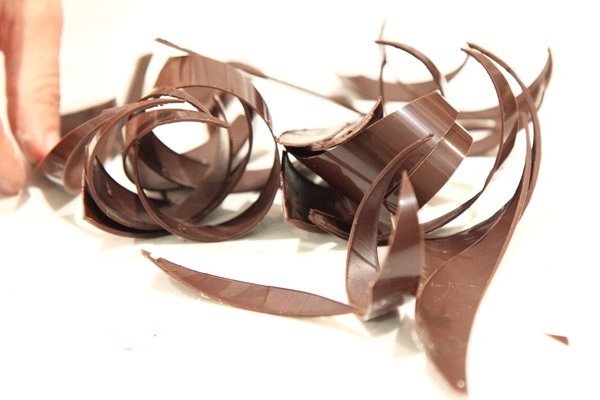 Sydney Cooking School do many more classes than just cupcakes and chocolate however. I snapped this on the way out, but since the cupcake class isn't on there, this obviously isn't an exhaustive list. But anyway, great present idea for anyone who has tastebuds. Duck and Pinot – awww yeah!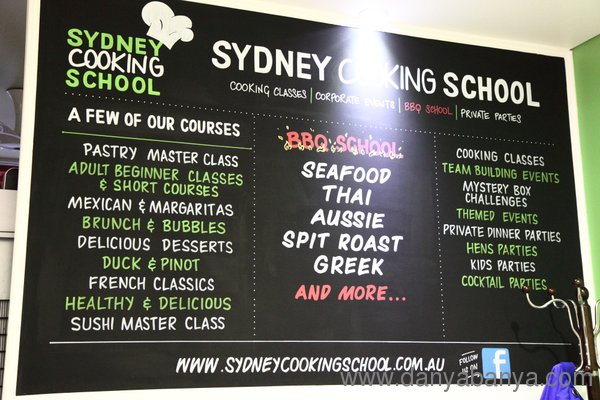 When the class finished, we all headed our own ways. It was only a two hour break from my kids, but I really felt refreshed. It's not often that I get a bit of time to myself. A bit of time to be an adult rather than just a mum. A tiny break from the relentless mothering that is required with two little ones under my feet all the time. It felt good.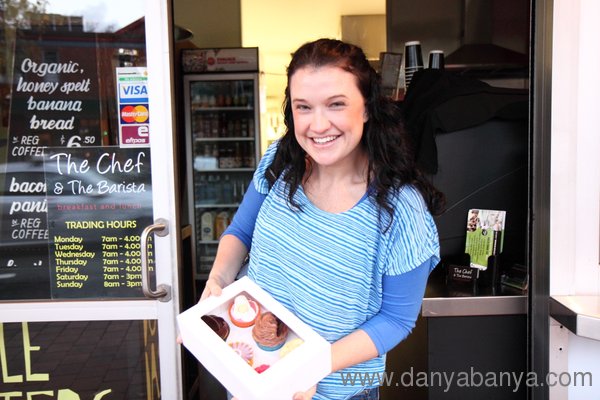 When I got home, JJ couldn't stop laughing. She thought it was hilarious that I'd made cupcakes (aka party food) when we weren't actually having a party. Silly Mummy! She was allowed one for dessert that night. She chose the purple flower one – ironically both the easiest to make and the one with the least amount of icing. (But then she is a sucker for anything purple.)

And we get a thumbs up!!
As it turns out, she only ate half the icing and a small bite of the cupcake itself. But for JJ it is the excitement, the anticipation of party food that counts for more than the actual consumption.
And so I've got piping bags, various tips and cookie cutters all ready to go. I'm just waiting now for the next party to come along and give me an excuse to try out my new skills! In the meantime, I'm going to see if I can find myself some of that vanilla bean paste….
If you try out the class, or just generally think you can out-cupcake me, send me a photo. I'd love to see your creations.
Enjoy your cupcakes!!! Nom nom nom.
xx Danya
(I was a received a complimentary cupcake decorating class for review purposes. All opinions are my (or JJ's) own and my cupcake decorating skillz now totally rock – just sayin'… )