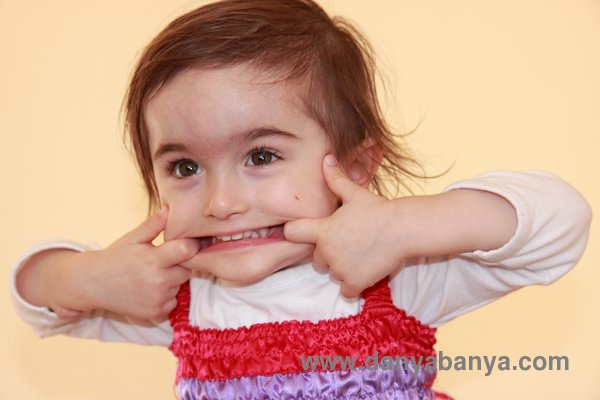 This is JJ's latest party trick!  It's hilarious, or at least she thinks so. I did genuinely laugh the first couple of times, but I have to admit to fake laughing after the 25th time in a row…
Where did she learn this from? Why, from "My Dad" by Anthony Browne of course!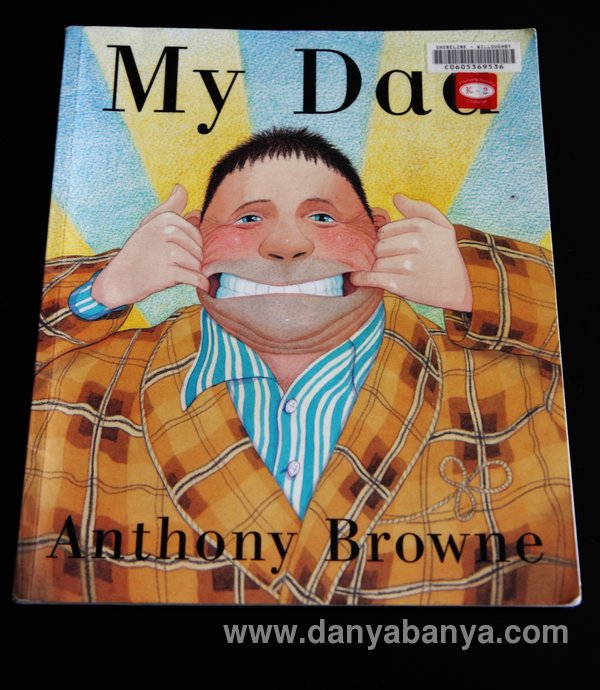 Yes, this is a library copy. We are avid library goers. We have a fairly large story book collection at home as well, but I firmly believe in going to the library regardless. Actually this book was first recommended to me by a librarian at Albert Park Library in Melbourne. Bless her cotton socks, I can't remember this librarian's name, which is such a shame as I'd love to publicly praise her. She ran the best story-times that I've ever attended. If you know her, please let me know in the comments. Anyway, I digress.
"My Dad" is a wonderful celebration of Dad's, and is appropriate for boys and girls alike. It is written from the child's point of view, and he/she describes all the things that his/her Dad is good at. "My Dad's as strong as a gorilla…" It is full of similes, has a great flow, and lots of lovely witty illustrations. It's the sort of book that you can read over and over again without going senile.
The companion book "My Mum" is almost as good, and still well worth reading. The only thing I would say against it is that it feels like it is trying too hard, and that the words don't roll off your tongue in the same way that the words in "My Dad" do.
I have also read "Little Beauty" by Anthony Browne, but this one was too mature for JJ at 2 years old, so we returned it after just the one read. It's about a gorilla who learns sign language, and it deals with frustration over language barriers. The gorilla gets very angry in the book, and I felt that this was too complicated and scary for JJ at this age. We do often talk about emotions (like anger, kindness, sadness, jealousy, etc) in our house, but I didn't feel that this book was helping the discussions. Maybe when she is a little older we'll borrow it again.
Linking this post with:
Mother Daughter Book Reviews with Kid Lit Blog Hop
(This post is not sponsored. All opinions are my own.)
Are you new here? If you've just found my blog, be sure to subscribe via Email or RSS Feed, or to "like" the Danya Banya Blog Facebook page, so that you'll get all my tips and rants on parenting babies and toddlers, sewing, crafting, wholesome cooking, photography and lots more!