There's a brave new world out there.
A world of WAHMs and WAHDs who are not only working from home, but are chasing their dreams.
My friend, Giselle Shardlow, is one of them. This year, she's gone ahead and started her own children's yoga books series (www.kidsyogastories.com), self-published three children's yoga books (with several more on the way), AND created her own small business consultancy (www.cherrybranchsf.com).
Wonder woman.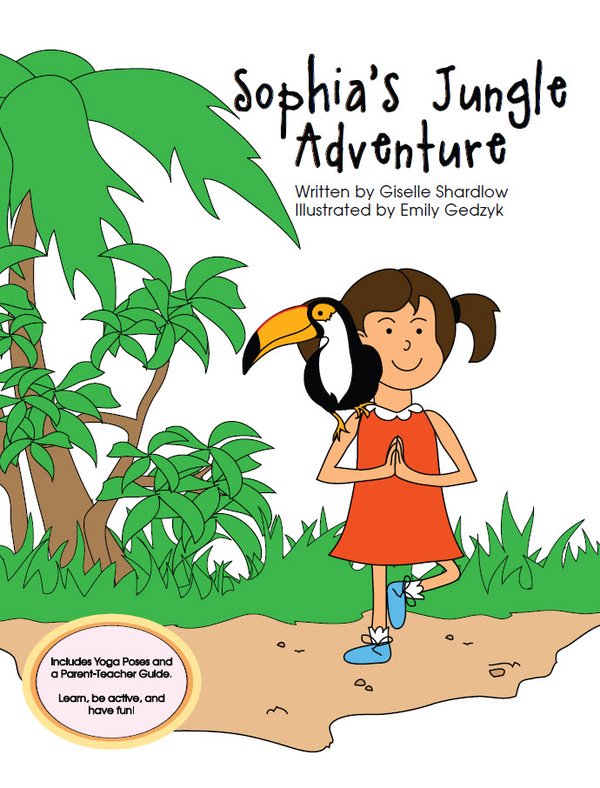 We bought a copy of Giselle's first book, Sophia's Jungle adventure, a few months back. Partly because we wanted to support Giselle's new business, partly because it is always cool to have books written by friends on your bookshelf, and partly because I'd read a draft version so I already knew it was a great book!
As it is targeted at 4-8 year olds, I was expecting it to sit on the shelf for a few years. Not so! JJ loves the simple & well illustrated storyline. She requested it every night for weeks. It's gotten to the point where she can now "read" it to herself, retelling the story from memory, but in her own words. She turns the pages herself, saying things like "Ride camels? No…". JJ has a lot of favourite books, but there are only a select few that she likes to "read" herself. Considering that there are no pictures of camels in Sophia's Jungle Adventure, she really is relying on her memory and comprehension here, so you can tell that this book has a connection with her.
But Sophia's Jungle Adventure is more than just a story book. It has a purpose. It is designed to teach kids to link yoga poses in a specific sequence as you read the book. Each page has a different yoga pose illustrated and tied in with the storyline. A yoga class within a story, if you will.
All the yoga poses are listed again at the end of the book for handy reference, along with a detailed guide on how to help kids enjoy this yoga experience, either individually, or in a group.
JJ is a little young yet to understand all of the concepts and poses right now. We'll introduce them to her gradually. We have started with one pose so far, the Salute the Sun pose. When we get to that page, the story talks of how Sophia and her family are setting off in the morning on a big trek, and they say hello to the sun. JJ puts her hands above her head in the Sun Salute and shouts out "Hello sun!". She loves it. It makes it interactive. Like learning the actions to a nursery rhyme, where the actions just happen to be yoga poses. What a non-confronting way of introducing such a healthy form of physical, mental and spiritual discipline.
To find out more about the Kids Yoga Stories series, or if you would like to purchase a copy, check out Giselle's website for more info.
And for one lucky reader, I have a copy of Sophia's Jungle Adventure to give away!
*** This giveaway is now closed ***
To win, leave a comment below telling me about your favourite kids storybook. The most interesting answer wins!
Liking Danya Banya and Kids Yoga Stories on Facebook is not a condition for entering this competition.  It does, however, generate really good karma. 🙂
Competition Terms & Conditions
1. One entry per person
2. To win, leave a comment telling me about your favourite kids storybook. Please limit your responses to 50 words or less.
3. Please include a link to your profile or supply a valid email address. Entries can also be emailed to danyabanya@gmail.com. No valid email, no entry. I need to have a way of contacting you to tell you if you've won! Information supplied is used for the purpose of selecting and contacting the winning entrant only.
4. Giveaway open to Australian and international residents.
5. The prize is a copy of Sophia's Jungle Adventure by Giselle Shardlow (a Kids Yoga Stories book), valued at US$15.95.
7. The competition opens at 4.00pm on Friday 21st October 2012 Australian Eastern Daylight Saving Time (AEDST) and closes at 6.00pm on Wednesday 31st October 2012 AEDST.
8. The competition is a game of skill and the response I deem most interesting wins. My decision is final.
9. The winner will be published on www.danyabanya.com and notified by email and will have five business days to reply. If no response is received, the prize will automatically be forfeited and a new winner chosen.
10. Prize will be distributed by Kids Yoga Stories. Danya Banya takes no responsibility for loss or damage of the item.
(This is not a sponsored post. No compensation was offered or received. All opinions are my own. Kids Yoga Stories have provided one copy of Sophia's Jungle Adventure + postage as a prize.Giselle Shardlow is also a personal friend of mine.)