Have you heard of
Beatle Bottoms
? No? Well, let me introduce you. Beatle Bottoms is a new mother-daughter business out of Byron Bay, selling gorgeous hand-painted wall decals.
Now you know that I'm a sucker for supporting new small local businesses. But this isn't only a new small local business. Beatle Bottoms is a new enchanted world…. and it's a world you can bring into your home.
Beatle Bottoms started as the nickname that kiwi artist Fiona Whyte used to call her four children, many moons ago. In 2011, when her daughter (Sarah Hill) became pregnant, Fiona was inspired to paint these four little Beatle Bottoms characters to share the stories of her own little rascals with her new grandchild.
Since then, Fiona and Sarah have teamed up, bringing these stories into the lives of children everywhere.
We were given two of the Beatle Bottoms wall decals to trial – Tree Homes and Blueberry Picnic. I knew immediately where to put them – in JJ's corner of the bedroom.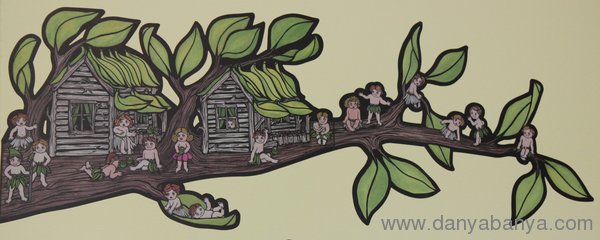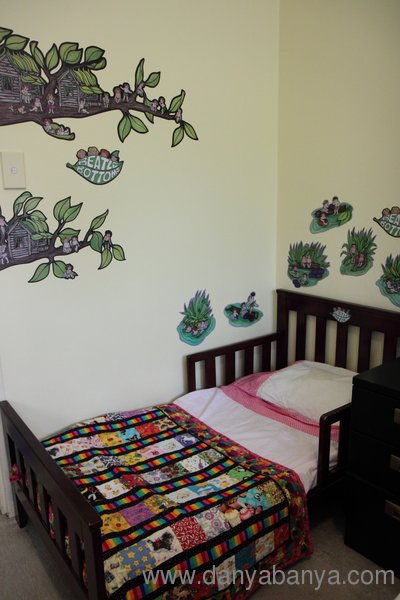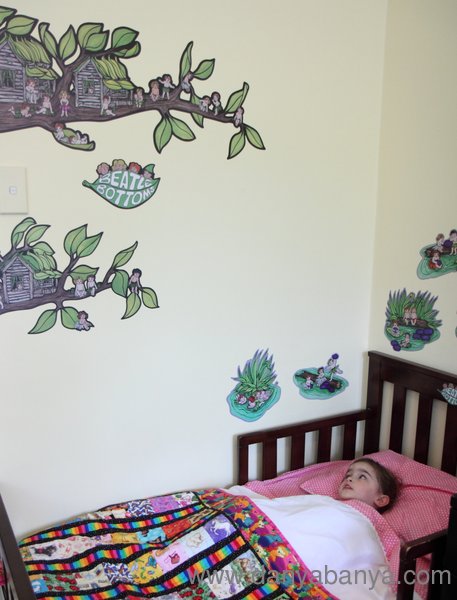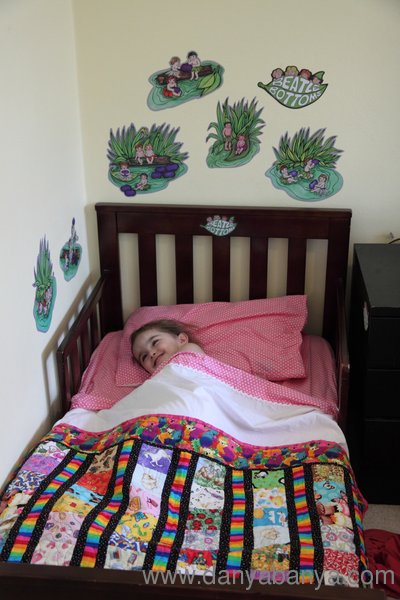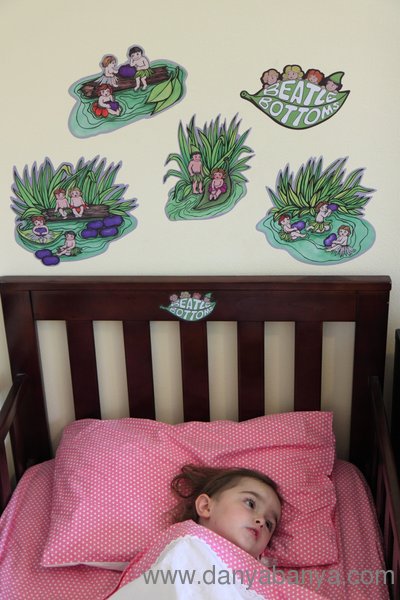 I love the designs. They are reminiscent of Snuggle Pot and Cuddle Pie, but a bit more grown up. And I love that the designs were originally hand-painted. You can really tell the love that has been poured into these designs.
I accidentally gave these decals a really good going over. Firstly, I wasn't happy with my original placement of the stickers, so I took them off and put them back on quite a number of times until it looked "right". So I can say with confidence that the stickers are easy to peel off, and re-stick again. No paint came off the wall. Double tick!
And then being totally un-coordinated, I got one of the Tree Homes decals in a terrible muddle while I was trying to place it on the wall. I got it all stuck together, then while I was untangling it,it stretched slightly and tore in a couple of small places. And despite all this abuse, the stickers have held up marvelously. It's testimony to their quality that even I can't break them. 🙂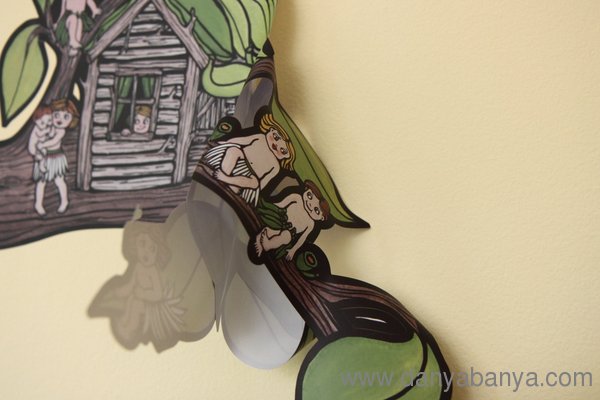 Danya fail!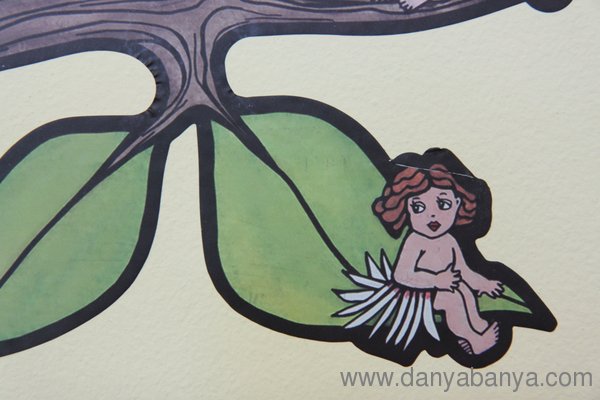 If you look closely, you can see where I stretched it in the curve of the branch. And there's a tear through Pip's hair.
The back of each of the decal packets is a short story about the designs. This is a lovely touch. JJ was really interested to learn each of the characters names, and the story behind the pictures. So much so that I've kept the packaging to retell these stories again and again. (The only thing that bugs me is that there are some slight spelling and grammatical errors in the text. But you'd have to be a bit OCD like me to notice).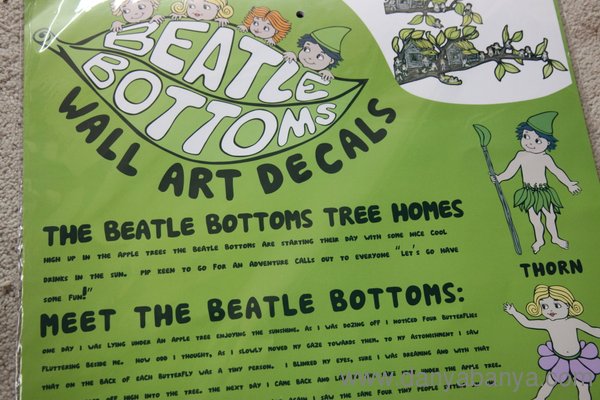 Apparently there are some Beatle Bottoms storybooks being published in the near future. I'm really keen to check them out. I think it will be lovely for JJ to read about the characters that are up on her wall.
Now I've hinted before that JJ's a difficult sleeper. I haven't really gone into it too much in this blog, as it is an exhausting topic for me to think about writing up, but basically JJ's needed to be touched every time she's slept since about 1 week old. We somewhat reluctantly shared her bed, including all naps for the first few two years, and have gradually been "weaning" her off being touched for the past six months or so. But since putting these wall decals up, JJ's slept in her own bed, almost every night. Oh Beatle Bottoms I could kiss you! There were other contributing factors of course – it's something we've been gently working on for many many months (you could even say years). But these cute little scenes came at just the right time to encourage her to take this big step towards independence.
Here's some photos of when we showed JJ the decals on the wall for the very first time. You can see the wonder all over her face…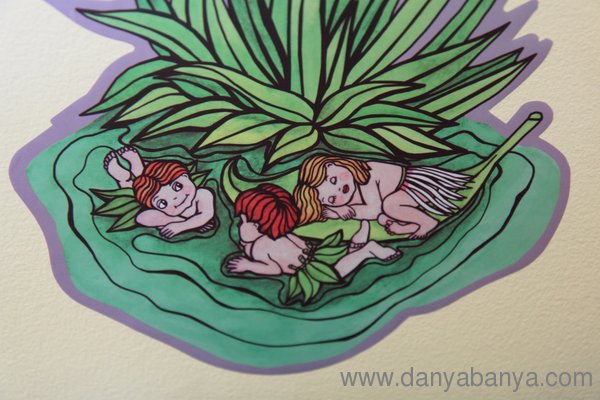 This is JJ's favourite picture – she loves that she and Pip are effectively sleeping next to each other.
Now I can't promise that these decals will have such a dramatic effect on your child's sleep, but I can promise that they'll bring a little bit of enchantment into your home. And every child needs a bit of enchantment.
*** This giveaway is now closed ***
Beatle Bottoms have generously offered to giveaway three of their gorgeous wall decals for Danya Banya readers!!
To win, leave a comment below with your favourite Beatle Bottoms design. (Visit the Beatle Bottoms website to see the full range). The most interesting answer wins!
Liking Danya Banya and Beatle Bottoms on Facebook is not a condition per say for entering this competition.  It does, however, generate really good karma. 🙂
(Sorry international readers, this one's for Australian residents only.)
xxx
Danya
Competition Terms & Conditions
1. One entry per person
2. To win, leave a comment telling me what your favourite Beatle Bottoms design is. Please limit your responses to 50 words or less.
3. Please include a link to your profile or supply a valid email address. Entries can also be emailed to danyabanya@gmail.com. No valid email, no entry. I need to have a way of contacting you to tell you if you've won! Information supplied is used for the purpose of selecting and contacting the winning entrant only.
4. Giveaway open to Australian residents only.
5. The prize is one of three Beatle Bottoms Wall Decal, each valued at AUD$39.00.
7. The competition opens at 9.00pm on Monday 4th February 2013 Australian Eastern Daylight Saving Time (AEDST) and closes at 6.00pm on Wednesday 20th February 2013 AEDST.
8. The competition is a game of skill and the response I deem most interesting wins. My decision is final.
9. The winner will be published on www.danyabanya.com and notified by email and will have five business days to reply. If no response is received, the prize will automatically be forfeited and a new winner chosen.
10. Prize will be distributed by Beatle Bottoms. Danya Banya takes no responsibility for loss or damage of the item.
(This is not a sponsored post. No monetary compensation was offered or received. All opinions are my own. And I really am that uncoordinated. Beatle Bottoms did provide two complimentary wall decals + postage for review purposes, as well as three wall decals + postage as prizes.)
Are you new here? If you've just found my blog, be sure to subscribe via email or RSS feed, to "like" the Danya Banya Blog facebook page, follow @danya_banya on Twitter or to add Danya Banya Blog to your Google+ circles, so that you'll get all my tips and ramblings on parenting babies and toddlers, sewing, crafting, wholesome cooking, photography and lots more!