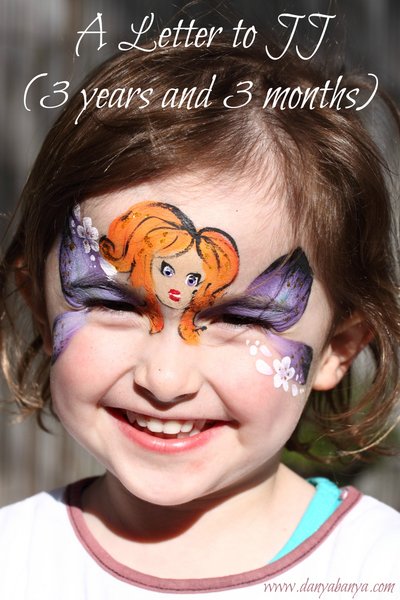 Dearest JJ, it feels like forever since I've written to you. It's not because there hasn't been anything to write about. Quite the opposite, it's because there's been too much to write about. When I start thinking about your letter, a million thoughts stream into my head and get all jumbled. So I'm not going to think, I'm just going to write and see what comes out. Here goes….
My sweet JJ,
I haven't told you about your third birthday party yet. For weeks you'd been asking for a fairy theme, although on the day you chose to dress up as Cinderella. We had fairy invitations, fairy decorations, a star cake and fruit 'wands'. You loved every-single-minute of it.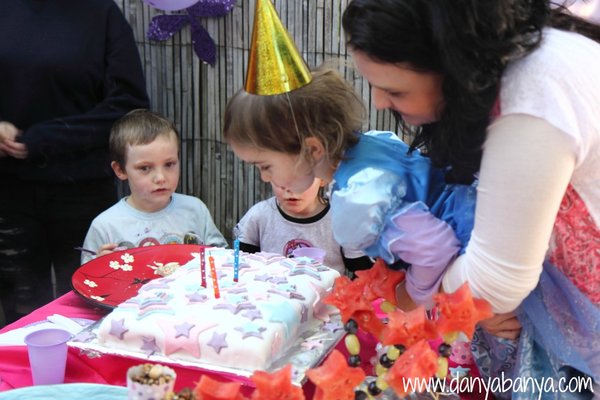 Blowing out the candles on your star cake.
You have the most unruly hair I've ever seen. It's amazing. I do spray and brush it every morning, and but seemingly seconds later it gets that bed-head look again. I love it. It's so uncontrollable. It's so you.
You have very definite ideas about fashion. You like leggings. Not jeans, not pants (trousers), not tracksuits, not stockings, not skirts. Leggings, preferably with stripes and no lace at the bottom. Oh, and in purple please.
You also like long sleeve tops. Not jumpers, not jackets, not cardigans, not hoodies. I've managed to get you through winter by layering a long sleeve top on another long sleeve top on a singlet.

Showing off

 Performing for your sister
But really, ideally, you would like to wear flimsy summer dresses all year long, because apparently that's what girls wear. When I try to explain that it is Winter and that it is cold, you reply "but I like the cold" or "but I like the way-too-cold" or even "but I like the absolutely-freezing".
I tested this theory once. It was a typically chilly July day and you insisted that a particular summer dress would be perfect, and all the cajoling in the world wasn't going to convince you otherwise. So I thought, I'll just pack all the extra layers (and shoes) and see what happens. You stubbornly sat through the walk to playgroup, and only begrudgingly let me put on a few extra layers once you'd been playing in the freezing hall for a while. I looked around at all the other kids with their gumboots, parkers and beanies and sighed.
As I keep telling myself, I am trying to raise a happy and confident child. I am not particularly trying to raise a compliant child.

Playing with the 3D glasses.
You've been having a hard time with sleep lately. Lots of  nightmares and night terrors. When I hear you scream out, I rush in and hold you tight, and you cry (and cry and cry) on my shoulder until my top is soaked. You're still half asleep, still half dreaming, still half terrified. It sucks.
You now clean your teeth every night (and every morning). High five! And we've managed to wean you off your going-to-bed bottle of milk. Dummy is next (hopefully). You still need me to lie down with you until you fall asleep, and you still come into our bed in the wee hours of the morning every night, but you do start the night off in your own bed in your own room, so that is a big win from where we were a few months ago.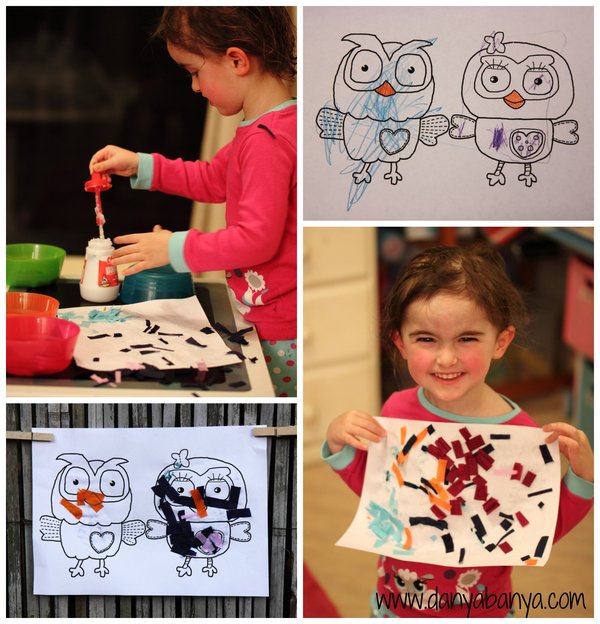 In your favourite lamb pyjamas, creating art for the Giggle Gallery
Some days I'm not sure if you are a toddler or a preschooler, you seem to be a jumble of contradictions lately. You've always been an amazing climber, but you can't seem to get the hang of balancing on your scooter. You are churning through jigsaw puzzles that are for 5+ year olds, but you still need your dummy and cuddles to help you sleep at night. Your vocabulary is fantastic but your pronunciation is toddler-esque.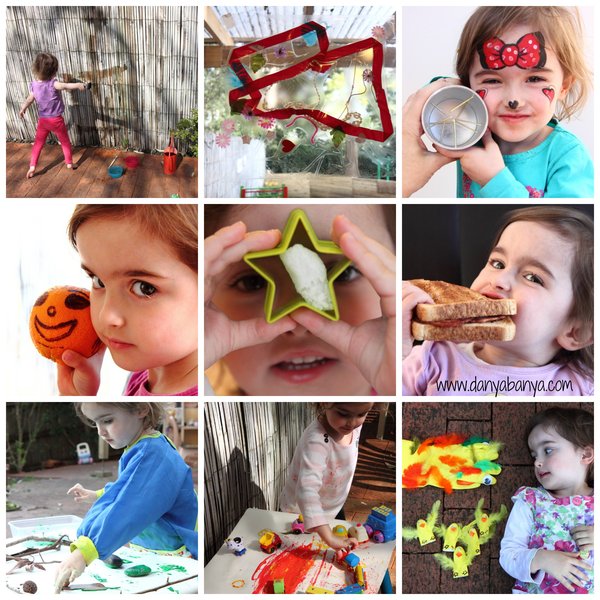 Playing and creating
I've found that we've been able to get some one-on-one time during Bee's naps lately. We've had a surge of craft during these times (like this, this, this, this and this and dozens of loads of others that haven't been blogged but were fun just the same.)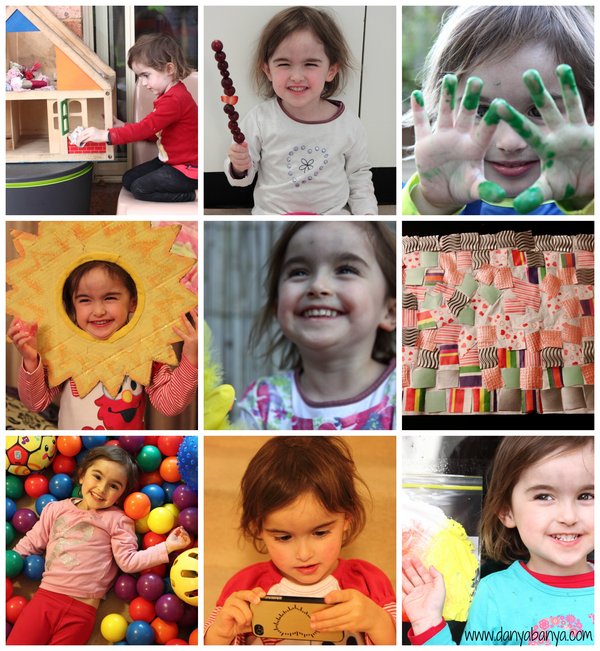 Laughing and loving
I love chatting with you and listening to you talk to yourself as you play. Sometimes you say things that are cute, sometimes things that are quirky, sometimes things that are hilarious (this and this are a few examples). Here's another conversation that you had with Daddy just this weekend:
Daddy: "JJ, what do you want to get Mummy for her birthday?"
JJ: "A statue of a chocolate crackle and Mummy is eating the chocolate crackle and it is china."
Daddy: "That might be a bit hard to find in the shops"
JJ: "Well, we'll need a torch…"
I love you JJ as much as I would love a porcelain statue of myself eating a chocolate crackle (in miniature). Cause that would be all sorts of awesome.

Love xx
Mummy
Previous letters to JJ:
A Letter to JJ (3 years)
A Letter to JJ (2 years, 9 months)
A Letter to JJ (2 years, 7 months)
A Letter to JJ (2 years, 6 months)
A Letter to JJ (2 years, 5 months)
A Letter to JJ (2 years, 4 months)
PS: All the face-painting (the fairy and both sets of Minnie Mouse) were done by Mrs Cakeface, who doesn't know me, except perhaps as one of the ladies that line up to get their kids face-painted at our local farmers market each weekend. This is not a sponsored post, but she is very good, isn't she?!