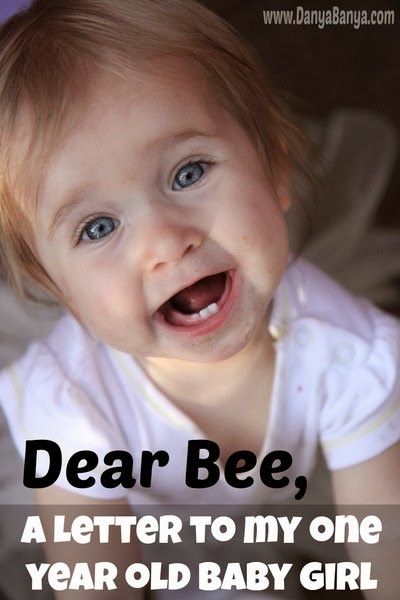 Dear Bee,
Congratulations on making it through your first year!
Or maybe the congratulations should go to JJ, Mr Banya and myself.
There were wonderful times, and there were challenging times. But we made it, and to celebrate we've been partying (and partying again).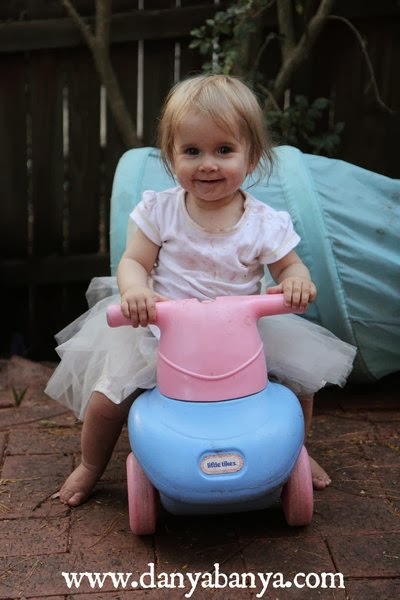 It's my party, I'll get grubby if I want to
You are such a big part of our family. JJ doesn't remember a time when you weren't here.
Mr Banya went back to work about six weeks ago. He was worried that he would miss out on some of your firsts. But you rewarded him with your first steps on Father's Day (which falls in early September in Australia).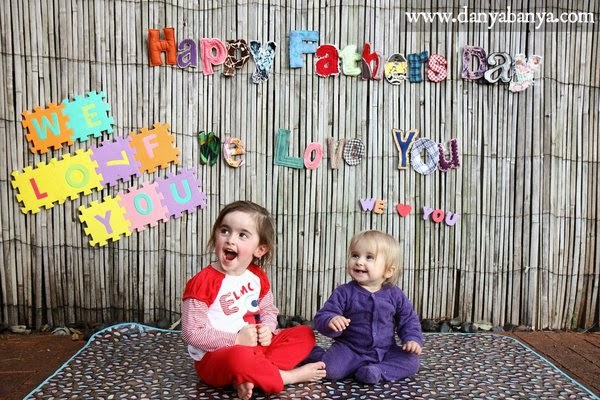 You've taken a few steps on several occasions since, but I wouldn't go so far as to say you are walking yet. Rather, you are practising walking. Each time, after a few steps, you grin and slowly sit down. We're up to about four steps in a row.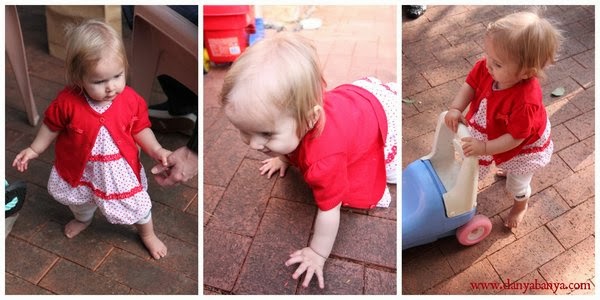 But you are definitely cruising, and you can stand (a bit wobbly) without holding on. And you can climb. Oh boy, you can climb.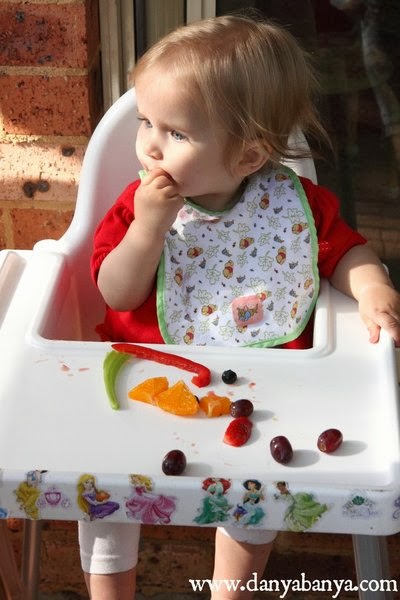 We had your one year check up at the local Early Childhood Clinic. Apparently, although you have put on weight since the last visit, you're lagging behind your peers having dropped from 25th percentile at six months old to around 5th percentile now. The nurse almost roused on me. I'm surprised – you eat well (and lots), and still have chubby baby thighs. Perhaps it is because you are so active, perhaps its because you do so many poos, or perhaps Mr Banya and I just make skinny kids… Either way, you're healthy and happy, so I'm not especially worried.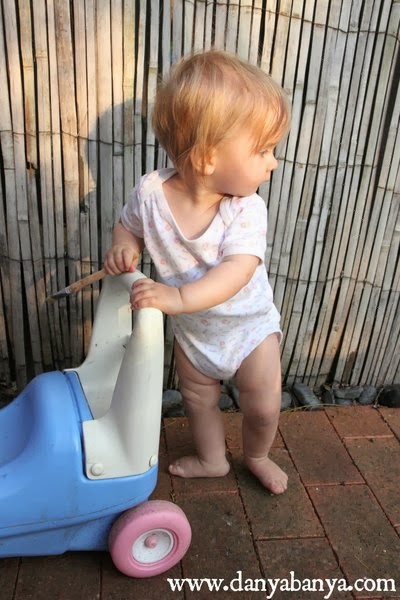 Look at those chubby thighs!
You're very vocal at the moment. You chat in your baby babble all day long. Goo goo gah gah lah poh tee oo. Sometimes I swear you are saying "Why I eyes ya". You also shout out to get attention – I guess this is one of the ways you compete with your older sister. You're adding a few more actual words as well. You're now saying DIDDY (Dummy), and NANA (Banana).
But the most common word that you're saying at the moment is NOOOOOOO! When I try to change your nappy, when I try to put you in your car seat, when I try to take you away from the television, you say NOOOOOOOOOO!
When your sister was your age, we tried so hard to minimise the use of the word no in our daily conversations. We would remove temptations, and we would focus on what she can do rather than what she can't. We believe that the use of positive words is so important while young babies brains are being formed.
Which is why I am so concerned with your learning the word 'no' at such a young age. And why it concerns me so much when I hear your sister saying "Naughty Bee!", or "No Bee, no!" or "Mum, Bee is ruining my game!" I'm trying to teach her to use gentle language with you, and she is trying.
This month, the last of those teeth that have been giving you grief have finally come through. I'd say you've been teething for the past six months straight. We're using this little teething interlude to try to ween you from the dummy.
Next part of the master plan is to try to reduce your night waking. You see, up until now, maintaining breastfeeding has been the number one priority. And since night feeding is a great way to maintain supply, I've been happy to nurse you back to sleep whenever you wake. This is often half a dozen times a night – say two or three times before I go to sleep myself, and another two or three times in the wee hours of the morning. You do generally resettle very quickly after only a minute or two of nursing, so it sound worse than what it actually is. But still, now that we've made it past the year milestone (halfway to the two year goal), I think it is time to reduce your dependence on night nursing to sleep.
But one step at a time, lets get rid of the dummy first. We only started on Friday night, and have already caved last night, so it might be a slow withdrawal rather than cold turkey…
You're getting so big that I don't think I'll be able to call you my baby for very much longer. So, (while I still can), love you baby Bee!
Xxx
Mummy
Previous letters to Bee:
A letter to Bee (11 months)
A letter to Bee (10 months)
A letter to Bee (9 months)
A letter to Bee (8 months)
A letter to Bee (7 months)
A letter to Bee (6 months)
A letter to Bee (5 months)
A letter to Bee (4 months)
A letter to Bee (3 months)
A letter to Bee (2 months)
A letter to Bee (1 months)
Bee's Birth Story
(I might link this post up with some of these awesome blogs)

Are you new here? Welcome! 

Thanks for reading!