I've been having this dream lately:
I'm walking along a street. Not our street, just some random street. I'm pushing the pram and JJ is running ahead, when all of a sudden she squeezes through a hole in the fence of someone's house. It's a hole that's too small for me to follow.

Then JJ gets attacked by a dog or something. I leave the pram, and manage to climb onto a ledge and jump over the fence, and get the dog away. Then I sit down and cradle my girl and tell her everything will be OK, Mummy's here.

I realise that there are no ledges on this side of the fence to help me climb back over, and the fence is impossibly high. Bee is in her pram on the other side of the fence and I can't get to her. She starts to cry.
I usually dream this after I've been up feeding Bee and am trying to get back to sleep. In that limbo period of not quite awake but not quite asleep yet either. That period when you can semi-control your dreams.
I go through different scenarios. What about if I'd broken my foot when I jumped over the first time. What if I'd forgotten to put the brake on Bee's pram and she started rolling down the hill. What if the dog had mauled JJ's face off. (Which, since I'm totally a dog loving person, is quite unusual for me to think.)
All scenarios end in me feeling entirely helpless.
It's obvious where this is coming from. I'm feeling overstretched trying to be the perfect mother to two babies when I'm hard put being a good mother to just one.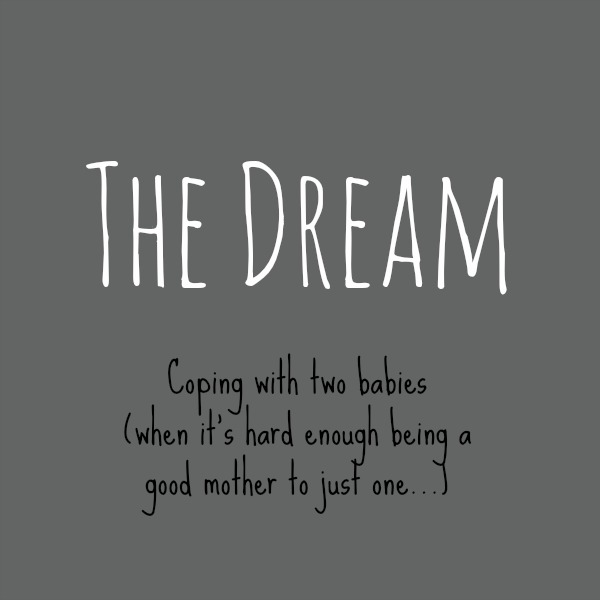 Josefa from Always Josefa posted a wonderful message yesterday called "Who's Afraid of the Big Bad Wolf?" where she talks about her battle with post-natal depression and the difficulties of being a new mother of two
"My heart was completely torn in two. Being mum to two, when I could barely be a mother to one. Hug one, read a book to another, feed the baby, change the toddler, burp the baby, find the toddler, finger painting, bath time, walks, naps; I never seemed to get the balance right."
This is exactly how I feel. Torn.
But I would say torn into four pieces. The biggest chunks are torn between JJ and Bee. But there are also chunks torn off for trying to be a good wife, and trying to me good to myself.
When Mr Banya and I argue because the other isn't doing enough (when we are both doing our very best, it's just that there isn't enough time in the day.) When the dishes pile high, and we've run out of milk again, and there are too many fucking toys all over the floor that you can't walk to the kitchen without treading on something.
Or when I try to find a spare second to do something for myself – to moisturise my cracking eyelids, or to buy some pants that actually fit my fat temporarily larger post pregnancy body, or to go to the doctor to have my post pregnancy check up. Struggling to find the time for bare necessities, let alone find the time to do something I actually enjoy.
Let alone find some time for Mr Banya and I to do something together.
It's hard this motherhood / fatherhood gig. It's wonderful, but it's also damn hard.
Just sayin'.
xx Danya