St Patrick's Day is coming up! It's not a day we typically celebrate in the Banya household, but since I love clover, rainbows, leprechauns, Irish accents and the colour green – I think this might become one holiday that we give a little nod to.
And so with St Patrick's Day in mind, I set out a little four leaf clover craft that both JJ (3 years and 8 months) and Bee (17 months) can do together.
(Edit: I've since discovered that the traditional Irish symbol is actually a shamrock, which is a three leaf clover, and not a four leaf one! Oops! You could do this activity as a good luck craft instead, or change it to be a traditional three leaf Shamrock craft for St Paddy's day…)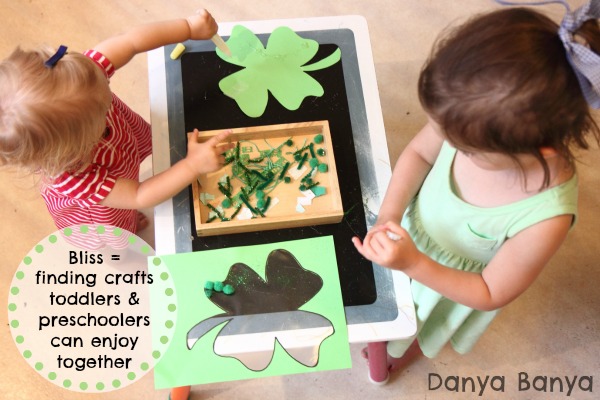 To set this up, I drew a four leaf clover onto green paper and carefully cut it out. I added contact paper (clear sticky back plastic film) to one side of the stencil. I would have loved to have offered the girls real clover leaves to stick. We do get a lot of clover leaves in our backyard (including four and five leaf ones!), but unfortunately clover isn't in season in late summer in Australia. So I gathered various green loose parts (green paper, green twine, green pom poms etc), green glitter and green-ish glitter glue instead.
I set this all aside and waited for one of those moments when the girls needed a distraction, which as it turns out, was last Tuesday afternoon.
JJ was familiar with this set up as we have done lots of sticky contact paper collages before. She got straight to work picking through the loose parts for pieces to stick on. She started with pom poms. Bee, on the other hand, was keen to try out the glitter glue.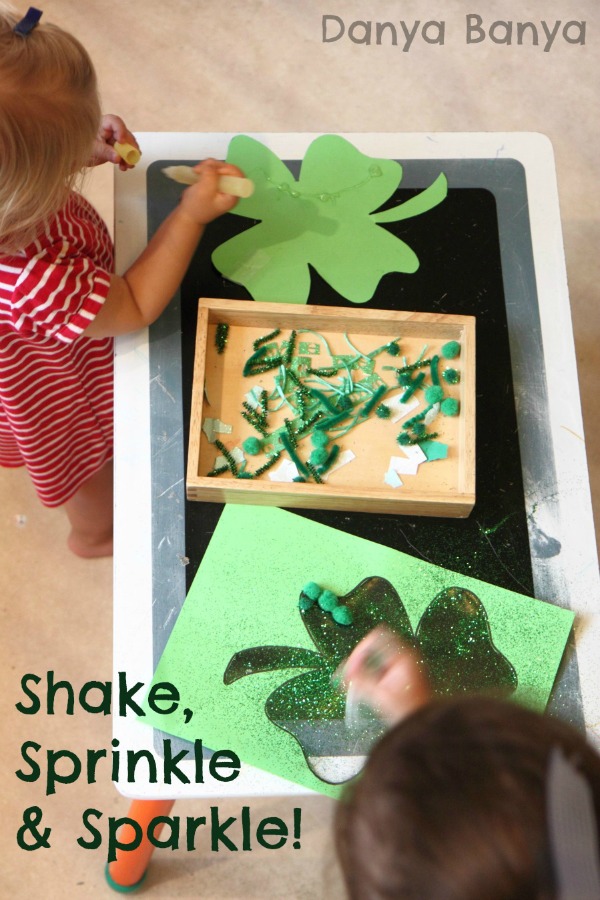 But it didn't take long before JJ spied the glitter. She loves to add sparkle! She did a fantastic job shaking out the glitter – it requires judging how far from the paper to shake, and with how much ferocity. This was something she was having difficulties with a few months ago and so I've been trying to provide her opportunities to practise (like the times when she decorated Christmas baubles and made an Australian flag). It is great to see how much she has improved.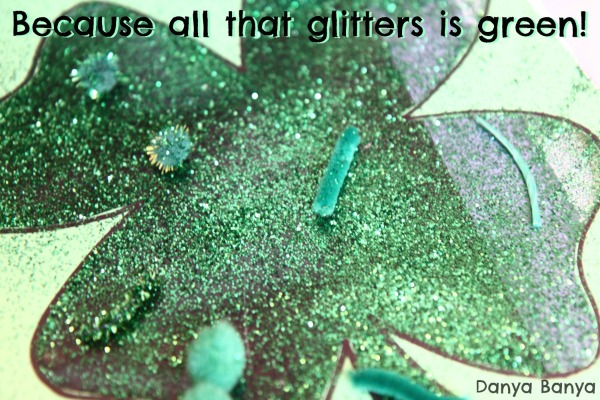 And yes, she did add a lot of glitter!
Meanwhile Bee was content with squeezing out glitter glue onto the four leaf clover cut out, sticking on some loose parts as she went.
When the craft session was finished, I set Bee's glitter glue collage aside to dry. Then I sealed JJ's glitter-fest with another piece of contact paper, and fixed up the black outline with permanent marker. Here's how they turned out (front and back).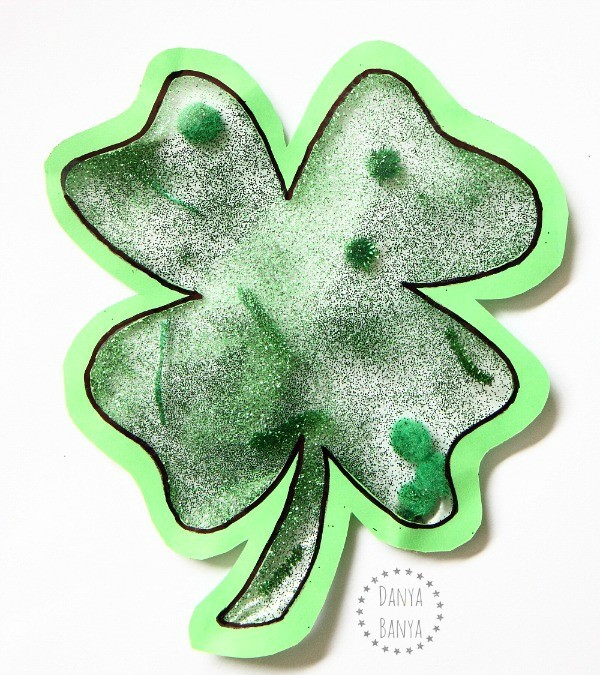 Here they are stuck up on our front window, adding a bit of colour and luck to our day.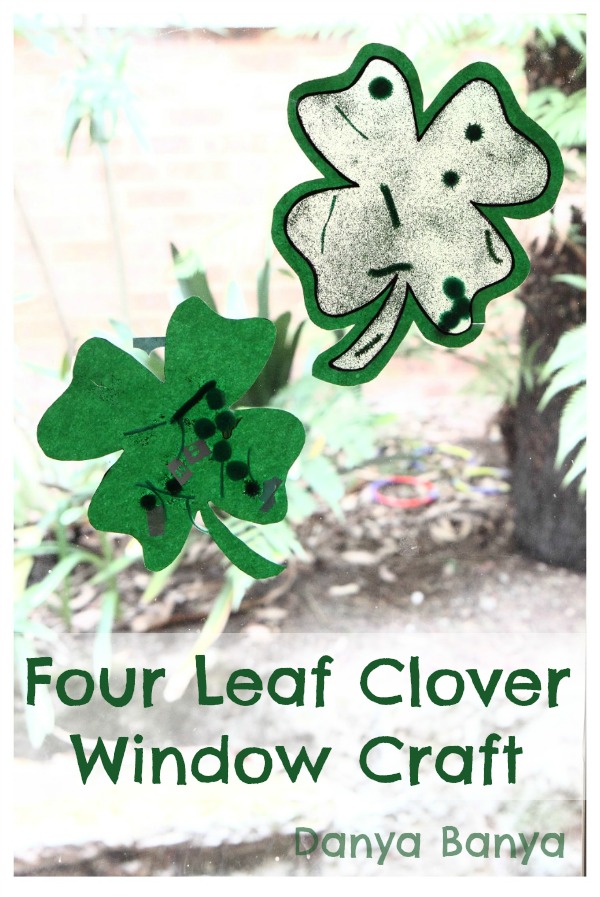 Here's how they look from the other side.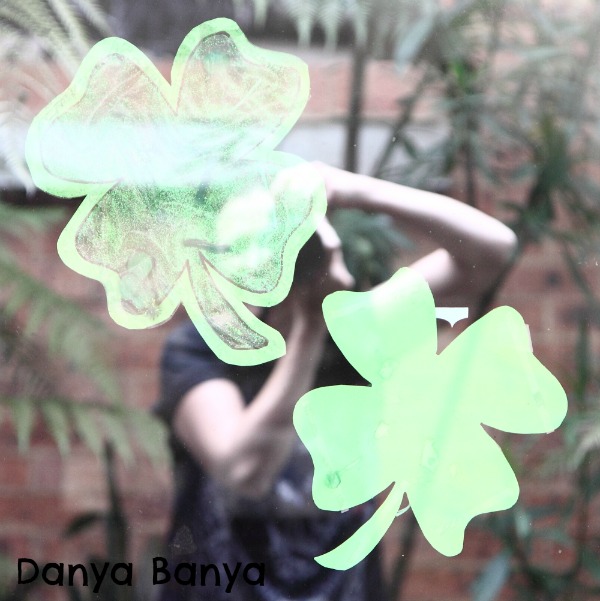 Do you celebrate St Patrick's Day?
xx Danya
PS: If you're looking for more ideas, you might like our Pom Pom Rainbow Collage which would make a good St Patrick's Day craft. We've also done lots of sticky contact paper window decorations, like these toddler-friendly Easter 'Stained Glass' windows.