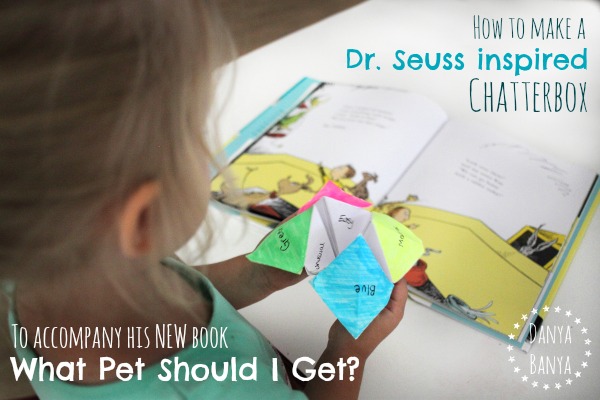 I'm sure you'll be familiar with the work of Theodor Seuss Geisel, probably by his pen name, Dr. Seuss. He's written several most popular childrens' books of all time, and has created some amazing characters. We're particularly fond of Horton Hears a Who and How the Grinch Stole Christmas.
As Geisel died in 1991, I have to admit I was a little surprised, and curious, when I was invited* to read a new Dr. Seuss book. It's called What Pet Should I Get?, and apparently Geisel wrote the story sometime between 1958 and 1962, but the manuscript and illustrations weren't discovered until 2013. It's like a super secret bonus Dr. Seuss book!
What Pet Should I Get? features the same brother and sister from the popular Dr. Seuss book One Fish Two Fish Red Fish Blue Fish. The text and illustrations are classic Dr. Seuss – with all the rhyme, repetition, humour and quirky characters that he is renowned for.
The story talks about the many kinds of pets available, but more to the core of this story, is the difficulty of kids making up their minds under pressure, when faced with a multitude of excellent options. How to choose? How to choose? How to choose?
We could only pick one.
That is what my dad said.
But how could I make up
that mind in my head?
The story finishes with the kids successfully deciding on a pet, but they don't tell the reader their decision. You need to guess! My kids aren't used to stories that leave them hanging, and this prompted lots of guesses, as well as discussions about what sort things you'd need to take into consideration when choosing a pet. We also talked about where you can get pets from, including adopting or fostering from a shelter. (The publisher notes from the back of the book refers to this dilemma as well. This book is set in a pet shop, and understandably in the 1950's and 1960's when this book was written, there wasn't the awareness of shelter animals as there is now.)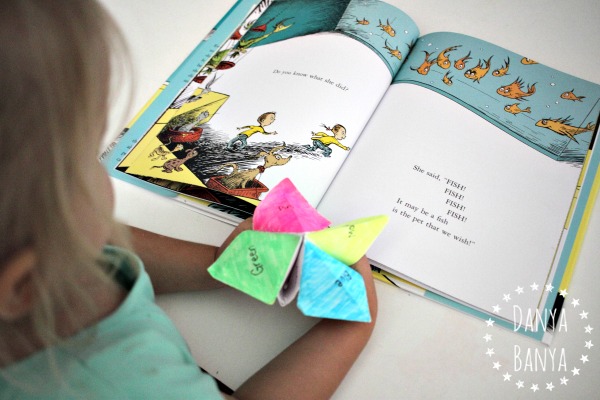 I'd been meaning to introduce chatterboxes to my kids for a while now, and it occurred to me that a chatterbox could be a novel way for kids to play at making up their mind in this sort of situation. I didn't want the chatterbox to select any random pet though. I wanted it to select a pet that would suit the needs of the owner (and thus, the owner's situation would be more likely to suit the needs of the pet!) So I thought I'd encourage people to indicate the type of pet they are looking for (easy, unusual, indoor or cuddly), before they find out their answer.
I'm sure you would have made chatterboxes as a kid, but in case it's been a few decades, here's a quick refresher…

Use a piece of white paper. Fold the top edge over until it lines up with the side. Crease.
Cut off any overhanging paper.
Fold in half.
Open up. It should now look like a square with diagonal creases.
Fold one corner into the centre.
Repeat with the other three corners.
Flip and fold one corner into the centre.
Repeat with the other three corners.
Fold in half one way, creating a horizontal crease. Undo and fold in half the other way.
Open that last fold, and flip. Colour in each corner a different colour. Label the colours with a fine black marker.
Flip. Label the eight sections: Indoor x 2, Unusual x 2, Easy x 2, Cuddly x 2.
Open up and label the inner eight sections: Hermit Crabs, Fish, Frog, Phasmids, Pet Rock, Trum'pet', Bunny, Cat.
(Trum'pet' is one of our family jokes. It's the answer to the question "What's the loudest type of pet?" and I think we first saw this joke on a Christmas cracker a few years ago…)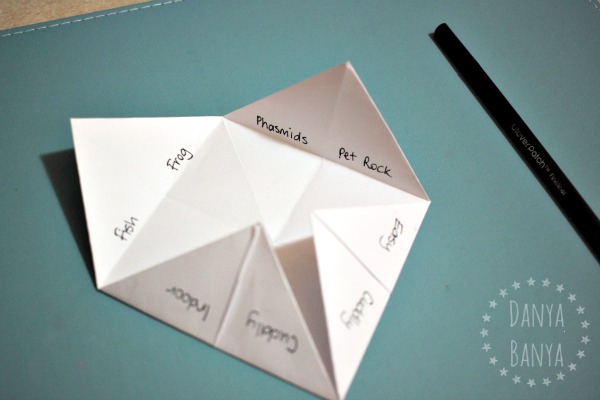 To play, invite someone to pick a colour, and then spell out the colour, moving the chatterbox backwards and forwards with each letter. Leave it open on the last letter, so they can see the type of pets (easy, unusual, indoor or cuddly) on the inside. Invite them to pick out a type of pet, and spell out the letters of that word. Have them pick a type of pet again, and this time lift the flap to reveal the answer.
The fact that our chatterbox has two possible answers for each type of pet, meant that you're never quite sure which answer you are going to get, which makes it much harder to rig the system. (Unless of course, you spend hours playing with it until you've memorised the entire chatterbox, which my 5.5 year old daughter JJ may have done. She really wants that bunny!)
All this is chatterbox play has been fantastic reading and spelling practise for JJ, by the way! JJ is such a big year one girl now. Apparently she'd seen chatterboxes before in kindergarten (spoiling my thunder – ha!) but she hadn't learnt out how to make them, and those ones definitely didn't go with this particular book, so she was really happy to play with one again.
My almost 3.5 year old daughter Bee is fascinated with our new chatterbox too – even if she doesn't understand about spelling just yet. She happily pretend spells so that she can play along, just like her big sister.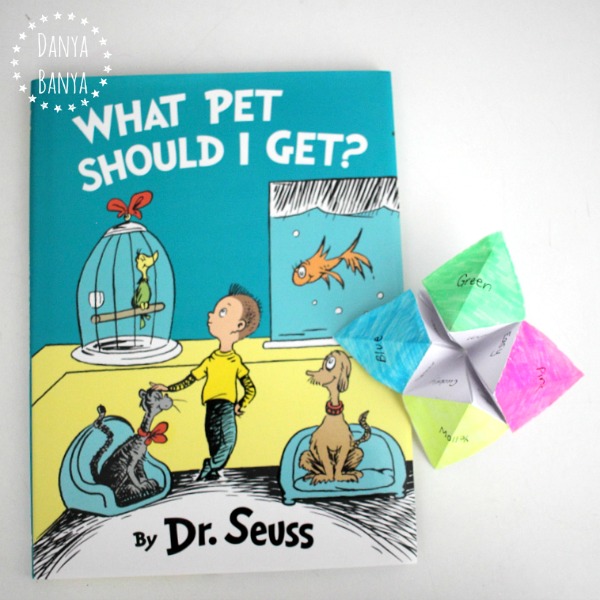 If you're interested, What Pet Should I Get? is available in bookstores now, (I saw it in Dymocks just yesterday), although it seems to be only available in hardback. You can also by online here. (These are affiliate* links, FYI. Thanks.)
xx Danya
* Disclosing that I received a copy of What Pet Should I Get? for review purposes. I wasn't obligated to write this post. I have, at my own discretion, included affiliate links. An affiliate link means I may earn an advertising or referral fee if you make a purchase through my link at no extra cost to you. This is one of the ways that I can earn an income whilst writing this blog. Thank you for your support.