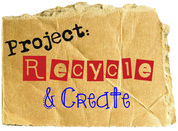 Welcome to the second month of Project: Recycle & Create, where a group of awesome bloggers will each show you how to make something fun out of a common item in your recycling bin (or in this month's case, the rubbish bin) and invite you to share your creations too.
Last month was all about the humble cardboard box.  I loved reading all your inspiring ideas. I don't think I'll ever look at a cardboard box the same way again!
This month is all about polystyrene (you might also call it by the brand name Styrofoam), and other similar packaging products. Things like packing peanuts, foam packaging, disposable coffee cups and portable eskys. We try to avoid it where possible, as it is slow to biodegrade. But in situations where it inadvertently comes into your house, here's one of our ideas on how to upcycle it into a fun little set of Colour & Shape Boats for water play.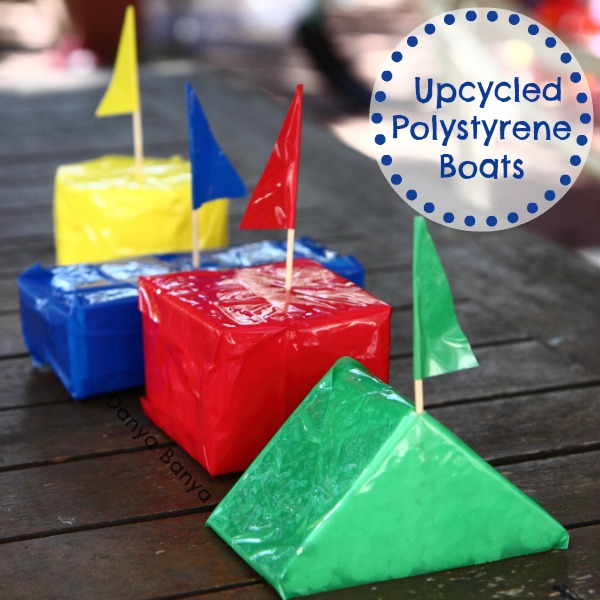 I used a polystyrene block (packaging from a Christmas present) + coloured packing tape (left over from when we moved house) + toothpicks (which were already in our kitchen cupboard) – making these effectively free toys. Yay!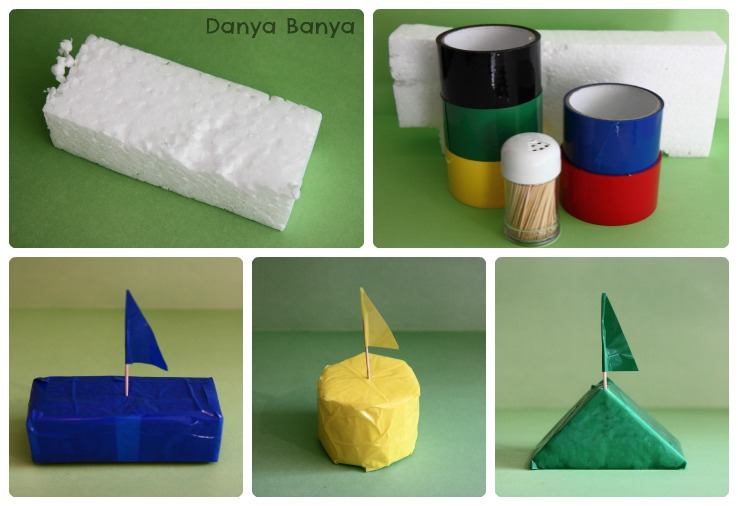 These were easy to make. I just cut out a variety of shapes from the polystyrene block, covered them with coloured packing tape and added a toothpick & packing tape flag for decoration.
The best bit is, of course, that they float. Makes for some fun toddler water play!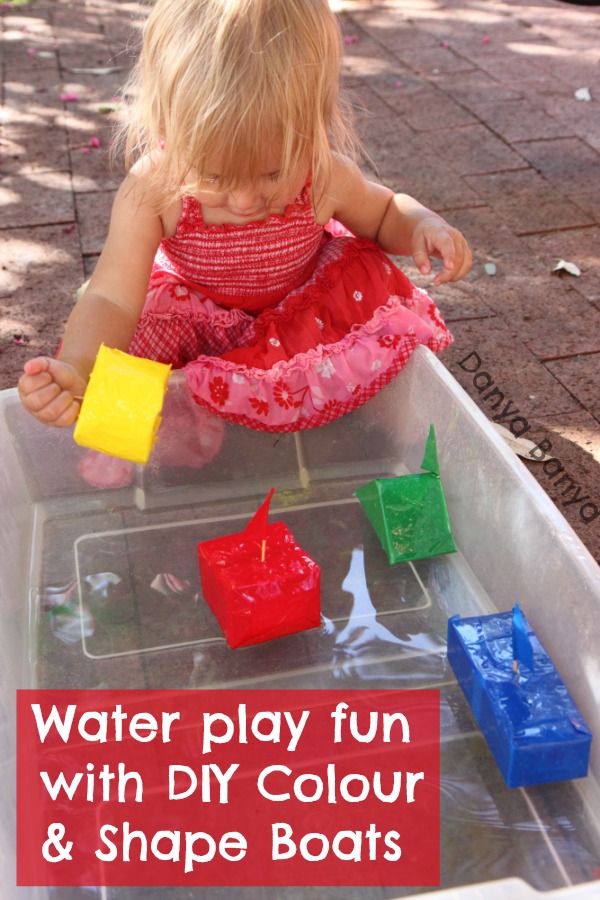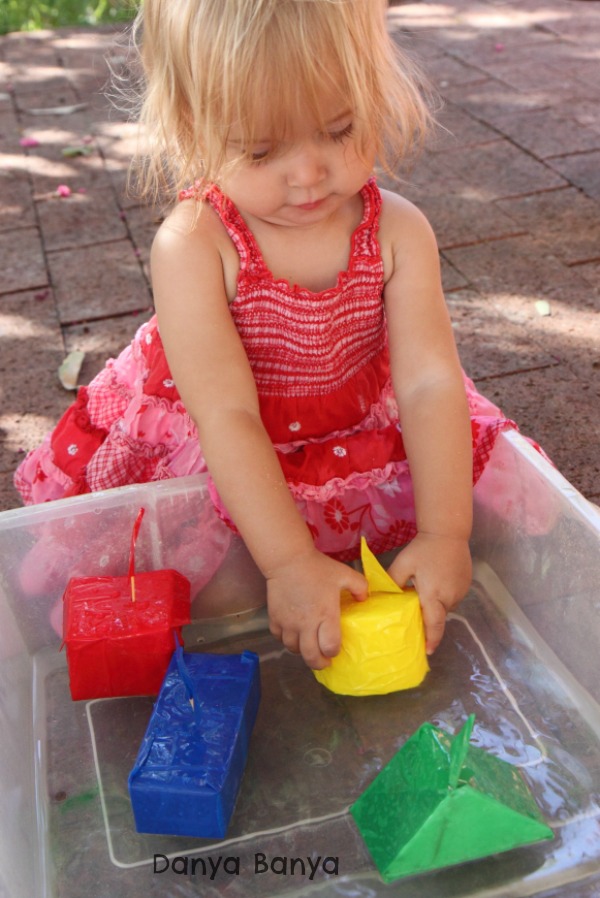 Water play is wonderful for kids of all ages. They enjoy the sensory experience of the water on their skin. It also encompasses lots of educational concepts such as wet or dry, hot or cold, shallow or deep and full or empty.
As Bee played, we chatted (well, I chatted, but I still count it as a conversation).
"How does the water feel Bee? Does it feel cool? Your hands are all wet. Can you make a splash! Oh look, did you see how the boats bobbed up and down when you splashed. Splash again! You've picked up the yellow boat that has the circle shape. See, this side is round, like a circle. Mummy is holding the blue one. Do you know what shape this one is? It's a rectangle. These two sides are the longer sides, and these two sides are the shorter ones. Would you like to hold the rectangle boat? Shall we swap?"
The toothpicks acted as little handles. Bee discovered she could pull them out, and then carefully put them back in again. Great fine motor practice!
After a while, Bee decided to make the experience all the more sensory. Somehow my kids ALWAYS end up in the tub. 🙂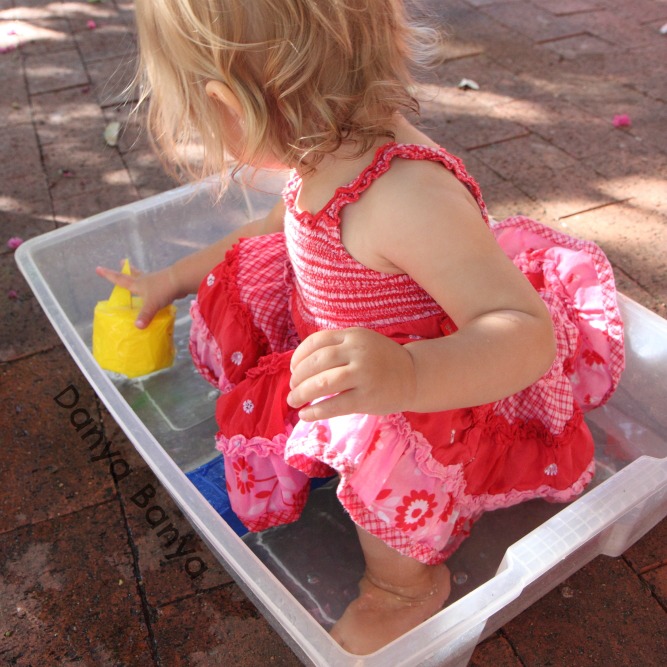 When JJ saw the boats, she immediately asked if she could have a straw to blow them around the tub. This was a concept I had been intending on introducing, and I was delighted that she thought of it first herself!
Gives another meaning to the term 'boat racing'. 🙂
The kids took these boats into the bath with them that night, making for lots of bath time squeals. After a while JJ discovered how to peel back the packing tape and crumble up the polystyrene within into little balls – and that's when these little boats quickly made their way into the bin. But they were lots of fun while they lasted!
(Side note: These boats are intended for 'fully supervised' play. Always supervise young kids in or near even shallow water. The tape for these boats can be removed, or possibly bitten through, and the polystyrene within is a choking hazard. My kids don't tend to put things in their mouths, but please use your own judgement before giving this toy to your kids, and please make sure you supervise them the whole time.
Want to Join the Fun?
Firstly, let me introduce you to team behind Project: Create & Recycle. There's Emma from P is for Preschooler,  who came up with the awesome idea in the first place, and each of these terrific bloggers have jumped on board the upcycle train: Powerful Mothering, Afterschool for Smarty Pants, Still Playing School, Lemon Lime Adventures, Creative World of Varya, Mama Miss, There's Just One Mommy, Little Bins for Little Hands, Peakle Pie, Sugar Aunts, Teach Me Mommy, Danya Banya, ALLterNATIVElearning, Widsom Knowledge Joy, Playtivities, Preschoolers Day by Day.
The next step is for you to search through your rubbish for something polystyrene, styrofoam or similar packaging material. And then – go create! Make something. Or even better, let your kids make something. You've got the rest of February, so there's no rush.
You can take a photograph of your creation, and post it to Instagram, Twitter or Facebook using the hashtag #createrecycle and we should be able to find it. You can also post it to my Facebook wall.
If you are looking for more inspiration, there's a bunch of ideas linked up below. (More ideas will be linked up during the month, so be sure to check back later.)
Yay for upcycling! Group eco hug. 🙂
xx Danya
PS: Next month's theme is cardboard rolls!