Cute hong bao (red envelope or red packet) craft idea that kids can make for Chinese New Year.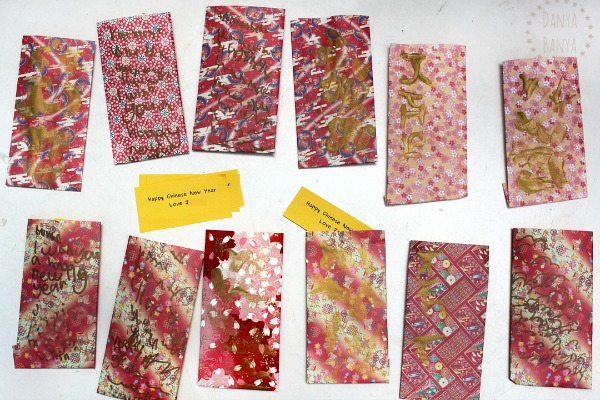 My kids are fascinated with Chinese culture. One of the things that intrigues them is the giving of red envelopes, called hong bao, every Chinese New Year. I'm sure many Chinese kids are excited about the money gifts inside, but my kids are more fascinated with the red envelopes themselves. Whilst they are primarily red in colour (symbolizing good luck, and to ward off evil spirits), they are often patterned with intricate designs, sometimes featuring gold Chinese characters on the front. They can be very beautiful.
Last year we decided to try making some of our own!

Hong bao red envelope craft
We used:
Glue stick
Gold acrylic paint and/or metallic gold marker (optional)
Scissors, paper & marker and/or printer for the messages inside
We're lucky enough to have received some 6×6″ square origami paper from Japan, which folds beautifully. (If you don't have origami paper, you could use other patterned paper, or even gift wrap paper, cut into 6″ squares).
Here's how we made our hong bao:
Take a piece of square paper and fold it, pattern side out, so that it is almost in half, leaving a 1/2 inch overhanging along one side. Use the back of your thumb to make a nice crease.
Add glue to the overhanging section and
fold over to stick.
Add glue to one end and
double fold over to seal the bottom of the envelope.
Add Chinese character designs to the front with gold paint or a metallic gold sharpie.
Write little 'Happy Chinese New Year' notes to pop inside.
Fold the top of the envelope over to close.
Give out to your friends!

My 5.5 year old daughter JJ absolutely loved this hong bao craft – I think what she liked most was that  she could do the entire process by herself. She spent well over an hour outside making one after another, after another!
About half way through she switched from gold paint to a metallic gold sharpie to decorate the outside – I guess she found it easier to draw the finer details.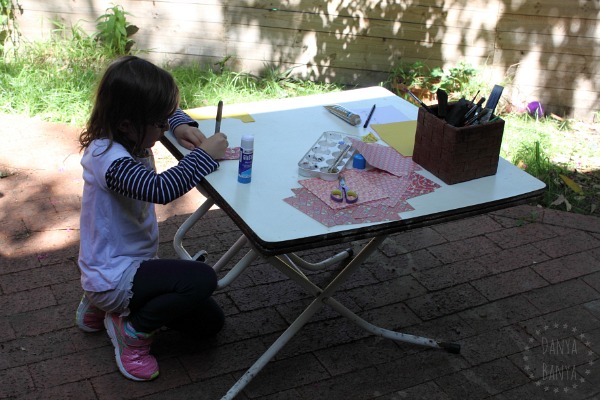 Traditionally hong bao (or red envelopes) are given out at Chinese New Year (among other celebrations) by elder people to children, with notes of money inside. Luckily for me, JJ was happy to skip the money and instead added a little Happy Chinese New Year note inside instead. (Can you hear my bank account saying 'Phew!'). She really enjoyed giving them out to her friends.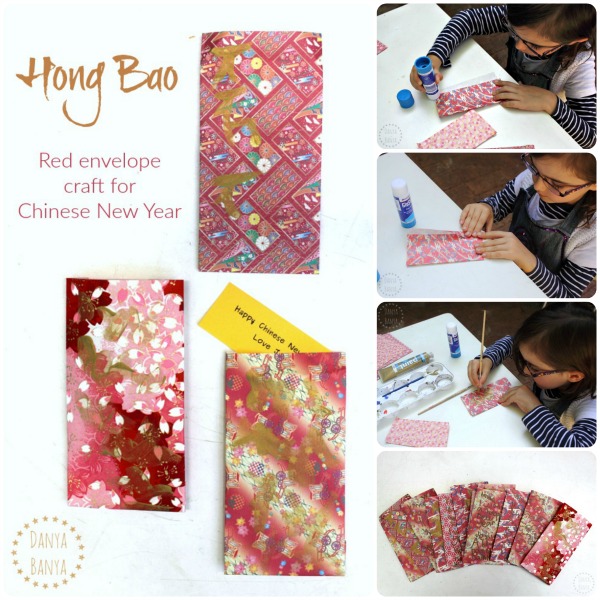 For more Chinese New Year crafts and activities, you might like:
And Gong Xi Fa Cai , or happy Chinese New Year!
xx Danya
* This post contains affiliate link(s). An affiliate link means I may earn advertising / referral fees if you make a purchase through my link, without any extra cost to you. It helps to keep this little blog afloat. Thanks for your support.