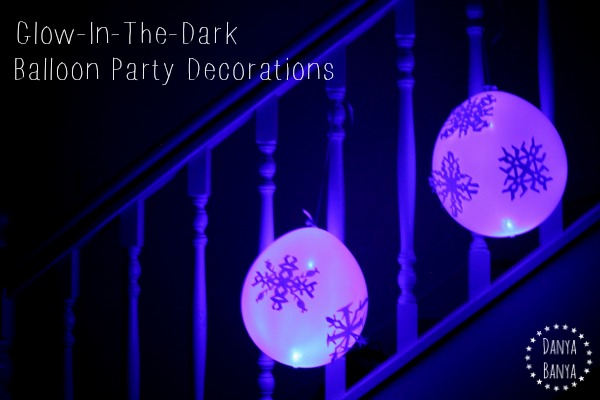 I just heard about this really cool new product: glow-in-the-dark balloons! Seriously! They are called illoom balloons, and they have an actual little inbuilt LED light inside each balloon, that lights up for up to 15 hours.
Genius!
Illoom balloons would be perfect for a night-time party or a dark indoor disco, where you can hang up them and add a bit of light and festivity to otherwise dark corners. The darker the room (or night), the better and brighter they appear.
Illooms come in a bunch of different shapes, colours and patterns. We were lucky enough to receive a few different ones to trial. (I love my 'job' sometimes!)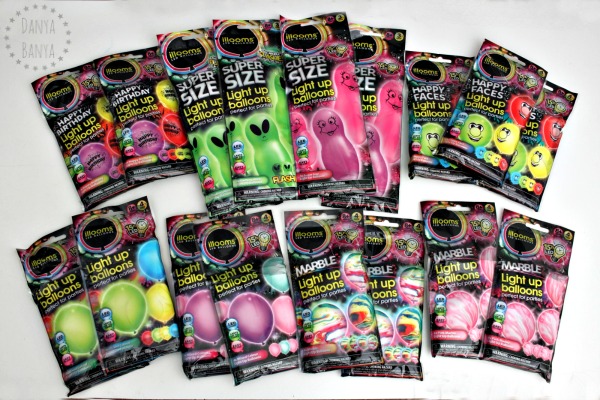 I let the kids choose a few to play with in their bedroom with the shades drawn. Of course they chose the ones that look like little people, so that they could role play! They dressed them up, redressed them again (half a dozen times), and took them on imaginary outings. Fun!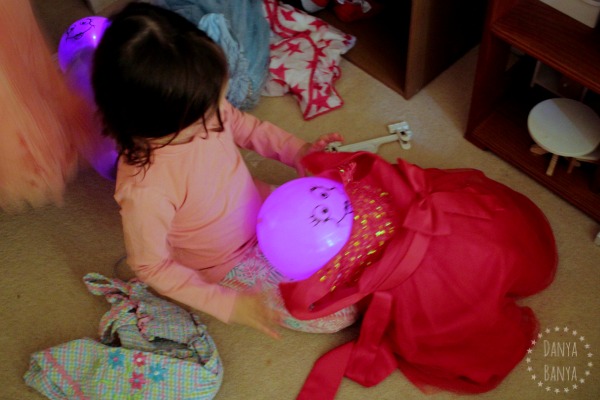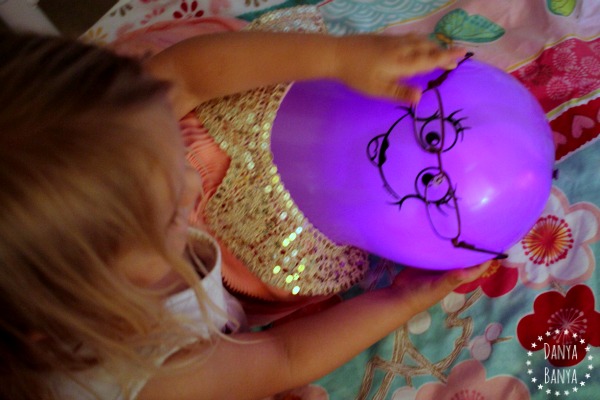 They would have been very happy playing with them just like that, but I thought I would see if I could get a little bit creative and make a new addition to the family. Using a yellow illoom and a black permanent marker, I drew on a little face with big baby eyes and a dummy. Apparently, (according to my kids anyway), because she has eyelashes, she's a girl. The girls loved caring for her. They made a little bed for her and tucked her in. Here she is with her mummy and daddy. 🙂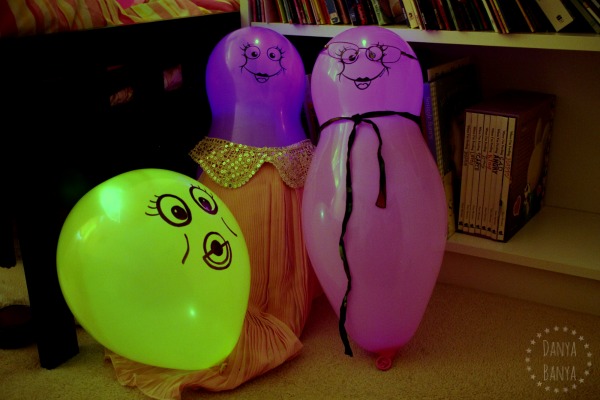 Later on, when the sun had long set and my kids were fast asleep, I ducked back downstairs to have a little play myself. (After all, why should the kids get all the fun?)
My favourite illooms are the super-size aliens: their LED lights flash on and off and the green glows really vibrantly and eerily. I can't wait to put some of these outside for Halloween!
After my earlier balloon baby-making attempt, I couldn't help but see if I could draw a little baby alien on one of the green illooms as well. Awww!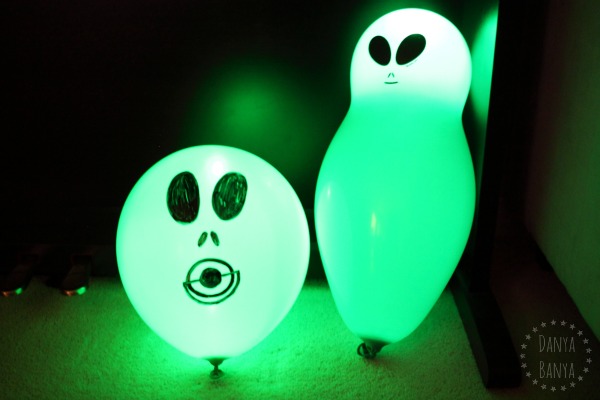 I really like the way the blue illooms glow – they're a lovely soft colour. I couldn't help but think that they would work well for a Frozen or Winter Wonderland party. I experimented with cutting out a few paper snowflakes, sticking them on with double-sided sticky tape, and I think it looks quite effective.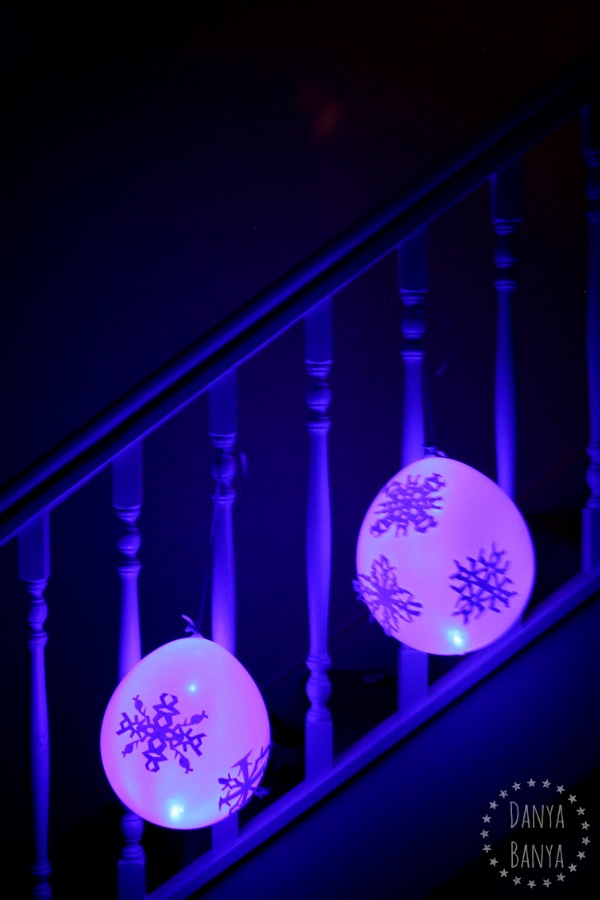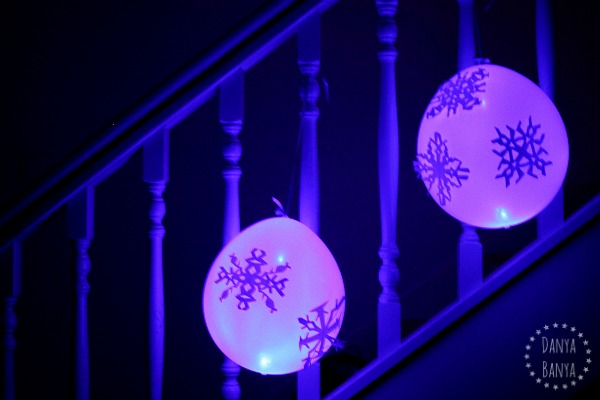 There are plenty of fancy ways to make paper snowflakes, and I didn't use any of those. I just took a regular white printer paper, cut into four pieces, folded, cut a little bit here and there, and totally winged it. I figure each snowflake is supposed to be unique anyway, so however they turn out will always be perfect. 🙂
I happened to put the spare illooms on the couch while I was taking these snowflake photos, and when I glanced back over, I nearly burst out laughing. It looked like they were all hanging out, watching television! Haha!
Illooms are available at Big W, Kmart and Woolworths – look for them in the party section. They range in price from AUD $6.99 – $9.99. Each pack contains 4 balloons, with the exception of the super-sized ones, which contain 3. Inside each balloon is an attached LED light – that you activate by pulling on a tab before blowing the balloon up. The LED lights up for up to 15 hours, illuminating the balloon from the inside. It is attached at the opposite end to the balloon tie, so when you hang them from the tie, the LED is at the bottom, shining upwards.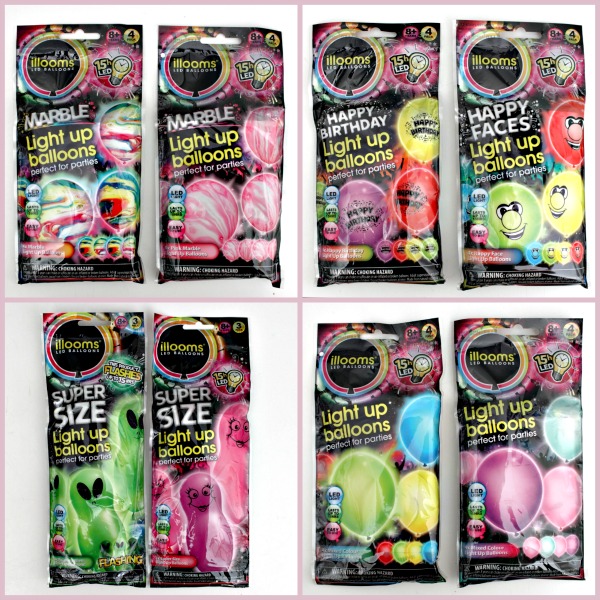 We found them to be really fun and easy to use. They would be very impressive hung outside at night, either in a bunch or hung in a row, and the different styles means they could be used for a wide range of celebrations and themes. A few of the colours shined brighter than others – we found the yellow and green ones to be much brighter than the pink, purple, red or marble ones (similar to the contrast in neon lighting). The blue is somewhere in the middle, and we think it has a lovely hue. Occasionally one of our illooms didn't light up as brightly or consistently as the rest, but a few sharp taps usually managed to get the LED lighting up properly again. By pure bad luck one balloon we tried had a small hole in it. If this ever happens, you can always return the defective balloon back to the store for a refund or exchange.
Would you to try some illoom glow-in-the-dark balloons for yourself?
Well, you might be in luck! Thanks to illooms, I have a fun illoom balloon prize pack to give away to one lucky Australian reader. To enter, all you need to do is leave a comment below answering:
How would you use illoom balloons?
Entries close Thursday 22nd October 2015. Australian entrants only please. Please see here for full terms and conditions.
xx Danya
(Disclosure: this is a sponsored post for illoom balloons via Nuffnang. All opinions are my (or my kids') own. For more information about sponsored posts on Danya Banya, please refer to my disclosure policy.)