This is the last of the "Getting ready for the baby" posts – how to make a hanging mobile.

(For new readers, here's a recap of what was already posted in this series: sewing Fabric Liners for the chest of drawers, packing the Hospital Bag, what was actually used & The Big Sister appliqué top.)



I had so much fun making this, that I actually made two! One for baby Bee, and one for my friend who was also expecting.
I followed this excellent crib mobile tutorial from Sew She Sews (with a few tweaks). Except that ours are hung above the change table instead of above the cot. Something pretty (and high contrast) for them to look at whilst getting their nappy changed….
Here's how I did it.
First up, I ordered in some sewable iron-on adhesive, a size 7 embroidery hoop, some jewellery connector rings, some large keyrings and some double sided thin ribbon from eBay.
(With a toddler in tow, it's just impossible for me to go to a haberdashery store without either scolding looks from the staff as JJ pulls everything off the shelves, OR scolding looks from the staff because of the resulting tantrums from me trying to keep her from pulling everything off the shelves. Not worth it. Online shopping is gold! )
Next I used the lid from an Ocean Spray bottle to draw circles onto the iron-on adhesive. I just kept going until there was no more adhesive left – about 100 circles roughly. Then I cut around each circle really roughly, making sure to leave at least a few millimetres.
I selected some random fabric scraps in a variety of colours and patterns. The smaller pattern worked best, as each circle is quite small so larger patterns would get lost. I cut the fabric roughly into little squares in multiples of 2, and ironed on the iron-on adhesive circles.
And yes, because I'm a clutz, I did accidentally iron the wrong side of one of the circles. It was super easy to clean. I just let the iron cool, then rubbed on some white vinegar with paper towel and it came off almost instantly.
Anyway, once my iron was clean again, I finished the rest. Then I carefully cut around each circle, and stood back to admire my handiwork. They look good, no?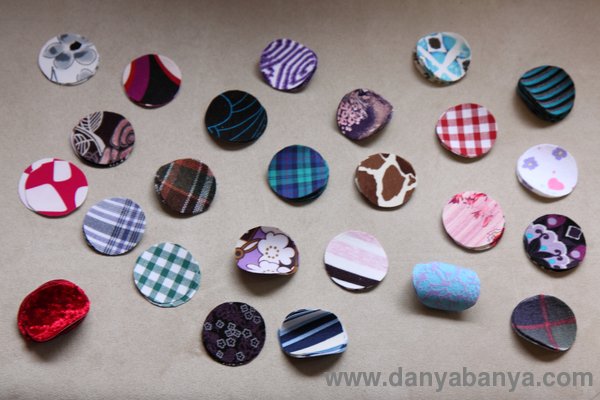 Here they are, all cut out, with adhesive on the underside.
I cut the ribbon into 8 pieces per mobile, each piece about 70cm (27 inches) or so long. I used pink ribbon for my friends mobile and white ribbon for Bee's one.
Next I grabbed two matching circles, removed the paper backing, and ironed them together with the end of the ribbon in the middle.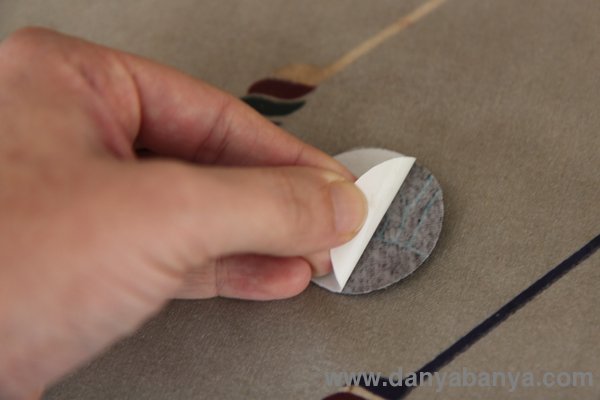 Remove the backing to reveal the adhesive glue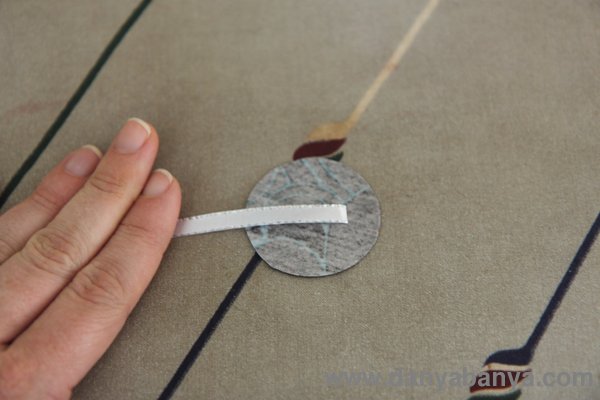 Pop the end of the ribbon on top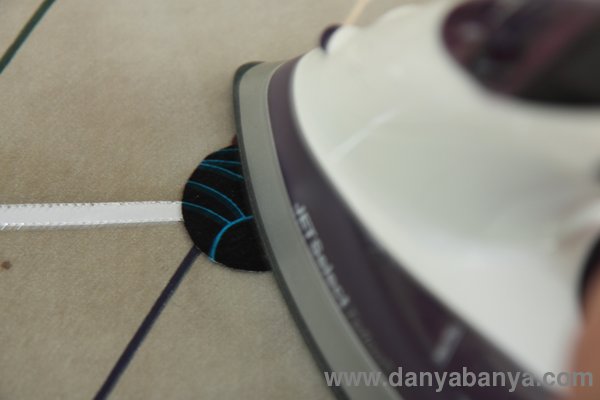 Then sandwich the ribbon with a matching circle on top again, and iron the lot to seal.
Then leave about an inch or so gap, and iron on another circle, using a contrasting colour & pattern, and keep going up the ribbon until you have 5 or 6 circles. Once they were all done, I sewed down the middle of each circle over the ribbon underneath, just to make double sure that it was all secure.
I split the embroidery hoop into two pieces, one for each mobile. Then I pinned the ribbons on, varying the gap from the top circle to the hoop until it looked right. Play around with it a bit. You don't want fabrics of too similar a colour or pattern to be close together. I swapped the different ribbons back and forth several times until I was happy with how it looked.
This is the point where I deviate from the Sew She Sews original tutorial, and also for each of the two mobiles that I created.
I'll explain how I finished the one that I made for my friend first. Using a hot glue gun, I glued the (pink) ribbons around the embroidery hoop, doubling over onto the back of the ribbon about half an inch to make sure it was secure. I then cut off the excess ribbon, sealing the edge with clear nail polish or craft glue.
I then glued four of the ribbon offcuts to the embroidery hoop, and glued little loops on the ends. I also glued a piece of ribbon right around the edge of the embroidery hoop.
I tried threading each of the four ribbons through the keyring, but it looked strange. So, I improvised by using a weird ribbon loop to bring it all together.
To be honest, I'm not all that happy with how this bit turned out. But since you won't really notice this bit when it is actually hanging, I'm OK with it.
Having hot glued my fingers together finishing the first mobile (ouch!), I thought I would try a "no glue" method for Bee's one. Instead this time I looped the (white) ribbons over the inner embroidery hoop, and sewed as closely as I could.
Then, instead oh cutting off the ends of each ribbon, I measured out a further 12 cm (5 inches) and then sewed another little loop at the end. Each loop was allocated a split jump jewellery connector ring, (just like a mini keyring, about 8mm in diameter). Then the thee connector rings were threaded onto a large keyring, and a few more connector rings added to create a little chain for hanging.
I really like how these rings turned out, it looks quite polished. It's hard to see the connector rings in these shot. I'll take a better photo and pop it here in the next couple of days…..
If I were to do it again however, I would allow more ribbon between the last circles and the embroidery hoop, to factor in that the ribbons are being pulled up instead of down. A you can see, one or two of my circles are actually sitting next to the embroidery hoop instead of below it now. But overall, I don't think this detracts very much, as the focus is on all the circles hanging below.
Here it is hanging above the change table in our "toy room".
Out of reach of little hands. Colourful enough to keep both the baby and the toddler amused during nappy changes.
xx Danya