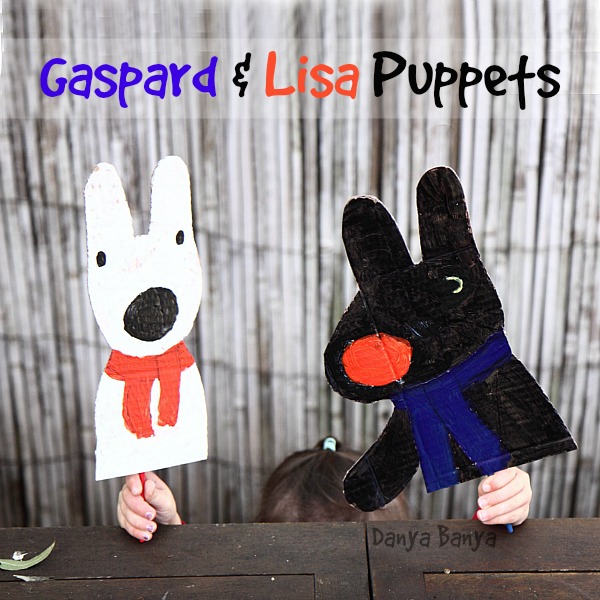 Brought to you by the ABC (Australian Broadcasting Corporation).
Have you ever watched Gaspard and Lisa? JJ first watched it when she was transitioning from a toddler to a preschooler, and she still enjoys watching it today.
From a parents point of view, I love that the story is set in France, exposing JJ to glimpses of French culture. I love that Gaspard and Lisa both model consideration, manners, respect, creativity, resourcefulness, determination, and most of all, playfulness. I love that the story is of friendship between a boy and a girl, and that their gender difference doesn't alter their relationship. And I also love Georg Hallensleben's beautiful illustrations.
When ABC asked if we would like to receive some Gaspard and Lisa products to try, we were so excited!
So excited in fact, that we decided to make some Gaspard and Lisa puppets of our own while we waited for the parcel to arrive. And guess what we used to paint Lisa? Liquid paper! (Or white out, correction fluid, etc). Does anyone use that stuff legitimately any more? Seriously, I found a ton in the long-forgotten stationery drawers of Mr Banya's computer desk. We're fairly paperless these days, so I thought we could help him move some of that old stock…
I started out by sketching Gaspard and Lisa onto some recycled thick corrugated cardboard.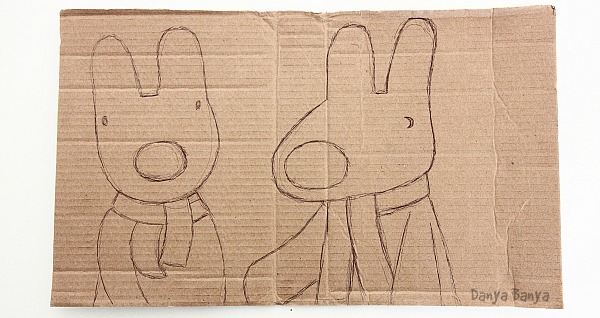 JJ really loved using the new liquid paper 'paint'. She loved the feeling of dip dip dipping the brush into the bottle, and kept closing it to give it a little shake. I noticed that the tiny brush made her very deliberate with her brush strokes and she took a long time making sure to paint right to the edges, which is great fine motor skill practise.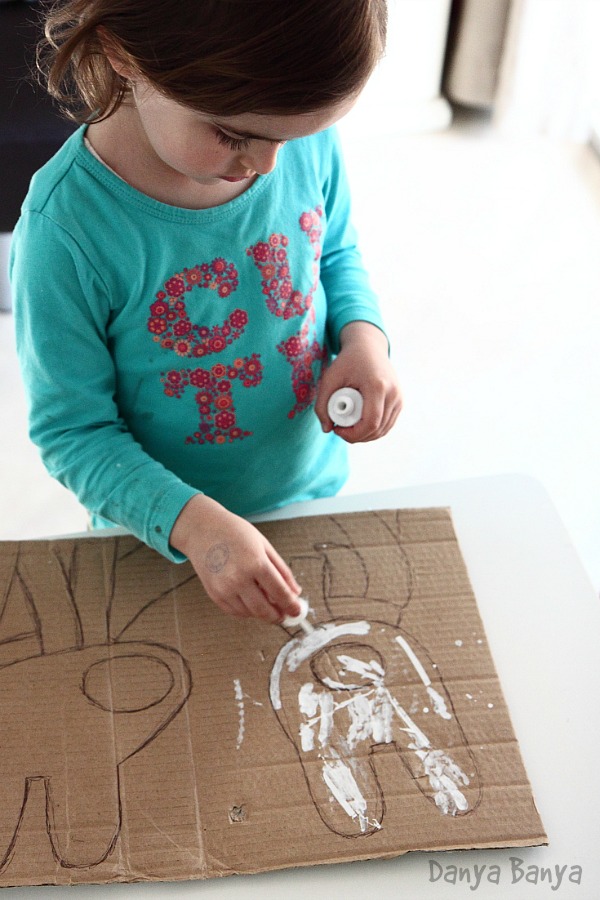 She kept saying things like "sorry Mum, I can't talk right now, I'm concentrating". You can tell how hard she was working, because she started out painting whilst standing, then whilst kneeling up on the table, then lying down, then sitting up on the table again! Goodness preschoolers can jiggle while they work. 🙂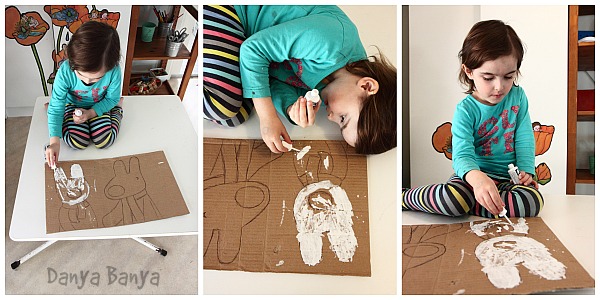 We reverted back to normal paint and brush for Gaspard, and I noticed immediately that the attention to detail decreased with the increased brush size again. (I think that we'll be doing some more fine motor liquid paper painting soon as the difference was quite dramatic…)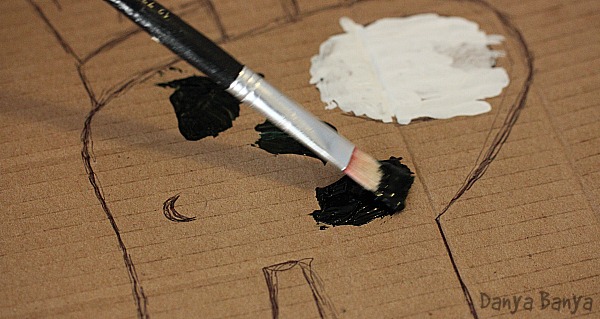 When Gaspard's fur was mostly all black, JJ's attention was diverted by the call of the trampoline, and so I finished off painting Gaspard & Lisa's eyes, nose, scarves etc. (This was a bit of a blessing as Gaspard's eye in particular is quite tricky).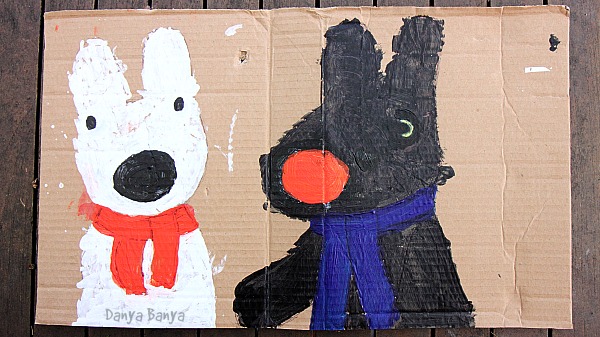 There were lots of spots on Lisa's nose and scarf where the liquid paper had 'strayed', but these were easy to cover up with the black and red paint. You can still see my initial sketch under some parts, which adds a bit of definition. I adore the mottled effect that JJ achieved with the liquid paper. Textural!
Once they were dry, I cut them out and stuck some matching red and blue chopsticks on the back with masking tape. And then the next day….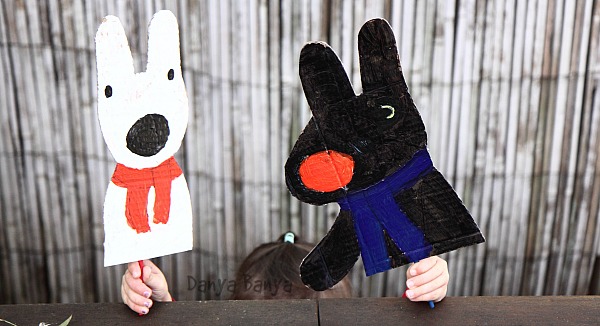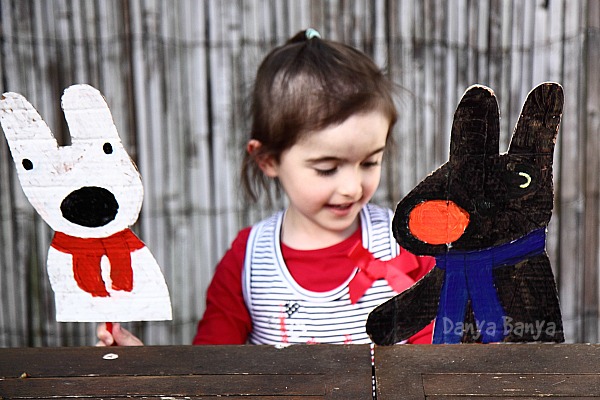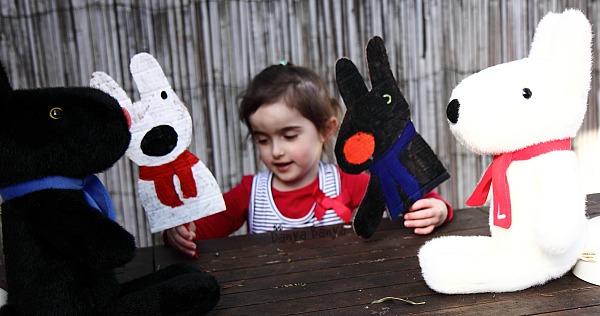 …we discovered that some furry friends had arrived! Our Gaspard and Lisa puppets really enjoyed meeting the 'real' Gaspard and Lisa toys, and they quickly became one big happy family.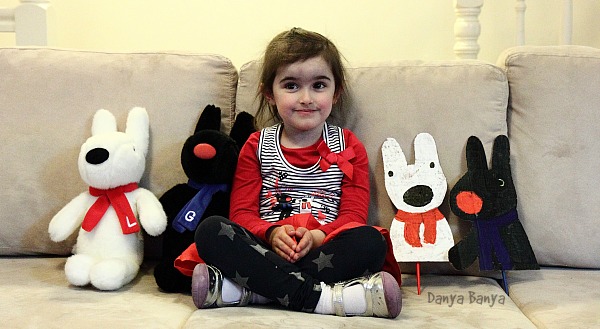 We were also sent this super cute summer dress – that JJ has worn every day since. (She even sneaks it on after her bath and I have to pry it off her at bedtime).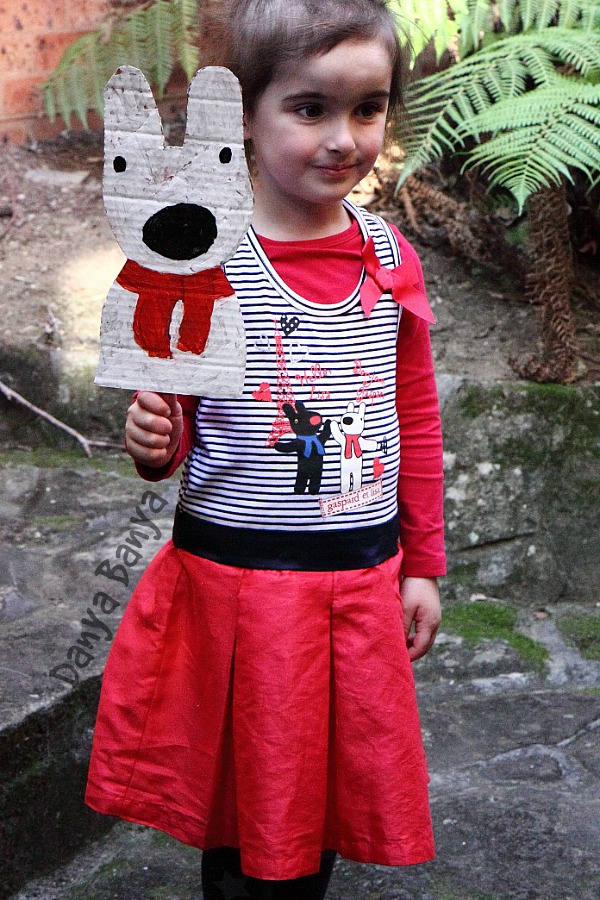 Another favourite product is this adorable double jigsaw puzzle each with a classic French scene. I love the Eiffel Tower shaped box – it stands easily, and I can see it becoming a roleplaying prop whenever we pretend to be in Paris…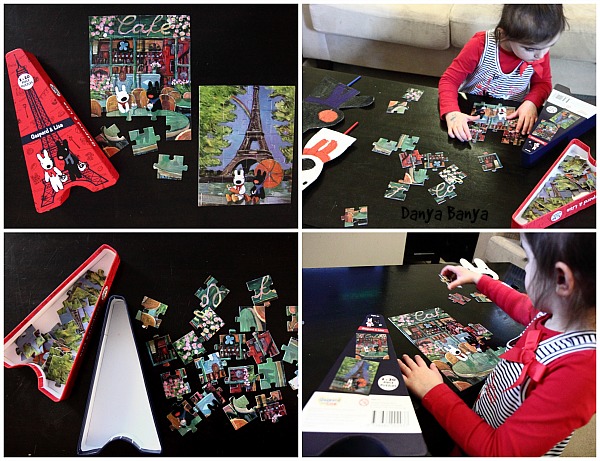 JJ loves puzzles, which is fantastic as they are such a brain workout. Jigsaw puzzles work on fine motor skills, problem solving, spatial awareness and persistence, just to name a few. These particular puzzles are quite tricky, just the challenge that she needs. Right now, I need to sit with her and help her out with a few gentle prompts, such as "I think we might need a piece that has a green line through this part, can you see one like that?". As she becomes more familiar with the scenes, she'll soon be doing them on her own.
We received a few other Gaspard and Lisa products, including a 'best friends forever!' DVD, red t-shirt, striped cotton backpack and two greeting cards, all in keeping with the Gaspard and Lisa classic style. JJ hasn't had a chance to play with these just yet, but I'll put them aside for a rainy day.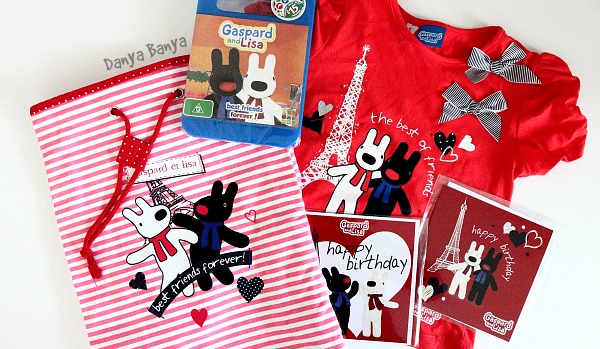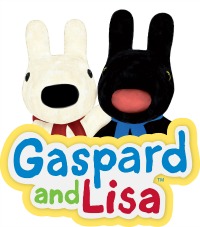 This month, ABC Shops will stock an exclusive range of Gaspard and Lisa products. The great new range of specially designed toys, puzzles, clothing, accessories and the "Best Friends Forever!" DVD are now available, only at ABC Shops. For more information visit: https://shop.abc.net.au/t/brands/gaspard-and-lisa.
Oh and I almost forgot that I have a little announcement to make! I'm pleased to advise that Rachel is the lucky winner of the recent The Very Busy Spider competition with her comment
"Our favourite Eric Carle book is Little Cloud. We love trying to find shapes in the clouds because of that story! We would love the Girl's Pink Stripe Pyjamas (size 2-3) and the Albert Skinny Pyjamas (size 4-5)."
Congratulations Rachel, I hope your kids enjoy their new Hickory Hill pyjamas. 🙂
xx Danya
(This is a sponsored post for ABC. I was not paid to write this post, however I received the above products to trial, review and keep. With the exception of the boxed promotional paragraph above, all opinions are my own unless stated otherwise.)