Simple fairy craft idea: pipe cleaner and wooden clothespin fairies! Cute home-made fairy dolls or fairy-themed party favours that are quick and easy to make.

JJ turned five this week. FIVE! Such a big girl age!
So of course we threw a huge fairy party to celebrate. These little wooden clothespin fairy dolls made cute home-made fairy party favours, and they were very quick and easy to make. Here's how…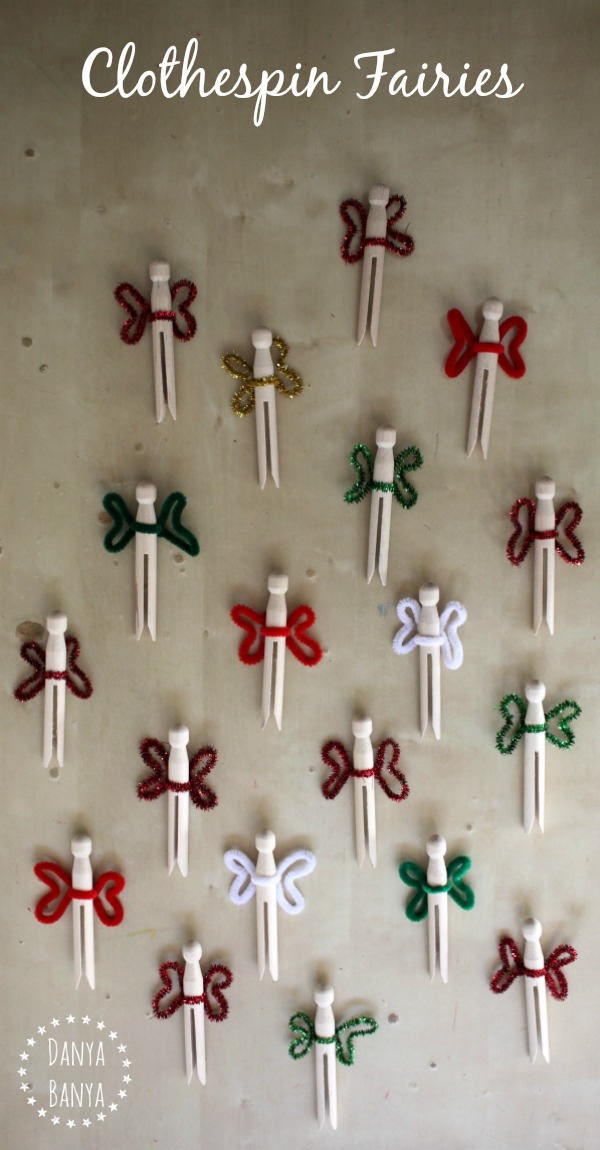 To make a clothespin fairy… or twenty…
You need:
wooden 'old-fashioned' clothespin pegs (similar to these)
Wrap a pipe cleaner around the middle of a clothespin, and twist several times until tight. Then bring each end back to this same middle point, and twist each one, so that you have two loops. Bend and shape the loops into two sideways love heart shapes. Adjust the peg "legs" if needed, so that the wings centred.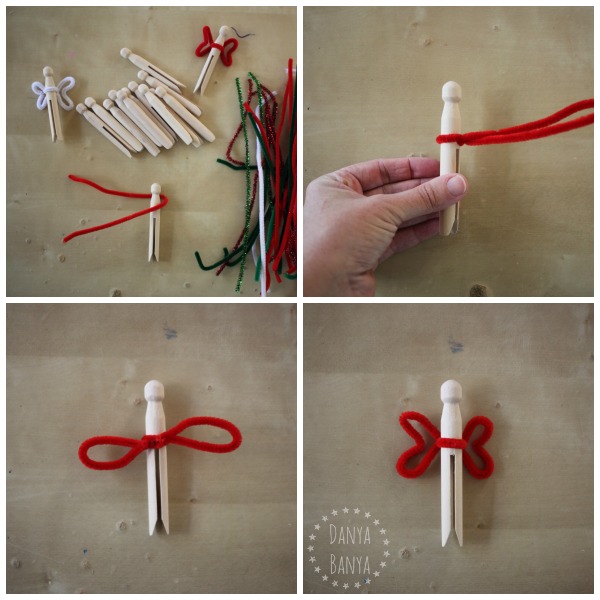 Or here's a quick video to show you what I mean…
And you're done! A simple fairy doll that you can make in a minute.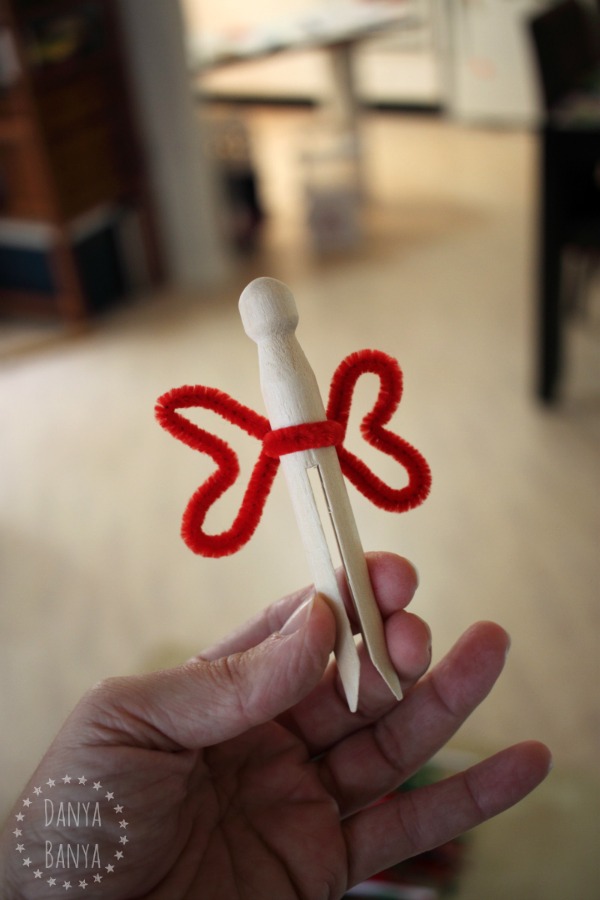 Can you tell from all the red and green that these pipe cleaners are from our left over Christmas stash? I think silver ones would look really pretty too.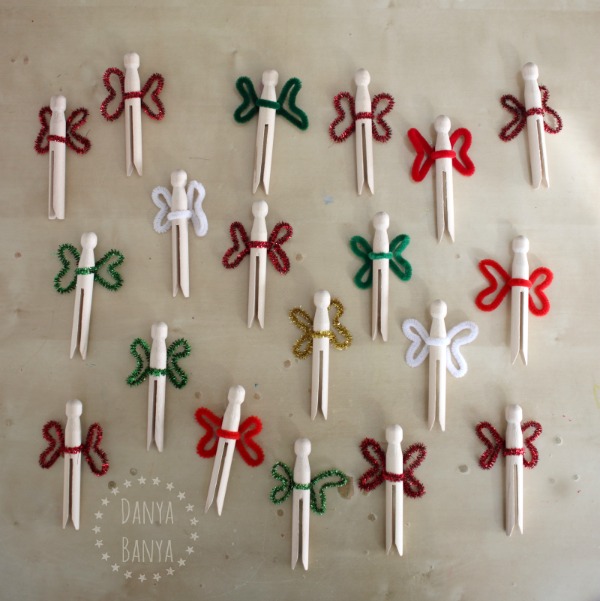 Some kids may like to add hair, facial details, or clothes, but I actually prefer them plain. They feel a little more 'Waldorf inspired' this way.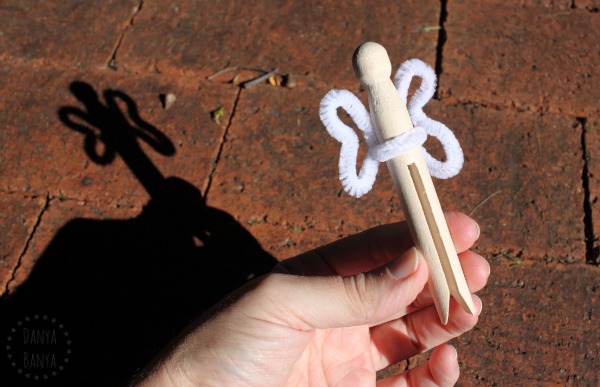 These fairies were one of the items we put in JJ's fairy party favour / loot bags. I also put in some sweets, and a Rainbow Magic Level 2 Early Reader.
I bought our early readers from The Book Depository because they offer free shipping to Australia. If you're in the US, Amazon sells them too.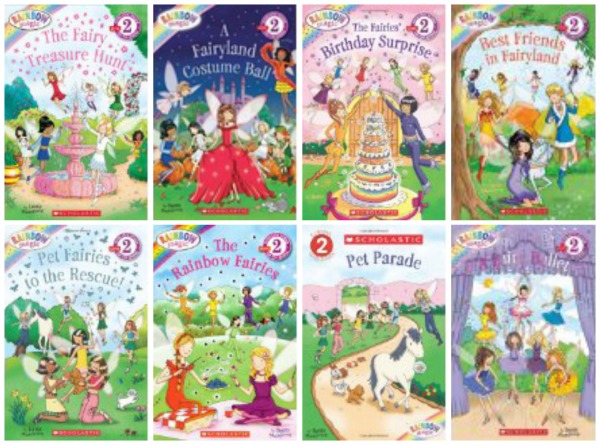 I choose a few different titles. Luckily some of these books feature fairies with the same names as a few of our guests , so I able to give a few lucky girls an 'almost' personalised book gift. 🙂
Because I'm a Rainbow Magic nerd, I wrote each guest's official Rainbow Magic fairy name on the outside of their party bag; Ruby the Red Fairy, Lucy the Diamond Fairy; Molly the Goldfish Fairy and so on. And I made up some really cool fairy names for anyone not yet on the official list. (PS: if you see a new book about a balloon fairy, ice cream fairy or apple pie fairy – please let Daisy know she owes me royalties. 🙂 )
I also wrote "Thank you fairy much for coming" and "We hope you had a fairy good time" on the party bags as well. Haha, never miss an opportunity for a cute fairy pun!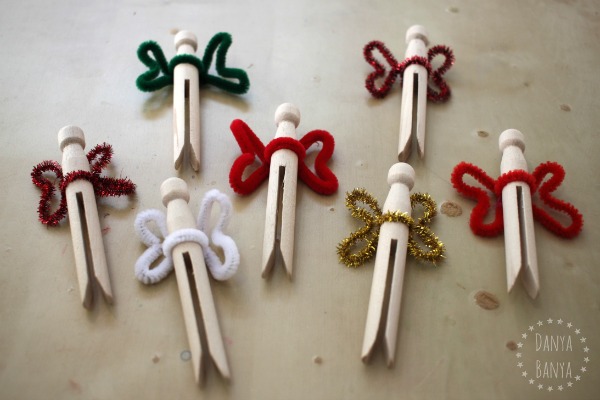 I hope JJ's guests like their little clothespin fairy dolls. I have visions of the little fairies making their way into the various homes, perhaps living in the shade of a pot plant in one, perhaps propped up against a pile of books in another.
They were inexpensive to make, and it makes me feel better to give something handmade, instead of the sort of plastic junk loot bag fillers that you see in most party shops these days….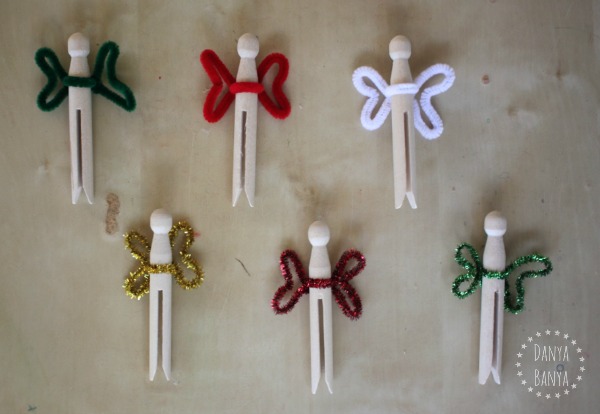 We're still in full blown birthday fever at our place, so forgive me if I don't get a chance to share the rest of the fairy party ideas for a little while. I'll try to at least get the invitations up on the blog soon. Maybe. If I get a chance.
xx Danya
This post contains Amazon and Book Depository affiliate links. An affiliate link means I may earn a commission if you make a purchase through my link, without any extra cost to you. It helps to keep this little blog afloat. Thanks for your support!